Courtesy of Disney Enterprises, Inc.
Escape the dreary cold this winter and seek the thrills of one of summer's greatest highlights: amusement parks. These fantastic parks offer the best fun in the sun year-round. Indoor parks, mega resort complexes, and smaller boutique amusement parks all bring a new flair for the 2016-17 season. Pack your sunscreen and get your shorts out of storage as you prepare to go to new heights this winter.
By Zachary Laks
Clewisleake | Dreamstime.com
WHERE: Orlando
The sun shines 236 days a year on average in Orlando, Florida, home to Walt Disney World, the most visited vacation resort on the planet. More than 52 million people each year descend on the 43 square magical miles encompassing four amusement parks (Magic Kingdom, Epcot, Disney's Hollywood Studios, and Disney's Animal Kingdom). Last year, Disney introduced an interactive way for visitors to create their own experience—MagicBand. This fashionable wristband serves as your park ticket, your method of reserving rides ahead of time, and also a mobile payment system.
PLAN YOUR TRIP: Visit Fodor's Walt Disney World Travel Guide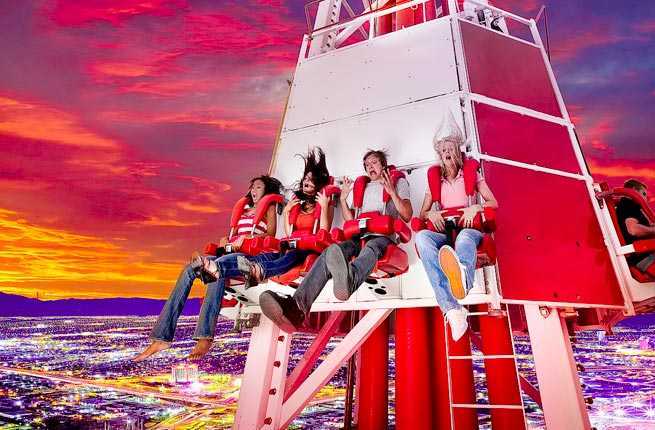 Francis & Francis Photography
Stratosphere Casino Tower
WHERE: Las Vegas
The excitement of Las Vegas reaches new heights at the summit of the Stratosphere Casino Tower, where four extreme rides test the limits of thrill seekers. The Stratosphere hosts the Big Shot, a mind-bogglingly high vertical launch that catapults riders 160 feet up from a launch pad 921 feet from earth. Stomachs churn at the tower's frightening X-Scream, where a roller coaster teeter-totters over the building's edge, simulating a car running off the track. The screams continue at Insanity, where a rotating mechanical arm dangles brave riders over the edge in a forceful spin. If you're seeking a dramatic exit, SkyJump should do the trick. The bungee-like experience allows guests to descend 828 feet while taking in the best of the Vegas skyline. The high-stakes tables will seem like nothing after you've conquered these feats.
PLAN YOUR TRIP: Visit Fodor's Las Vegas Travel Guide
Courtesy of Mall of America
Nickelodeon Universe at the Mall of America
WHERE: Bloomington, MN
Nickelodeon Universe, America's largest indoor theme park, is the centerpiece of the behemoth Mall of America. Minnesota's winters are no match for the lively selection of five roller coasters and seven thrill rides that operate year-round. Head straight to the SpongeBob SquarePants Rock Bottom Plunge coaster for the best thrill of the day. The coaster features a small car that seats eight and a track that speeds riders through a 90-degree drop, a large loop, fast banked turns, and a barrel roll. The unique Teenage Mutant Ninja Turtles Shell Shock thrill ride puts the rider in control with the ability to flip and twist independently as a powerful engine sends the carriages around its base.
PLAN YOUR TRIP: Visit Fodor's Minneapolis Travel Guide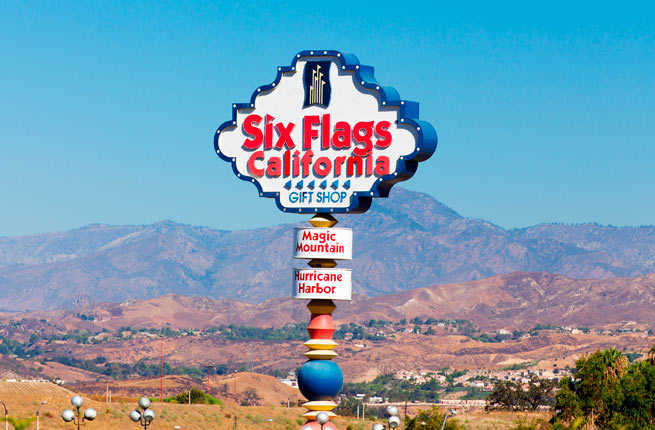 Wolterk | Dreamstime.com
WHERE: Valencia, CA
Home of the most roller coasters in the world, a dizzying 19 in total, Six Flags Magic Mountain has a wide assortment of rides for all tastes. This year, the park upped the ante with the new Twisted Colossus, a dueling coaster that was built on the structure of its landmark Colossus coaster. The Twisted Colossus is the world's longest hybrid coaster, featuring a rare bit of engineering called a "High Five," in which riders will appear to be close enough to high five one another while tilting perpendicular. Other park highlights include X2, a 5D roller coaster with cars that spin independently alongside the track, as well as Tatsu, a steel flying coaster that features a remarkable pretzel loop (a downward half loop into an upward half loop).
PLAN YOUR TRIP: Visit Fodor's Los Angeles Travel Guide
Courtesy of Knott's Berry Farm
WHERE: Buena Park, CA
Open every day of the year except Christmas, Knott's Berry Farm is 45 minutes outside of central Los Angeles, with 40 rides crammed into its compact 160-acre lot. The ten towering roller coasters are so close together that they often intertwine as they race through the park. What sets Knott's Berry Farm apart is its attention to theming, a clean and well-plotted layout, and its vast offerings for families. The signature coasters that make this park a must are the Xcelerator (an 82 mph launch coaster that shoots you up 205 feet) as well as the mammoth Ghostrider (one of the world's longest and tallest wooden roller coasters).
PLAN YOUR TRIP: Visit Fodor's Los Angeles Travel Guide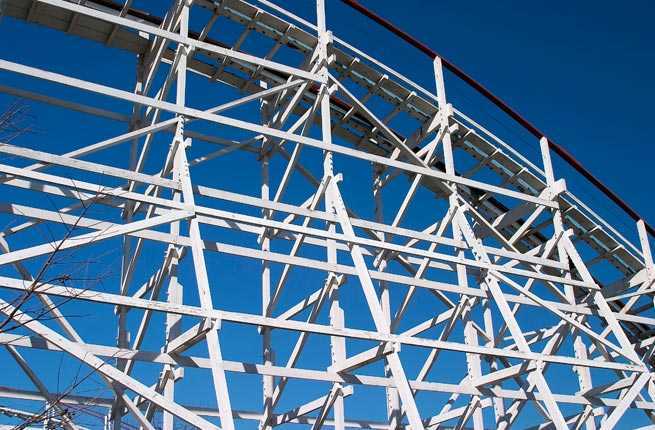 Overtexas | Dreamstime.com
WHERE: Arlington, TX
Located between Dallas and Fort Worth, Six Flags Over Texas has laid impressive tracks with its ten roller coasters. Prepare for a day of hair-raising excitement as rides such as the New Texas Giant and MR. FREEZE: Reverse Blast play upon the familiar with exciting twists. The New Texas Giant was rebuilt from the base of the original Texas Giant and re-launched in 2011 with a first-of-its-kind steel track on a wooden structure. Watch out for the New Texas Giant's incredible banked turns, which tilt riders 115 degrees downward, providing strong G forces. MR. FREEZE: Reverse Blast is a launch coaster that propels the brave from 0 to 70 mph in 3.8 seconds—backwards!
Note: Six Flags Over Texas operates March through January, shutting down for the month of February each year.
PLAN YOUR TRIP: Visit Fodor's Dallas Travel Guide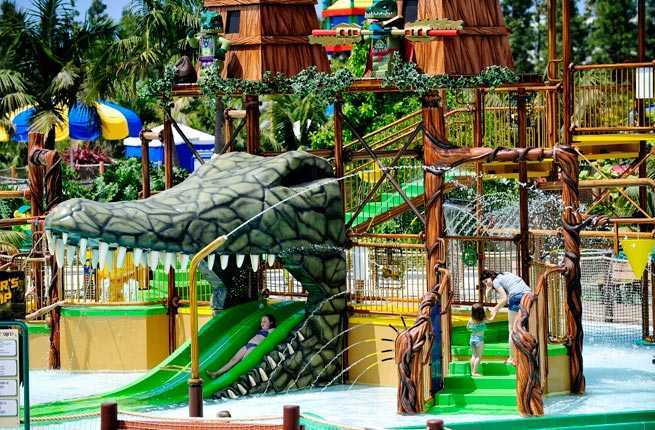 Courtesy of LEGOLAND California Resort
LegoLand California Resort
WHERE: San Diego
Built block by block in 1999, LegoLand California Resort is an amusement resort dedicated to the simple, timeless wonder of the classic toy brand. Various areas of the park are divided by theme, with an emphasis on family-friendly fun. Marvel at Miniland USA, where full Lego replicas of cities such as Las Vegas, Washington D.C., and New York are raised in stunning detail. Hop on the Coast Cruise boat ride for the best vantage point of these mini metropolises. The LEGO® TECHNIC™ Coaster is a favorite in the park, as it sends Lego-modeled single cars through a speedy drop and tight hairpin turns.
PLAN YOUR TRIP: Visit Fodor's San Diego Travel Guide
Courtesy of Disney Enterprises, Inc.
Disneyland and Disney California Adventure Park
WHERE: Anaheim, CA
Walt Disney's legendary vision of a pristine American theme park and resort remains the gold standard in modern day amusement with Disneyland. Hosting over 650 million guests since 1955 (the most cumulative guests of any park in the world), Disneyland continues to excel in its remarkable brand consistency and flawless customer experience. While Disneyland has more than enough on tap for a weekend's worth of fun, pick up a Park Hopper pass to head next door to Disney's newer California Adventure, where the popular Cars Land features the Radiator Springs Racers—an unparalleled racing experience led by the beloved Cars characters.
PLAN YOUR TRIP: Visit Fodor's Disneyland Travel Guide
Courtesy of Universal Orlando Resort
Universal Studios and Universal Studios Islands of Adventure
WHERE: Orlando
There's an epic scale that's awe-inspiring to behold when encountering Universal Studios and its newer theme park companion Universal Studios Islands of Adventure. Three hundred and sixty-five days a year, both parks bring cutting-edge experiences to international crowds. One major highlight is the second Harry Potter world, Diagon Alley. Harry Potter and the Escape from the Gringotts is the centerpiece attraction, bringing riders through a transfixing 3D multimedia spectacle. Be sure to purchase a dual-park ticket to experience Universal Studios Islands of Adventure's noteworthy roller coasters. The Incredible Hulk Coaster broke records and redefined roller coaster engineering when it was built in 1999, with its first-ever launch-lift hill, sending trains up in to an inversion reaching speeds 40 miles per hour in just two seconds.
PLAN YOUR TRIP: Visit Fodor's Universal Studios Travel Guide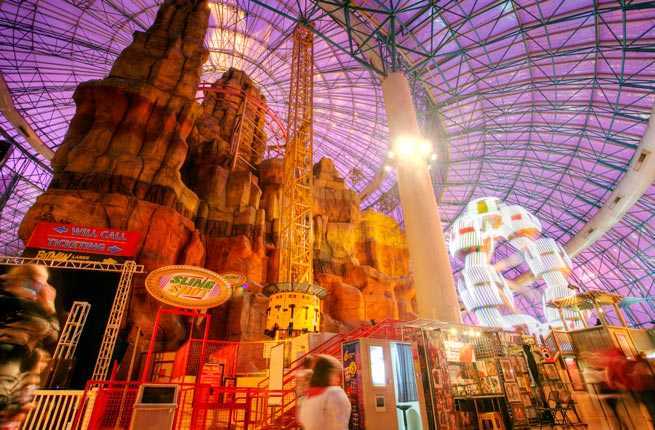 Dacasdo | Dreamstime.com
Circus Circus Adventuredome
WHERE: Las Vegas
It's a wonder to behold how many truly thrilling theme park attractions can fit under one giant glass dome at the Circus Circus Adventuredome. Adventuredome's family-friendly atmosphere is a welcome oasis in the frenzied Vegas adult scene. Two quality rollercoasters stand as main attractions, most notably El Loco, which just opened in February. El Loco's incredible air-time inversions, barrel rolls, and extreme outward banking have garnered great buzz from riders. Smaller in scale though just as intense, The Inverter is an impressive spinning ride built with multiple rotating axes that manage to completely disorient and disarm riders. In operation every day of the year, the Adventuredome is a great way to spend an afternoon in Vegas.
PLAN YOUR TRIP: Visit Fodor's Las Vegas Travel Guide