Don Helbig
A visit to a theme park is a quintessential part of any all-American summer, and with warm weather on the horizon, locations across the country are upping the ante with a host of new attractions vying for a spot on thrill seekers' must-ride lists. Though the season has yet to start, it's already clear that this is going to be a record-breaking year, with new rides that push the limits of speed, height, and imagination. From drops that will leave you dizzy to fantasy worlds designed for visitors of all ages, these 10 theme parks are the ones with the best renovations, expansions, and re-openings that you won't want to miss in 2014.
by Zachary Laks
HARRY POTTER, characters, names and related indicia are trademarks of and © Warner Bros. Entertainment Inc. Harry Potter Publishing Rights © JKR.
(s14)
© 2014 Universal Orlando Resort. All rights reserved.
WHERE: Orlando, FL
Muggles will rejoice as Universal Orlando's star attraction, The Wizarding World of Harry Potter, gets a hotly anticipated expansion this year with Diagon Alley, set to open this June. The themed area that brings the Harry Potter series to life is nearly doubling in size; visitors will ride the Hogwarts Express (perhaps departing from Platform 9¾?) from Hogsmeade Village in the Islands of Adventure theme park to the expansion at Universal Studios Florida. The new area will feature Harry Potter and the Escape from Gringotts, a new "multi-sensory, multi-dimensional" roller coaster that promises to expand the limits of interactive media and wizardly thrills.
PLAN YOUR TRIP: Visit Fodor's Universal Orlando Guide
Courtesy of Six Flags Great America
WHERE: Gurnee, IL
A triple-record-breaking ride named Goliath is the top new attraction at Six Flags Great America this summer (opens May 31). The name is no joke: On the world's tallest (180 feet), fastest (72 mph), and steepest (85 degrees) wooden coaster, riders will experience an inverted Zero-G stall and a 180-degree Zero-G roll, among other thrilling features. The park is already one of the country's best, as Goliath joins an impressive roster of coasters including the mind-bending X Flight, one of the first wing coasters in the country, and American Eagle, the world's tallest, fastest, and longest twin-racing wooden coaster.
PLAN YOUR TRIP: Visit Fodor's Chicago Guide
Don Helbig
WHERE: Mason, OH
The Midwest's largest amusement and water park, King's Island, boasts an incredible 13 roller coasters and now welcomes its 14th: the towering Banshee, which opened in April. Credited as the world's longest inverted roller coaster, riders fly through 4,124 feet of track at speeds up to 68 mph. With seven, heart-pounding inversions, screams from riders will be heard far and wide. Also a must on any amusement park enthusiast's list, King's Island's signature coaster, aptly named The Beast. This wooden monster, now over 30 years old, still holds the record as the longest wooden roller coaster in the world, offering more than four minutes of adrenaline-producing thrills.
PLAN YOUR TRIP: Visit Fodor's Cincinnati Guide
Busch Gardens Tampa
WHERE: Tampa, FL
Prepare to leave your sunglasses on the ground and your stomach in the sky as the new Falcon's Fury plummets into Busch Gardens Tampa in May. Falcon's Fury features North America's tallest free-standing drop (335 feet) and will be the first-ever drop tower to send riders down with seats that tilt forward 90 degrees, pushing riders face-down during the drop. Busch Gardens Tampa also features the stealth and sleek Cheetah Hunt, a steel roller coaster that launches riders at speeds up to 60 mph through its winding track. Don't miss the accompanying exhibit to Cheetah Hunt called Cheetah Run, featuring five live cheetahs in a natural habitat.
PLAN YOUR TRIP: Visit Fodor's Tampa Guide
Gregg Newton/Disney
WHERE: Lake Buena Vista, FL
Fantasyland at Walt Disney World's Magic Kingdom has been undergoing major renovations, with about two years remaining, but that hasn't stopped them from unveiling the new Seven Dwarfs Mine Train, expected to open this summer. Disney's Imagineers have developed a steel coaster with mine cars that independently sway side-to-side. Expect dazzling gems and family-friendly thrills on this Snow White-inspired ride. In recent years, the popular Disney park has continued to stay at the forefront of family amusement, recently adding Enchanted Tales with Belle and The Little Mermaid: Ariel's Undersea Adventure, two immersive attractions that transport visitors into two of Disney's most beloved animated films.
PLAN YOUR TRIP: Visit Fodor's Walt Disney World Guide
Kevin Brown
WHERE: Agawam, MA
Six Flags New England will break records and aim to shock visitors when it unveils the SkyScreamer in late May. Reaching a top speed of 35 mph, SkyScreamer will lift riders up in a circular-spinning chassis offering unparalleled views of scenic Massachusetts and Connecticut. The park also boasts an impressive assortment of thrill rides including the world-renowned steel coaster, Bizzaro, which takes riders on an exciting, hair-raising trip with steep drops and tight turns. Also don't miss the one-of-a-kind Pandemonium, a steel coaster with cars that spin freely along the track, making each ride unique.
PLAN YOUR TRIP: Visit Fodor's Hartford Guide
Courtesy of Six Flags Great Adventure
Six Flags Great Adventure
WHERE: Jackson, NJ
Few thrill rides can compare with the gut-wrenching, gravity-defying rush of Kingda Ka, the world's tallest roller coaster and also its second-fastest, which leads an already-impressive pack of coasters in what has recently become the world's largest amusement park, Six Flags Great Adventure. This season's newest addition, Zumanjaro: Drop of Doom (opens in late May), will be added onto the structure of Kingda Ka and become the tallest drop tower in the world as it scales the Kingda Ka's frame up to 415 feet in the air. Prepare, if you dare, to be dropped at a mind-blowing 90 mph.
PLAN YOUR TRIP: Visit Fodor's New Jersey Guide
John Mulcahy
Kentucky Kingdom and Hurricane Bay
WHERE: Louisville, KY
Kentucky Kingdom and Hurricane Bay finally reopens its gates on May 24th (after several failed attempts to revive the former Six Flags park), touting Lightning Run as its new centerpiece attraction. This coaster will lift riders up a chain-lift hill to a 100-foot drop, followed by inversions, banked turns, and stomach-turning bunny hills. While admiring the fresh coats of paint around the revitalized park, make sure to ride Thunder Rock, Kentucky Kingdom's newly refurbished 3,000-foot-long wooden roller coaster featuring a 74-foot drop and enough negative air to make you question gravity.
PLAN YOUR TRIP: Visit Fodor's Louisville Guide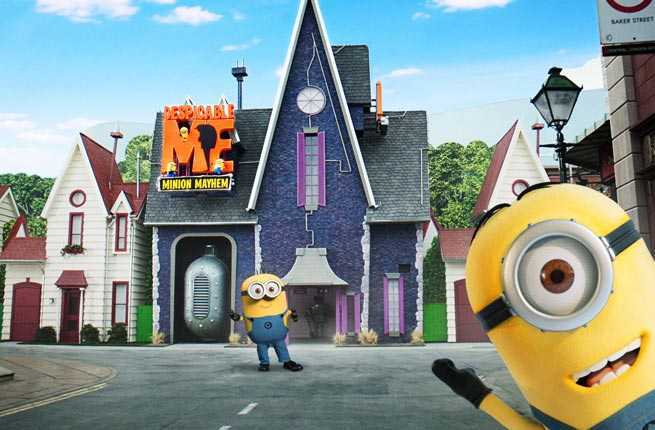 @ Universal Studios Hollywood
Universal Studios Hollywood
WHERE: Universal City, CA
Already running to rave reviews in Universal Studios Orlando, Despicable Me: Minion Mayhem has now arrived at Universal Studios Hollywood. The new attraction, a 4-D simulator that's perfect for families, has riders don the signature "Minion Goggles" (3-D glasses) as you enter into a test to see if you are fit to become a minion. Sit back and prepare to be transported on a journey through their training facility as you encounter high-flying obstacles and hijinks. While there, don't miss Transformers: The Ride, an incredible, immersive 3-D experience that throws you into the middle of an intergalactic war.
PLAN YOUR TRIP: Visit Fodor's Los Angeles Guide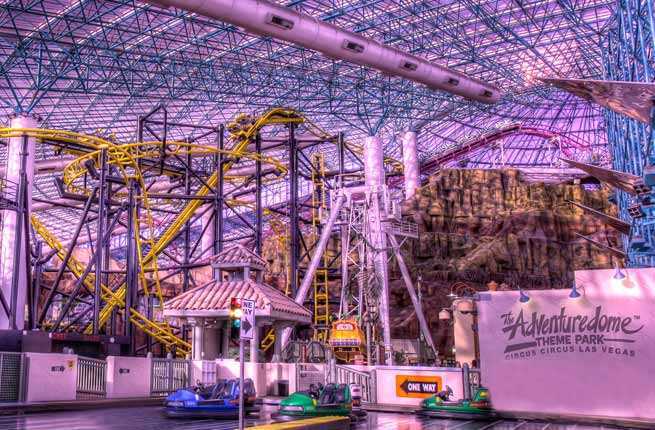 Courtesy of MGM Resorts International
WHERE: Las Vegas, NV
Las Vegas, long the city of gambling thrills, is quickly becoming known for roller coaster thrills as well. The Adventuredome, located on the Circus Circus property, has taken a big step into the roller coaster pantheon. Their new steel coaster, El Loco opened this past February and is garnering much acclaim for its remarkable turns, which bank outside at a 45-degree angle. Paired with a jaw-dropping, 90-plus-degree drop, this is a coaster experience you will not soon forget. While at the Adventuredome, it's hard to miss the original, twisting Canyon Blaster, running daily, rain or shine (because it's all indoors).
PLAN YOUR TRIP: Visit Fodor's Las Vegas Guide