Courtesy of Carnival Cruise Line
The secret's out that value-packed cruises make for great family getaways, what with fun-for-everyone, multigenerational appeal at every port, and via the plentiful activities, entertainment, and dining options on board. Now, cruise lines are upping the ante on their accommodations, too, in response to the ever-rising demand of multigenerational family travelers. These days, you can choose from a wide selection of suites and connecting staterooms that are specifically designed to keep the whole clan connected at sea. Touting plenty of space for you to spread out in comfortable digs (with must-have features like multiple bathrooms), these 10 leading cruise lines are your best bets for finding the perfect suite for your family. —Elissa Garay
Courtesy of Royal Caribbean International
Royal Caribbean International
Royal Caribbean ranks tops for multigenerational appeal with its lively ships that brim with diverse shows, sports, games, kids' clubs, and more; happily, its stateroom options are no exception. The line has numerous family-friendly accommodation options across its fleet, but you'll find some newer additions that really stand out on its Quantum Class ships (which include the 4,180-passenger Anthem of the Seas, Quantum of the Seas, and coming this spring, the Ovation of the Seas). We especially like the 16 spacious 575-square-foot Family Connected Junior Suites, combining three bedrooms (two of which feature sitting areas), three bathrooms (one with a tub), and a balcony (providing an additional 216 square feet of space) that can accommodate eight to 10 guests.
Alternatively, try an upscale two-bedroom, two-bathroom Royal Family Suite (the number of units vary on the 21 ships where they're featured, but include four units apiece on each Quantum Class ship), measuring 543 square feet and trimmed by a spacious wraparound balcony (that adds an additional 166 to 263 square feet)—they sleep up to eight (with a master bedroom with a king-size bed that can break down to two twins, a second bedroom with two twin beds and two Pullman beds, and a living area with a sofa bed for two). Debuting in May 2016, the Royal Suite Class will additionally offer guests staying in any suite on Quantum and Oasis Class ships a series of new perks, like free access to the Spa Thermal Room, priority boarding, complimentary Internet, and more.
PLAN YOUR TRIP: Visit Fodor's Royal Caribbean Guide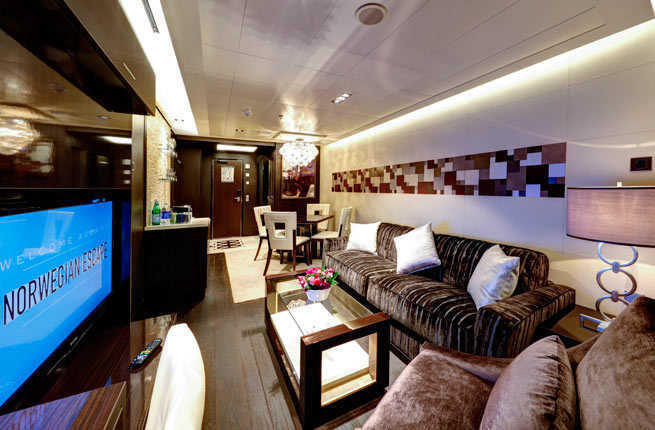 Courtesy of Norwegian Cruise Line
Norwegian caters to families with a slate of family-friendly suites sprinkled across its fleet, but for the newest and most noteworthy of the bunch, look to The Haven, an upscale ship-within-a-ship concept that's found aboard the 4,000-passenger Norwegian Breakaway and Norwegian Getaway, and 4,200-passenger Norwegian Escape. It's here that you'll find a tempting selection of roomy two- and three-bedroom suites, like one of 20 Two-Bedroom Family Villas with Balcony (measuring 543 square feet) aboard the Breakaway or Getaway, where up to six guests can bunk down in a master bedroom (with a king-size bed, and bathroom with both a tub and separate shower) and second bedroom with a double sofa bed, pulldown bed, and extra bathroom; there's also a living room and dining area with an additional sofa bed for one. Alternatively, try the Escape, which offers 25 slightly smaller versions of the Two-Bedroom Family Villas (measuring in at 540 square feet).
Or, for the ultimate in space (and splurge!), sign up for one of two Three-Bedroom Garden Villas that are exclusively available on the 2,340-passenger Norwegian Dawn—at a whopping 6,694 square feet (no, that's not a typo), up to seven guests can sprawl out in three rooms, each with their own king- or queen-size bed and private bathroom with bath and shower. And don't forget about the living room, dining room, terrace with dining table, and, oh yeah: a private garden with hot tub. Twenty-four hour butler service will help ensure you make the most of it all.
PLAN YOUR TRIP: Visit Fodor's Norwegian Cruise Line Guide
Courtesy of Carnival Cruise Line
We were already keen on Carnival's Deluxe Ocean View cabins (found on the 3,654-passenger Carnival Dream, 3,690-passenger Carnival Magic, and 3,690-passegner Carnival Breeze), which, at 230 square feet, feature berths for five (two twin beds that can convert to a king, a single sofa bed, and two Pullman-style beds)and two bathrooms (one with a small tub).
But come May 2016, Carnival's newest ship, the 3,954-passenger Carnival Vista, will roll out a new line of Family Harbor staterooms and suites, tucked into a dedicated family zone dubbed Family Harbor. The most notable of these "family ergonomic" accommodations include a slightly larger version of the above-described Deluxe Ocean View cabins (at 240 square feet), with 20 such units, as well as a duo of spacious 430-square feet Family Harbor Suites. The suites accommodate four guests with a separate sleeping area (with a queen-size bed) and sitting area (with a pullout couch and/or Pullman-style beds, depending on the unit), a spacious bathroom (including a tub), and extra closet space. Guests in the special Family Harbor section also get extra perks like exclusive access to a family-friendly lounge and free specialty restaurant meals and activities for kids.
PLAN YOUR TRIP: Visit Fodor's Carnival Cruise Line Guide
Courtesy of Holland America Line
Launching in April 2016, Holland America's new 2,650-passenger ms Koningsdam will feature several firsts for the line, including its notable 32 Family Ocean-View Staterooms. Accommodating up to five guests, the family-friendly staterooms tout two separate bathrooms (one with a shower, one with a shower/bath) and extra closet space. While measuring in at a fairly snug 222 to 231 square feet, sleeping for five is made possible via a queen bed (that can be converted into two singles), a pullout sofa for two, and an upper Pullman bunkbed.
PLAN YOUR TRIP: Visit Fodor's Holland America Line Guide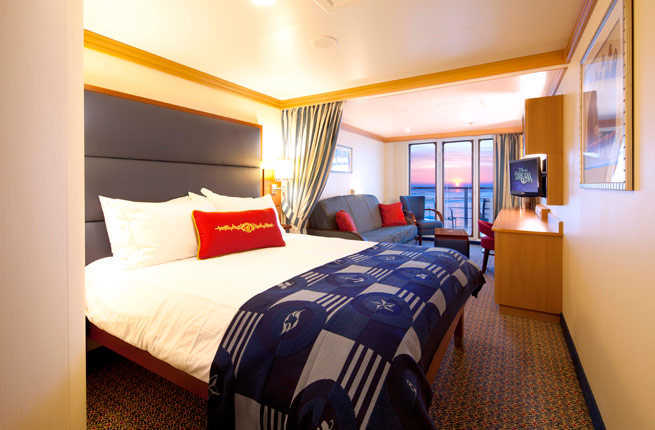 Courtesy of Disney
Unsurprisingly, the Disney brand is built upon catering to family groups, and their staterooms clearly reflect that, with plenty of family-friendly connecting staterooms and balconies to go around. But some of their staterooms step things up a notch: For instance, try their 240- to 300-square-foot Deluxe Family Ocean Staterooms (some with a verandah) that are available fleetwide (with as many as 1,100 units per ship). They sleep up to five with a queen bed, pullout couch for one or two, and one or two pull-down bunks (a curtain helps create a sense of privacy), plus, two bathrooms in each unit (one with a bathtub).
Or, upgrade to the luxe Concierge Suites and Staterooms (with more than 20 units on each of Disney's four 2,713- to 4,000-passenger ships), with a similar configuration for five (or seven) guests, with one- or two-bedroom suites, but with extra perks like 24-hour concierge, access to a private lounge and sundeck, and more. Plus, they're much roomier at 524 to 898 square feet, and all have balconies with whirlpool tubs, a living room and dining salon, and some even connect to adjoining staterooms for very large/extended families.
Finally, consider splurging on one of the ultimate in upscale Disney suites: A duo of 845- to 898-square-foot Concierge Royal Suites make a haute home base for five to seven guests (depending on the ship). They come with two bathrooms (one with a whirlpool tub), walk-in closets, a living/dining room, veranda, and separate master bedroom, along with the option to connect to another stateroom for even more space.
PLAN YOUR TRIP: Visit Fodor's Disney Cruise Line Guide
Courtesy of Celebrity Cruises
Celebrity is well-known for its sophisticated style and spacious digs, and space is no issue on its roomy 575-square-foot Family Veranda Staterooms, with four such units found on each of the line's five Solstice-class ships (the Celebrity Eclipse, Celebrity Equinox, Celebrity Reflection, Celebrity Silhouette, and Celebrity Solstice range in capacity from 2,850 to 3,030 passengers). The cabins offer room for five or six, with two bedrooms (the master has a queen, the other, a single), a living room (with a pullout sofa for two), and a private veranda; though note they only have one bathroom, without a tub. Some units even connect to adjacent ocean view cabins, adding on potential for up to two more guests.
Alternatively, look to the 3,030-passenger Celebrity Reflection for two notably family-friendly (and luxurious) suites: the one-off 1,634-square-foot Reflection Suite or one of five 441-square-foot Signature Suites. The massive Reflection Suite accommodates up to six guests in its two bedrooms; the Signature Suites accommodates up to four guests with its single bedroom; both are set off in a private enclave of the ship. Each suite also offer extras like swank living/dining rooms and bathrooms with sea views; plus, enjoy extras like butler service, an exclusive restaurant and lounge for suite guests only, and more.
PLAN YOUR TRIP: Visit Fodor's Celebrity Cruises Guide
Courtesy of AmaWaterways
AmaWaterways/Disney Adventures
The only riverboat to make this list is the newcomer 170-passenger AmaViola, which debuts to sail the Danube in April 2016, as part of a partnership between AmaWaterways and Adventures by Disney. The vessel pioneers some enticing stateroom innovations in a river cruise industry that hasn't historically been known for accommodating family travelers. Nab one of four suites on the Violin Deck, which measure in at 350 square feet (more than double the size of a standard cabin's 160 square feet) and can accommodate up to four guests. They feature a queen-size bed that can be converted into twins, as well as sofa-bed for two. Plus, the bathrooms come with tubs and you'll gain access to not one, but two balconies (one's a standard outside, the other is a French balcony).
Alternatively, the AmaViola has introduced the line's first connecting staterooms—there are six sets of these onboard, with two units, measuring 210 square feet apiece, that are combinable to accommodate up to five guests (one unit has a pullout sofa bed for one); plus, they each have their own balconies.
PLAN YOUR TRIP: Visit Fodor's AmaWaterways Guide
Courtesy of P&O Cruises
For the ultimate in comfort, book in to one of U.K.-based P&O Cruises' roomy two-room Family Suites (accommodating a party of four to six) on either the 3,100-passenger Azura or 3,078-passenger Ventura. You won't want for space, with two proper rooms (the master/balcony cabin measures 609 square feet, with a queen that can be broken down to two twins; the internal cabin measures an additional 179 square feet, with two lower beds and two pulldown uppers), each with an en suite bathroom. A dressing area, balcony with chairs, and a lounge area (with a table and additional sofa bed) help ensure there's plenty of room to go around. You'll even get butler service and extra touches like flowers, champagne, and chocolates on arrival. The catch? There are only two such family suites located on each ship, so you'd better book well in advance.
PLAN YOUR TRIP: Visit Fodor's P&O Cruises Guide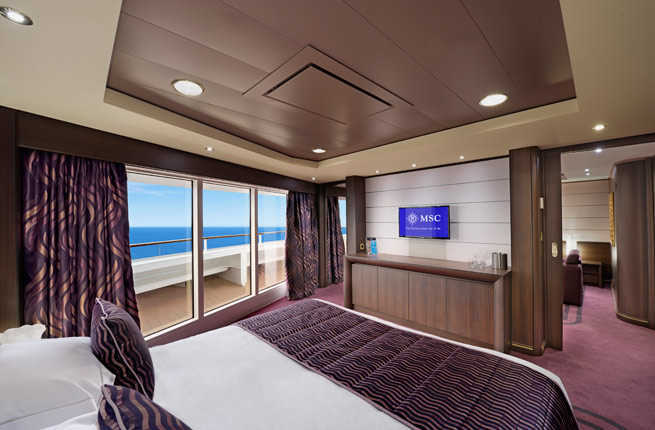 Courtesy of MSC Cruises
Mediterranean-influenced MSC Cruises delivers intriguing options for families/friends traveling together via their Royal Suite or Executive & Family Suites. Found within their higher-end ship-within-a-ship product, MSC Yacht Club, look for the special units aboard the 4,345-passenger sister ships Divina or Preziosa, or the 4,363-passenger sister ships Fantasia or Splendida. Choose from a duo of Royal Suites (measuring 560 square feet, including a balcony), or one of three onboard Executive & Family Suites (measuring 425 to 547 square feet, without a balcony), which each feature a sleeping area (with a double bed that can be converted into two singles) and a partitioned-off living room area with a pullout sofa for two. Said suites accommodate up to four and tout extras like a spacious wardrobe and bathtub-equipped bathroom.
Insider Tip: On the Divina or Preziosa, you can book two adjacent Executive & Family Suites together (ask for staterooms 12002 and 12004) for a super-suite configuration that sleeps up to eight.
PLAN YOUR TRIP: Visit Fodor's MSC Cruises Guide
Courtesy of Princess Cruises
Available on nine of Princess's "Grand Class" ships (with a capacity ranging from 2,600 to 3,142 passengers), Family Suites are an excellent choice for families/friends traveling together. The two-room units include a mini-suite that connects to an interior stateroom (each room has its own bathroom and can be configured with either one queen or two twin beds), with shareable spaces like a living room (with sofa bed) and balcony with two loungers and a dining table for four. Plus, expect extras like a walk-in closet and a complimentary minibar and laundry service. Depending on the ship, guests get a total of 607 to 613 square feet to spread out in rooms that can accommodate six to eight passengers (note that the balconies are the largest, at 153 square feet, on the Diamond Princess or Sapphire Princess). Just be sure to book well in advance, as there are only two designated Family Suites aboard each Grand Class ship.
PLAN YOUR TRIP: Visit Fodor's Princess Cruises Guide