American Museum of Natural History
The great hall is dark. The crowds have gone home. Suddenly in the Egyptian section, the mummy's case opens . . .
The fantasy of strange happenings in a museum at night has inspired not only a successful children's book but a series of movie spinoffs, so it is hardly surprising that museums have realized that offering an after-hours experience might increase both engagement with new audiences and revenue. More than 100 cities around the world hold a Night at the Museum where institutions stay open late into the night. However, if you can't be there on that one night, you're out of luck; the museums on this list offer regularly scheduled sleepovers.
On the whole, the museums that participate in actual overnighters tend to be devoted to natural history, science, or military collections rather than fine art. Packages range from activity-filled evenings for youngsters to knowledge-expanding parties for adults. Some offer three-course meals and hot breakfasts while others confine themselves to snacks and a continental breakfast, and advise you to eat before arriving. Also, be sure to check the FAQs about what to bring. Most require a sleeping bag and flashlight, and in some cases, cots are provided, but air mattresses are forbidden. All aim for an evening of educational fun even if they can't promise dioramas and artifacts that actually come to life.
American Museum of Natural History
American Museum of Natural History
Where: New York, NY, United States
Open to kids 6–13 and held once or twice a month, these sleepovers were the inspiration for Night at the Museum. They don't include meeting Teddy Roosevelt, but do feature exploring the dinosaur hall. There, in the company of museum experts, they will find a reconstructed T. Rex skeleton, encounters with live bats, wolves, and birds of prey. Guests slumber under a 94-foot-long blue whale (not live), beside a diorama of African elephants (also not live), or at the base of reconstructed volcanos. A light evening snack and breakfast are included, as are cots. There are also sleepovers for adults on a few selected nights per year.
Adult sleepovers: $350 pp; children's sleepovers: $145 pp.
PLAN YOUR TRIP: Visit Fodor's New York City Travel Guide
Carnegie Science Center
Where: Pittsburgh, PA, United States
Each week this science-oriented institution hosts a Science Sleepover for kids accompanied by a parent or guardian. Every sleepover is built around a different theme, which might be the science behind toys (who knew the humble Slinky involved sophisticated physics?), how to engineer towers and catapults, astronomy, robotics, or something called Slimefest for lovers of all things gooey. The evening also includes a planetarium or laser show and next-day admission to the USS Requin submarine and the Highmark SportsWorks®, an interactive exhibition devoted to sports science.
Science Sleepover, $39 pp.
PLAN YOUR TRIP: Visit Fodor's Pittsburgh Travel Guide
The Field Museum
Where: Chicago, IL, United States
The Field's "Dozin' with the Dinos" twice-monthly sleepovers for children 6–12 (accompanied by an adult family member) offers flashlight self-guided tours of exhibitions like Inside Ancient Egypt, a 3-D movie exploring the world of Tyrannosaurus Rex ($5 extra charge), lessons in scientific illustration, and science-based workshop activities. Premium packages include sleeping in the Hall of Dinosaurs and a behind-the-scenes, scientist-guided tour of Field collections such as fossils, bird specimens, and fish. An evening snack and breakfast are included, as is next-day admission to the museum.
Family package from $65 pp; Premium package from $78 pp.
PLAN YOUR TRIP: Visit Fodor's Chicago Travel Guide
Courtesy of the International Spy Museum
Where: Washington, DC, United States
Budding James Bonds ages 9 to 13 won't want to miss this museum's "Secret Slumber" nights. The 7-hour program includes access to the museum's exhibitions, working in small groups on unspecified (they could tell us but they'd have to kill us) "spy missions," and even "time to interrogate a real spy" (presumably after an informative session on what's permitted under the Geneva Convention). The museum provides an evening snack and breakfast followed by a morning "debrief." Perhaps not suitable for children who have already cracked their parents' passwords.
Secret Slumber nights, $115 pp
PLAN YOUR TRIP: Visit Fodor's Washington DC Travel Guide
Milwaukee Public Museum
Where: Milwaukee, WI, United States
As much a party as a cultural experience, this festive 21-and-over sleepover offers tours, curator talks, self-guided flashlight explorations, planetarium programs, 3-D natural history films in the museum's six-story dome theater, and next-day admission. When you've built up an appetite there's dinner at food stations, bars (two free drink tickets provided), and breakfast complete with mimosas. The sleepover also includes admission to the museum's traveling Global Kitchen: Food, Nature and Culture exhibition. In addition, almost every month there are themed family sleepover nights (minus food stations and alcohol) for children 12 and under accompanied by an adult.
Adult sleepover, $125 pp; family sleepover, from $50 pp.
PLAN YOUR TRIP: Visit Fodor's Milwaukee Travel Guide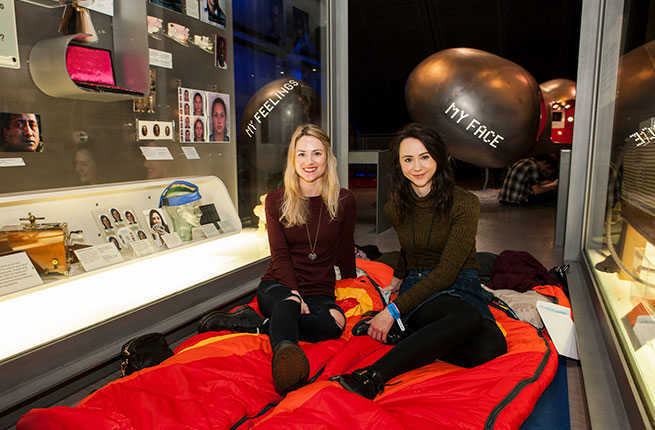 Barry MacDonald
Where: London, England
London's Science Museum periodically hosts themed "Astronight" events for over-18s. For example, one upcoming night will be devoted to magic and feature hands-on workshops at the museum's new Wonderlab gallery with its interactive exhibits devoted to bringing science and math to life, a midnight screening of Star Wars: Rogue One, plus access to all the usual museum galleries and ticketed exhibitions. A subsequent robots-themed night includes the above along with access to the new Robots exhibition. Food is provided by a "street food pop-up bazaar."
Astronights, £180 pp
PLAN YOUR TRIP: Visit Fodor's London Travel Guide
Canada Science and Technology Museums Corporation
Canada Aviation and Space Museum
Where: Ottawa, Ontario, Canada
Know a young person who can't wait to take to the skies? This museum devoted to aviation has a selection of nighttime packages for the junior (5–18) astronaut or pilot in your life. The Aviation Night Flight lets them simulate flying a Cessna 150, sit in an ejection seat, and participate in aerodynamic experiments. The Space Night Flight includes astronaut training, "spacelab" experiments, and a rocket-oriented workshop. Everyone sleeps under the wings of a famous aircraft and gets a guided flashlight tour of the museum and a movie.
Night Flights US$22 per child, US$15 per accompanying adult
PLAN YOUR TRIP: Visit Fodor's Canada Travel Guide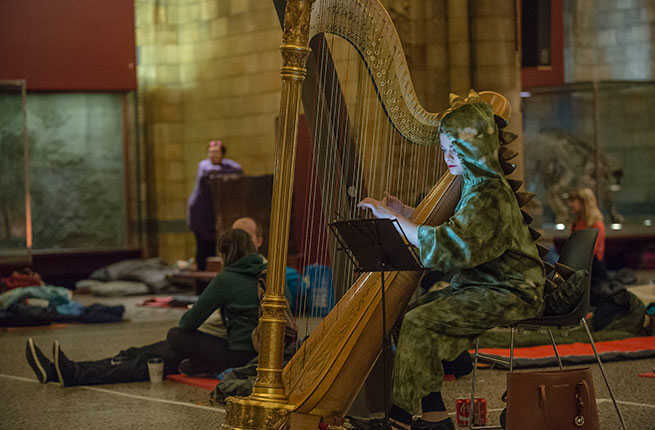 Trustees of the NHM, London
Where: London, England
This huge museum's bimonthly "Dino Snores" nights focus on its impressive collection of ancient reptiles. Guests have a chance to see the Dinosaur Gallery and the museum's temporary exhibitions by night, after the crowds have gone home (as seen in the movie Paddington). You'll sleep under a giant Stegosaurus or in the Fossil Marine Reptiles gallery, and enjoy a three-course dinner (in addition to a sampling of edible insects). For those who can't get enough of large beasts, there's also an all-night monster movie marathon. There are similar Dino Snores nights for children.
Dino Snores adults, £180 pp; children £60 pp
PLAN YOUR TRIP: Visit Fodor's London Travel Guide
MONA/Rémi Chauvin
Museum of Old and New Art
Where: Hobart, Tasmania Australia
Located in Tasmania's capital, this unique private museum—built in a disused riverside sandstone quarry with two aboveground and two underground floors—showcases the idiosyncratic collection of its founder, David Walsh. Guests can also enjoy temporary exhibitions like the current Origins of Art about the links between evolutionary biology and art curated by four "biocultural scientist-philosophers," including Steven Pinker. Overnight visitors stay not in the museum itself but in attached pavilions, each with its own artworks from the main collection and furnishings by iconic designers such as Philippe Starck and Ron Arad.
Pavilions from AUS $718
PLAN YOUR TRIP: Visit Fodor's Australia Travel Guide
Golden Hinde
Where: London, England
This monthly "Family Overnight Living History Experience" takes place aboard a meticulously restored recreation of the 17th-century galleon in which Sir Francis Drake sailed around the world. Your little seadogs will learn how Drake navigated the high seas, what life aboard ship was like, and how the ship's Barber Surgeon dealt with diseases and injuries in Elizabethan times. To make them feel part of the crew, they will get their own period sailor costumes and be able to raise the anchor and fire the ship's guns. A Tudor-style dinner and continental breakfast are included.
Overnight Experience, £45 pp.
PLAN YOUR TRIP: Visit Fodor's London Travel Guide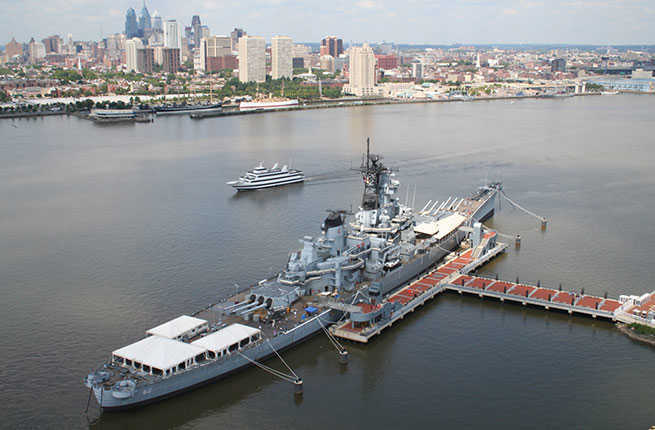 Battleship NJ
Where: Camden, NJ, United States
The past comes alive on World War II-era battleship three football fields long that saw service during the Battle of the Pacific and the Korean War and became the most decorated battleship in the U.S. Navy. To bring the history of these conflicts and the ship's role in them alive, the evening incorporates a tour of the New Jersey's mighty 16-inch gun turrets, a simulated launch of a Tomahawk missile in the Combat Engagement Center, a visit to the Admiral's cabin, and a chow-line dinner in the Crew's Mess.
Overnights, $69 pp
PLAN YOUR TRIP: Visit Fodor's New Jersey Travel Guide
Intrepid Sea, Air & Space Museum
Intrepid: Sea, Air & Space Museum
Where: New York, NY United States
In addition to guided tours of the massive aircraft carrier and talks documenting its history of service—ranging from World War II battles to recovering NASA capsules during the 1960s—"Operation Slumber" overnights offer children under 17 access to unlimited rides on a 4D flight simulator, pop-up planetarium shows, hands-on activities, and a night spent sleeping next to the aircraft on the hangar deck, just as enlisted sailors did. Admission price includes a ticket to the museum complex (home to the decommissioned Concorde), good for 60 days, plus a self-guided tour of the neighboring Space Shuttle Pavilion, where you can explore the space shuttle Enterprise and related exhibitions.
Operation Slumber, $120 pp
PLAN YOUR TRIP: Visit Fodor's New York City Travel Guide
Courtesy of the Natural History Museum of Los Angeles County
La Brea Tar Pits and Museum
Where: Los Angeles, CA, United States
This museum displays more than a million fossils from the more than 650 Ice Age species that were trapped in the tar pits that covered what is now the Hancock Park neighborhood of Los Angeles. Some specimens, including a nearly complete mammoth skeleton and the remains of a sabre-toothed cat, were found as late as 2009, and the tar pit is still an active dig site (a tour giving the lowdown on excavation is part of the evening). Guests sleep in the one-room venue among the exhibits. Although no food or drink is allowed in the museum, a "munchie buffet" with wine and craft beer is provided.
Overnights, $135 pp
PLAN YOUR TRIP: Visit Fodor's Los Angeles Travel Guide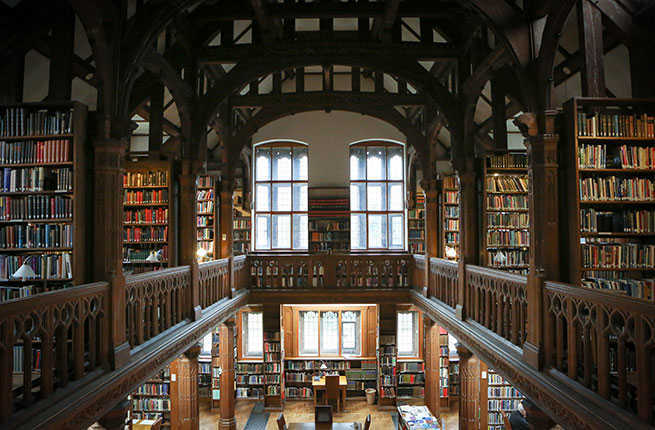 Gladstone's Library
Where: Hawarden, Wales
Bibliophiles will adore spending the night at this beautiful "residential library" surrounded by some 250,000 books, periodicals, and journals, all of which are available for browsing. The library was originally created by reforming Victorian Prime Minister William Gladstone. He bequeathed the over 32,000 volumes which form the heart of the collection and reflect his engagement with social, moral, and spiritual questions (although the scope of the contemporary collection has grown over the years). The large Victorian building has a separate wing that operates as a bed-and-breakfast, with 26 simple but comfortable bedrooms.
Rooms from £65 pp
PLAN YOUR TRIP: Visit Fodor's Wales Travel Guide
National Baseball Hall of Fame
National Baseball Hall of Fame
Where: Cooperstown, NY, United States
For kids 7 to 12 (and chaperoning big kids) who dream of a Field of Dreams, an "Extra Innings" overnight at the National Baseball Hall of Fame will hit a home run. Five times a year, visitors can access the public galleries after hours, sleep in the Hall of Fame gallery and in exhibit spaces, watch a film devoted to the baseball experience, and participate in interactive activities run by the museum staff. Younger visitors receive a commemorative knapsack.
Extra Innings overnights, $50 pp
PLAN YOUR TRIP: Visit Fodor's Albany and Central New York State Travel Guide