Amy Hart
Bigger doesn't necessarily mean better when it comes to art festivals. Every year when the weather warms up, America's smaller cities and towns host weekend-long events that feature work by some of the country's most talented artists. From a small street festival next door to the nation's capital to a laid-back event set in a mountain valley, there's plenty to do and see at these outdoor art extravaganzas. Here are our picks for America's best small art fairs.—Emily Wasserman
Emily Reynolds
St. Louis Art Fair
WHERE: Clayton, MO
When: September 9–11, 2016
St. Louis's swanky Clayton neighborhood hosts the city's eponymous art fair each year. The event features national artists who work with a variety of media, including drawing and pastels, ceramics, fiber, and jewelry. Black-and-white nature photographs and modern wooden chairs are just a few of the wares on display. Come with an appetite; the fair is also has food from some of the area's best restaurants.
PLAN YOUR TRIP: Visit Fodor's St. Louis Guide
M. Enriquez for Visit Alexandria
King Street Art Festival
WHERE: Alexandria, VA
When: September 17–18, 2016
Every summer, Alexandria's main thoroughfare transforms into an outdoor art gallery at King Street Art Festival. The event features work by more than 200 international artists, and wares range from jewelry and paintings to life-size sculptures and photography. Visitors can talk to artists about their creations while strolling through six blocks of the city's quaint downtown area.
PLAN YOUR TRIP: Visit Fodor's Alexandria Guide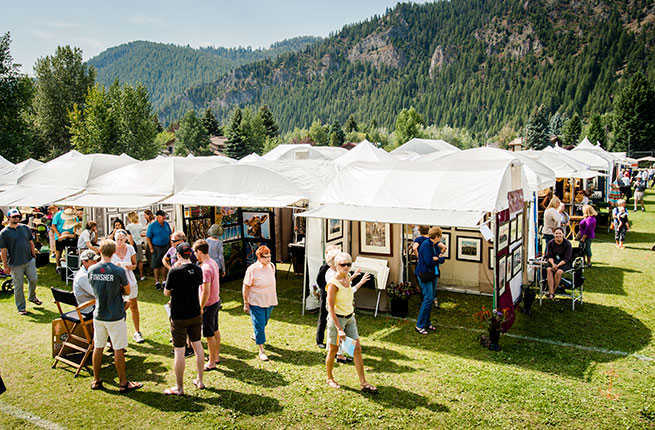 Dev Khalsa Photography
Sun Valley Center Arts and Crafts Festival
WHERE: Ketchum, ID
When: August 7–9, 2016
In terms of natural beauty, it doesn't get much better than the Sun Valley Center Arts and Crafts Festival. The event takes place with a mountain backdrop, and artists sell their wares in tents over the course of a weekend. Visitors can also enjoy live music from jazz, folk, and bluegrass performers. A kid-friendly activity area offers younger visitors an opportunity to participate in the action and create their own art.
PLAN YOUR TRIP: Visit Fodor's Sun Valley Guide
Frank Montanez
Cherry Creek Arts Festival
WHERE: Denver, CO
When: July 1–4, 2016
Denver's Cherry Creek Arts Festival pays homage to visual, culinary, and performing artists during a three-day event. Fine cuisine, live musical performances, and booths with international juried artists are all part of the program. Don't miss "Artivity Avenue," a block of interactive activities that allows visitors to create sculptures, prints, and designs and collaborate on a community mural. At night, the main stage features jazz, R&B, and folk-rock concerts.
PLAN YOUR TRIP: Visit Fodor's Denver Guide
Courtesy of the Sawdust Art & Craft Festival
Sawdust Art Fair
WHERE: Laguna Beach, CA
When: June 24–August 28, 2016
Known as an artist colony, Laguna Beach is also home to Sawdust Art & Craft Festival, a nine-week summer festival. Visitors can stroll down sawdust paths in a small village of craft booths and talk to local artists about their work. Glow-in-the-dark paintings and pressed metal hanging sculptures are just a few of the out-of-the-box works on display. Live music rounds out the entertainment, and demonstration booths and hands-on workshops give visitors a chance to see artists in action.
PLAN YOUR TRIP: Visit Fodor's Laguna Beach Guide
Mark Maziarz TK
Park City Kimball Arts Festival
WHERE: Park City, UT
When: August 12–14, 2016
Artists flock to the Park City Arts Festival each summer. The three-day event features ceramics, paintings, woven, and wooden pieces, as well as handcrafted jewelry and glass sculptures. Southwest woven tapestries, hand-painted ceramic jugs, and polished wooden desks won top prizes in the festival's art show last year. Live music from a variety of artists continues throughout the day, and visitors can stop between booths for a yoga session at designated "Yogafest" areas.
PLAN YOUR TRIP: Visit Fodor's Park City Guide
Amy Hart
Sausalito Art Festival
WHERE: Sausalito, CA
When: September 3–5, 2016
Labor Day weekend in Sausalito means the Sausalito Art Festival. Visitors can take a short ferry ride across the San Francisco Bay to the event, which includes work from artists specializing in jewelry, photography, woven clothing, and sculpture. Glass serving pieces, decorative ceramics, and wood and cast-metal kitchen items are a just a few of the things available for purchase. Live music plays throughout the day on two different stages, and children visiting the festival can also enjoy a kid-friendly performance at a special entertainment area.
PLAN YOUR TRIP: Visit Fodor's Sausalito Guide
Kyle Clark
Craft Expo 2016,
presented by Guilford Art Center
WHERE: Guilford, CT
When: July 15–17, 2016
Come rain or shine, Guilford Craft Expo takes place every summer on the city's downtown green. American artists feature heavily at the festival, and visitors can browse work from 180 nationally recognized craftsmen. Ceramics, glass, jewelry, and printmaking are among the works available for purchase. The festival also includes student craft demos and a silent auction for donated craft pieces.
PLAN YOUR TRIP: Visit Fodor's New Haven Guide
Lauratompkins | Dreamstime.com
Long's Park Art and Craft Festival
WHERE: Lancaster, PA
When: September 4–6, 2016
For three days during the summer, Lancaster, Pennsylvania's Long's Park transforms into an outdoor gallery set around a lake. Artists from more than 30 states show up with their wares, including precious jewelry, colorful glass sculptures, and local woodwork. Live jazz performances continue throughout the day, and visitors can sample fare from area restaurants during breaks.
PLAN YOUR TRIP: Visit Fodor's Lancaster Guide
Ann Arbor Street Art Fair
Ann Arbor Street Art Fair
WHERE: Ann Arbor, MI
When: July 21–24, 2016
Ceramic teapots, handwoven embroidered tapestries, and watercolor paintings are a sampling of what you'll find at the Ann Arbor Street Art Fair. The festival, which takes place in downtown Ann Arbor, features a variety of artists from around the country who display unique works. Lively street performances keep visitors entertained. Festivalgoers can also watch as artists create large-scale paintings on the pavement with sidewalk chalk.
PLAN YOUR TRIP: Visit Fodor's Michigan Guide
Paul R. Davis
Bayou City Arts Festival
WHERE: Houston, TX
Houston's Bayou City Art Festival draws a crowd. The event had a record-breaking year with almost 15,000 visitors in 2015, and this year promises to more of the same. Texas artists take center stage displaying works ranging from vibrant modern paintings to whimsical tin sculptures. Families will enjoy interactive booths where children and parents can try their hand at printmaking and other crafts.
PLAN YOUR TRIP: Visit Fodor's Houston Guide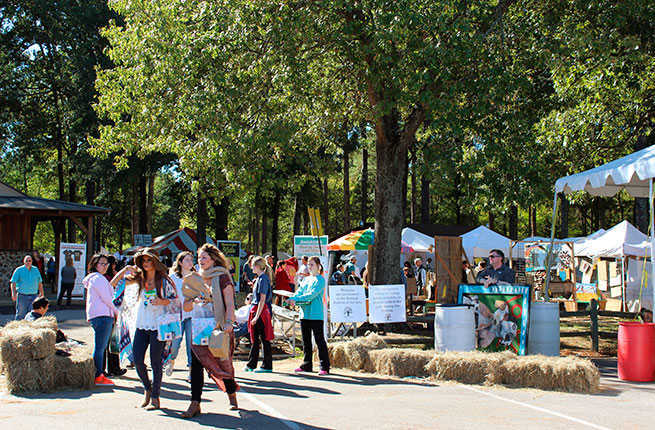 Amy Echols
Kentuck Festival of the Arts
WHERE: Northport, AL
When: October 15–16, 2016
For some of the country's best folk art, look no further than Kentuck Festival of the Arts. Hosted by a community art center in Alabama, the event brings together more than 270 folk, visionary, and contemporary artists, not to mention expert craftspeople. Interactive live demonstrations from basketmakers, blacksmiths, traditional potters, and quilters add to the rustic ambiance. Children can also partake in the action in hands-on art areas throughout the park.
PLAN YOUR TRIP: Visit Fodor's Montgomery Guide
American Craft Expo
American Craft Expo
WHERE: Evanston, IL
When: September 23–25, 2016
More than 140 artisans pitch tents at the American Craft Exposition. Held in the college town of Evanston, Illinois, the festival features museum-quality artwork and one-of-a-kind furniture, glass, jewelry, leather, paper, and wood pieces. Visitors can browse wares while taking in views of sailboats on neighboring Lake Michigan.
PLAN YOUR TRIP: Visit Fodor's Chicago Guide
Des Moines Arts Festival
Des Moines Art Festival
WHERE: Des Moines, IA
When: June 24–26, 2016
Some of the best artists across the United States come to the Des Moines Art Festival every summer. A competitive jury judges 180 artists with media ranging from sculpture to paintings, but that's only part of the attraction. The event also includes live music and performances from acrobats, comedy acts, and dancers. Interactive art activities give visitors a chance to be creative, and people can also take in live demos from artists. On-site food trucks give visitors something to snack on between booths.
PLAN YOUR TRIP: Visit Fodor's Des Moines Guide