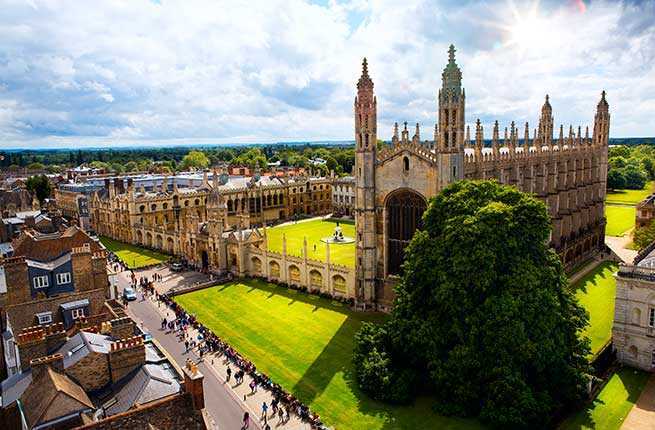 Konstanttin / Shutterstock
With school back in session, now's a great time to have a look at the universities that shape so many lives. These institutions of higher learning are characterized not only by the excellent educations they offer today, but also by the history behind them. Having made appearances in literature and films, and guarding their fair share of secrets, these idyllic campuses, from Europe's oldest university to the setting of the Harry Potter films, are well worth seeing. —Laura Itzkowitz
(c) Tedholt | Dreamstime.com
WHERE: Bologna, Italy
The oldest university in the Western world, the Università di Bologna traces its roots to 1088, when free teaching became widespread outside of the church. Many of the university buildings date back to the Renaissance, and several are from the 17th and 18th centuries. Strolling through the redbrick and stone arcades around the university makes for a pleasant afternoon. Several museums commemorate the scholarly advances of intellectuals like Nicholas Copernicus, Erasmus of Rotterdam, and Albrecht Dürer, all of whom studied here. In particular, the Museo di Palazzo Poggi displays botanical specimens, scientific instruments, and paleontological artifacts.
Insider Tip: Bologna is full of good, inexpensive restaurants catering to the student population, but for a great aperitivo, stop by the restaurant at MAMbo (Museo d'Arte Moderna di Bologna).
PLAN YOUR TRIP: Visit Fodor's Bologna Guide
Kamira / Shutterstock.com
WHERE: Oxford, England
It's hard to imagine a more picturesque university than Oxford. The oldest university in the English-speaking world, Oxford dates back to 1167, when King Henry II banned English students from attending the University of Paris. On the campus, regal Gothic buildings housing classrooms, dormitories, and dining halls stand out against the quad's verdant lawn, where you can imagine Percy Bysshe Shelley, Oscar Wilde, and W. H. Auden lounging between classes. Oxford's circular Radcliffe Camera is a masterpiece of Palladian architecture and one of the world's most stunning libraries.
Insider Tip: Harry Potter fans touring the campus should pay attention to see where scenes at Hogwarts were filmed.
PLAN YOUR TRIP: Visit Fodor's Oxford Guide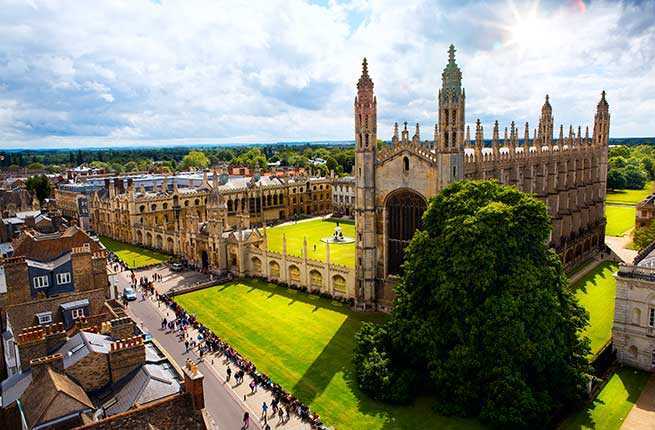 Konstanttin / Shutterstock
WHERE: Cambridge, England
Cambridge University is characterized less by a proper campus than a collection of colleges, medieval churches, courtyards, and wisteria-filled gardens. The town of Cambridge originated in Roman times, and the university dates back to 1209. The exact founding story is unknown, but the version told to Cambridge students recounts that some Oxford scholars chased out after the accidental shooting of a peasant fled to Cambridge, where they established a new university. The prestigious university is shrouded in mythology and funny stories of students' pranks. Going with a guide is the best way to get all the insider info.
Insider Tip: When passing under the Great Gate at Trinity College, look up at the statue of Henry VIII. At some point, the scepter in his hand was replaced by a table leg, but when or how the switch was made is one of Cambridge's great mysteries.
PLAN YOUR TRIP: Visit Fodor's Cambridge Guide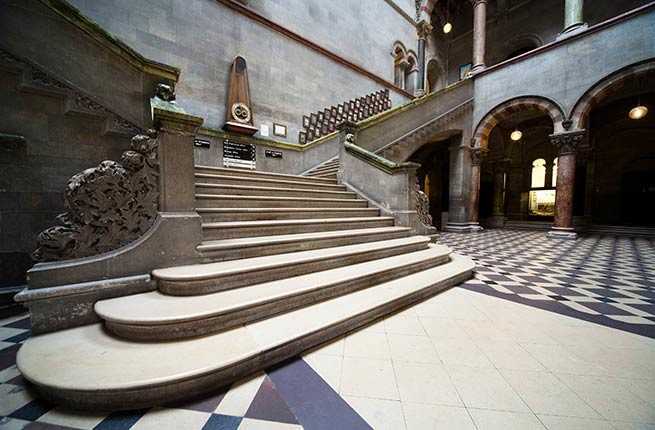 (c) Zorro12 | Dreamstime.com
WHERE: Dublin
Roaming the green, sprawling campus of Trinity College, you'll likely feel connected to the great literary tradition there. Jonathan Swift, Oscar Wilde, Bram Stoker, and Samuel Beckett all studied at Trinity, and their busts stand proudly in the library. Most of the university's buildings were constructed in the 18th and 19th centuries, but Queen Elizabeth I established Trinity College in 1592 with the aim of "civilizing" Dubliners. In the historic Examination Hall—also known as Sir William Chambers' Theater—you can marvel at the impressive 18th-century interiors and the organ, which was recovered from a Spanish ship.
Insider Tip: In James Joyce's Ulysses, Leopold Bloom visits Sweny's Pharmacy near the college. Today, many Trinity students work there, selling the lemon soap that Joyce described.
PLAN YOUR TRIP: Visit Fodor's Dublin Guide
hakne1 / Shutterstock.com
WHERE: Coimbra, Portugal
A UNESCO World Heritage Site, the University of Coimbra has grown and evolved over the course of seven centuries. Its lavish baroque library—the Biblioteca Joanina—is widely recognized as the most beautiful university library in the world. The university holds plenty of other attractions, including the 12th century Cathedral of Santa Cruz, several 16th century colleges, and the 18th century botanical gardens. The oldest nucleus of the campus is located on the site of the former Royal Palace of Coimbra.
Insider Tip: Be sure to visit the university's outstanding Science Museum, which has an excellent colloction focusing on physics, chemistry, natural history, astronomy and medicine from the Enlightenment period.
PLAN YOUR TRIP: Visit Fodor's Coimbra Guide
Jorge Salcedo/Shutterstock
WHERE: Cambridge, MA
America's oldest and most prestigious university is comprised of a series of buildings that narrate the progression of architecture in the U.S. Established in 1636—over a century before the United States was an independent country—Harvard University took its name from John Harvard, who donated his entire library and half his wealth to the university upon his death. His statue stands at the center of the gated campus, in Harvard Yard. Visitors can freely wander the grounds admiring the charming red brick buildings, though many have restricted access for students and faculty only. Memorial Hall, with Saunders Theater inside, is a Victorian masterpiece and a memorial to the Harvard men who died for the Union cause during the Civil War.
Insider Tip: Tourists love to take photos with the John Harvard statue in Harvard Yard, but beware—Harvard students make a habit of peeing on it.
PLAN YOUR TRIP: Visit Fodor's Cambridge Guide
(c) Jiawangkun | Dreamstime.com
WHERE: New York City
Originally founded as King's College in 1754, Columbia University is one of the oldest universities in the U.S., but has only occupied its current campus since the early 20th century. Back then, this part of Manhattan—known as Morningside Heights—was still quite rural. Famed architects McKim, Mead, and White designed the picturesque campus in the Beaux-Arts style. It's a bit of an idyllic oasis in the city, with plenty of green space surrounded by red brick and stone classroom buildings, libraries, and chapels. Columbia has its fair share of secrets, like the origins of the oldest building on campus—the Maison Française—as a mental hospital. Poe's Raven Mantel, donated to Columbia in 1908, was recently rediscovered in a back room of Butler Library after being lost for over 100 years.
Insider Tip: After touring the campus, head over to the Hungarian Pastry Shop, one of New York City's most storied literary haunts.
PLAN YOUR TRIP: Visit Fodor's New York City Guide
(c) Odeomaterialismum | Dreamstime.com
WHERE: Charlottesville, VA
In 1819, Thomas Jefferson founded and designed the pastoral University of Virginia. He believed that the young nation he helped found would need a public institution of higher education to form future generations of leaders, instilling them with knowledge, personal responsibility, and ethics. He took inspiration from the Classics, modeling the Rotunda on Rome's Pantheon. The Lawn, surrounded by red brick academic buildings with white columns, served as a model for many other American universities.
Insider Tip: After visiting Jefferson's university, explore Monticello, his home in Charlottesville.
PLAN YOUR TRIP: Visit Fodor's Charlottesville Guide
(c) Shiningcolors | Dreamstime.com
WHERE: Beijing
It's no wonder that Peking University is considered one of China's most beautiful universities—it's located on the grounds of the former Qing Dynasty gardens. Founded in 1898 as the Imperial University of Peking, it was originally in the center of Beijing, near the Forbidden City, but was moved to its location near the Summer Palace in 1952. The gorgeous campus is full of traditional houses, gardens, and pagodas. Of the three gates that lead into the campus, the West Gate is the most beautiful, with elaborate ceiling murals.
Insider Tip: Peking University has a history of revolutionary activity—its students participated in the May Fourth Movement, the New Culture Movement, and the Tiananmen Square protests. Mao Zedong studied there.
PLAN YOUR TRIP: Visit Fodor's Beijing Guide
(c) Toneimage | Dreamstime.com
WHERE: Palo Alto, CA
Covering 8,180 acres in the San Francisco Peninsula, Stanford University began with Leland Stanford's purchase of 650 acres of El Ranchito San Francisquito in 1876. After Stanford's only son died at the age of 15, he and his wife decided to create a university in his name. They employed Frederick Law Olmsted—the famed landscape architect of Central Park—to design the campus. The result is a palm-tree lined campus comprised of Mission-Revival-inspired buildings with red tiled roofs and local sandstone arranged around a series of quadrangles. Memorial Church is the Main Quadrangle's focus, though the Stanfords specified that the university would be non-denominational and coed.
Insider Tip: Be sure to see Frank Lloyd Wright's Hanna-Honeycomb House and the Cantor Arts Center, which houses 170 sculptures by Auguste Rodin.
PLAN YOUR TRIP: Visit Fodor's San Francisco Guide
By Régis Lachaume (Self-photographed) [Public domain], via Wikimedia Commons
UNIVERSIDAD NACIONAL AUTONOMA DE MEXICO
WHERE: Mexico City
A relatively young university (founded in 1910), the Universidad Nacional Autónoma de México was established as a liberal alternative to the Royal and Pontifical University of Mexico (founded in 1551 by royal decree of Charles V, Holy Roman Emperor). Initially, classes were scattered in buildings around Mexico City, but in the early 1950s, a team of 60 architects, engineers, and artists built the Central University City Campus. Located in the southern part of Mexico City, it is comprised of an exceptional group of modernist buildings, with murals by Diego Rivera and David Alfaro Siqueiros. It is a national artistic monument and a UNESCO World Heritage Site.
Insider Tip: Check out the Antiguo Colegio de San Idelfonso, considered the birthplace of the Mexican muralism movement, with murals by Diego Rivera and many others.
PLAN YOUR TRIP: Visit Fodor's Mexico City Guide
clearlens / Shutterstock
WHERE: Rostock, Germany
Founded in 1419, the University of Rostock (Universität Rostock) is one of Germany's first universities and the oldest university in continental northern Europe and the Baltic Sea area. Upon its 500th anniversary in 1919, the university conferred an honorary doctorate on Albert Einstein (and was the first university to do so). The many buildings on campus represent a range of styles, from the striking red and white Neo-Renaissance central building on Universitätsplatz, to the modern library with its glass and steel façade.
Insider Tip: When in Rostock, a trip to the Zoological Garden (Zoologischer Garten) is a must.
PLAN YOUR TRIP: Visit Fodor's Rostock Guide
(c) Evolution1088 | Dreamstime.com
UNIVERSITY OF WESTERN AUSTRALIA
WHERE: Perth, Australia
The University of Western Australia benefits from Perth's moderate climate. The picturesque campus was designed to maximize outdoor space, with sprawling green lawns, open-air pedestrian walkways, the outdoor Somerville Auditorium framed by pine trees, and the Sunken Garden—an amphitheater with gardens, ponds, and terraced lawns. It was established in 1911 as the British Empire's first free university and opened its doors in 1913.
Insider Tip: Be sure to visit the nearby Swan River and the enormous Kings Park—one of the few city parks larger than NYC's Central Park.
PLAN YOUR TRIP: Visit Fodor's Perth Guide
Richard Cavalleri / Shutterstock
WHERE: Cape Town
Poised under the majestic slopes of Devil's Peak, the University of Cape Town looks a bit like a Classical village, with buildings featuring columns and porticos. The Upper Campus is focused on Jameson Hall, which hosts graduation and other ceremonies. South Africa's oldest university, it was established in 1829 as a boy's high school, and became a full-fledged university between 1880 and 1900. As a bastion of liberal thought, the university had many students who opposed apartheid, and the first black students were admitted in the 1920s.
Insider Tip: The university's original building—now known simply as the Egyptian Building—is one of few university buildings in the world designed in the Egyptian Revival style.
PLAN YOUR TRIP: Visit Fodor's Cape Town Guide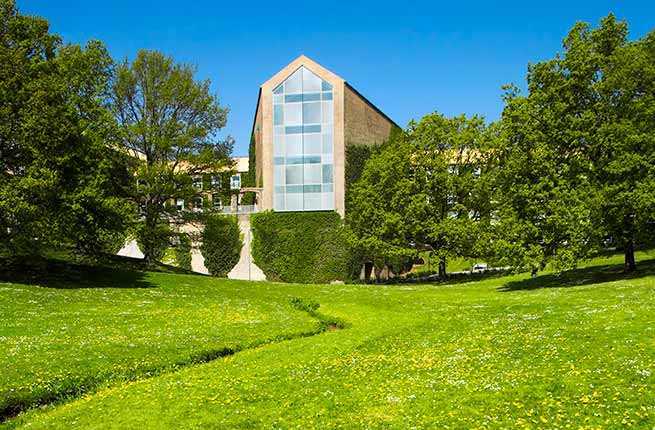 Dhoxax / Shutterstock
WHERE: Aarhus, Denmark
Denmark's second oldest university, Aarhus University was established in 1928 to accommodate the students overwhelming the University of Copenhagen after WWI. The campus occupies a beautiful landscape of rolling hills and features a lovely grass-stepped amphitheater. Three Danish architects designed the campus with a series of harmonious buildings, and the United Tileworks of Århus donated the yellow bricks used uniformly on the modern classroom buildings and labs.
Insider Tip: The waterfront in Åarhus has plenty of funky cafés, restaurants, and bars that cater to the student population.
PLAN YOUR TRIP: Visit Fodor's Aarhus Guide