Grand Tetons and Yellowstone 2022 Trip Report
Oct 31st, 2022, 08:27 PM
Join Date: May 2004
Posts: 791
Likes: 0
Received 0 Likes on 0 Posts
Grand Tetons and Yellowstone 2022 Trip Report
---
I took a trip to the Grand Tetons and Yellowstone September 23-30
Objective: See as much wildlife as possible, with a special quest to see bears.
Traveler: Solo woman
Flight: Southwest from Houston Hobby to Salt Lake City, $293 RT
Car rental: Alamo, $456 for an intermediate car (ended up with a Kia hybrid small utility vehicle). It's hard to continue to pay these high rental rates.
Hotel prices in this part of the country are why I haven't made the trip until this year. Jackson in particular is outrageous.
Super 8, Jackson, WY- the most expensive hotel I've ever stayed at in my life was also the worst. $275/night for a small room with stained carpet and bed linens, and the saggiest, oldest mattress ever that was also stained. No hot breakfast and to my shock, a daily resort fee was also tacked on to my bill which had not been on my confirmation. There are absolutely no amenities that would be associated with a resort.
Days Inn West Yellowstone, WY - $172/night. Very clean and well maintained. Room was huge. I felt like royalty coming from the terrible Super 8. Hot breakfast served every day. Walk to stores and restaurants.
Holiday Inn Express, Park City, UT - $127/night. Clean, comfortable and standard fare. Great breakfast that included their renowned cinnamon rolls.
9/23 – Flight to SLC was smooth. SLC is huge, a surprise to me. I think it was a half mile walk to baggage claim. By the time we all got to baggage claim, the whole plane's luggage was out. Rental car counter was swamped and only two people were working. Got my Kia later than expected due to car rental delay and hit the road to Jackson.
I stopped in Ogden at the Walmart to stock up on water, soda and snacks as I figured the prices would be better than in Wyoming. I also picked up bear spray, $50. I was convinced by all the warnings on the park websites that I should have some.
Jackson-Grand Tetons.
Park Pass: I bought the America the Beautiful pass at the south entrance for $80. They make people sign the card upon purchase and each time I entered the Tetons or Yellowstone, ID was required as well.
Dining: I'm not a foodie and as a solo traveler, I don't linger in restaurants long. In Jackson, I dined at Pinky G's pizza, The Bunnery, Liberty Burger and Dairy Queen (yes, DQ). Pinky G's was pretty good and you can buy by the slice. The Bunnery was disappointing. Some of the pics I had seen on Yelp were better than the reality I experienced. LB was ok.
Random observation: I heard a lot of service workers speaking a Slavic language. Whether Russian, Ukrainian, or other Eastern European country, it was interesting in such a small town.
Scenery: the Tetons are beautiful. Jenny Lake is a gorgeous area. The other lakes are stunning too.
Travel tip for Jenny Lake: you will see restrooms adjacent to parking lot. These are vault toilets. Skip them and walk just a little bit further and you will find nice civilized facilities next to the little store.
Jackson Lake Lodge is also a good place for a restroom stop should you need one in that area.
Wildlife: I went for bears and the bears heard I was coming and left. Not one bear! I did see lots of moose (Moose-Wilson Road was a sure thing), pronghorn (main Teton Road), deer, elk and bison. I drove hundreds of miles each day, starting early in the morning and going until after dark in the hopes of seeing animals. I went to all the recommended locations, such as Oxbow Bend, Pilgrims Creek Road, Schwertner's Landing (probably spelling that wrong), etc. My car was filthy from driving down random gravel roads.
Hiking: I took the boat across Jenny Lake and then hiked to Hidden Falls. Great hike and scenery. I loved the boat ride. The hike along Leigh and String Lake was nice too. There weren't too many people around here, and at one point, I heard shouting and screams and I wondered whether someone was trying to scare off a bear. Well, no, it was not a bear attack. Further ahead, I found that there was a group of guys skinny dipping in the cold waters. I'm not sure if it was Leigh or String Lake. Some guys were in their undies but there were some full moons as well. I should have taken a pic! In the moment, all I could think was that they were ruining my shot, lol. I also hiked Taggart Lake. This hike had a lot of intense sun exposure. I was very grateful I brought my big hat on this trip. I would have been miserable and sunburned had I not worn it. While the temps were never higher than the 70s, the sun is strong.
There were so many signs in the Teton area warning of bears and the dangers of solo hiking. I was armed with my bear spray and was sure I'd see bears on my solo hikes. I was tremendously disappointed I never saw a bear. I had been following bears such as Blondie and 399 online and while I figured they would be out of sight since they are currently empty nesters I had hoped to encounter some kind of bear sightings. I did enjoy the animals I was able to see and was pleased to see pronghorn for the first time in my life. They are super cute and appealing.
Jackson, the town: cute town, lots of shops and restaurants. Very lively in general.
Churches: I visited the lovely Chapel of the Sacred Heart and Chapel of the Transfiguration. I could not access the interior of the Chapel of the Transfiguration as it was closed but it has a spectacular setting with the Tetons in the background.
Next up, Yellowstone!
---
Last edited by aggiegirl; Oct 31st, 2022 at

08:30 PM

.
Nov 2nd, 2022, 02:47 PM
Join Date: Jan 2003
Posts: 13,375
Likes: 0
Received 0 Likes on 0 Posts
Wow, on the resort fee at the Super 8! Jackson has always been somewhat expensive but prices have really exploded since the pandemic. Bummer on the lack of bear sightings. Looking forward to more.
Nov 4th, 2022, 09:22 AM
Join Date: Oct 2022
Posts: 28
Likes: 0
Received 0 Likes on 0 Posts
Aggiegirl--It sounds as if these days the Park Service, with cooperation from visitors, is successfully keeping most of the bears in the Tetons and Yellowstone "wild", in other words they fortunately avoid people and do not become habituated to approach us seeking to obtain our food items or garbage. Keeping bears wild is especially important in places where (a) some grizzlies are present, and (b) lots of people visit their territory.

As you probably already realize, Black Bears (Ursus Americanus) are present in a much larger range, and far larger numbers, here in the USA than are Brown/Grizzly Bears (Ursus Horribelus,spelling?). The Grizzlies tend to be considerably larger and more temperamentally aggressive compared to Black Bears.

There are places in this country where you could probably encounter Black Bears more easily, including some that unfortunately have become habituated to us and approach us seeking food. Visitors often encounter Black Bears,for example, while driving and hiking in both Great Smoky Mountain National Park and Shenandoah National Park.
---
Last edited by chrisdaniel0933; Nov 4th, 2022 at

09:27 AM

.
Nov 5th, 2022, 09:48 PM
Join Date: May 2004
Posts: 791
Likes: 0
Received 0 Likes on 0 Posts
ChrisDaniel, yes, I have seen black bears in the Smoky Mountains. I read black bears have been so active there this year they closed some trails. I met fellow tourists in Wyoming who were not interested in seeing black bears because they are common where they are from (such as Wisconsin and Connecticut).

I was lucky enough to see two black bears in Banff and a grizzly.

It's a blessing to see these amazing animals in their natural environments.
Nov 13th, 2022, 01:33 PM
Join Date: May 2004
Posts: 791
Likes: 0
Received 0 Likes on 0 Posts
Yellowstone!
As many know, the Yellowstone area suffered devastating storms in June 2022, causing catastrophic damage to the north and northeast areas. When I was there, the farthest east I could go was to Slough Creek campground. Since October, it's my understanding the east entrance and Lamar Valley are now open. Anyone traveling should check the NPS website for the latest information.
I stayed in West Yellowstone which is a convenient gateway to the park. The town has lots of restaurants and touristy shops.
My visit included most of the major geyser basins. The day I arrived, I went to the Upper Geyser Basin and lucked into seeing Old Faithful go off within ten minutes of my arrival.
At West Thumb, the path to the Abyss pool was still closed off, blocked with police tape. In August, rangers found a human foot floating in the pool, still wearing a shoe. So, more than a month later, it was still blocked. Very peculiar and disappointing. A crime scene needs to be cleared promptly. I've become kind of fixated on learning the story behind "the foot". I feel like had this happened in the jurisdiction of a city, it would have already been resolved already.
For the Midway Geyser Basin, the late afternoon is packed, with a line of cars waiting to get in. I ended up going early in the morning. It's kind of neat in the morning with the combination of fog and the steam from the geysers. The only downside in the morning is that the clouds impact the color of the pools, including the Grand Prismatic. I recommend going in morning AND in afternoon for different perspectives.
A guy stuck his finger in the water of the Grand Prismatic. Based on his reaction, while it's hot, it's not boiling or acidic at the edges. This, folks, is illegal, per the ranger who I spoke to further down the boardwalk.
The geysers and pools are fascinating. It feels like another planet.
Mammoth Hot Springs is cool and they have a nice visitor's center. Elk wander around the visitor center grounds and the rangers are very strict holding people on the porch of the building or calling to tourists to stay in their cars until the animals move on.
I saw a few waterfalls during my trip and stopped for most of them. Of course, the Grand Canyon of Yellowstone is incredible and you can see the falls from several stops on both sides of the rim.
I had great hopes of seeing bears in Yellowstone and I saw ZERO! Very disappointing! I went early one morning to Slough Creek hoping to see them there but all I saw were pronghorn, bison and coyotes. I had to chuckle that at every coyote sighting, people were very excited to see a wolf. Sorry folks, that's not a wolf goofing around chasing bugs right by the road.
Construction crews were feverishly working on the damaged roads further east and I think the thundering heavy trucks racing through the area kept some wildlife away. It was not peaceful out there given those conditions.
Construction was a headache on the southside between West Thumb and the Upper Geyser basin. As only one lane was open for a long stretch, crews held traffic in one direction while allowing the other direction to travel. It took an hour to get through one day and at least 30 minutes another day. I actually changed my last day to avoid it. I was originally going to head back to SLC going the same way I came up but thought better of that after experiencing such delays.
I don't know if the work on the south loop was tied to the storms or just regular maintenance.
Each day in Yellowstone, I drove hundreds of miles in pursuit of wildlife sightings, starting early in the morning and driving at night. Bison are in great abundance. I saw one bald eagle thanks to fellow travelers who pointed him out to me in the Hayden Valley. The only other wildlife I saw in the Hayden was a coyote. Those Yellowstone coyotes love prancing around close to the roads.
The Yellowstone region has absolutely beautiful scenery. I was just surprised that I didn't see more wildlife diversity. It's all luck, I guess!
I drove back to SLC via Idaho. That was a long, long dull drive. My final night was in Park City. Main Street is fun to explore with lots of shops and eateries. I took the Mirror Lake scenic drive in one last attempt to see wildlife. I saw free range cattle and deer. Mirror Lake is beautiful but only one car was there so I passed on walking the perimeter of the lake.
I loved both the Grand Tetons and Yellowstone. Would I go back? Probably not, just because it's an expensive destination, especially the Grand Tetons.
Up next for me is the Grand Canyon next month! I found a cheap fare to Phoenix and it being very off season, hotels are reasonable. Can't wait!
My new dog!
---
Last edited by aggiegirl; Nov 13th, 2022 at

01:40 PM

.
Nov 13th, 2022, 01:46 PM
Join Date: May 2004
Posts: 791
Likes: 0
Received 0 Likes on 0 Posts
West Thumb
Path to Abyss pool at West Thumb
West Thumb
Old Faithful
Grand Canyon of Yellowstone
I named her Harriet.
Magical planet
Can't remover if this is Biscuit Basin or Midway.
Roads are a mess! It will be better in another year.
Utah, Mirror Lake Scenic drive.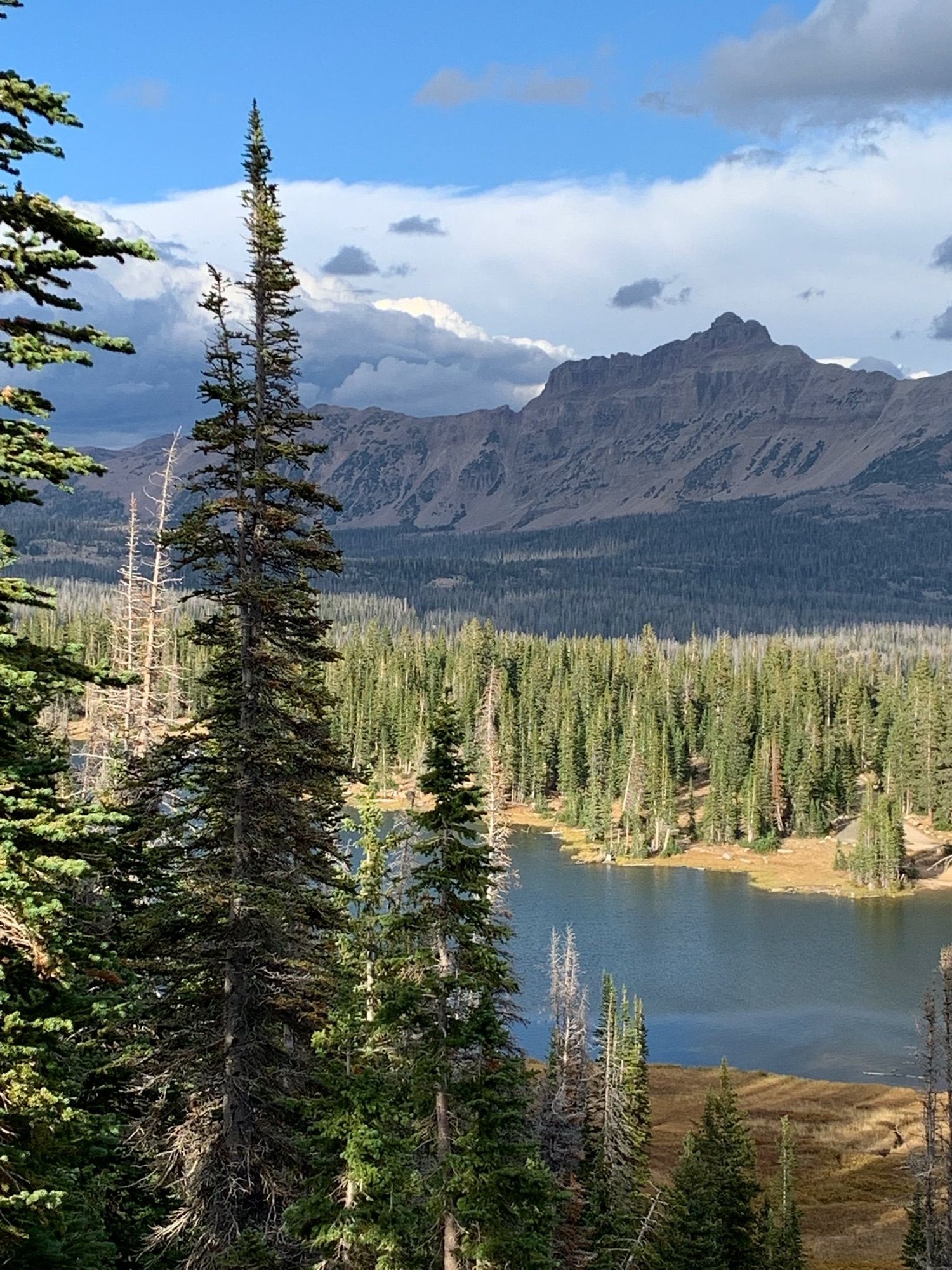 Utah, Mirror Lake Scenic Byway
Nov 13th, 2022, 01:53 PM
Enjoyed your report, thanks for posting. And great photo of your new dog
In August, rangers found a human foot floating in the pool, still wearing a shoe.
Maybe one of those bears you so wanted to see?

Here's a bear for you - taken from my living room in Colorado in 2018. Not a griz of course, but a bear just the same. We see a few every year, either in our backyard, on our patio or on our morning walks.
---
Last edited by Melnq8; Nov 13th, 2022 at

01:56 PM

.