Trip Report: Sintra, Evora, and Lisbon late Oct-early Nov
Join Date: Aug 2013
Posts: 637
Trip Report: Sintra, Evora, and Lisbon late Oct-early Nov
---
We made our first visit to Portugal in late October-early November, for nine days. We (now in our seventies, yikes) now like short overseas trips like this as opposed to the longer trips we used to make. After seven or eight days our brains are so full of beautiful things and interesting experiences we feel like taking a break and digesting it all.
We left from Montreal on Air Transat, in comfy and not-too-expensive Club Class, an easy 6-1/2 hour trip to Lisbon. No checked luggage, easy on, easy off. From the Lisbon airport we called an Uber and went straight to Sintra, avoiding the need to go into central Lisbon and hop a bus or train or whatever. The price was around 35 euros for the two of us.
We loved Portugal! Shortly I will try to put into words why this country was so appealing to us, with a different vibe from Mediterranean countries like Spain or Italy, but first some factoids about the important things, sleeping and eating:
Hotels (all prices for double room and breakfast)
:
Sintra, Casa Miradouro
>>Sintra: Casa Miradouro: superb, an elegant old mansion a ten-minute walk (uphill) to the town center; flawless service; delicious breakfasts. We requested the corner room with a balcony and a view of the Moorish castle and the Quinta da Regaleira, beautifully illuminated in the evening. 254 euros
>>Evora: Albergaria do Calvario (sometimes listed as ADC): an old olive oil factory remade into an airy, sleek hotel; located inside the medieval walls; repeat—flawless service, delicious breakfasts. 175 euros
Lisbon, Memmo Alfama
>>Lisbon: Memmo Alfama (there are two in Lisbon, the other is in Principe): three old structures in Alfama; the interiors were gutted and rebuilt seven years ago into a wonderful, luxurious hotel, very warm and friendly. One of the structures was formerly a bakery and the elevator room was one of the big 12-foot tall bricked baking ovens. So cool! We had a room with a little terrace overlooking the ochre tiled roofs of the Alfama neighborhood and the Tagus river with cruise ships at the dock. (More on cruise ships later in the report.) Repeat yet again: flawless service, delicious breakfasts. 255 euros
Sintra restaurants (prices are for 2, including tip)
:
>>
Café Saudade
: relaxing little café, tasty lunch, 22 euros.
>>
Apadeira
: family restaurant, homey, sea bass, potatoes, broccoli, queijada (=little cheese custards); a bottle of Terraissinho red wine; free port after dinner; 60 euros.
>>
Metamorphosis
: a tad upscale from Apadeira but very welcoming nevertheless; excellent apps of cheese board including a thick slice of Roquefort terrinie (for foodies, take Roquefort, mascarpone, and figs; smash and mix; form into loaf; chill; slice); grilled octopus and veg. A red Douro wine. 80 euros.
Evora restaurants
:
Evora, Pateo, lunch
Evora, Pateo, Fernando grilling our chorizo, yum
Evora, Pateo entrance
>>
Pateo
: wonderful lunch place, at the end of a little bright be-flowered alley, in a courtyard. We ate here twice. Great selections of salads, cured meats, sausages. Our server Fernando grilled our chorizo over an open fire til crackling and juicy. 36 euros each time more or less.
>>
Tabua do Naldo
: excellent place with imaginative concept: the abundant apps and the main entrée are shared; you choose fish or meat (or they can do veggie on request). We had cod with migas (seasoned bread crumbs, sort of a cousin to Thanksgiving stuffing, quite tasty). A "trio" of small dessert dishes. Superb red Alentejo wine. The only hic: they played piercing techie grunge music, but changed to a softer mode when we cried out for mercy. 80 euros.
>>
Taberna Tipica
: another family resto. The chef prepares one meal for the evening (actually two, choose fish or fowl). Several good apps, more tasty cod, with a chocolatey thing for dessert. 80 euros.
Lisbon restaurants (all in or near Alfama)
: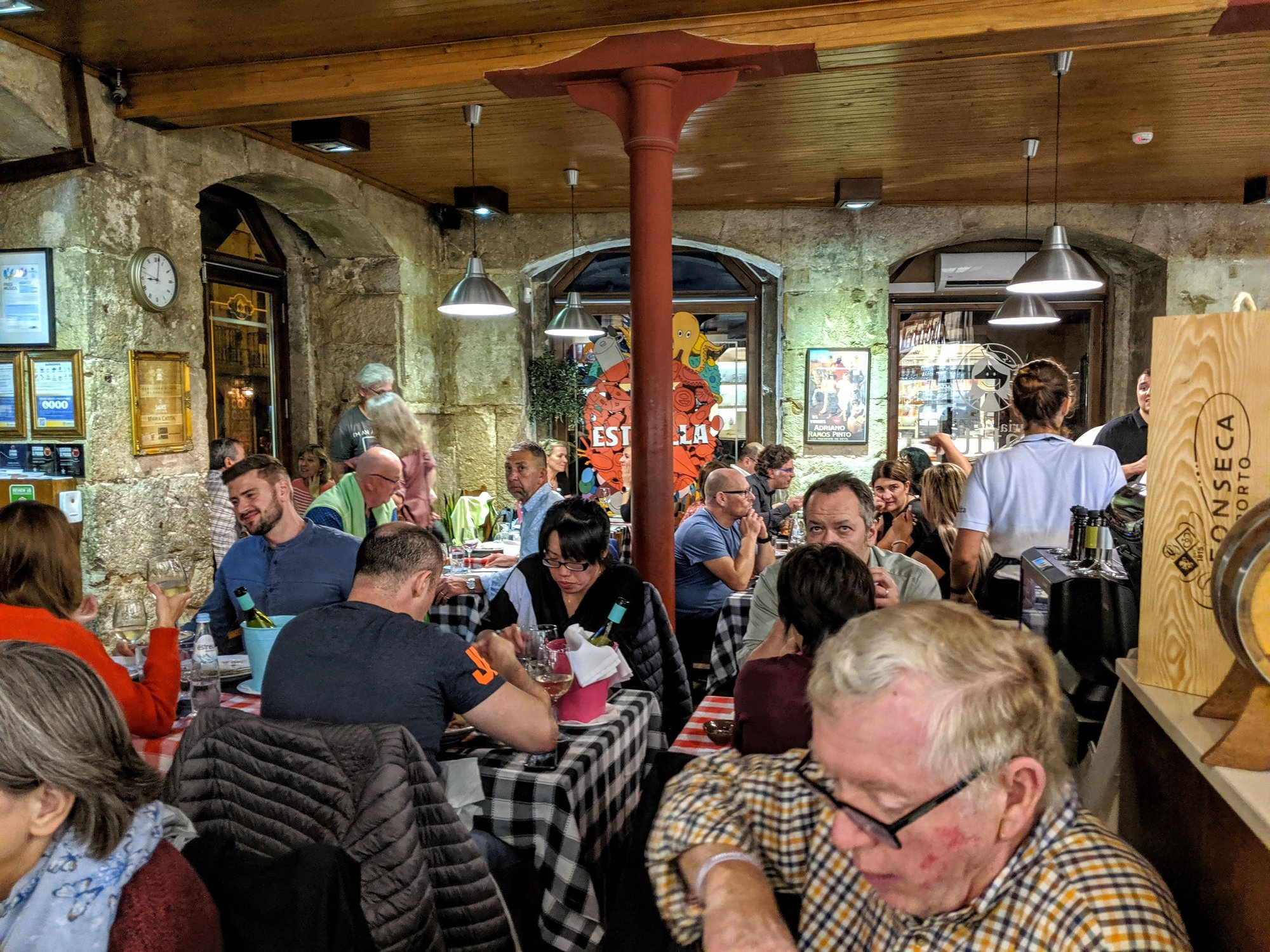 Lisbon, Maria Catita
>>
Maria Catita
: in Alfama, near the Se cathedra, a lively, happy place, great service, good seafood, everyone having a good time, good Cosmos and red wine, what more can we say? 85 euros.
>>
Zambeze
: a touch of African cuisine with the Portuguese standards; tasty cheese board apps and turkey curry and, yes, another good red Alentejo wine. 80 euros.
>>
Chapito a Mesa
: hard to describe this fascinating place. It began as a community center to train young people in the restaurant trade and also it's connected to a circus, sort of a Lisbon version of Cirque du Soleil with a community cooperative approach. Don't ask me to explain more clearly, that's all I was able to grasp. The entry room is full of very good quality crafts made by the coop members; we bought several pieces of jewelry and toys for friends and grandkids. Then along stairs to a garden café dining area, then up a spiral staircase to the upper level with a great view of Lisbon at night, out to the Golden Gate-ish 25 de Abril bridge, all lit up. We got seafood, no notes, and red wine, no notes, and desserts, no notes…but very fine evening.
>>
Canto da Vila
: a little neighborhood place in Alfama just a couple of blocks away from our hotel, tiny, one chef, one assistant, one waiter, but very relaxed and friendly. We had eaten our way through our trip by this point so we simply had an entrée, e nada mais, and we chose some un-Portuguese things: chicken saltimbocca and tagliatelle with salmon. Muito bem! 45 euros.
...to be continued......
Join Date: Jan 2003
Posts: 3,958
Looks lovely! And Portugal is on our someday radar!

Now that I'm newly retired I'm (60s) wanting and planning those longer trips, now that I can! But my husband (70s) will probably begin asking for those shorter trips in not too long from now. It's helpful to remember that those short trips can be wonderful.
Join Date: Aug 2013
Posts: 637
Portugal…why did it seem different in our eyes? Herewith, our impressions from a very brief visit.
Low-stress folks: the people we encountered were not only friendly, they were
calm
, even in situations which might have triggered some excitement. Example: one day on the Rue Limoeiro, just outside our hotel, tram 28 (a very popular tram) was trundling up the hilly street and lo and behold it encountered a delivery van parked halfway across the trolley tracks....
The peaceable tram 28, Lisbon
The tram driver stopped, got out, looked around for the driver, who was nowhere to be seen. Cars started backing up behind the tram. No shouting. No honking of horns. Then the van driver emerged from a store, the tram driver asked him to move, he did, the tram started up and there you are. A low-stress traffic incident. Unbelievable. The mind boggles to envision this scene in Italy.
They speak a language which is not Spanish, surprise! Months before the trip I started studying Portuguese, just to learn a little bit for fun. Looking at the phrase books, it seemed a piece of cake. Seemed like half the vocabulary was taken directly from Spanish, with minor changes. Often, no changes at all. But the pronunciation, ouch! Lots of zh and sh and nasal sounds. It almost sounds like Russian.
I talked to one of our Lisbon guides about this, asking him to critique my pronunciation of "yes" which is "sim" in Portuguese…my language book said to pronounce it "seeng". "You sound like you are from Porto," he said. "You should say 'see'." "OK," said I, "see". "No, it's 'see'." "But I did say 'see'." "No, you said 'see'." I give up.
Portuguese ships in Nagasaki harbor, Japan, 17th century; from the Lisbon Maritime Museum
Statue of Queen Isabel of Portugal, 17th century, from Portuguese fortress city of Diu, India
Culturally, historically, Portugal has quite a different mix of elements compared to Spain. Yes, early Roman, Visigothic, and Moorish episodes, like Spain. But beginning in the 15th century their paths really diverge. Portugal creates a vast trading empire in parts of Africa, India, Southeast Asia, China, and even Japan (Nagasaki becomes an important trading port for the Portuguese). You see Indo-Portuguese material in museums, for example, a blend which is really absent in Spain.
Sintra
After relaxing in our B&B, Casa Miradouro, we walked up the hill and visited the National Palace, a big, whitewashed, rambling building. Much of the structure is about 500 years old, although bits go back to the Moorish period centuries before. Beautiful tile work, carved and gilden wooden ceilings, intriguing details such as ears of corn on decorative tiles inspired by the early Portuguese American explorations.
Sintra, National Palace
We stayed two nights in Sintra. People told us that the town center is so mobbed in the summer it is almost impossible to move around. By late October, we encountered no huge crowds. The rainy season was just about to begin, skies were often overcast during part of the day and sometimes there was a brief drizzle but all in all this was a good time to visit.
Many people visit the city as a day trip from Lisbon but it definitely merits a longer stay. The Quinta da Regaleira is a vast estate on a small mountain with extensive gardens and forests. The Moorish castle and fortress on the highest point has remains of the living quarters of the Moorish garrison a thousand years ago. Although the Salazar regime heavily restored the fortress in the 1930s, the lower levels of many walls and structures date from Moorish times.
Sintra, Quinta da Regaleira
Sintra, the Moorish castle and fortress
Walking around Sintra was good preparation for our coming visit to Lisbon. Sintra is v-e-r-y hilly. Town buses loop around the main attractions but we chose to use Uber to save time…and knees.
Sintra, be careful on those steps and cobblestones!
Our next stop was Evora, a walled medieval city about two hours east of Lisbon. We had first thought to bus into central Lisbon and then bus again to Evora. But then we decided to splurge and take an Uber door to door directly from Sintra to Evora, otherwise we would have chewed up much of the day in transit. This was a great, relaxing way to go, just one hour 45 minutes to the front door of our Evora hotel. Cost: 125 euros plus tip. Well worth the splurge. (I should mention that one advantage of a shorter trip, for us, was that we were willing to spend more than we usually do on lodging and also spend on Uber or taxis to get around places more quickly.)
Coming up: Evora
Join Date: Aug 2013
Posts: 637
Evora
Our Uber driver met us at Casa Miradouro in Sintra and took us over the modern superhighway into the Alentejo region. The Alentejo, in the center of the country, produces excellent red wine and also beef, olives and cork. The cuisine here is more meat focused than one finds in Sintra and Lisbon.
Our driver dropped us off at the front door of our Evora hotel, the Albergaria do Calvario, a beautiful whitewashed complex, originally an olive oil mill from the 1600s. This was a very relaxing place, welcoming and—hard to find the right word—a hotel operation that felt
genuine
. Their web site has an interesting way of putting it: they state that they strive to be "authentic without being a robot." Right!
Roman Evora: Evora was a Roman town. There are visible chunks and pieces all over the walled medieval city. Especially impressive is the temple built to honor Augustus in the first century AD (it's called the Temple of Diana, but archeologists say that's not correct).
Evora, Roman temple to Augustus
Evora, Roman baths excavated under the town hall
We walked all around the temple and then through the medieval center. The center is well preserved and harmonious but not Disneyfied. Some of the main streets have arcades; the side streets are narrow. Most of the streets are cobblestoned (this seems to be a Portuguese thing?) The old center gives a feeling of a Greek island village with all the whitewashed stucco buildings.
Evora, edge of the town square
Evora, alley--the building to the left has visible Roman foundations, protected by a glass wall
One evening on our way to dinner we walked along the aqueduct, a major engineering project of the 16th century. The neighborhood was beautiful in the evening light.
Evora, 16th cent. aqueduct
Evora has a small, excellent museum with ancient Roman and medieval holdings (not many Moorish pieces, however, which is surprising given the fact that Moorish control lasted four hundred years).
Evora, museum. The 13-piece altarpiece was originally in the cathedral; it was created around 1500 by Flemish artists.
Evora, museum. Statue from a Roman villa near Evora.
We stayed in Evora two nights. During our one full day we went on a tour of several Neolithic sites; that's coming up…
Next up: the "Portuguese Stonehenge"
Join Date: Aug 2013
Posts: 637
The "Portuguese Stonehenge"
We signed up for a tour of Neolithic sites a few miles beyond Evora with Ebora Megalithica (yes, Ebora, with a "b" – see their web site). Mario, the archeologist who leads the tours, was a personable guide with a deep understanding of the sites. We first visited the cromelech, circles of about 90 stones.
The Cromelech of Almendres
The Cromelech of Almendres was built about 5,000 BC, at the beginning of the Neolithic. It is about 2,000 years older than Stonehenge. The stones are smaller than those of Stonehenge, about 7 to 12 feet tall, but much more numerous. I was curious about how archeologists date stones. How did they determine that this site was older than Stonehenge?
Mario explained that formerly they would move one stone and examine the plant and seed remains under the stone and use, basically, a version of carbon dating (I am not reporting this accurately but you get the idea). But in the last decade or two better technology has been developed, using light (again, this is my muddled version) and this technique is much more accurate. So that's how they can tell the age, roughly, of the construction.
The Menhir of Almendres
About a mile away is a solitary vertical stone, the Menhir of Almendres, about 14 feet high. From the center of the cromelech, a line of sight to the menhir would align with the rising of the sun at the summer solstice.
Mario explains some carvings on a stone
Many of the stones have carvings, quite faint at this point, circles and dots and shepherd's croziers, an indication of the worship of natural forces.
The Dolmen of Zambujeiro, entrance
The Dolmen of Zambujeiro, interior, seen from the top of the wall
A short distance away from the cromelech is the Dolmen of Zambujeiro, a large funeral chamber formed by huge stones, built about 3,500 BC. This is the largest megalithic dolmen in Europe (megalithic means monuments made up of very large stones). The stones forming the walls are about 18 feet tall and each weighs around 25 tons. The ceiling was provided by a single massive capstone, now removed and lying on the side. It is 20 feet across and weighs about 40 tons. Archeologists found many objects inside the dolmen including beads, arrowheads, and ivory objects. The ivory demonstrates the existence of widespread trading networks, since northern Africa at this time had a temperate climate with rivers, forests, and elephants.
Our tour lasted about three hours. We were a group of eight, traveling in a comfortable small van. Mario was an outstanding guide. If you are interested in this kind of thing I recommend that you look at the Ebora Megalithica and contact them.
Join Date: Jun 2007
Posts: 104
Thanks for writing this up, we just returned from Portugal last week, also using Airtransat.

I agree with you, the Portuguese are super friendly, and the flights weren't bad. Driving from NY to Toronto t is 10 more stressful (and probably more dangerous) than the time in the air.