This winter was warmer!!
Mar 9th, 2023, 04:04 AM
Join Date: Dec 2003
Posts: 51
Likes: 0
Received 0 Likes on 0 Posts
This winter was warmer!!
---
In February of 2022 I posted here "next winter will be warmer" and asked for suggestions of places to go to escape the freezing temperatures here in Vermont. We are just back from 10 weeks in Europe and indeed it was much warmer and sunnier!

We (my husband and I) spent Christmas in Portugal where our daughter now lives, and then the week between Christmas and New Years in Sevilla Spain. We were in Valencia for the entire month of January and in Montpellier France for all of February. In our previous trips to Europe we had never spent more than a week or 10 days in a single place, and it was wonderful to have a whole month to get to know a city. This luxury of time allows you to go back to places you like, to spend time just wandering, and, if it rains or you are tired, to stay put rather than feeling you have to do something special every day. What we enjoyed most was living like a local - doing everyday errands, exploring food markets, and going to different neighborhoods. From Montpellier we also did some day and overnight trips to nearby cities.

And indeed the weather was much warmer. Sevilla was very warm over the holiday week. In Valencia we had days when the temps were in the 70s and we went to the beach. Typically throughout the 10 weeks the temperatures were in the 60s. But what we most appreciated were the cloudless clear blue skies. Over our 10 weeks there were only a handful of cloudy days and maybe 2 days that were total washouts. And it is such an outside culture. Even on cooler days, people are sitting in outside cafes and strolling. Rather than hibernating for the winter, we were outside most every day.

It's now a week since we returned home to Vermont. We did not totally escape winter - it has snowed some almost every day. But the days are longer and the temperatures are relatively moderate now. What we miss most is the sunshine. We also are missing the European food markets where you can buy small portions of food rather than pre-packaged large amounts. And the wonderful baguettes in France, as well as the cheap and wonderful wine everywhere.

Some lessons learned re packing: You can never have enough socks! I lost some in washing machines along the way and also wore out some. And the same goes for books. I did bring some books with me and found some in our apartment rentals, but I was challenged to have something to read throughout the trip. Also I brought too many "dress up" clothes as opposed to what I typically wear everyday. And of course I brought too much overall.

I am already planning our trip for next winter.







Mar 9th, 2023, 07:54 AM
Join Date: Jun 2010
Posts: 170
Likes: 0
Received 0 Likes on 0 Posts
Sounds absolutely dreamy! I know what you mean about the grey skies in the northeast during winter. Even more than the cold and short days of the season, it's the lack of sun that always hits the hardest.

Mar 17th, 2023, 01:37 PM
Join Date: Dec 2003
Posts: 51
Likes: 0
Received 0 Likes on 0 Posts
I have benefited greatly from the advice on this forum, so want to share more of the specifics of our recent 10 weeks in Europe. We were there - Portugal, Spain, and France - for a total of 77 days so I am not going to share every single activity or meal, but here are some of the highlights that I recommend:
Evora Portugal - we had an amazing lunch at Botquia de Mouraria. There are only 8 bar stools and a limited menu. The very friendly owner made recommendations and his wife (?) cooked. The 4 of us (my daughter lives in Portugal and our son came with us) shared: melon with ham; roasted peppers with garlic; baked sheep's cheese with quince on the side; asparagus scrambled eggs; baked mushrooms with garlic; grilled shrimp with garlic; and a bottle of Cardura wine. It was a truly memorable meal - the ambiance and the tastes. The restaurant is in the book "1001 Restaurants to Eat in Before You Die." I wish we had spent more time in Evora (we were on our way to a nearby winery). It is an interesting Roman city and apparently has a number of great restaurants..
Sevilla - we were there during the week between Christmas and New Years. The city was so festive with Christmas lights, everyone out strolling in the mild weather. When the lights come on at dusk, the crowd cheers. We (my husband, son, and I) had a great meal in Sevilla at Espacio Eslava. which I believe I had read about on this forum. We shared tapas: wedge clams; octopus on a bed of mashed potatoes; anchovies; croquettes (pork and beef); ribs with maple glaze; and two bottles of Alverino wine. Overall, wonderful tastes and presentation. I had made a reservation ahead of time, on-line, which I recommend as it was very busy.
Sevilla lit up during the holidays
I also got ahead of time tickets to Sestas de Sevilla, a large modern wooden structure (supposedly the biggest wooden structure in the world!) with great views of the city. This forum had divergent ideas on whether it was worth visiting. I really liked it - the design, the integration into the Plaza Mayor, and the views.
Sestas de Sevilla
New Year's eve is a stay at home time in Sevilla; people have their big meal in the afternoon and then spend the evening with family. Restaurants close early. This is a big change from the regular cafe culture and food stores were very busy that day with people buying food to cook. My husband and I (our son left to travel on his own) ate that afternoon at La Escalana in Alfalfa Square, very near our apartment. We shared grilled artichoke with shrimp and ham; ham croquettes; and grilled squid with shrimp and eel. It was all perfectly cooked - I particularly loved the eel dish) and the service was great.. In the evening we wandered outside where the streets were unusually quiet. We ended up attending mass at a nearby church that had lots of gold plate and images. The mass was in Spanish, which I don't understand, but I found it very comforting.
Our New Year's eve church
Valencia - we were in Valencia for the entire month of January. We stayed in the same apartment we had rented in 2018. The location is great - a quiet alley, very close to the Mercado Central and within steps of a wonderful bakery and many restaurants.
We had clear blue skies almost every day. It is such an outside culture - people were sitting in cafes and taking paseos regardless of the temperature (which ranged from the 50s to the low 70s). We discovered that the museums are free for seniors and we took advantage of that. .A favorite was the Centre del Carmen de Cultura Contemporanea (CCC). It is a former monastery that has been repurposed as a modern cultural center. The gardens are beautiful and peaceful and there are interesting, diverse exhibits. Two that we saw were created during and after COVID and focused on art and design for the post-COVID world,
CCC
Our apartment hosts recommended a paella restaurant in El Palmer, a village surrounded by rice paddies, about one hour from the city. Monell. We took the bus there, a lovely ride that quickly left the city and went through rice paddies and beautiful water vistas on either side of the road. Our ahead of time order was for paella with chicken, duck, rabbit, and snails, which we learned is traditional Valencian paella. We sat outside on their terrace on a beautiful sunny afternoon (we also learned that natives eat paella in the afternoon)
And speaking of paella - my husband went to two paella cooking classes - both our children and I got him them as Christmas gifts! The first was in Sevilla at Triana Market, which he attended with our son. It began with a tour of the market where they learned how to assess paprika, saffron, jamon (ham) , and sausages. Then they cooked paella, learning about the appropriate ingredients and how to use the pan. The second class was in Valencia at Ruzafa Market. It was very hands on and included both a fish and a meat paella. He is now very knowledgeable about paella and bought a pan in Valencia to bring back home..
La Lonja is the beautiful 15th century silk exchange, that essentially served as Valencia's stock exchange in the day. It showcases the history of the Valencian economy and its historical place in the world. We had been there on our previous visit to Valencia but this time we had audio guides, which were well worth it as they gave us very good background on the history and significance of the building.
La Lonja, Valencia's silk exchange
.
Our restaurant meals in Valencia were at very local restaurants near our apartment. Two favorites: Tosca de Angel, a very small bar/restaurant that is recommended in the Lonely Planet guidebook. We went there for lunch and were lucky to snag two of their six bar stools. We shared grilled sardines, mushrooms, and a local specialty - eggs, cod, potatoes, and garlic mashed together. We had dinner a few nights at La Pilareta. It is a very popular place and there are often lines outside. Their specialty is mussels. But most of the time we cooked at home with the wonderful fish, meats, and vegetables from the beautiful El Mercado Central.
El Mercado Central
Montpellier - we spent the month of February in Montpellier, a city we loved. Our apartment was on the outskirts of the city but very close to a tram stop. The trams are efficient, clean, quiet and soon to be free for everyone! We loved the Saturday market at Les Arceaux, right under Montpellier's beautiful Roman aqueduct. It has a very local feel and a great variety of food and other things.
Montpellier Saturday market Les Arceaux
Again, we cooked most of our meals at home. Two restaurants we did eat at and really liked: Broc Cafe, which has a very local feel and good menu choices, and Tot au Tarde, which is in the beautiful square Place de la Chapelle Neuve. There we had our first soupe a l'oginon of the trip,.which we had been searching for since we arrived in France. The starters, mains, and desserts were all very good and the ambiance and service were lovely.
Montpellier also has great small indoor markets that offer a variety of food and drink choices. On a cool, cloudy Saturday we went to Halles Laissac. It is smaller than the grand market in Valencia but it has all the basic vendors and in the middle of the market there are tables and chairs. You can get food from any of the vendors and someone from the bar/cafe comes to take drink orders. When we were there it was packed with a diversity of shoppers and diners and we enjoyed sitting and watching the scene as we ate fried calamari and drank wine comme tout le monde.
We rented a car for 3 days and traveled to Nimes, Avignon, and Aigues-Mortes. Our hotel in Nimes was great - Les Tuileries. It is small, with very friendly staff, and a central location. We happened to be in Nimes on Valentines day and all the restaurants were booked. We ended up at a Chinese restaurant near the hotel - Hong Yun - which was very good. The next night in Avignon we had a great meal at Le Coude au Coude. It was our first three course meal of this trip. Everything was lovely - there was great old rock & roll music playing, a welcoming owner/manager, and delicious food.
Evening in Avignon
Our first impression of Aigues-Mortes was that it was very touristy. Cafes were crowded and there were a lot of touristy stores. But in the evening the streets were very quiet; apparently there are a lot of day trippers. We ate at a restaurant recommended by our Montpellier apartment host - Papy Moise. It is a small restaurant specializing in seafood. We shared oysters that tasted like they had just come from the sea, baked mussels, and their specialty - a fish stew with calamari, veggies, and some kind of fish. And creme brulee for dessert. It was all very good. At some point we realized the ceiling was totally filled with drawings of nude people in erotic positions. C'est la France.
We stayed overnight at a hotel on the water, facing the city walls. House of the Crusades. It was small and basic but it's an easy walk to the walled city and there's a great view from the hotel.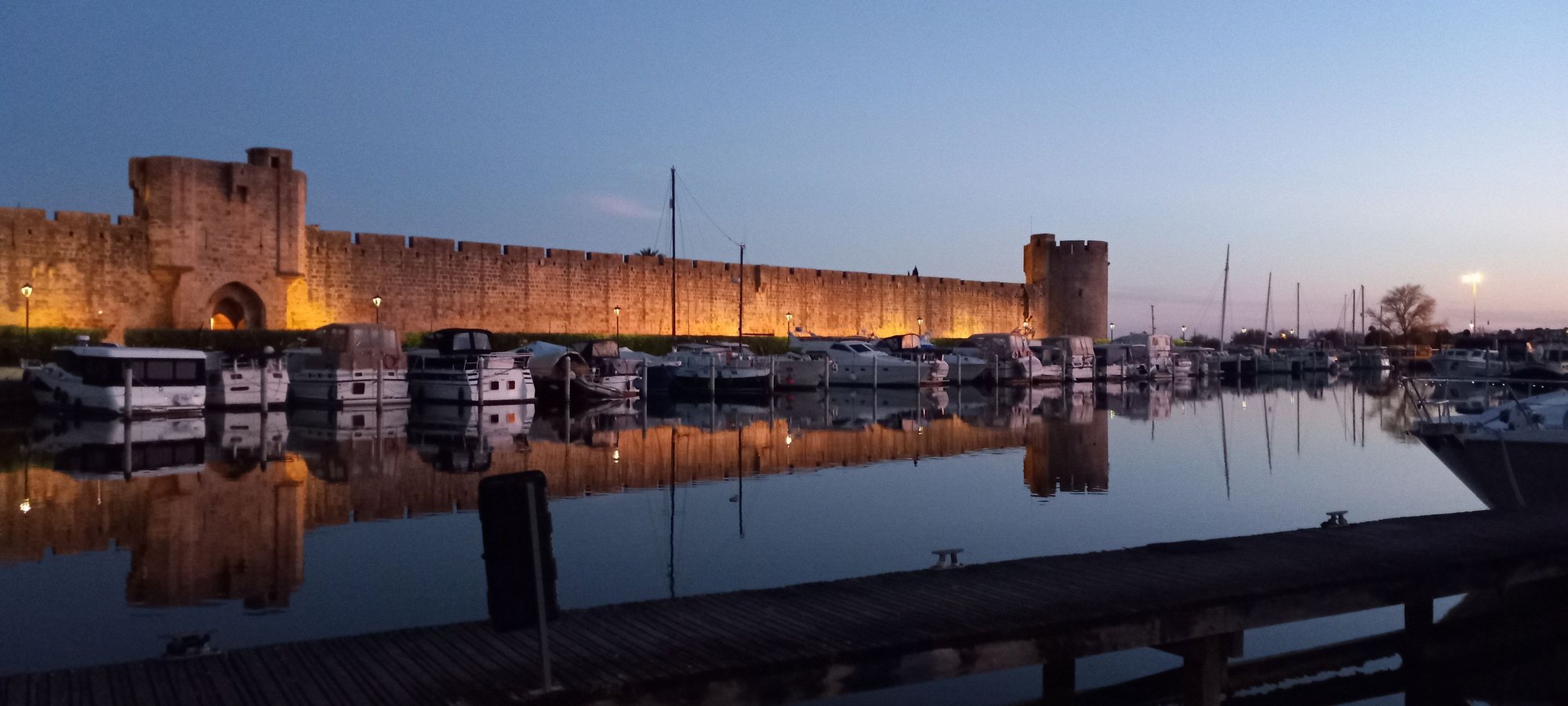 Aigues-Mortes from our hotel
Mar 17th, 2023, 02:35 PM
We recently came back from Spain, mainly form Valencia.
It was mostly a recon trip to pick a city for a longer stay.
Valencia is definitely one of them.
We had an apartment near the Arts and Sciences, loved the location.
Funny how different people can have different experience, we did not enjoy El Palmar.
Being there on a busy, warm and sunny Saturday probably didn't help. Seemed like everyone in Valencia was there that day.
Mar 17th, 2023, 05:07 PM
Join Date: Mar 2014
Posts: 3,205
Likes: 0
Received 0 Likes on 0 Posts
Wow!!! What a wonderful way to spend 10 weeks! I would love to do that sometime. Did you have any favorite locations? Did you visit Lisbon? Where are you off to next winter? And how did you travel from place to place?

You are right about the lack of sunshine! We live in MA, and I think this winter has been one of the grayest winters yet. Very little sunshine!
Mar 18th, 2023, 04:05 AM
Join Date: Dec 2003
Posts: 51
Likes: 0
Received 0 Likes on 0 Posts
Yes 10 weeks was a good amount of time. It allowed us to get out of our regular routines and immerse ourselves in the new environments. We did not go to Lisbon. Our daughter lives in a small city, Setubal, which is south of Lisbon - a 30 minute taxi ride from the airport. Setubal is lovely; it's on a large river that feeds into the ocean, has its share of cafes and restaurants, as well as a very good indoor food market, but has not been "discovered" so has a very local feel. We took day trips from there.

We flew into LIsbon and took a taxi to Setubal. We rented a car to get to Sevilla - a one way rental. There were 3 of us and the trains from Portugal to Spain are not great. We took trains from Sevilla to Valencia and from Valencia to Barcelona. We treated ourselves to comfort class on the trains, which was very comfortable and the trip from Valencia to Barcelona included food service, which was very good.

The plan had been to take another train from Barcelona to Montpellier but of course the French strikes interfered. After our train was canceled for a second day we decided to take a bus from Barcelona to Montpellier - the Flick bus. I was nervous about it, but it turned out fine - the seats were comfortable and it left on time. And then at the end of our trip we took a train from Montpellier to Paris - a lovely four hour ride through the countryside, which was a great way to leave Europe. We spent our final night at the Sheraton at CDG, just steps away from the Delta/Air France terminal, and we left on an early morning flight. All of our transport worked out well and because of the strikes we got to spend an unexpected evening in Barcelona, where we stayed at the Barcelona Sants hotel, a very modern hotel adjacent to the train station.

I am totally planning my next trip but so many dilemmas! A proverbial question I have is do we return to places we love or do we go to new places? We tend to do a combination - we had spent a week previously in Valencia and really liked it; we had only been in Montpellier for 1 night on a previous trip but left with good impressions.

And when to go? Previously we had gone to Europe every year in April, which is a lovely time of year in southern Europe. Now we are both retired and wanted to avoid winter. But, as I said, we came back to lots of snow! It would have been great to return to our tulips in bloom. I am thinking next year to leave here a little later - maybe mid January as opposed to mid December - and stay through March. But of course that is a long way off. At this point, I am obsessed with checking out VRBO options and putting them in my "trip boards." I love the planning stages of a trip!
Mar 18th, 2023, 05:52 PM
Join Date: Jun 2005
Posts: 447
Likes: 0
Received 0 Likes on 0 Posts
Joduhl sounds like a wonderful experience. We spent a month in Aix-en-Provence during Covid and it was lovely. Quieter, local, yet markets were bustling, cafes were full, great walks, art, and shops. We worked remotely during US hours so it was a different type of trip from what you did.

Will you go for 10 weeks again? How many towns/cities do you want to split your time between?

We are going to Sevilla for a month this fall. Bath, Montpellier and Dijon are on my list for long stays.
Mar 19th, 2023, 06:11 AM
Join Date: Dec 2003
Posts: 51
Likes: 0
Received 0 Likes on 0 Posts
Originally Posted by
lrice
Joduhl sounds like a wonderful experience. We spent a month in Aix-en-Provence during Covid and it was lovely. Quieter, local, yet markets were bustling, cafes were full, great walks, art, and shops. We worked remotely during US hours so it was a different type of trip from what you did.

Will you go for 10 weeks again? How many towns/cities do you want to split your time between?

We are going to Sevilla for a month this fall. Bath, Montpellier and Dijon are on my list for long stays.
Aix is high on my list! Do you have a place/neighborhood that you recommend? I also want to go back to Bordeaux, where we spent just 3 nights in 2019. There are so many places that I want to visit, but I really like the slow travel, staying put approach.
This recent trip was actually 11 weeks - 77 days - including travel days. It was enough time to immerse ourselves in the places we stayed, but not too much time away from home, and of course we are getting close to our Shengen 90 day restriction.