Extended trip to Portugal
Feb 28th, 2023, 09:12 AM
Join Date: Jan 2020
Posts: 171
Likes: 0
Received 0 Likes on 0 Posts
The blue screen
It finally happened, while on a day trip to Portimao, I turned on my phone and got the dreaded blue screen of death.
Tried everything I could think of to make it work, and no.
Took it to repair shop and they made the official diagnosis, my phone is officially an unattractive paperweight.
I backed up some stuff and have paper printouts of others (airplane tickets).

Tip: Back up all your important stuff and have paper printouts of important documents just in case you can't have online access

Mar 1st, 2023, 02:03 AM
Join Date: Jan 2020
Posts: 171
Likes: 0
Received 0 Likes on 0 Posts
Carvoeiro and Portimao
We took a day trip to Carvoeiro and Portimão.
Carvoeiro is a small town nestled on a cliff.
Around Carvoeiro there are small coves that can be accessed through stairs.
While the town is photogenic and interesting for a day, we found it too small for long stays and a car is an absolute necessity.
Portimão is a city with a nice flat waterfront area in the old town.
Portimão has a bus terminal with local and intercity busses , there's also a train station.
Lots of restaurants and tourist oriented stores, local cave cruises,etc.
Praia da Rocha ( beach) probably the most iconic beach in Portugal is in Portimão.
The area around the beach is very tourist oriented, most buildings are tourist rentals.
In the old town we stopped at Casa Inglesa pastry shop to get the local almond sweets, made of almond paste shaped and colored to look like miniature fruits, fish,etc.
It was there that my phone stopped working.
Carvoeiro beach
Carvoeiro town, notice the steepness
Carvoeiro stairs to local cove
Praia da Rocha, Portimão
Praia da Rocha and the rocks that give it it's name
Praia da Rocha
---
Last edited by aulop; Mar 1st, 2023 at

02:07 AM

.
Mar 1st, 2023, 08:24 AM
Join Date: Mar 2014
Posts: 3,205
Likes: 0
Received 0 Likes on 0 Posts
Originally Posted by
aulop
The blue screen
It finally happened, while on a day trip to Portimao, I turned on my phone and got the dreaded blue screen of death.
Tried everything I could think of to make it work, and no.
Took it to repair shop and they made the official diagnosis, my phone is officially an unattractive paperweight.
I backed up some stuff and have paper printouts of others (airplane tickets).

Tip: Back up all your important stuff and have paper printouts of important documents just in case you can't have online access
I always, always bring paper printouts of important documents, such as airline reservations, hotel confirmations, car rental confirmations, etc. I don't trust technology completely. You never know when your phone will die, when you can't get a signal, etc. I remember when we flew home from Ljubljana the agent at the check-in counter specifically asked to see our paper reservation. She didn't want to see our online reservation. I bring a soft-cover 3-ring binder with me to keep these documents organized.
Mar 2nd, 2023, 12:40 AM
Join Date: Jan 2020
Posts: 171
Likes: 0
Received 0 Likes on 0 Posts
Market day
Once a week , farmers and other vendors
gather for Market day.
Surrounded by apartment buildings we found by chance on one of our walks.
Prices are better than in the supermarket and some items are only available at the market.
The selection of fruits, olives, cheeses and sausages is quite good.
Market day
Meats and cheeses
Fruits and veggies
Seedlings for the veggies garden
Garlic anyone?
Even codfish is sold at the market
Mar 5th, 2023, 01:30 AM
Join Date: Jan 2020
Posts: 171
Likes: 0
Received 0 Likes on 0 Posts
Vilamoura
Our base is around Vilamoura, we choose it because it is flat, making it good for walking. It has lots of tourist apartments, hotels, restaurants (Portuguese, British, Indian, Italian etc) casino, it's beachfront but it's mostly known for the marina.
There are tourist companies for boat cruises to Benagil caves, watersports, land excursions, car rentals, etc.
Public bus is very limited, theres a local hourly bus (green line) and the Vamus bus for longer trips, the nearest train is in Loulé.
We used taxis often however some buildings don't have street numbers, instead they have names, making it confusing for us and the taxi drivers ( we solved the issue by naming landmarks like restaurants, supermarkets, etc).
There isn't a visible boundary between Vilamoura and the next village, so some of what I mention maybe on the next village and not in Vilamoura.
Most important to us is the English speaking medical care. It's a private clinic, we didn't need to use them but their site lists medical insurance providers.
https://www.grupohpa.com/en/units/al...-de-vilamoura/
We enjoy the Vilamoura area for the intended purpose of our trip (snowbird escape from the winter) but all the tourist oriented amenities that we enjoy maybe too touristy for others.
Vilamoura marina
Tivoli hotel and marina
Vilamoura marina
Restaurant patios on the marina
Marina road has a variety of restaurants and bars
If you want a liquid lunch, it's available
View of Vilamoura Beach from stone pier.
---
Last edited by aulop; Mar 5th, 2023 at

01:40 AM

.
Mar 9th, 2023, 01:05 AM
Join Date: Jan 2020
Posts: 171
Likes: 0
Received 0 Likes on 0 Posts
The walk
As our trip is coming to an end we decided to take one last walk.
We stayed out all day and it was an unusual day weather wise, clouds, rain, wind and beautiful sunshine on a blue sky.
We walked from Vilamoura eastward to Faro and turned back just after Vila do Lobo.
First tracks - anyone that skis understands the reference
Fisherman marina, Vilamoura in the background
Before going out to sea the fisherman pray to Nossa Senhora
Anchor ar fisherman harbor
Cat house at fisherman marina
Almost beside the fisherman marina is the fish market selling the catch of the day
Exercise machines by the beach, didn't see anyone using them
Date palms along the beach
I call this one the 3 sisters. Lots of people stopped to take photos.
The beach is mostly sandy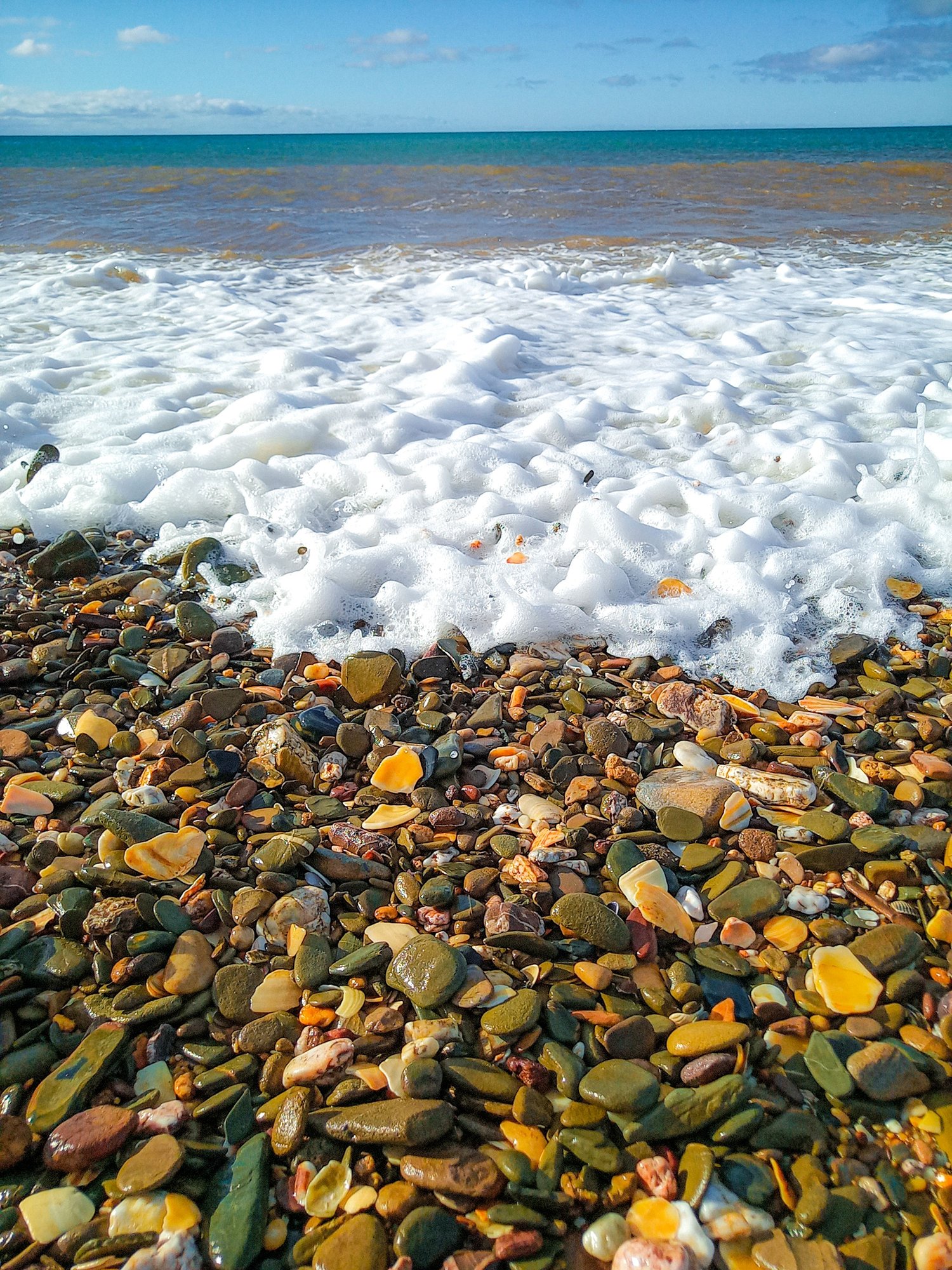 A few areas have pebbles
Scallop shell. We saw them occasionally
Vale do Lobo is a beachfront golf resort
Restaurants at Vale do Lobo
Vale do Lobo restaurant
Vale do Lobo bar
Vale do Lobo
Vale do Lobo golf
Vale do Lobo golf
Around Vale do Lobo we saw the cliffs.
They ranged in color with yellow and brown but are mostly orangy redish depending on the sunlight.
Algarve cliffs
Cliffs
Cliffs
Cliffs
Cliffs
Cliffs
Mar 10th, 2023, 04:08 AM
Join Date: Jan 2020
Posts: 171
Likes: 0
Received 0 Likes on 0 Posts
KarenWoo
Thanks for the compliments.
We will have a total of 3 months once we leave.
We're about to go to Lisbon for our flight in a few days.
I'll probably post about my airport experience after I get home, once I get settled, but I might get distracted with the planing of my next trip.
Mar 16th, 2023, 05:40 AM
Join Date: Jan 2020
Posts: 171
Likes: 0
Received 0 Likes on 0 Posts
Raizes vegetarian restaurant.
We found a vegetarian restaurant at the opposite end of Quarteira.
Raizes has indoor and outdoor eating areas.
We tried it at the end of our trip and enjoyed it.
Raizes vegetarian restaurant
Raizes menu, they also have bowls and plate of the day
Plate of the day, vegetable cakes with tomato rice and salad , very enjoyable dish.
Black bean burger with sweet potato, the burger was a little dry
Raizes restaurant