A Tour of Kyiv
Join Date: Jul 2019
Posts: 16
A Tour of Kyiv
---
Tour of Kyiv
Kyiv is a very beautiful city. On my first day I just set out to explore, I walked miles and miles. I set off without a map or a plan and just wandered and soaked up the atmosphere. There are so many places to walk and so many things to see. It never once felt like I was in a capital city, it was so calm and peaceful. I am staying in Podil, the old part of Kyiv. It is an excellent base with many historic buildings and a lovely bohemian feel. There are many outdoor restaurants and wine bars. The prices here are incredibly cheap.
dig
dav
Next was a walk by the river. There were many outside bars and stalls sending food, fresh seafood and snails and frogs.
dav
Pleasure boats offered cruises up and down the river. Many fishermen lined the banks and a beautiful church jutted out into the sea.
dig
dav
in
The hostel is located on Andriivs'kyi decent, a steep hill lined with bars, restaurants and craft stalls which leads up to St Andrew's Church. It was here I headed next.
The road to the left leads to a huge park with lots of tree-lined walkways and fantastic views of the city. the first walkway is lined with local artists displaying their works.

It was a Monday evening but everyone seemed to be out walking, local families, couples or those just enjoying the solititude. As i walked further, in the distance I could see a steel arch, this was the People's Friendship arch. It is accessible via the newly opened Klitschko pedestrian and bicycle bridge.
This was only opened in May and has been a big hit. Made from concrete, iron and glass it is 212 metres long.
From the bridge are panoramic views of the Dnieper river.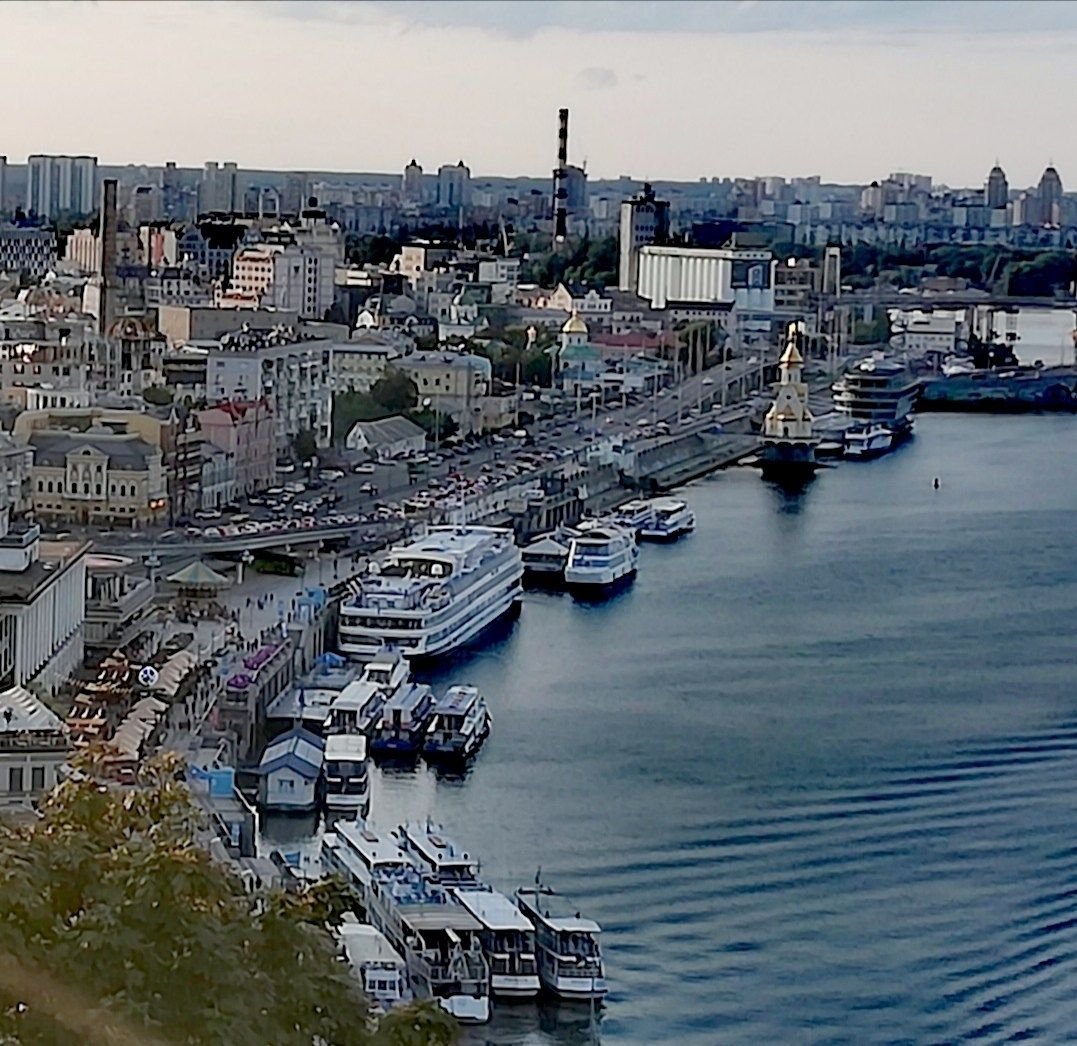 Looping back and up around the park brings you to the St Michael's Golden-Domed Monastery, one of the iconic sights of Kyiv. It was originally built in 1108, but was destroyed by the Soviet's for 'being of no historical value'.It was re-built in 2000. It is extremely impressive.
The other side of the church leads you through a gate and down another huge hill which brings you to a huge square at the end of which stands St. Sophia's Cathedral.However, I had been walking for 5 hours, it was getting dark, it was time to get back and time for a drink. It was back down the hill at the bottom of which is a popular bar Pyana Vyshnya(drunk cherry) that sells the local cherry wine.The ceiling and chandeliers are made from wine bottles and there are huge barrels of wine. It is served in elegant crystal glasses. It is delicious and at one pound fifty a glass, a bargain!
The tables outside are always crowded with locals.
There is a company that runs free walking tours of Kyiv. It is an excellent way to orientate yourself with the city,see things off the beaten track and learn more about the history and culture.There are 6 different tours. all are free, if you enjoy the tour you can tip the guide at the end. All tours start from Maidan Nezalezhnosti Sq (Independence Square). The meeting point is the Globus monument. This is a monument topped with a globe and 5 doves with a laurel branch which represent the 5 continents.
The first tour I was doing was the Revolution Kviv tour. Please see my seperate blog on the 2008 revolution, The second tour I was going on was the Ancient Kyiv tour. It was an excellent tour. We visited a couple of the sites I visited yesterday and I was able to discover the history. We also visited lots of ancient and quirky sights.Kyiv is an extremely easy city to navigate, it is built on many hills and there are such prominent landnarks.This means there are good panorama points affording lovely views of the city.
We paid another visit to St Michael's cathedral and this time went inside.

I love the quirky sights, this one is Gogol's nose.
You should rub nose to nose.
This depicts a scene from a famous Ukrainian film. Again, if you rub certain parts of it you will obtain wealth and happiness.
This hedgehog was put up by local residents, it's a character from an animated movie called 'Hedgehog in a Fog' .
My favourite place was Park Landscape Alley or mosaic park.
Of course we saw more traditional sights such as the Golden Gate,This was the main gate of 11th century K
yiv, dismantled in the middle ages it was rebuilt in 1982.
We also passedb by St Sophia's church. It is the oldest standing church in Kyiv, built in 1037. It was names after St Sophia's cathedral in Constantinople. The adjoining bell tower is 76 metres high and was built in 1752.
There wa an eclectic mix of ages and nationalities on the tour. A group of us decided to go for beers afterwards. Apart from me there are guys from Paris and Berlin. The others are from Canada, they have Ukranian heritage, play in a Ukrainian band and have been invited here to play in a festival. One of the best things about travelling is the interesting people you meet.
The next day I visited Chernobyl – please read my blog on this, it was very interesting, eerie and very moving, I had one final day to explore Kyiv . The guide had made some suggestions. The first one was Zoloti Vorota metro station, named in the list of most beautiful metro stations in the world. Kyiv also has the deepest. This was deep enough , we seemed to go down for ever. Everyone is Kyiv has been so friendly, welcoming and hospitable. I was about to find out that didn't apply to metro station staff!
Next stop was back to St Sophia's cathedral as I wanted to climb the bell tower. Not sure why I thought this was a good idea as I'm scared of heights, made me sweat a little but the views made it worthwhile.
It was then back to Independence Suare and time for lunch.
The guide had told us about a secret restaurant under the glass dome. Entrance is by password and then you must find the door. It was a brilliant restaurant – once I got in! Of course I had to try a Chicken Kiev. The restaurant is called Ostannya Barrykada – OB and the password – that's a secret.
This evening I said goodbye to Kiev with a drink at my favourite oudoor bar. They make exremely good wine in the Ukraine and this bar serves some of the best sparkling wine I have ever tasted and it's only one pond fifty per glass served in beautiful crystal glasses
.
Tonight I had a bottle. Cheers1
Dinner was at a restaurant opposite.Some of the best restaurants here definitely go in for nouveau cuisine.
Some of the best food I had was at the restaurant and bar next to the hostel, The breakfasts were excellent.
Kyiv is a perfect destination for a few days. My flights from the U.K. from Luton with Wizz Air cost 45 pounds. Prices are very inexpensive.
I stayed at the Dream Hostel. It has a mix of accommodation with dorm rooms of various sizes but also en-suite rooms. It is an excellent location and has a very good bar and restaurant next door. It is spotlessly clean, has a tour service and extremely helpful staff.
https://dream-hostels.com/ua/Hostels/Kiev/dreamhouse/
The tours are run by Kiev Free Tours
www.freetours.kiev.ua
Visit this photogenic city if you get the chance.
For more travel adve tires around the world and posts on Chernobyl please see:
Stephensonspocketrockettravelandadventures.com
Thread
Original Poster
Forum
Replies
Last Post
Posting Rules
You may not post new threads
You may not post replies
You may not post attachments
You may not edit your posts
---
HTML code is Off
---