The Manslu trek difficult but most beautiful holiday experience
Apr 26th, 2020, 01:52 AM
Join Date: Apr 2020
Posts: 11
Likes: 0
Received 0 Likes on 0 Posts
The Manslu trek difficult but most beautiful holiday experience
---
In October 2019 I went to Nepal for a hike. I did not do any research. I just went there and I had a month to visit Nepal. I did not have any idea what I was going to do. I did not have any plan to visit some specific area that is why I was more relaxed and free. Once I reached Kathmandu I planned to visit the city and booked the 1-day tour. The guide I booked came to early morning and took me to sightseeing which I enjoyed a lot. But Kathmandu is a very busy city. You can see countless people and countless vehicles everywhere. People were kind and friendly. He was a very good man. That is the reason I asked him, I have 4 weeks and want to go to the mountains, then he explained to me some trek routes as per my interest. I also read some stuff after I reached Kathmandu and I decided that Manaslu trek suits for me.
But there was a problem because to go Manaslu trek you need a 2 person for permits and I was alone. The tour guide explained to me that he has an agency called Nepal Trek Hub and after 4 days they have a group who is going to do a Manaslu trek, and he can arrange me the
Manaslu trek
permit by adding on that group but he said that you must take a guide or porter otherwise you can not go alone. This was government rule. I agree with him and booked the guide for the Manaslu trek. He took my original passport for that although I did not want to give him because I never know how the Nepal peoples are.
After 4 days he texted me and told me that he made the permits for me so the next day with his other groups we shared the jeeps and went trekking. The road was terrible before reaching the trekking starting point soti Khola. Next day I and my guide left that Italian group and went ahead of them. I Really enjoyed the hiking because it was a very beautiful landscape on both sides of the River Valley. The rapid river and green scenery were very enjoyable things. The uncountable donkeys which used to transport the things for the hotels in the trek area. The locals were so friendly and smiling. We enter into the Manaslu Area from Gagat from where I saw the first white snow-capped mountain Shringi Himal 7300 Meter. That was the highest peak that I saw for the first time. The trek continues on. My Guide Ganesh was a very good man who used to joke a lot and had a lot of fun together. I tried most of the local things which are available on the trekking routes, such as Chyang (Local beer from rice), Raksi (Local wine), Butter tea(the terrible tea), Yak sukuti and so many things which is a very unique opportunity to me to enjoy my holidays in local styles. There were so many chorten and mani walls which were devoted for the Tibetan Buddhism and I saw many Tibetan people in the trekking routes. There were some big monasteries as well, where the monks were studying Buddhism and their regular coursebook as well. I became impressed with these monks about their study and the regular religious practices.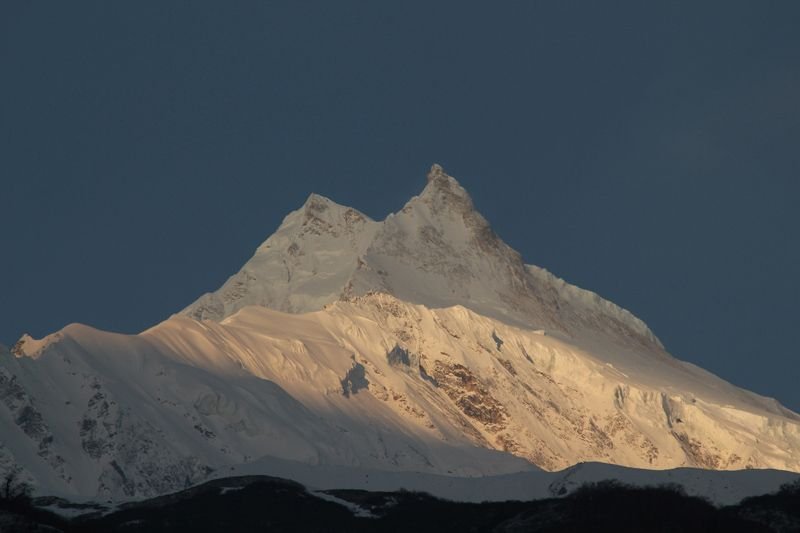 Mt Manaslu 8153
From Lho I saw Mt. Manaslu 8153 Meter which was just amazing to see. The Manaslu Mountain is M shaped and very tall, with early sunrise the mountain is like a gold piece. There were several other mountains such as Buddha Himal, Cheo Himal, Ngadi chuli 7800 Meters, Sama peak and many more. We did rest at the Samagaun 3500 Meter and went hiking the Manaslu base camp, on the way to Manaslu base camp there was a pristine Birendra Lake which was magnificent to see. It was quite hard to go to Manaslu base camp but the view is simply amazing and the glaciers were moving too.
The next day we went to Samdo 3900 Meter, from samdo you can see the Samdo peak and some more mountains but you can see the Mount Manaslu from here. To be more acclimatized we went hiking the samdo ri and we climbed 4700 Meter and back to samdo. Samdo is the last village of Manaslu trek. Next day we went to Dharamsala. It was quite packed due to the only a hotel, we had to sleep in the tent which was just freezing and due to so many tourists, it was too noisy as well. We got the food and tried to sleep but due to the cold temperature and high altitude, I could not sleep either. We were sleeping at 4500 Meter which is the highest altitude I have ever been in My life.
trekking to Dharmasala 4450 meter
I was thinking about hiking tomorrow because my guide told me that tomorrow is the hardest day of our hike and we have to cross the Larke la 5115 meters and to reach the larke pass we have to hike 5 hours in the freezing cold. I was worried about the altitude mountain sickness so much. Next day I had to wake up around 4 o'clock for the hike. That is why I tried to get some sleep but it was very difficult. I hardly slept for 1 hour that night.
We started our trek around 4 o'clock and started to trek, it was around -20 outside. We slowly moved ahead with other people, I was worrying about altitude all the time because I didn't want to return back through the same way and I wanted to do a Manaslu circuit anyway. After walking 3 hours and climbing 400 meters I got the AMS. I got a headache and I also felt very tired. My guide was telling me donít worry we can make it because we are already there that is the reason he was pushing me. I took the DIAMOX but it didn't happen to me, I became sicker and told my guide that I am energyless. He gave me some bars which helped me to walk more and the guide helped me to move forward pushing me and dragging me. Finally, after 3 hours struggling I got the Larke la pass. I was so happy and proud of myself and gave thanks to my guide. Without him, I would have made that.
Me on the top of Larke Pass 5110 Meter
After lake la pass we did some nice trek with stunning mountain views and nature, I saw Manaslu north, Himlung and many other Annapurna peaks. I really enjoyed the trek. I cannot express the beauty of the trek in the words it can feel.
My recommendations, if you love nature and mountains and want to be fit then you should do a hike in Nepal. The Hike in Nepal is incredibly beautiful and Manaslu trek is one of the best I chose. If you want to hike for 2-3 weeks then you must go to Manaslu trek.
Apr 30th, 2020, 01:21 AM
Wow ... what a great trek. And beautiful photos! I wish I were 40 years younger (I'm 75 now). I always wanted to trek in Nepal when younger but never made it. I've hiked and done some minor climbing in Washington and British Columbia, but have never been higher than 10,781 feet. (~ 3,300 meters) in the Cascades or 12,500 ft. (~ 3,800 meters) in Colorado. You sound young and adventurous enough. Don't wouldn't worry too much about the trip you're planning in Europe (your other thread). Don't over plan that trip. You can easily do it much like you did Nepal.