PHOTO:
Cosmopolitan Hotel
Fodor's Expert Review

The Cosmopolitan of Las Vegas

3708 Las Vegas Blvd. South, Las Vegas, Nevada 89109, USA See on Map Fodor's Choice
The Cosmopolitan is artistic. It's stylish. It's sophisticated. It's classic Las Vegas--just fancier. The hotel is massive, with 2,995 rooms, many of them with their own private terraces--and balconies on the strip are a rarity, so this is quite the treat. If you came to Vegas wanting a little bit more elegance mixed with your typical Vegas charm, you have come to the right place.
There are little vending machines throughout the hotel and casino filled with wood-block paintings from local artists. They're $5 and so ridiculously cute.
room
Rooms are spacious and extremely modern looking. You have lots of room to move around. It seems like a nice place to hang out, except you're in Vegas, so that's probably not the point of why you're there! There's a kitchenette, a mini-fridge, and microwave, which is helpful and nice. The rooms also feature pretty nice couches.
Views from the balcony can be amazing. Book a room facing the Bellagio fountain, if you can--it's worth it!
bathroom
These bathrooms are gigantic. The shower alone is basically its own separate room, and in some rooms, connects right into a bathtub that has a view of the strip below. The shower itself is fine. The bathtub is way better. The toilet is in its own room, which is nice. There are blinds to cover the shower and bathtub out of view from the room--but they close from the outside, which is confusing.
Ask for a room with windows facing the Bellagio hotel, and you can watch the fountain do its water performance from your balcony (or your bathtub!).
lobby
The lobby of the Cosmo is gigantic and fancy and modern. It's one of the more stylish lobbies on the Strip, with plenty of desks to check in and out, and staff is very helpful.
YOU SHOULD KNOW Sometimes the elevators take forever. Hope you're not in a hurry.
pool
The pool deck: Three different pools on the mezzanine offer three different daytime experiences; there's also an outdoor living room that is a great spot to watch a big game.
spa
The on-site spa, Sahra, offers dozens of unique skin and body treatments, and boasts one of the only open-to-the-public hammams in town. Violet Hour Salon, the on-site beauty parlor, specializes in hair, nails, and makeup.
dining
Milk Bar is a cereal infused cafe, serving cookies, soft serve ice cream and shakes, and coffee drinks. Eggslut is a popular breakfast sandwich place where you can wait in line for a million minutes and then eat an egg sandwich. The Henry is a sit-down restaurant with American fare. It's simple and nice. Rose.Rabbit.Lie is the Cosmo's premiere dining experience and serves plates to share and fantastical cocktails. You can enjoy these things while watching circus-themed entertainment. There's a lot of singing and loud music and flashing lights, and it kind of has an off-kilter "Alice in Wonderland" vibe.
Make reservations at Rose.Rabbit.Lie. Also, order several plates at once. Seriously--the portions are small.
drinking
The main attractions are Marquee nightclub and The Chandelier—a three-story bar that exists inside of a giant, actual chandelier. Would you like to drink alcohol while sitting inside of a chandelier? Well, you can do this here! The Study Bar is attached to Rose.Rabbit.Lie. You can wait there for a table and have a drink. The bartender is fantastic and the room looks like a dark, comfortable library.
casino
The Cosmopolitan is a casino, also, in case you didn't know. It's like a regular casino, except way nicer.
shopping
There are several stores inside the hotel, and they're all extremely expensive. If you're someone who can afford to shop at All Saints, have at it--their clothes are amazing. Oh, but also, their t-shirts are, like, $70, so if you find yourself walking in there, looking at a price tag, and going, "Yikes!" you can walk right across the street to the shops at the Planet Hollywood mall and find more wallet-friendly stores. There's an H&M, for example.
LOCATION
Getting Around
It's Vegas, so you're either taking a cab or you're walking. You're probably walking. Follow the signs and don't walk on the street. Not all sidewalks lead to where you need to be going, so you have to pay attention. Overall, just be patient. Sorry, but you'll be walking a lot.
Restaurants
You literally have every option ever because you are right smack dab on the Vegas Strip. You can go to a fancy Vegas-type restaurant, like Burger (3-minute walk) in Planet Hollywood--Gordon Ramsay's burger spot. Or, you can go to the two-story Taco Bell Cantina (2-minute walk) right across the street. They serve alcohol and also they serve marriages. Seriously. Oh, also they serve food. Heck, just walk into a Walgreens (4-minute walk) and get a snack right across the street and then continue gambling and drinking. Do I really need to tell you where to eat in Vegas? You can't go two feet without accidentally walking into a restaurant. They're everywhere, all around, and you can see them from a mile away because the signs are gigantic. Happy Vegas time!
Bars
Are you kidding me? Everywhere is a bar. Literally every building has a bar. And if it doesn't, it at least sells alcohol. And if it doesn't, you can still sit there and drink. All of the Vegas strip is a bar.
WHY WE LIKE IT
The Cosmo is one of the most stylish stays in Vegas, and you're in close proximity to absolutely everything you could possibly need. It's got a wide variety of great dining options, both casual and fancy, as well as a couple good bars and an overall cool atmosphere. If you want to do Vegas in style, this hotel is the one for you.
QUICK FACTS
HOTEL INFO
Phones: 702-698–7000
People also liked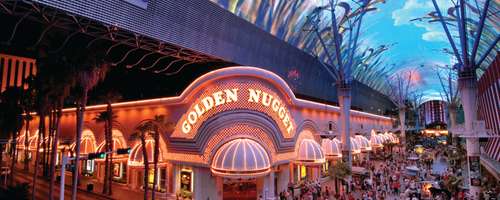 $ | Downtown | 129 E. Fremont St.
Offering some of the most upscale accommodations in downtown. Read More
$ | Henderson and Lake Las Vegas | 12300 Las Vegas Blvd. S, Henderson, Nevada, 89044, USA
Built by the Marnells, the same family that created the Rio, this reso... Read More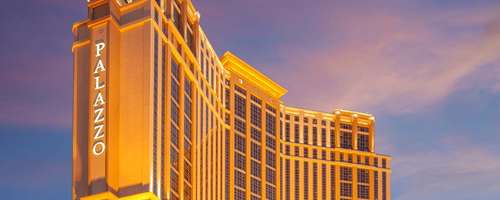 $$$ | North Strip | 3325 Las Vegas Blvd. S, Las Vegas, Nevada, 89109, USA
Palazzo means \"palace\" in Italian, and the $1.8 billion, all-suite r... Read More
$$$ | North Strip | 3355 Las Vegas Blvd. S, Las Vegas, Nevada, 89109, USA
This theme hotel re-creates Italy's most romantic city with meticulous... Read More
$ | Paradise Road and the East Side | 3000 Paradise Rd., Las Vegas, Nevada, 89109, USA
Convention attendees have loved this hotel for decades; it's connected... Read More
$$$$ | North Strip | 3131 Las Vegas Blvd. S, Las Vegas, Nevada, 89109, USA
In a city that keeps raising the bar for sheer luxury, the Wynn—monoli... Read More