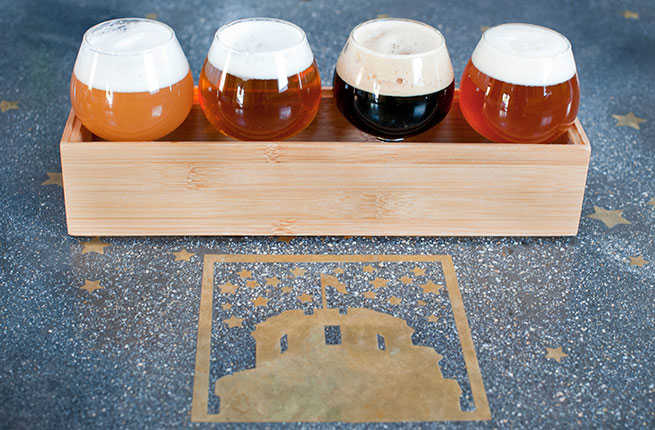 Slumbrew
The history books claim that the first bar in North America opened in Boston in 1634. However, Bostonians have never been content with simply being first. The city and its residents continue to reinvent themselves, and that entrepreneurial spirit is reflected in the craft brewery boom throughout the area. Beer lovers in Boston can sample a wide range of small batch, craft varieties ranging from bold, experimental flavors to modern interpretations of European classics.—Kristin Amico
Trillium
WHERE: Seaport District
Trillium is tucked down a small alley in the booming Seaport District among tech startups and financial heavyweights. The brewery is a favorite with locals and national beer connoisseurs alike for its ability to balance premium tasting beers with inventive and unexpected flavor profiles. The location is a retail space only, selling growlers or 16-ounce cans; unfortunately, there are no samples or pours, but they will sell single cans of multiple flavors if you want to host your own tasting.
PLAN YOUR TRIP: Visit Fodor's Boston Travel Guide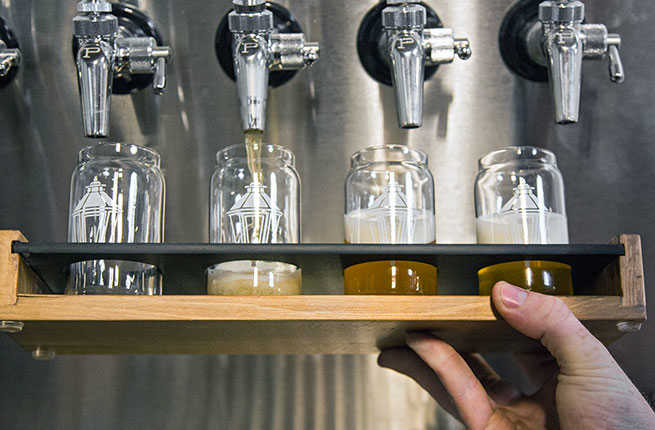 Lamplighter
WHERE: Cambridge
Lamplighter, the newest craft brewery to open in the Boston area, takes a cooperative approach to serving the community as it shares its converted warehouse space with Longfellows Coffee. The taproom opens 11 am most days for those who want to sip flights or full pours of the rotating selection, which includes aggressive sours, IPAs, and unfiltered wheats. The café is open early mornings until midafternoon with hot and cold-brew coffee, a long list of teas, house-made sodas, and freshly baked snacks on the menu.
PLAN YOUR TRIP: Visit Fodor's Boston Travel Guide
Dorchester Brewing Co
WHERE: South Boston
In South Boston, brewers have transformed a bright old warehouse into a community taproom. With 15 to 20 seasonal varieties flowing at all times, beer nerds and thirsty locals have plenty of room to assemble in the 25,000 square-foot space. The staff is enthusiastic about the brews, which range from updated classics to inventive twists on Belgians and sours. Order a flight or a full pour and take a seat at the long bar or one of many communal tables full of board games. There's no kitchen, but food trucks pull up outside during peak dinner and weekend hours.
PLAN YOUR TRIP: Visit Fodor's Boston Travel Guide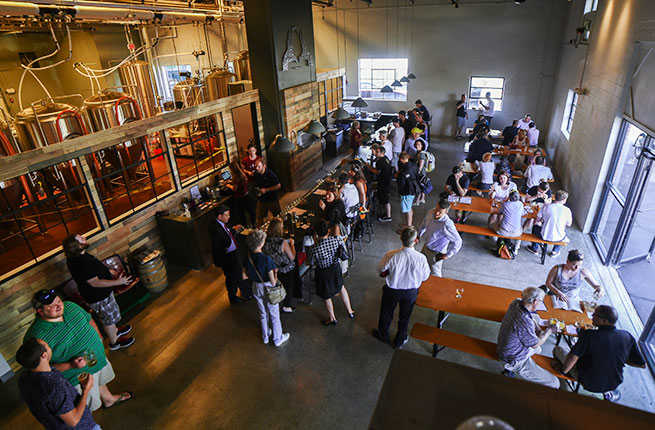 Idle Hands
WHERE: Malden
Idle Hands produces inventive and modern interpretations of classic Belgian beers. There are a dozen brews on tap in a comfortable and unpretentious space with communal tables and an expansive, inviting bar. There's no food menu, but they offer a small selection of pre-packaged snacks in case hunger hits while sipping the likes of abbey-style tripels, Belgian whites and stouts, or farmhouse ales.
PLAN YOUR TRIP: Visit Fodor's Boston Travel Guide
Cambridge Brewing Co
WHERE: Cambridge
Cambridge Brewing is the spot for those who are looking for a full dining experience in addition to house-brewed beers. The seating area features leather booths and tables, reflecting a more traditional atmosphere that caters to locals, families and the MIT crowd. The selection on tap varies seasonally, and includes pilsners, porters, lagers and ales. The full kitchen menu changes throughout the day and includes lunch, dinner, and weekend brunch.
PLAN YOUR TRIP: Visit Fodor's Boston Travel Guide
Aeronaut Brewing
WHERE: Somerville
Aeronaut, founded by MIT grads with a passion for experimentation, pours funky brews in a former envelope factory. You'll need to navigate a hidden alley to find it, but once inside you'll discover a space buzzing with locals. The small-batch brewer is part watering hole, part gathering space that hosts knitting groups, poetry slams, grownup story hours, local cycling groups and more. Visitors can take small tastes or full pours of seasonal varieties with names like Hop, Hop and Away, and Robot Crush that switch out every few weeks.
PLAN YOUR TRIP: Visit Fodor's Boston Travel Guide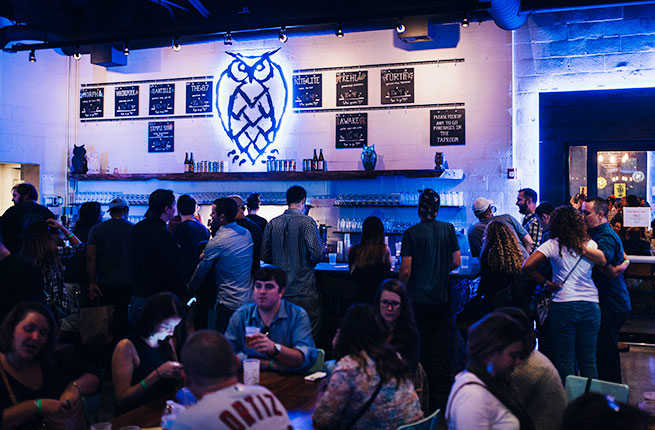 Tim Oxton
WHERE: Everett
Founded in 2012, Night Shift is considered one of the veterans in the Boston-area craft brewing movement. The converted warehouse serves as boisterous brewery, taproom, and gathering space, home to more than a dozen seasonal varieties flowing from busy taps. While committed to small-batch production methods using local ingredients, the founders recently launched their own distribution company, meaning Night Shift in cans is available at bars and retail outlets across the state.
Insider Tip: There's no kitchen, but they have a BYOF (bring your own food) policy, and most weekends food trucks assemble outside.
PLAN YOUR TRIP: Visit Fodor's Boston Travel Guide
Slumbrew
WHERE: Somerville
With more than a dozen beers on tap—including IPAs, porters, ales, sours, and wheats—even the fussiest beer drinker will find something to sip. The problem of deciding on just one is solved by ordering a flight of choices (be sure to include Naked Hopularity and Harebrained). Slumbrew has a full dining menu, from pretzels to pulled pork to mac and cheese. Take a brewery tour on Saturdays or watch the Patriots game on Sundays during football season.
Insider tip: Save room for dessert. The Deconstructed Fluffernutter is a playful homage to marshmallow crème, which was invented in Somerville.
PLAN YOUR TRIP: Visit Fodor's Boston Travel Guide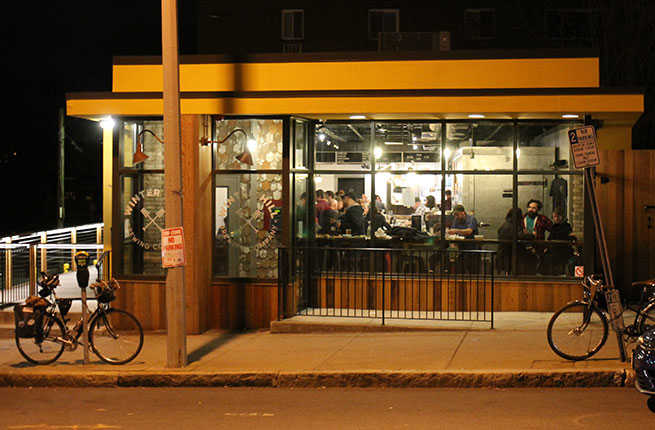 Winter Hill Brewing
WHERE: Somerville
The cozy space functions as a neighborhood café in the morning, offering pour-over coffee, breakfast, and snacks. A savory menu consisting of sandwiches and small plates is available in the afternoon and evenings. The beer selection changes constantly, but there's usually one IPA and house ale on tap as part of the rotating selection of six to eight varieties.
PLAN YOUR TRIP: Visit Fodor's Boston Travel Guide