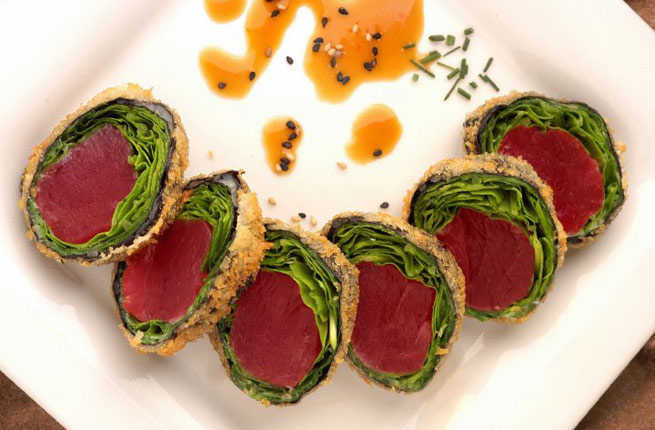 Sansei Seafood Restaurant & Sushi Bar
Hawaii's culinary landscape is more stunning than it has ever been, with a plethora of fresh, seasonal ingredients from local farmers and fishermen. The islands' talented local chefs, mixed with a smattering of top toques from other regions who've opened eateries here, serve up an array of inspired dishes—from delicately spiced poke (raw marinated ahi tuna) to regional melting pot dishes inspired by Filipino and Portuguese home recipes. This collection of a dozen Hawaii restaurants, most of which are Fodor's Choice honorees, will make you want to book your flight to the Aloha State right now. Just don't forget to make a reservation ahead of time.
By Donna Heiderstadt
Rae Huo
Alan Wong's
WHERE: Honolulu
For Asian-fusion perfection, reserve a table at Alan Wong's, which has been wowing foodies since 1995. One of the originators of Hawaii Regional Cuisine, Chef Wong creates unforgettable flavors in dishes such as chopped ahi sashimi and avocado salsa stack and twice-cooked shortrib soy braised and grilled "Kalbi" style. All this aromatic mastery doesn't come cheap (entrees average $39) and there's no ocean view (the restaurant is on the third floor of an office building), but neither matters when the food tastes this good.
Insider Tip: The six- or seven-course tasting menus ($85 and $105 per person) are a worthy splurge. And if Honolulu isn't on your itinerary but Maui is, you can sample Wong's creativity at Alan Wong's Amasia at Grand Wailea, A Waldorf Astoria Resort, where favorite dishes from this restaurant are on the menu alongside Asian-style small plates.
PLAN YOUR TRIP: Visit Fodor's Oahu and Honolulu Guide
Courtesy of Sansei Seafood Restaurant & Sushi Bar, Kapalua Maui
Sansei Seafood Restaurant and Sushi Bar
WHERE: Kapalua, Maui
For fresh seafood—from creative sushi to grilled fresh catch of the day—plus a wide selection of beef and poultry dishes, Sansei Seafood Restaurant & Sushi Bar delivers what you're craving. Helmed by third-generation Japanese American Chef D.K. Kodama, this original location opened in 1996 in Kapalua Resort (there are now four Sansei restaurants on three islands) is known for its contemporary Hawaiian spin on Japanese cuisine as well as its lively ambience and good prices (from $2.95 for sushi, $7.95 for starters and $15.95 for entrees).
Insider Tip: Don't overlook the Award Winners section on the menu, where critics' favorites such as the panko-crusted ahi sashimi sushi roll and the Dungeness crab ramen with Asian truffle broth remain perennially popular.
PLAN YOUR TRIP: Visit Fodor's Maui Guide
Chef Mavro
WHERE: Honolulu
Chef George Mavrothalassitis, another founding father of Hawaii Regional Cuisine, is a master of the tasting menu, earning AAA Five Diamond Awards for the past six years at Chef Mavro, his 13-year-old fine-dining restaurant. His four- six- and 11-course menus (from $85 per person with superb wine pairings extra) are influenced by his childhood in the south of France and his 25 years in Hawaii. They feature fresh local seafood and produce as well as Niman Ranch lamb, Hudson Valley foie gras and Grimaud Farm duckling—all beautifully presented in a dining room painted the color of Provencal sunshine.
Insider Tip: Although it's a fine-dining restaurant, Chef Mavro embraces an "aloha casual" dress code. With the Ala Moana Center just blocks away, plan an afternoon of shopping followed by a meal to remember.
PLAN YOUR TRIP: Visit Fodor's Oahu and Honolulu Guide
Don Riddle, Four Seasons Resort Hualalai
'ULU Ocean Grill and Sushi Lounge
WHERE: Kona Coast, Big Island
One of the newest spots to savor modern Hawaiian cuisine is 'ULU Ocean Grill + Sushi Lounge at Four Seasons Resort Hualalai. Opened in late 2012 and now under the direction of Executive Chef Chris Bateman, the restaurant aspires to be "regional, seasonal, and artisanal" by sourcing 75 percent of its menu from 160 Hawaiian farms and fisherman. Amid contemporary Hawaiian décor of stunning wood and glass offering an ocean panorama, you'll enjoy ULU's specialties such as the roasted Kekala beet salad with smoked Puna goat cheese and Big Island wild boar, as well as an enticing selection of fresh seafood and sushi—not to mention a fabulous wine list.
Insider Tip: Check the restaurant's website to see if it is hosting special tasting dinners, which include Farm-to-Table Dinners every Saturday night ($150 per person with wine pairing).
PLAN YOUR TRIP: Visit Fodor's Big Island Guide
Courtesy of Fairmont Hotels & Resorts
Ko
WHERE: Wailea, Maui
It's hard to find more creatively cross-cultural cuisine than what's offered at Ko, the two-year-old restaurant at The Fairmont Kea Lani. Executive Chef Tylun Pang draws inspiration from Hawaii's sugarcane plantation era (Ko means sugarcane in Hawaiian) when workers from China, Japan, the Philippines, Korea and Portugal arrived with their own culinary specialties. A century and a half later, you can sample Pang's interpretation of family recipes such as lumpia (Filipino spring rolls), Portuguese bean soup, and chap chae (Korean stir-fried yam noodles). The menu is pricy (entrees average $39), but the flavors are delicious and the portions large.
Insider Tip: If your budget won't accommodate dinnertime entrée prices, visit during lunch when you can make a meal of two appetizers or the Kalua pork flatbread.
PLAN YOUR TRIP: Visit Fodor's Maui Guide
Courtesy of Starwood Hotels & Resorts Worldwide, Inc.
Kauai Grill
Where: Princeville, Kauai
Jean-Georges Vongerichten's stellar cuisine—the menu by Chef de Cuisine Maxime Michaud is a selection of top creations from Vongerichten's eateries around the world—and a stunning Hanalei Bay view merge at Kauai Grill, the fine-dining restaurant at The St. Regis Princeville Resort. Options include rice-cracker-crusted bigeye ahi tuna with citrus-chili sauce or glazed shortribs with crispy grits (entrees start at $39) or savor the five-course vegetarian menu ($70 per person). And save room for the coconut panna cotta.
Insider Tip: Eat a light lunch and time your dinner to sunset (which varies from 6pm to 7:15pm—reserve a window table in advance). The show as the suns sets over Hanalei Bay is magical.
PLAN YOUR TRIP: Visit Fodor's Kauai Guide
Nina Lee
Hali'imaile General Store
WHERE: Upcountry Maui
For an inspired Upcountry lunch stop at Hali'imaile General Store. Opened as a gourmet take-out deli in 1988 by Chef Bev Gannon, the restaurant has evolved into a perfect spot for a Hawaii-centric midday meal (or dinner if you don't mind a 20-plus mile drive home to the resort areas afterward). The pizzas—including Bev's famous crab pizza and sashimi pizza—are must-tries while entrees ($18 on average at lunch; $35 at dinner) such as coconut seafood curry and Kalua pork enchilada pie make choosing a challenge.
Insider Tip: The restaurant's proximity to both Haleakala (it's on a former pineapple plantation located on the volcano's lower slopes) and the charming town of Makawao make it an ideal stop between sightseeing visits.
PLAN YOUR VISIT: Visit Fodor's Maui Guide
Courtesy of Starwood Hotels & Resorts Worldwide, Inc.
Rays on the Bay
WHERE: Kailua-Kona, Big Island
A renovation in 2012 gave Rays on the Bay, an oceanfront eatery at The Sheraton Kona Resort at Keauhou Bay, a relaxed yet sophisticated open-air look paired with an eclectic casual-dining menu featuring everything from shareable pupu platters (poke, sushi, spider shrimp) to fresh-catch entrees and burgers (from $18). What stayed the same: the ability to dine while giant manta rays cavort in the beautifully lit bay just yards away, enjoying their own nightly feast of floating plankton. Signature cocktails, such as the hibiscus-flavored Pacific Rim Margarita, are fun, too.
Insider Tip: Reserve a table next to the water for the best views of the manta rays, or sit at the bar for a congenial dining experience as you sample an array of pupus.
PLAN YOUR VISIT: Visit Fodor's Big Island Guide
Courtesy of Four Seasons Hotels and Resorts
The Dining Room
WHERE: Lanai
The Dining Room looks and feels like no place else in Hawaii, offering country estate ambiance and a fine-dining menu that mixes continental sophistication with local and sustainable Hawaiian ingredients sourced from 100 farmers and fishermen. Inspired by its setting inside Four Seasons Resort Lodge at Koele, an elegant Old Hawaii-style property set amid towering Cook Island pines, the menu by Executive Chef Kevin Erving includes Big Island lamb, Molokai venison, fresh onaga and snapper, vine-ripened tomatoes and avocados, artisan cheeses, and Kiawe honey (entrees from $31).
Insider Tip: Before heading inside for dinner, order cocktails and sip them on the photogenic lanai as the sun dips behind the pines and a meadow with grazing horses.
PLAN YOUR VISIT: Visit Fodor's Lanai Guide
Pint Of Paradise
by Jeremy Brooks, Attribution-NonCommercial 2.0 Generic License
Kona Brewing Co. Pub and Brewery
WHERE: Kailua-Kona, Big Island
For brewed-on-the-Big-Island authenticity (even the décor is locally sourced, from the koa wood bar to the corrugated tin roof) head to Kona Brewing Co. Pub & Brewery in Kailua-Kona, where a dozen beers and ales, from Long Board Island Lager to Lavaman Red Ale, along with Hawaiian-ized pub grub such as Pele's fire wings and Kalua pork quesadilla (starting at $9) make for a fun and casual night of caloric overindulgence.
Insider Tip: Order the "sampler" (four five-ounce pours for $9) to see which brew best suits your mood before you settle on a full 16-ounce "pint of paradise" for $5.50.
PLAN YOUR VISIT: Visit Fodor's Big Island Guide
© Fortuna Augusta | Dreamstime.com
Little Village Noodle House
WHERE: Honolulu
A lively Chinatown institution since 2001, Little Village Noodle House serves its namesake noodles for sure—but also so much more. Owner Kenneth Chan's signature dishes (from $9.95) include pot stickers (chicken, pork or tofu), Singapore rice noodles (with shrimp bean sprouts and curry sauce), sizzling black cod and (with zesty black bean sauce), and black pepper beef (spicy, gingery and garlicky). If you want wine, it's BYOB with a low glass service fee.
Insider Tip: The more people you go with (reservations are accepted for groups of five or more), the more dishes you will be able to try from the almost 100 on the menu.
PLAN YOUR VISIT: Visit Fodor's Honolulu and Oahu Guide
Village Burger
– Waimea (Kamuela), Hawaii by Kirk K, Attribution-NonCommercial-NoDerivs License
Village Burger
WHERE: Kamuela, Big Island
Sometimes you just can't quell the craving for a burger and fries and if you're on the Big Island, head for Village Burger and try one of the freshest and tastiest burgers in the islands. Just don't expect fancy—this is a take-out joint (prices start at $8) with access to seating in a shared food court in the Parker Ranch Center—but do expect juicy. The beef is 100 percent pasture raised and hormone free, the patties are handmade daily, and the brioche buns are baked nearby.
Insider Tip: Be sure to try the specialty toppings (such as tomato marmalade and aloha chipotle goat cheese). The fries, too, come plain or with one of four toppings, from wasabi mayo to creamy sweet chili.
PLAN YOUR VISIT: Visit Fodor's Big Island Guide