Peter Malinowski/InterContinental Hotels Group
Tasting California's most famous wines on a beer budget may be easier than you think—you just need to be a little flexible. First, avoid that four-letter word: Napa. You can taste there all you want, but real estate is expensive in that stretch of California—and the room prices reflect it. If you look elsewhere, like Calistoga, you'll find many choices in reasonable price ranges. Also, don't be afraid to stay in unexplored territory. Heard of Los Alamos? What about Philo? Let us get you acquainted with our list of 15 affordable properties.
by Christine Ciarmello
Courtesy of Skyview-Motel Los Alamos
WHERE: Los Alamos (Santa Ynez Valley)
Atop a hill looking down on Los Alamos is the appropriately named Skyview Motel (from $75 a night). The bird's-eye view makes the name apropos, as is its "motel" moniker. In other words, don't expect chicness here … at least not until next year. The motel is undergoing a major renovation that will completely renovate the 30 rooms that once were part of an authentic 1950s motor court. The swimming pool is perfect for the hot valley summers.
Insider Tip: Tantara Winery's tasting room is in the motel; guests get a free bottle of wine when they check in.
PLAN YOUR TRIP: Visit Fodor's Santa Ynez Guide
Jeffrey Bloom Photography
WHERE: Los Alamos (Santa Ynez Valley)
Once a stop for Wells Fargo stagecoaches, the wood-façade 1880 Union Hotel (from $145 a night) is now a stop for wine enthusiasts touring Sideways country, aka the Santa Ynez Valley. Founded in 1876, the lobby of Los Alamos is a perfect time capsule of the era, complete with period memorbilia. Up a wooden staircase are 14 guest rooms that are best described as boho-quirky-chic. What they lack in mod cons, they make up for in personality. Downstairs, you can drink at the Art Deco lobby bar or at the wine saloon (through swinging doors).
Insider Tip: Chances are high for celeb spotting in the town dubbed "little L.A." Kurt Russell and Goldie Hawn are partners in the adjoining saloon and Emilio Estevez is an owner of Babi's Beer Emporium down the street. The "Say Say Say" Paul McCartney and Michael Jackson video was filmed in one of the rooms.
PLAN YOUR TRIP: Visit Fodor's Santa Ynez Guide
Nancy Neil
WHERE: Solvang (Santa Ynez County)
The Danish look of Solvang, a Santa Ynez wine town, is enough to make most tourists ooh and ah, but it'll depend on which side of the fence you fall when it comes to half-timbered framing and windmills. Its heritage is embraced with a modern flair at the, yes, Hamlet Inn (from $79 a night). Danish flag blankets cover the bed and Edison bulbs hang bare from Dane-red chords. While the minimalism might be a bit much for some people (the hotel opts for two luggage racks rather than a dresser), there's plenty of frill outside your door, including the former motor court which offers free cruiser bikes with carriers.
Insider Tip: When you check in, you'll get a card that lists the town's tasting rooms that also entitles you to 2-for-1 tastings.
PLAN YOUR TRIP: Visit Fodor's Solvang Guide
Peter Malinowski/InterContinental Hotels Group
HOTEL INDIGO, SANTA BARBARA
WHERE: Santa Barbara
The 41-room Hotel Indigo (from $175 a night) gives "art hotel" new meaning. The recently renovated, 41-room hotel on State Street is actually a satellite of the Museum of Contemporary Art Santa Barbara. Parts of museum exhibits are featured in the reception area, guest hallways and second-floor Art Library, where a curator's cabinet shows an interesting mix of ephemera relevant to the exhibit. Plus, the ocean is a couple blocks away.
Insider Tip: The hotel is near the Funk Zone with five tasting rooms and will save you the 50-minute trip up to Santa Ynez Valley. Also, the hotel gives discounts to those who arrive in Santa Barbara car-free (the Amtrak station neighbors the hotel).
PLAN YOUR TRIP: Visit Fodor's Santa Barbara Guide
© Jesse Franke Narducci
WHERE: Philo (Mendocino County)
You'll see a real farm in operation if you stay at one of the three cottages at the Philo Apple Farm (rooms from $200), outfitted with heirloom rugs and corrugated roofs. We recommend kicking back on the porch with the farm's hard cider after a long day of tasting at the Anderson Valley grapes.
Insider Tip: The hotel hosts "Stay & Cook" weekends. A lot of harvesting and eating is undertaken, with guests participating in as much or as little as they want. Alternatively, come in late July through October to watch the apple harvest.
PLAN YOUR TRIP: Visit Fodor's Mendocino Guide
Alanna Hale Photography
WHERE: Philo
Once a private office space and home, this Mediterranean compound is now a wine traveler's fantasy. The Madrones (from $160 a night) estate has been reconfigured to house four tasting rooms and a restaurant with a pizza oven, as well as a five-room B&B. Bedrooms are outfitted in neutrals with dollops of color. The rooms also feature Nespresso machines, the world's most comfortable sheets, and fridges stocked with your breakfast fixings. What more could you ask for? Did you say French doors overlooking a vineyard from your room? They have that, too.
Inside Tip: Before you hit the tasting rooms on the property, go to your room. Free tasting tickets are there.
PLAN YOUR TRIP: Visit Fodor's Mendocino Guide
Courtesy of The Boonville Hotel
WHERE: Boonville (Mendocino County)
Earthy tones, natural materials, and linens have turned this once rural roadhouse into the chic 15-room The Boonville Hotel (from $185 a night). Its restaurant, Table 128, has a reputation with foodies near and far. After dinner, head upstairs to your cozy room, or to one of the stand-alone cottages. The hotel likes to claim that its biggest luxuries are the light, space, and landscape. We agree, but the fireplace and hammocks aren't half bad either.
Insider Tip: This is Pinot town. In fact, look no farther than the local beef barn, Buckhorn Boonville, and dip into their Pinot by the glass list.
PLAN YOUR TRIP: Visit Fodor's Mendocino Guide
Kelly Puleio
WHERE: Guerneville (Sonoma County)
A few years ago, the Boon Hotel + Spa (from $155 a night) added a little fluff to the working-class town of Guerneville on the Russian River. Since then, the 14-room hotel has become a destination in itself with a spa, pool, and hot tub. Rooms, which encircle the water features, have Malm fireplaces, cork floors, regional Coyuchi bedding, and back decks. Located just blocks from a state park laden with redwoods and a dozen miles from the coast, Boon also runs a bistro on River Road and a market selling fresh deli items, as well as bottles of Sonoma wines.
Insider Tip: The vineyards of Korbel are a five-minute drive. Taste the sparkling wines and tour the property. The gardens were first planted in the 1880s and antique roses bloom all around.
PLAN YOUR TRIP: Visit Fodor's Guerneville Guide
WHERE: Healdsburg (Sonoma County)
The 1940s roadside L&M Motel is still being run by the same family as the original owners (a great granddaughter). The 19 rooms are simple and have everything you need, but the real chic-ness is outside in the property's meticulously cared for gardens with human perches strategically placed throughout. You'll see potato patches, succulents, orchids, an apple tree, and a fire pit and strung tea lights. A separate kitschy building contains the indoor pool and hot tub. The starting room prices of $150 are unheard of in chichi Healdsburg, and no one can touch the deliciousness of the mixed berry scones baked fresh daily at the L&M. It's a 10-minute walk from the town's popular square, and the Russian River, where you can launch a kayak, is even closer.
Insider Tip: While there are dozens of tasting rooms in the square, our advice is to go to the wineries. Try Preston Vineyards in Dry Creek Valley and Medlock Ames in Alexander Valley; after five, Medlock opens a cocktail bar with drinks made from the fresh herbs and fruit grown in their gardens.
PLAN YOUR TRIP: Visit Fodor's Healdsburg Guide
Courtesy of Olea Hotel
WHERE: Glen Ellen (Sonoma County)
Down a country road nestled in a majestic old grove of olive and oak trees is the welcoming Olea Hotel (from $235 a night), with 10 cozy rooms and two cottages set back in a garden. The interior is farmhouse-modern with radiant flooring. Free wine is available around the clock, poured in the sunny main building that was built around the 1900s. The two-course breakfast is a feast worthy of waking up for.
Insider Tip: The Glen Ellen Star is such a short distance that you feel silly driving, but at night the streets are too dark to walk. The Star's focus is its wood-burning oven, overseen by a former French Laundry chef. Inventive homemade ice creams rotate, and may include flavors such as salted peanut and malted milk ball.
PLAN YOUR TRIP: Visit Fodor's Glen Ellen Guide
Courtesy of Granada Hotel & Bistro
WHERE: San Luis Obispo
Within a 1922 building in downtown San Luis Obispo is the Granada Hotel & Bistro (from $139 a night), complete with Art Deco flair. Seventeen rooms are individually decorated with design finds such as velvet armchairs, vintage chandeliers, and original artwork, plus conveniences like switch-on fireplaces. A second-floor lounge spills out to a rooftop patio that's perfect for morning coffee. The heart of the Granada, though, is the Spanish-influenced bistro. Linus lender bikes will get you from tasting room to tasting room. A favorite is Zocker in Edna Valley, five miles away.
Insider Tip: For two hours every Thursday through Saturday, the hotel hosts the Art Bar, a painting class led by a local artist. Can you paint? Can you paint after a glass or two of wine? Find out. Classes are $40 and include one glass of vino and all supplies. Charcuterie is pushed around on a cart.
PLAN YOUR TRIP: Visit Fodor's San Luis Obispo Guide
Courtesy of Vendange Carmel Inn & Suites
WHERE: Carmel-by-the-Sea (Monterey County)
The wine-obsessed will gel nicely with oeno-themed Vendange Carmel (from $200 a night). The rooms in the recently renovated 1919 inn benefit from the golden touches of local wineries, which stock the mini-bar with their vintages and decorate the rooms with vineyard-inspired touches. For example, in the Joullian room, a nine-foot grape vine hangs over the bed, and a lamp base is made from a bottle.
Insider Tip: Less than a mile from the hotel is Carmel-by-the-Sea, where there are roughly 14 wine tasting rooms, most centered around Ocean Street.
PLAN YOUR TRIP: Visit Fodor's Carmel-by-the-Sea Guide
© D.M. Troutman/Cypress Inn
WHERE: Carmel (Monterey County)
The 44-room Cypress Inn (from $225 a night) may have its roots in the 1920s, but its heart is more mid-century. Retired Hollywood star Doris Day owns the dog-friendly, Mediterranean-style inn, which features Yappy Hour daily in the bustling Terry's Restaurant & Lounge with Doris's movies as backdrop. Dog lovers will also dig the Friday and Saturday tea service, complete with dog biscuits.
Insider Tip: Just around the block is Aubergine, one of the finest meals in the state. The dining room is small and non-descript, but Justin Cogley's food is sensational.
PLAN YOUR TRIP: Visit Fodor's Carmel Valley Guide
Courtesy of Hotel St. Helena
WHERE: St. Helena (Napa County)
Scoring a chic room for under $250 on this tony stretch of Highway 128 can be a futile exercise, until you turn to the Hotel St. Helena right on the town's main street in a turn-of-the-century building. While the hotel is rather small and could use a serious fluff-and-fold, the accessibility to Napa is worth far more than the price tag. Included with your stay is a continental breakfast and one room is available for under $250.
Insider Tip: If you think room is too small, console yourself with the money you saved by splurging on an Opus One Winery tasting ($75 per person).
PLAN YOUR TRIP: Visit Fodor's St. Helena Guide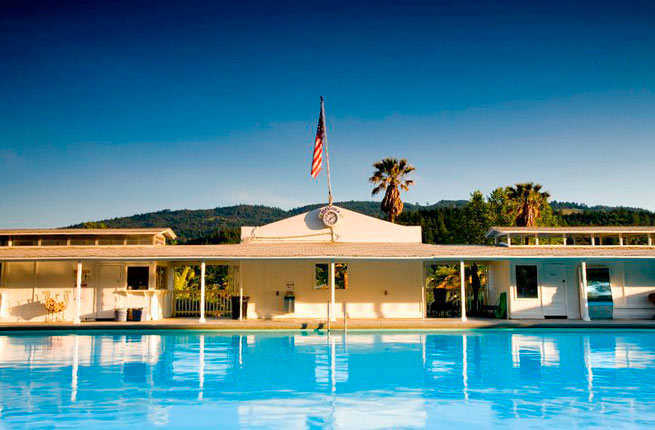 Courtesy of Indian Springs Resort and Spa
INDIAN SPRINGS RESORT AND SPA
WHERE: Calistoga (Napa County)
It's hard to choose the best feature of Indian Springs, complete with a spa and its famous Calistoga mud baths, Olympic-sized mineral pool built in 1913, with the bathtub-sized toy ducks bobbing in it, and well-appointed cottages scattered around the grounds. The downside? You need to book well in advance to secure a room on most weekends. The hotel slows down in the winter, however, and the pool is heated from the Indian Springs geysers, keeping it a warm 102 degrees. There's another pool that is kept much cooler for summer visits.
Insider Tip: Calistoga is the most laidback, authentic town in Napa. If you've come to this part of the country for the tour de Thomas Keller, this probably won't suit you.
PLAN YOUR TRIP: Visit Fodor's Calistoga Guide