Aberdeen Lodge
55 Park Avenue, Dublin, Ireland
www.facebook.com/aberdeenlodgedublin
Why We Like It
A B&B run by a couple who care about what they do, and it shows. If you're happy to stay out of the city center, or even prefer the idea of an evening stroll by the shore, this is a great option, with good breakfasts, comfortable rooms and a really home-like vibe. It's not the cheapest B&B we've listed by a long shot, but it's good value nonetheless.
A properly lovely B&B, ticking all the B&B boxes you'd want: a friendly family feel, a tasty breakfast, and cosy rooms, all in a beautiful ivy-clad house in the lovely seaside area of Sandymount. Despite the out-of-the way feel, it's less than 30 minutes into the city by public transport (the DART tram), or a short stroll to see the sea in the other direction. Run by couple Pat and Anne, the B&B has cozy family pictures hanging on the wall, a huge grassy garden, and lovely evening light, all contributing to the sense that you're staying in your long-lost friend's stylish, if a little old-fashioned, house.
YOU SHOULD KNOW This B&B is not about staying in the center of Dublin. The public transport is good, but the DART does not run as regularly at night or on Sundays, so do your research, and if you prefer a village-y feel, this is a good option.
room
Some rooms have four-posters, and some can host three people, but all share the same comfortable, home-like feel, with patterned rugs, and light, bright walls.
Room 20 is particularly charming, complete with its four-poster bed and view of the garden.
bathroom
Green bathrooms are perhaps a little tired, with bath/showers, although they are very clean and come with bathrobes and slippers.
lobby
As a B&B, there's no sweeping chandelier-filled lobby, but there is coffee and home-baked cookies on arrival, as well as owners Pat and Anne who are keen to help make your holiday the best it can be - and that's hard to beat.
dining
The home-cooked breakfasts are great, served in the dining room that has full-length patio doors onto the garden. Afternoon tea is served, too, and light snacks in the evening.
The breakfast is award-winning - don't miss out. Try the a la carte options, particularly (of course) the full Irish.
drinking
The public spaces in this B&B are special: the garden with its bright flowerpots, or the drawing room and its antique furniture are both special. There's no bar, but guests can be served drinks in either location, or their room.
People also liked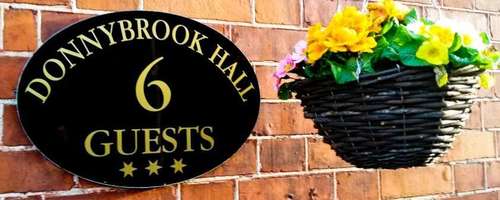 $$ | Donnybrook Hall, 6 Belmont Avenue, Dublin 4, Ireland
In a city of good B&Bs, Donnybrook Hall is one of the best. A pict... Read More
$$$ | Jones's Road, Dublin 3, D03 E5Y8, Ireland
A sleek, modern hotel that gets rave reviews for comfort, the professi... Read More
$$ | 46 Northumberland Road, Ballsbridge, D04 V303, Dublin 4, Ireland
A very classic old hotel here, meaning an elegant redbrick Victorian t... Read More
$$ | 26/27 South Great George's Street, Dublin 2, Dublin, Ireland
A stone's throw from the famous shopping street that gave it its name,... Read More
$$ | 23 Upper O'Connell Street, Dublin, D01 C3W7, Ireland
Opened in 1817, it's been a while since this was the place to stay for... Read More
$$$ | 27 St Stephen's Green, Dublin 2, Ireland
Paris has the Ritz, New York has the St. Regis, and Dublin has the She... Read More
LOCATION
Getting Around
The hotel is in the pleasant village-y suburb of Sandymount, close to the beach. It's ten minutes or so by car into town, though, or around 30 minutes in total (with walking time either side) to the city center from the Sandymount stop on the DART tram.
Restaurants
Marios (10-minute walk) is a relaxed, family-friendly Italian. Or Bujo (11-minute walk) is a great new neighborhood joint serving fantastic burgers.
Bars
O'Reillys of Sandymount (10-minute walk) is a reliable Irish pub. Or try Mulligans of Sandymount (11-minute walk) a bar and restaurant with a simple, tasty menu.