Daniloforcellini | Dreamstime.com
In his new novel, The Travelers, author Chris Pavone takes readers on a thrilling journey across Europe, from Bordeaux to Paris, Dublin to the Mediterranean, and even to an isolated cabin perched on the rugged cliffs of Iceland. That final locale is one of the many amazing places Pavone has traveled with his family, and he loved it so much that he offered to share his favorite experiences from his trip. Including breathtaking hikes, picturesque vistas, New Nordic cuisine, and a one-of-a-kind museum that won't soon be forgotten, here are 10 things you can't skip in Iceland.
David Varga / Shutterstock
Wherever you look there are snow-capped volcanoes, or stark cliffs towering above the churning sea, or lush valleys or thunderous waterfalls or vast expanses of lava, often no sign whatsoever of civilization. It's a sometimes bleak place, Iceland, but it's pristine and unpolluted and constantly beautiful, like a greatest-hits album of nature's power ballads.
PLAN YOUR TRIP: Visit Fodor's Iceland Guide
This set of well-merited tourist destinations is perfect for a guided day trip from Reykjavik: the geysers at Geysir, hard to beat for excitement; the breathtaking Gullfoss waterfall; Thingvellir, where you can descend into the ever-widening rift between the North American and Eurasian tectonic plates (Iceland grows about 2 centimeters per year), then visit the site of the world's first parliament, Althing, more than a thousand years old. A perfect jet-lagged first day.
PLAN YOUR TRIP: Visit Fodor's Iceland Guide
Earl D. Walker / Shutterstock
Whale-Watching Out of Húsavik
You clamber aboard a battered boat, and buckle a life vest atop your bright orange jumpsuit (all the better to see you with if you tumble overboard). The boat launches from this small hardscrabble port on the north coast into Skjálfandi Bay, just 50 miles shy of the Arctic Circle—the nearest landfall is the polar ice cap—and chugs out into the cold sea until, sooner or later, you see something breaching out of the water that takes your breath away. A once-in-a-lifetime experience.
PLAN YOUR TRIP: Visit Fodor's Iceland Guide
Courtesy of Dill Restaurant
New Nordic cuisine—locavore, interesting, delicious—presented with impeccable service and Alvar Aalto everything in the serene setting of Nordic House, a cultural center plopped down in a wildlife preserve in downtown Reykjavik.
PLAN YOUR TRIP: Visit Fodor's Iceland Guide
Glacier Hiking at Mýrdalsjökull
Put on crampons and a helmet and a harness, clutch your axe, and set off to climb the city-sized sheet of ice called Mýrdalsjökull, nestled beside the Eyjafjallajökull volcano that dramatically erupted in 2010 (which by the way can also happen again with very little notice). Fantastic fun, with the added edge of mortal peril.
PLAN YOUR TRIP: Visit Fodor's Iceland Guide
Climbing Hverfjall Volcano
Iceland, one of the most volcanically active regions on the planet, is home to more than a hundred volcanoes; on average, one erupts every five years. Our favorite climb was up the steep side and around the rim of the crater of Hverfjall, rising along the shore of spectacular Lake Myvatn in the north country.
PLAN YOUR TRIP: Visit Fodor's Iceland Guide
Geothermal Hot Springs in the Blue Lagoon
There's the famous, immensely popular, and undeniably enjoyable (if somewhat goofy) complex called the Blue Lagoon, with well-appointed locker rooms and a full-menu restaurant, a bar in the pool, tunnels and waterfalls . . . all the bells and whistles. Then there are more modest versions of this idea scattered everywhere, in the city and small villages, in the middle of nowhere. But the one we adored was devoid of man-made amenities, just a little hole burbling out of the earth in a wide-open isolated lava field, surrounded by nothing but nature.
PLAN YOUR TRIP: Visit Fodor's Iceland Guide
Courtesy of Fjorubordid
This restaurant in Stokkseyri, a tiny seaside village an hour southeast of Reykjavik, specializes in a particularly delicious expression of a seafood stew that you'll find all across the island. Irresistible.
PLAN YOUR TRIP: Visit Fodor's Iceland Guide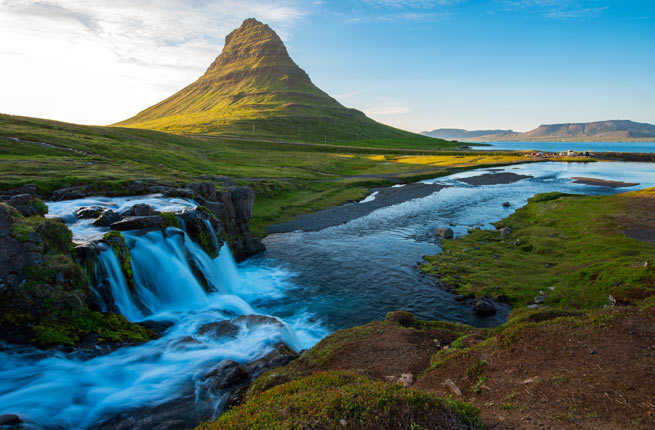 Daniloforcellini | Dreamstime.com
The Snæfellsnes Peninsula
Undulated fields of moss-covered lava. Black-sand beaches with massive hunks of volcanic rock in outrageous formation—pillars and arches—exploding out of the crashing waves. The glacier-covered Snæfellsjökull volcano and the spooky cave at its base, which was the inspiration for Journey to the Center of the Earth. Only a couple of hours' drive from the capital, the isolated Snæfellsnes Peninsula feels like you've arrived at the very end of the earth. Or perhaps the very beginning of it.
PLAN YOUR TRIP: Visit Fodor's Iceland Guide
Courtesy of Iceland Phallogical Museum
Iceland Phallogical Museum
Or, as my twin boys called it, the Penis Museum. Perhaps not to everyone's taste, but certainly an unusual experience.
PLAN YOUR TRIP: Visit Fodor's Iceland Guide