Franfoto | Dreamstime.com
There's something different about Normandy. Settled by the Vikings, then reigning as an independent duchy that included England until 1204, Normandy retains a unique flair different from the rest of France. You see it in the half-timbered houses, in its devotion to cider over wine, in the rugged, rainy coastline. And you see it in the unsurpassed number of flower-filled villages, perched along the Seine, in wooded glens, amid apple orchards, along cliff-edged beaches, as scenic as can be. Artists, including the most famous Impressionists, flocked here to capture these villages and their surrounding landscapes on canvas (Monet lived most of his life at Giverny, after all), and stayed for its regional cheeses, cider (or cidre), seafood, and warm hospitality. Within easy reach of Paris, this pastoral province edging the English Channel is a great place to rent a car and drive down quiet winding lanes, discovering village after village of bucolic allure. Here are some suggestions to get you started.—Barbara Noe Kennedy
Pack-Shot/Shutterstock
Sitting high above a hairpin turn on the River Sarthe, this pretty village contains honey-stoned buildings with stone tile roofs. Artists Corot and Courbet were drawn to its charms, which are celebrated every Pentecost weekend with an arts festival. Seek out the tiny Chapelle du Petit-Saint-Cénéri, containing a stone at which the Saint Cénéri is said to have meditated and prayed.
Insider Tip: The nearby village of St. Léonard-des-Bois is worth a detour in summer, when candlelit evenings accompanied by live music take place in the Jardins de la Mansonière.
PLAN YOUR TRIP: Fodor's Normandy Guide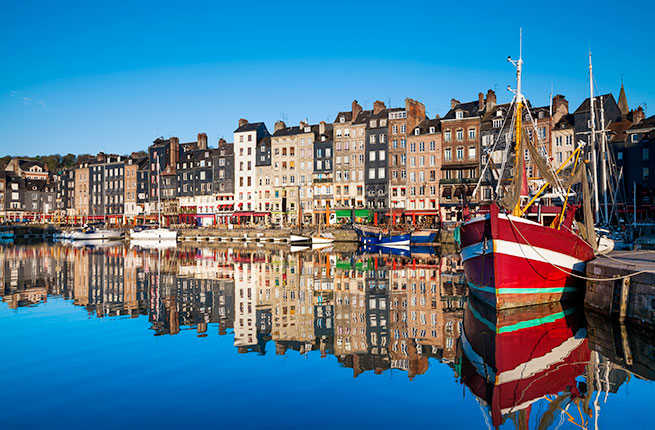 Johannesvalkama | Dreamstime.com
In the early morning light, the petite, boat-filled inner harbor of Honfleur reflects ancient, strikingly tall (at least for the 17th century) half-timber houses. Twisting lanes wander off from here, edged with multi-hued buildings now occupied by shops overflowing with antiques, art and regional fare. Blooming flowers add splashes of color everywhere. No wonder Monet, Boudin, and others gathered here in the late 1800s to experiment with the tenets of a new art movement that would become known as Impressionism. See their works at the Musée Eugène Boudin, then the real-life inspirations on a stroll through town. End the day with a bowl of cidre at one of the inner harbor's terrasse cafés, extolling at the exquisite scene. You may be tempted to take up a paintbrush yourself.
Insider Tip: Stay at the same auberge where the pre-impressionists gathered—La Ferme St.-Siméon. Today it's an exclusive Relais & Châteaux property, complete with floral garden, Michelin-starred restaurant, and spa.
PLAN YOUR TRIP: Fodor's Normandy Guide
Tashka | Dreamstime.com
For centuries, Les Andelys in Upper Normandy has sat in the shadow of the Château Gaillard, Richard the Lionheart's fortress castle built on chalk cliffs high above a dramatic bend in the River Seine. Only picturesque ruins remain (and breathtaking panoramas), but the town—formerly two towns that have since merged into one, hence its plural name—remains a classic Seine Valley village. Enjoy enchanting views from the riverside quarter of Le-Petit-Andely. Better yet, stay for lunch at one of the garden-terrace restaurants along the Seine, such as favorite La Chaîne d'Or.
Read More: 20 Gorgeous Seaside Towns in Italy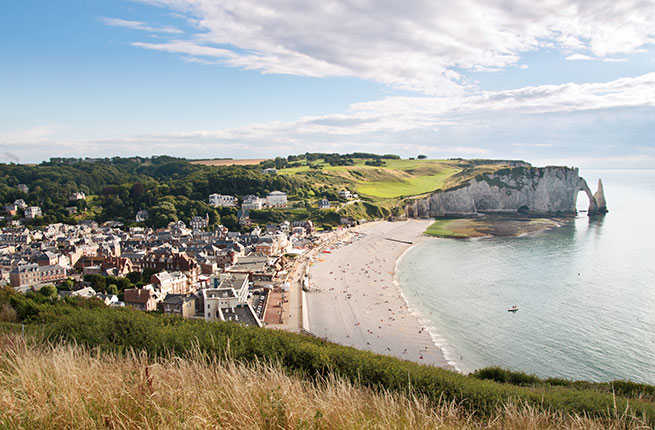 Astormfr | Dreamstime.com
The village is as beguiling as can be, but it's the sea views that sweep you off your feet. On both sides alabaster-white cliffs march off into the distance, the famous Aval Cliff with its monumental arch just to the west. A walkway runs along the rocky beach for ever changing views; though you can also hike to the top of the arch. If you still have the stamina, tackle the trail as well to the little chapel Notre-Dame-de-la-Garde atop the cliffs to the east for more spectacular views. Étretat looks downright miniature from on high. (And yes, the Impressionists were here too. Placards along the beach depict the spots where Monet painted some of his most famous paintings.)
Insider Tip: Nab a reservation at Le Galion, a restaurant occupying a 14th-century building in the center of town—evident in the carved weathered beams. The traditional menu features the likes of oysters cooked in champagne and bourride of turbot, monkfish and sole.
PLAN YOUR TRIP: Fodor's Normandy Guide
L. Durand – Calvados Tourisme
This quintessential town in the Pays d'Auge has long been famous for its rich, creamy, square-shaped, orange-crusted cheese since the 12th century. You can find it in local fromageries (cheese stores), or, better yet, from local producers at the Monday market held in the town center. Perched at the confluence of La Touques and La Colonnes rivers, the town also offers plenty of Instagram-worthy views of half-timbered architecture, flowers, and lazy-flowing water. Look for the oldest houses on rue St. Michel and rue de Vaucelles.
Insider Tip: Try regional farmhouse cuisine at the Auberge de la Touques, occupying an 18th-century half-timbered building on the banks of La Touques river.
Read More: 20 Gorgeous Seaside Towns in Italy
One of the region's few towns to escape World War II destruction, Clécy is a peaceful haven in the heart of the Suisse Normande—Normandy's Switzerland. Stroll picturesque streets along the River Orne, with stunning cliffs rising above. Shops, restaurants, cafés, and hotels occupy traditional stone and slate buildings. And be sure to explore the surrounding woodlands. While its rocky ridges and gentle streams may not truly resemble the land of the Matterhorn, this pastoral realm is still fabulous for under-the-radar hiking, fishing, climbing, or even hang-gliding.
Insider Tip: Stay over at Au Site Normand, a well-priced, traditional village inn welcoming guests with a crackling open fire, cozy rooms, and a classic French restaurant.
Read More: 20 Gorgeous Seaside Towns in Italy
Malxes | Dreamstime.com
This ancient fishing village emerged as a celebrated bathing resort at the beginning of the 19th century, drawing genteel patrons who built sumptuous belle-époque villas along the sea. If you think you've been here before, it may be because you've seen Monet's depictions of ladies in white flowing dresses and parasols promenading along the still fashionable boardwalk that edges the golden, breeze-swept beach. Even so, Trouville remains a fishing village at heart, with boats chugging out to sea, returning day in and day out with their bounty. For a treat, order fresh oysters and champagne for breakfast at the fish market along the quayside.
Insider Tip: Experience the elegant, sea-bathing era of yesteryear at the newly renovated Hôtel Cures Marines Trouville. Seawater baths, a gourmet restaurant, and lots of period charm add to the belle-époque splendor.
PLAN YOUR TRIP: Fodor's Normandy Guide
M. Etancelin
A grand 16th-century castle highlights this undiscovered little gem on the River Bresle in Upper Normandy, visited twice by Queen Victoria. Now the regal abode is a museum devoted to King Louis-Philippe with furnishings mostly as he left them. In the formal gardens, overflowing with roses, rhododendrons, and classical statues, the ice house (ice was once imported from Norway!) now contains a restaurant. Wander the village's winding streets to see a masterful Gothic church known locally as La Collégiale and the Musée des Traditions Verrières, which celebrates the history of glassmaking since Roman times; the region is famous for its luxury perfume bottles.
Read More: 20 Gorgeous Seaside Towns in Italy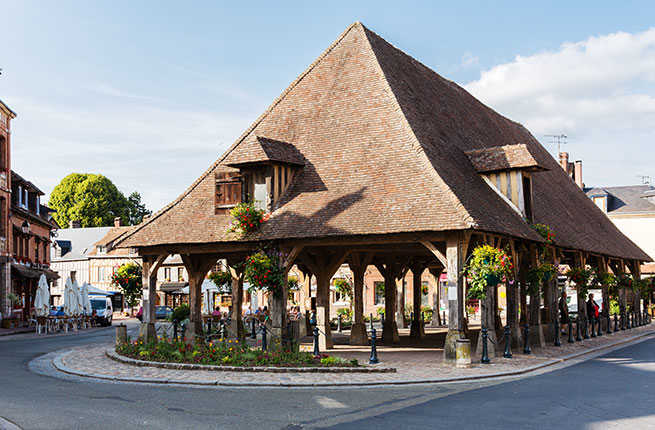 Thierry Houyel
Surrounded by one of Europe's largest and most beautiful beech forests, this little town east of Rouen harbors one of Normandy's most ravishing collections of half-timber and brick houses. In fact, its uniform beauty has drawn many movie crews here, including two film adaptations of Madame Bovary. Today, there's not much to do other than sip cidre at a sidewalk café, admire the colorful historic buildings and watch the world go by. And there's absolutely nothing wrong with that. The 18th-century covered market still hosts a bustling Thursday market.
Insider Tip: You'll find some of the region's best hiking in the surrounding woodlands. Walk down to the Lieure stream, past the 17th-century Benedictine convent. Or strike out on the Chemin des Écoliers, an easy 3-mile forest stroll.
PLAN YOUR TRIP: Fodor's Normandy Guide
Drive past lush green meadows and rolling apple orchards to reach this absurdly pretty little bourg in the Pays d'Auge—Normandy's pastoral heart of cheese, cream, and cider. Really just one long and incredibly picturesque street centering on a market square, Beuvron's oldest half-timber houses date back to the 16th century. The most notable is the Vieux Manoir, with its traditional wooden façade carved with faces and elaborate designs. Masses of rudbeckias, nicotianas and salvias blossom everywhere, adding to the charm. Poke into shops selling regional produce, antiques, and artisan wares before sitting down to a long lunch at a regional restaurant or café; the Michelin-starred Pavé d'Auge, occupying the former covered market, serves up classic Norman fare. The village springs to life during the flower festival in May and the cider festival in October.
Insider Tip: Beuvron is part of the 25-mile "Route du Cidre," a designated route connecting 20-some cider producers; look for the signs marked with apples and stop by for a taste—most offer apple cider, cider vinegar, calvados liqueur, as well as the traditional (alcoholic) cider.
Read More: 20 Gorgeous Seaside Towns in Italy