Courtesy of Ritz-Carlton Reserve
The classic image of an island vacation includes sunshine, crystalline waters, and chilled cocktails on the beach. Why not add fine dining to that picture? While generally overlooked for its cuisine, the Caribbean is home to plenty of culinary gems. Here are 10 of our favorite restaurants making foodies swoon on the sunny islands right now.
By Kathleen Squires
Courtesy of Ritz-Carlton Reserve
WHERE: Dorado, Puerto Rico
Like the Ponce de León of cuisine, José Andrés leads diners on a journey from Spain to Puerto Rico in his first opening off the US mainland. At Mi Casa you'll find ingenious reinventions of classics such as asapao (a rice and seafood stew) may look different from what you'll find at the local cafetin—the lechon (roast pork) is tucked into a slider bun and the coquito, a rum and coconut-based drink becomes a molecular-style orb—but the authentic flavors still ring wonderfully true.
PLAN YOUR TRIP: Visit Fodor's Puerto Rico Guide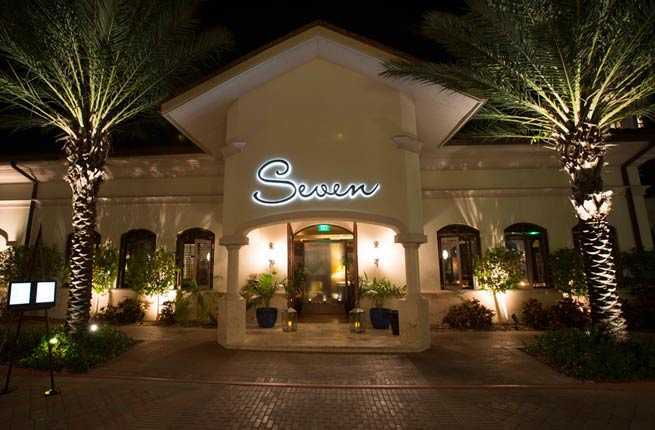 Courtesy of Seven Restaurant at Seven Stars Resort, Turks & Caicos
WHERE: Grace Bay, Providenciales, Turks & Caicos
A plate of flavored sea salts is placed before diners at Seven, not just as seasoning, but as an homage to the island's history of cultivating the mineral. Executive chef Kyle Kingrey, just in from a stint at New York's fashionable Beauty & Essex, pairs local ingredients with global influences in dishes like roasted red snapper with curried madras oil, cauliflower couscous, tzatziki, pine nuts, and raisins.
PLAN YOUR TRIP: Visit Fodor's Providenciales Guide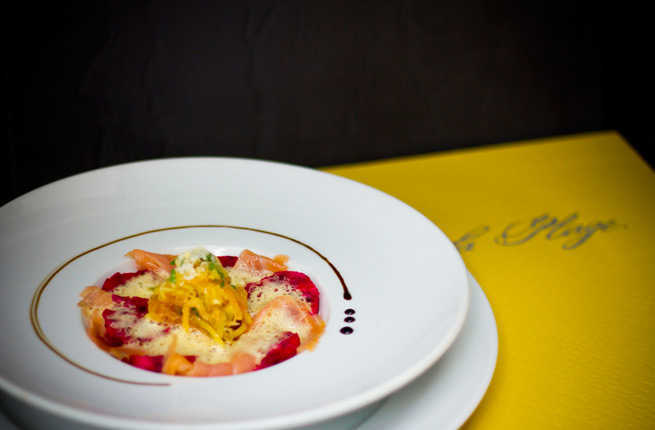 Courtesy of La Plage Restaurant
WHERE: Baie de St. Jean, St. Barthelemy
While the theme parties at La Plage—DJ-driven "I Love Fridays," a Saturday "Bikini Brunch," and Sunday's "Deluxe BBQ"—lure the crowds in, newly appointed executive chef Paul Coste's menu keeps them coming back, especially on "Lobster Tuesdays." That's when the chef really shows his shellfish prowess in a menu that celebrates the crustacean with items such as mini lobster spring rolls with mango, a lobster vol-au-vent, and lobster cooked in earthenware pot with coconut milk and lemongrass.
PLAN YOUR TRIP: Visit Fodor's St. Barthelemy Guide
Michael's Genuine Chocolate Cremoso by Gary Wong
Michael's Genuine Food & Drink
WHERE: Grand Cayman
A leader of the Caribbean Slow Food movement, James Beard Foundation Award-winning chef Michael Schwartz has literally grown Grand Cayman's food scene via his farmer exchange, in which he invites Miami growers to help island farmers cultivate their agriculture. Schwartz has even teamed with a local dive shop to organize "lionfish safaris," where guests spear the overpopulated fish and bring them back to the restaurant to eat. Diners at Michael's Genuine Food & Drink can also enjoy signature dishes such as crispy sweet and spicy pork belly with kimchi, oiriginally served at Schwartz's Miami original.
PLAN YOUR TRIP: Visit Fodor's Grand Cayman Guide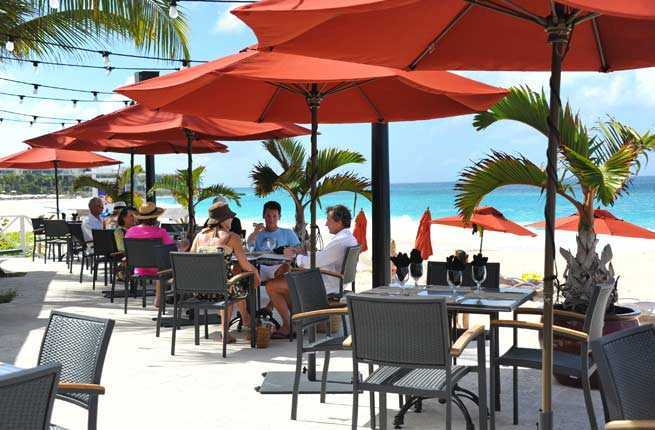 Courtesy of Susan Croft Photography
WHERE: Meads Bay, Anguilla
Get your goat—via curried sliders, or in a pot pie—at Straw Hat, located on a tranquil spot overlooking the bay. The 17-year-old restaurant, which recently moved to the popular Frangipani Resort, also celebrates the bounty of the island in dishes such as local crayfish in ginger vinaigrette, with greens plucked right from the property garden.
PLAN YOUR TRIP: Visit Fodor's Anguilla Guide
Courtesy of Christian Horan Photography
WHERE: Oracabessa, Jamaica
If the name sounds familiar, it's because author Ian Fleming not only lived on the GoldenEye property but conjured the heroic 007 right onsite. Today, it's a luxury resort where chefs Nerissa Clarke Fannel and Jason Clarke use ingredients from current owner Chris Blackwell's 2,500-acre organic farm. Among the menu highlights: vegetable curry and local fish with Scotch bonnet peppers.
PLAN YOUR TRIP: Visit Fodor's Jamaica Guide
Courtesy of Jade Mountain
WHERE: St. Lucia
Conveniently built on a 600-acre plantation, the kitchen at the Jade Mountain Club benefits from the property's wealth of cocoa, cashews, avocado, tangerines, coconut, breadfruit, and more. Whatever isn't grown on the property comes from the resort's nearby organic farm. Add James Beard Award-winning chef Allen Susser as a consultant, and talented chef Jonathan Dearden to execute, and you've got some of the freshest food the Caribbean has ever seen, from local mahi-mahi with crab couscous to a "new style" conch fritter with a liquid center.
PLAN YOUR TRIP: Visit Fodor's St. Lucia Guide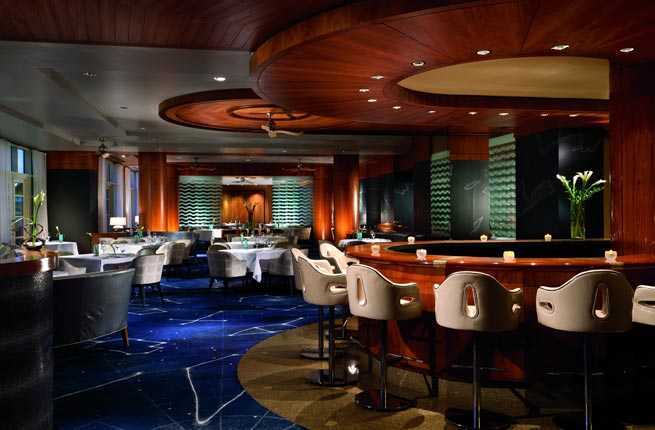 Courtesy of The Ritz-Carlton
WHERE: Grand Cayman
New York's prince of poisson is no fish out of water when it comes to the bounty of the Caribbean Sea. The water nearly touches the Ritz-Carlton that houses his restaurant, so chef Eric Ripert features nearly everything that swims in a menu divided into "almost raw," "barely touched," "lightly cooked," "classics" and the signature tasting menu. Stand-outs at Blue include a breaded striped bass with parsnip puree, rum, and hibiscus.
PLAN YOUR TRIP: Visit Fodor's Grand Cayman Guide
Courtesy of Rafael Cotto, Foodiespr.com
WHERE: Fajardo, Puerto Rico
After spending time helming kitchens in some of New York City's best restaurants, Kevin Roth became the new gringo in town when he revamped this former service station into one of the island's best restaurants, La Estacion. Not only does he turn out an excellent roast pig, which took first prize in a blind tasting at the Cattleman's BBQ Caribbean BBQ competition, but this is also where you'll find the lightest, most flavorful mofongo (mashed plantains) around.
PLAN YOUR TRIP: Visit Fodor's Puerto Rico Guide
Courtesy of M. Serge Detalle
WHERE: Martinique
As the only Relais and Chateaux property in Martinique, it's no surprise that French-born chef Guillaume Bregeat meshes Gallic flavors with tropical tastes on a menu that includes a duet of pumpkin and sweet potato soup with white truffle and grilled medallions of lobster in Creole spices. The surrounding greenery makes The Belem at Le Cap feel especially romantic and secluded.
PLAN YOUR TRIP: Visit Fodor's Martinique Guide