Eric Kleinberg
The most coveted tables this summer are on Chicago's rooftops, with their views of Lake Michigan's glittering shoreline, the Chicago River, Millennium Park, and the Windy City's famous architecture. Settle in for a bird's-eye view of not only the Loop, but other parts of Chicago, too, including Lincoln Park, River North, Ravenswood, and Streeterville. Whether you crave a new brunch spot, a chill lounge, or an open-air space to kick back with some tunes, there's a rooftop bar for you.—Kristine Hansen
Courtesy of the Hyatt
Unassumingly tucked into an Art Deco building, Hyatt Centric The Loop's year-old AIRE (which opened the same time as the hotel) soars with style on the hotel's 24th floor. Whether your vice is craft beer, signature cocktails, or wines, no one will argue with the 360-degree city view. Pinstriped umbrellas shade most of the seating—including neutral-hued sofas punched up with brightly colored pillows—and the fancy eats range from "shellfish towers" to tenderloin tartare.
PLAN YOUR TRIP: Visit Fodor's Chicago Guide
Francis Son
Open just this past spring, the Joy District's distinctive rooftop has a vertical green wall as well as a bright and splashy mural and a mix of benches, sofas with floral-print cushions, plus a bar with bright orange stools. There's a fun and flirty nature to the drink menu as well; paper umbrellas poke out of tiki cocktails, and classics like the Manhattan or Sazeracchannel a bygone era. The menu features comfort foods such as deviled eggs, spare-rib lollipops, and fried chicken.
PLAN YOUR TRIP: Visit Fodor's Chicago Guide
Isaac Maiselman with The Photographers Gallery
Perched on five-star real estate (cue panoramic views of the Chicago River where State meets Wacker), Renaissance Chicago Downtown Hotel's Raised, named for the neighboring drawbridges, just debuted in May. A vertical herb wall, firepits, and greenhouses-turned-cabanas satisfy design and gardening fans while foodies already come to this third-floor lounge for the lobster rolls and peanut-butter-and-jelly push pops, perfect for pairing with an impressive lineup of Chicago craft brews.
PLAN YOUR TRIP: Visit Fodor's Chicago Guide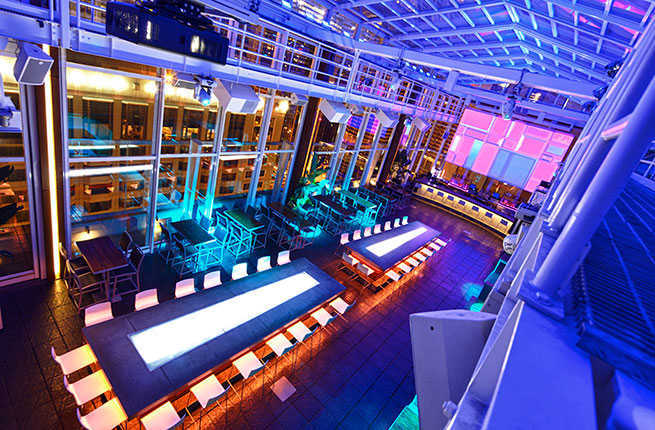 Matt Reeves
One of Chi-town's first rooftop lounges, Roof on the 27th floor at theWit Hotel in the Loop hosts fun events all summer long like Movie Mondays (yes, there's popcorn and candy) and live music. Drinks run the gamut from classic to frozen, including punch bowls. Order at least one drink from the high-end Paramount Suite list; we like The Essential French 75. Chilly night? Cozy up in front of the fireplace in the Roof's Living Room. Food options range from sushi to flatbreads cooked in a wood-burning oven and shaved-ice sundaes for dessert.
PLAN YOUR TRIP: Visit Fodor's Chicago Guide
Virgin Hotels Chicago
Tucked into the stunning Virgin Hotel and celebrating its second summer in the Loop, Cerise (meaning cherry in French) is a hopping nightclub that's bathed in soft red light. Cocktail names borrow from classic dames, like the Jackie Kennedy sparkling spritzer. There are also French Champagnes by the bottle, as well as inventive shandies (beer cocktails). Carved into the indoor and outdoor spaces are cozy spots to chill with your companions.
PLAN YOUR TRIP: Visit Fodor's Chicago Guide
Anthony Tahlier
Kicking off its first summer, GreenRiver is one of celeb chef Danny Meyers's Chicago eateries. On the terrace is a vibe more South Beach than Streeterville, with beach house-style furnishings and amazing Lake Michigan views (the Great Lake is just a few blocks away). As a nod to the city's Irish-American heritage, you can bite into Irish fare for brunch, lunch, or dinner, such as corned-beef hash or cuttlefish salad. Foodies might like the eight-course chef's tasting menu for dinner. Six Chicago craft breweries offer beers on tap, and the wine list is extensive.
PLAN YOUR TRIP: Visit Fodor's Chicago Guide
Eric Kleinberg
Since its 2012 opening, the Joie de Vivre Hotel Lincoln is the most stylish reason to head to Lincoln Park, with its preppy-plaid-meets-Etsy aesthetic. Shoot up the elevator to the rooftop J. Parker for views of Lake Michigan and the 'hood's namesake park, through either the open-air space or a glass-enclosed lounge. Michelin-starred chef Paul Virant's elevated snacks include pickled Scotch eggs and a charcuterie board. Some cocktail names like "Oh! You Pretty Things" are inspired by David Bowie's lyrics, and posh bottles such as Dom Perignon Champagne are folded into the wine list.
PLAN YOUR TRIP: Visit Fodor's Chicago Guide
Courtesy of LondonHouse
Fresh on the scene this summer, LH Rooftop at the brand-new LondonHouse Chicago (a 22-story glass tower across the street from the Chicago River on Upper Wacker Drive) boasts the city's only tri-level rooftop bar. Nosh on excellent shared plates (like bluefin toro on grated sharkskin) and sample carefully mixed craft cocktails. Couches and potted plants make the space feel like your cool cousin's condo, bolstered by views of the Magnificent Mile, Lake Michigan, and the Chicago River. Pro tip: the best seat in the house is a bar-height stool next to a glass half-wall for unobstructed views.
PLAN YOUR TRIP: Visit Fodor's Chicago Guide
Colin Beckett
Although not set to open until September 1, start making your imbibing plans for this new spot now. Boleo sits atop Kimpton Gray Hotel, a brand-new hotel inside an Art Deco/Beaux-Arts landmark building (the New York Life Insurance Building) in the Loop. Inspired by South America's cuisine and flamboyant colors, the menu features street foods common in Peru and Argentina. DJs further drive home the boutique hotel's love for these countries. Naturally, pisco sours are on the drinks list.
PLAN YOUR TRIP: Visit Fodor's Chicago Guide
Michael Kiser
With a special menu different from the rest of Fountainhead, the Ravenswood restaurant's rooftop garden offers all you need for a casual, low-key night. This includes an ample lineup of craft beers, ciders, and spirits, as well as plenty of vegan and gluten-free options for noshing, along with wraps, burgers, and sandwiches. Because it's in a residential setting, the vibe is very homey and casual, with street lanterns, umbrellas, plants and flowers, and open walls.
PLAN YOUR TRIP: Visit Fodor's Chicago Guide
Bernie's Lunch & Supper
In the thick of Chicago's hottest dining destination, River North's Bernie's Lunch & Supper makes excellent use of its wood-burning oven. Try some seasonally driven small plates like toasts topped with avocado and goat cheese, or Garroxta cheese and jamón serrano. Heartier plates include paella and 36-hour short ribs. Seats on its rooftop patio are a new and welcome addition this summer. Whimsical signature cocktails at the hands of Bernie's mixologists include The Lisa Frank Drank and Sun Hits the Sky, plus seasonal sangria in sync with summer's weather. There are also 17 wines by the glass and a strong selection of craft beers.
PLAN YOUR TRIP: Visit Fodor's Chicago Guide
Courtesy of the Dana Hotel & Spa
When Dana Hotel & Spa's Vertigo Sky Lounge debuted in 2009, it did so with great fanfare—and street cred as the city's first year-round (indoor and outdoor) rooftop bar. And it's only gotten hotter up there since, with live music and DJs (including resident DJ Miss DJ Meg), an ice bar, and outdoor fire pits. Because it's nestled among Chicago's tallest buildings, the view is unique; it's ideal for splurging on a bottle of Champagne or rare scotches and whiskies. There's also the option to order a bucket of craft beers to share with friends.
PLAN YOUR TRIP: Visit Fodor's Chicago Guide