Courtesy of Koval Distillery
"Hand-crafted" and "artisanal" are increasingly important buzzwords in the food and beverage industry, and they also perfectly describe the recent boom in distilleries. Unlike their predecessors, the newest producers aren't aiming for mass production. Instead, they're focusing on small-batch products created with premium ingredients that are often organic and locally sourced. Another big change in the spirits landscape is that the newest distilleries aren't located in the middle of nowhere—they're popping up in cities like Denver, Boston, and Detroit. Read on to learn more about some of the best urban distilleries in America.
By Christina Valhouli
WHERE: Portland
Although Portland is arguably better known for its craft beers and food trucks, its distillery scene is also vibrant. Located along the city's famed Distillery Row, the House Spirits Distillery has garnered plenty of awards for its batch-distilled products. The distillery's first product was American Aviation gin, which was followed by vodka and several types of Swedish-style aquavit. Sample the goods in the on-site tasting room or take a tour.
Insider tip: Visitors can purchase a Distillery Row Passport for $20 that includes access to all producers on Distillery Row (tasting fees are waived). It also includes additional discounts and incentives at more than 40 restaurants, bars, shops, hotels, and more.
PLAN YOUR TRIP: Visit Fodor's Portland Guide
Paul Wagtouicz/The Noble Experiment NYC
WHERE: Brooklyn, New York
Bridget Firtle is one of the few female distillers in a male-dominated field. She opened The Noble Experiment in December 2012 after leaving her finance job, and she now produces just one product: Owney's rum. Visitors who sign up for a tour (reservations are essential) can sample the rum and try infused variations that feature additions of rosemary and mint (grown in the distillery garden), bourbon vanilla bean, ginger, or Thai chili.
Insider tip: The Noble Experiment is located in the East Williamsburg Industrial Zone, which was densely populated with breweries prior to Prohibition. The once gritty neighborhood is now home to hip shops and bars, including Lady Jay's (633 Grand St, Williamsburg, Brooklyn, NY 11211,718-387-1029) and Huckleberry Bar.
PLAN YOUR TRIP: Visit Fodor's New York City Guide
Two James Spirits
WHERE: Detroit, Michigan
Detroit is having a bit of a moment thanks to new brands such as Shinola, which manufactures watches and hipster bicycles there. Located in Corktown, Detroit's oldest neighborhood, Two James is the first licensed distillery to open in the city since Prohibition. Two James offers a wide variety of aged whiskeys, vodkas, and brandies using locally-sourced ingredients, such as 28 Island Vodka, which is handcrafted from organic soft winter wheat and corn, and London-style Old Cockney Gin. Tours are also available.
PLAN YOUR TRIP: Visit Fodor's Detroit Guide
Courtesy of Mile High Spirits
WHERE: Denver, Colorado
This small distillery is one of the few in the world which uses an all-glass still, used to create a smoother finish. The new Mile High Spirits produces whiskey, vodka, gin, and rum. All products can be sampled in its expansive tasting room, which also sells cocktails made with its spirits. The cucumber mule uses Elevate vodka, while a tropical storm is a mix of Peg Leg rum mixed with orange juice and a splash of cranberry. The tasting room also hosts musical events, and there's an outdoor patio for relaxing in warmer weather.
Insider tip: Coors Field is a short walk away. Food trucks often park outside the distillery so come hungry, and check their Facebook page for updates.
PLAN YOUR TRIP: Visit Fodor's Denver Guide
Courtesy of Thomas Tew Rums
Newport Distilling Company
WHERE: Newport, Rhode Island
With over 22 distilleries operating during the 18th century, Newport was once a global rum capital. After a long period of inactivity, rum production has now returned to the state thanks to the Newport Distilling Company. Its sole product is Thomas Tew Rum, named after an infamous 17th century pirate. Visitors who sign up for a tour can sample the rum at the three different stages in the distilling process, which includes raw rum with twice-filtered molasses, cask-strength rum fresh out of an oak barrel, and the finished product.
Insider tip: To keep the rum vibe going strong, in the warmer months, book a tour on the high speed Rum Runner II.
PLAN YOUR TRIP: Visit Fodor's Newport Guide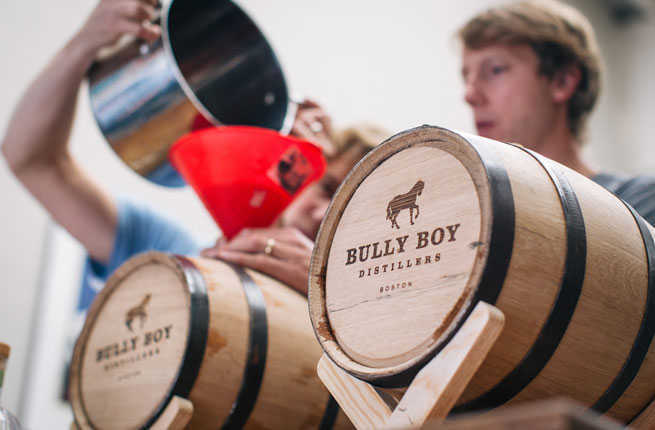 Courtesy of Bully Boy Distillers
WHERE: Boston
Drinks-wise, Boston may be most closely associated with Sam Adams, but if you're looking for something stronger than beer, head to Bully Boy Distillers. It was founded in 2010 by two brothers, Will and Dave Willis. Their handcrafted whiskey and vodka are certified organic. Other products include a white rum, Boston rum (with a bolder flavor), white whiskey, and American straight whiskey.
Insider tip: The distillery does not have a sign. Visitors should look for a tan-colored warehouse marked number 35; there's a parking lot in front.
PLAN YOUR TRIP: Visit Fodor's Boston Guide
Courtesy of Greenbar Collective
WHERE: Los Angeles
This small distillery says its home to the largest selection of organic, handcrafted spirits in the world. Owners Melkon Khosrovian and Litty Mathew produce multiple products, including Bar Keep bitters, Crusoe rum, Tru gin, Ixa tequila, and Slow Hand whiskey. Bonus eco-friendly cred: the company uses lightweight bottles, 100-percent recycled labels, and plants a tree for every bottle sold.
Insider tip: Drink up to do good. GreenBar says that because their products are so carbon negative, drinking a cocktail made with any of their spirits will more than offset a typical American's daily carbon footprint.
PLAN YOUR TRIP: Visit Fodor's Los Angeles Guide
Old New Orleans Rum Distillery
WHERE: New Orleans
This rum distillery was founded in 1995 by local artist Jim Michaelopolous, who began experimenting with locally grown sugar cane to create his own spirits. The result? After a lot of trial and error, Old New Orleans Rum Distillery, which is housed in a former cotton warehouse, was born. The company hand-crafts several varieties of rum, including Cajun Spice, which has a kick of cayenne and cinnamon, as well as Gingeroo, a rum blended with ginger and then carbonated. Advance tour bookings are highly recommended.
Insider tip: Old New Orleans Rum Distillery offers a complimentary weekday shuttle from the French Quarter to the distillery.
PLAN YOUR TRIP: Visit Fodor's New Orleans Guide
Jonathan Boncek
High Wire Distilling Company
WHERE: Charleston, South Carolina
Spouses Ann Marshall and Scott Blackwell launched Immaculate Baking Co., a natural and organic baking company, in a garage 15 years ago. After selling it to General Mills, they switched their focus to spirits. Located in the heart of Charleston, High Wire Distilling produces small-batch, premium spirits using local ingredients. Products include a sorghum whiskey, bourbon, aged rum, and Hat Trick Extraordinarily Fine Botanical Gin. Marshall says they're working on a rhum agricole, made from freshly squeezed cane juice.
Insider tip: Charleston is in the midst of a mini distillery boom. Prior to the June 2013, there were no distilleries in the city. Now there are three, including High Wire.
PLAN YOUR TRIP: Visit Fodor's Charleston Guide
Courtesy of Koval Distillery
WHERE: Chicago
Koval is Chicago's first new distillery since the mid 1800's. Launched in 2008, this distillery produces organic whiskey, liqueurs, and specialty spirits. Founders Robert and Sonat Birnecker have embraced a "grain to bottle" philosophy. Their liqueurs are white whiskey-based, and flavors include chrysanthemum and honey, caraway, and ginger.
Insider tip: Visitors can sign up online for a tour. Whiskey workshops and cocktail classes are occasionally offered as well.
PLAN YOUR TRIP: Visit Fodor's Chicago Guide