Courtesy of Sorrento Hotel
When the weather turns cold, there's nothing more satisfying than sitting around a toasty, crackling fireplace with a warming drink in hand. The combination of glowing embers and wintertime cocktails may conjure up images of a cozy night at home, but many bars also feature their own fireplaces. From literary abodes to swanky hotel lounges, here are 10 of America's best bars for fireside cocktails.
By Emily Wasserman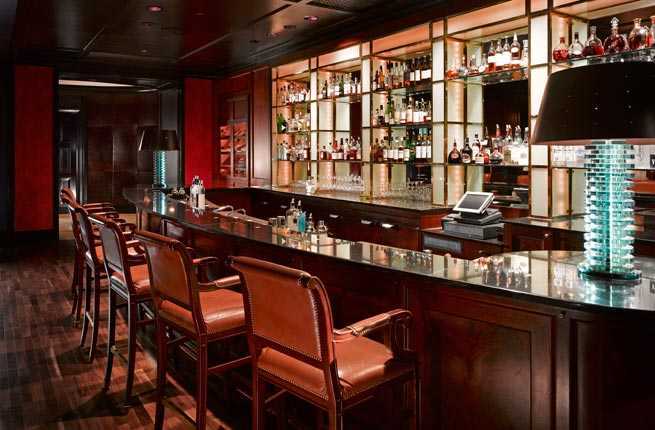 Courtesy of The Peninsula Chicago
WHERE: Chicago, IL
Stepping into The Bar at the Peninsula is like entering a different era. Interiors feature elegant, Art-Nouveau-inspired décor, high-backed leather chairs, and comfortable couches. An open fireplace offers a warm refuge from cold Chicago weather, and visitors can choose from a variety of wines, whiskeys, and cocktails. Try the Cosmolini with Absolut Citron, white peach, champagne, and triple sec, or order one of the bar's popular Scotch flights.
PLAN YOUR TRIP: Visit Fodor's Chicago Guide
Courtesy of Design Hotels™
WHERE: New York, NY
Located in the posh Gramercy Park Hotel, Rose Bar is a hot spot for New York's elite. Guests can enjoy exotic cocktails on a velvet banquette or sip libations next to the bar's hand-carved limestone fireplace. Try the Diamonds & Pearls martini with vodka, fresh muddled blackberries, and a pinch of coconut. Or try a drink on the rocks: Sweet Charlotte features Wild Turkey rye, muddled ginger root, and lime with a touch of Angostura bitters.
PLAN YOUR TRIP: Visit Fodor's New York City Guide
Courtesy of Library Bar
WHERE: Los Angeles, CA
Don't let the name fool you—Library Bar isn't just for bookworms. The bar's walls may be lined with leather-bound books and the candle-lit fireplace a poetic touch, but the gastropub also offers a variety of delicious libations. Many drinks are even named after famous writers and literary characters. The Kerouac Basilica mixes Los Amantos Joven Mezcal with jalapeno, basil, and agave, and The Violet Beauregard includes Tito's Vodka, fresh lemon juice, and blueberries.
PLAN YOUR TRIP: Visit Fodor's Los Angeles Guide
Courtesy of Zeki's Bar
WHERE: San Francisco, CA
As the self-proclaimed "friendliest bar in San Francisco," Zeki's offers warm service and old-world charm. Located in the city's swanky Nob Hill neighborhood, the bar was built in 1909 and features two brick fireplaces, dark wood interiors, and comfortable seating. In addition to 14 craft beers, guests can sample specialty cocktails, regional wines, and single-malt Scotches.
PLAN YOUR TRIP: Visit Fodor's San Francisco Guide
Courtesy of Hyatt Hotels
WHERE: Philadelphia, PA
Intricate marble pillars, leather furnishings, and rich mahogany accents give the XIX lounge at the Hyatt at the Bellevue a decidedly sophisticated feel, making it more than your average hotel bar. Sip on a single malt Scotch by the fireplace, or enjoy a glass of wine while looking out over the city. The bar also offers a signature cocktail collection that changes seasonally.
PLAN YOUR TRIP: Visit Fodor's Philadelphia Guide
Forbes
WHERE: Boston, MA
Also known as "Boston's living room," the Four Seasons' Bristol Lounge is the ultimate in comfort. Visitors can relax on plush couches and chairs overlooking the Boston Public Garden, and sip on martinis next to the bar's fireplace. The lounge also hosts weekly bar events, including "First Fridays" where guests can enjoy complimentary tastes of select champagnes.
PLAN YOUR TRIP: Visit Fodor's Boston Guide
Courtesy of Sorrento Hotel
WHERE: Seattle, WA
Rub elbows with artists and intellectuals at the Sorrento Hotel's Fireside Room. Essentially a large living room, the Fireside features mahogany woodwork, antique furniture, and Oriental carpeting that hearken back to a different era. Guests can sip on a drink by the fire or enjoy conversation around candlelit tables. The bar's "haute toddies" are the perfect antidote to a rainy Seattle day as the combination of brandy, honey, Angostura bitters, lemon, and hot water will warm you up in no time.
PLAN YOUR TRIP: Visit Fodor's Seattle Guide
Courtesy of OYA RESTAURANT & LOUNGE
WHERE: Washington, D.C.
Asian-fusion restaurants are not typically associated with fireside bars—but Oya is the perfect marriage of the two. The D.C. eatery offers fresh seafood and sushi, as well as an extensive list of wine, sake, and cocktails. Long, sleek fireplaces are carved into the restaurant's white marble walls, and the drinks reflect the contemporary design. Guests can sample house-made infusions with flavored vodka or one of the bar's signature cocktails. The Cilantro Daiquiri includes cilantro lime infused rum, fresh lime juice, and agave.
PLAN YOUR TRIP: Visit Fodor's Washington, D.C. Guide
Courtesy of Holland House Bar & Refuge
WHERE: Nashville, TN
Fresh, seasonal ingredients and genuine Southern hospitality make Holland House Bar & Refuge a popular drinks destination. Enjoy cocktails around the fireplace in the restaurant's lounge area, or head to the bar for a quick aperitif. Head Bartender Jeremiah Blake whips up cocktails with a creative twist: the Preservation Society includes cocoa-infused bulleit rye and sarsaparilla bitters, while the "Sundance" combines Bulleit Bourbon, grilled peach, and Amaro Meletti Liquore.
PLAN YOUR TRIP: Visit Fodor's Nashville Guide
Courtesy of Rokerij
WHERE: Phoenix, AZ
Arizonians don't need help staying warm—but Rokerij is there just in case. The restaurant features dark, cozy interiors with pecan-wood-burning fireplaces and a cellar bar that draws crowds. Every night at Rokerij is happy hour, and the bar also offers special half-price deals on regional wines by the glass.
PLAN YOUR TRIP: Visit Fodor's Phoenix Guide