Christian Hell
Gin is in! The flavorful, juniper berry and botanicals-infused spirit, founded in the Netherlands as a medicinal fluid during the 1600s, is booming globally. From a wave of gin-centric Hong Kong bars (Ori-Gin,Ping Pong Gintoneria, G&T) to Vancouver's gin-driven restaurant Juniper Kitchen & Bar to a just-opened gin-themed London hotel, The Distillery, a proliferation of craft gin distilleries and bars are getting boozy all over the world.
Small batch gin makers are cropping up in even some unlikely destinations–like Peru's Gin'ca and Thailand's Iron Balls–while distinguishing themselves with exotic, region-specific botanical ingredients and contemporary methods. Here we've rounded up a dozen consistently delicious and unique gins from around the world. While some can be purchased domestically or via internet, others are solely available in their region or distillery of production. Gin connoisseurs—book travel accordingly! —Lawrence Ferber
Phillips Brewing & Malting Co.
From: BC, Canada
Based out of British Columbia's Victoria Island, the Fermentorium Distilling Co. exploits the Pacific Northwest's bountiful nature in crafting their herbaceous, smooth STUMP. Determined to capture coastal BC in a bottle, distiller (and brewer) Matt Phillips puts barley to use as base, running it through two sets of stills–a vintage 1920s British model and modern German refractory–before a third process incorporates juniper, cascade hops, grand fir, bay laurel, coriander, and lavender. These hand-foraged ingredients result in a deeply fragrant, earthy concoction. Fermentorium's four craft tonics make ideal mixers: the "Philosopher's Brew" variety represents a lavender and rosehip-blissed collaboration with Victoria's Silk Road Tea company.
PLAN YOUR TRIP: Fodor's British Columbia Guide
V2C Dutch Dry Gin
From: Amsterdam, Netherlands
Four Dutch students-turned-housemates in Maastricht started V2C gin as a 400-bottle experiment to share with friends (the name V2C comes from their street address at the time, Victor de Stuersstraat 2C), but proved so popular it resulted in a continuing "serious hobby." A Silver Award winner at the 2015 International Wine & Spirit Competition, their Orange Dutch Dry Gin divines its remarkably fresh, bright flavor and essence from orange peel and zest, lemon, laurel, ginger, St. John's Wort, licorice root, coriander seeds, cardamom, angelica, annatto, and chili for an almost subliminal bite. Sometimes you'll luck out and find a stock at Schipol airport's duty-free shop.
PLAN YOUR TRIP: Fodor's Amsterdam Guide
Hiroyuki OGATA
From: Kyoto, Japan
Kyoto's first craft gin was launched in October 2016. A British expat, head distiller Alex Davies, formerly of UK craft whiskey and gin makers Cotswolds Distillery, sources water from Kyoto's esteemed sake-making Fushimi district for a rice spirit base, adding eleven Japan-centric botanicals including Yuzu, green tea, red shiso leaves, sansho pepper, orris root, Hinoki, bamboo leaves, kinomi, and ginger. Truly evocative of its destination, and if this inspires more Japanese gins, shochu and whiskey could well be eclipsed.
PLAN YOUR TRIP: Fodor's Kyoto Guide
Christian Hell
From: Germany
Monkey 47 may boast the unofficial status of Germany's most beloved gin amongst sophisticated mixologists and gin cultists, yet distiller Andreas Vallendar's Ferdinand's Saar Dry Gin–which comes wrapped in a lovely dark blue paper–is gaining traction and awards, including a 2015 double gold medal from San Francisco's World Spirit Competition. Produced in the lush wine region of Saarburg, this is locavore goodness with estate-grown grain, 30 hand-picked botanicals including hop blossom and almond shells, and, its potent and delicious secret weapon, a Zilliken Riesling wine infusion.
PLAN YOUR TRIP: Fodor's Germany Guide
Invasion Cocktail
From: Quebec, Canada
A vivid, glowstick-yellow hue sets Ungava apart on the bar shelf and almost every Duty-Free shop across Canada. The color's owed to a handful of arctic botanicals, infused twice during its making. Sourced around Nunavik, Quebec's Ungava Peninsula, these include cloudberries, crowberries, Labrador tea, Vitamin C-rich wild rose hips, and the appropriately named Arctic blend, aka rhododendron subarcticum (the latter is typically used to make an herbal tea by the Inuit). Ungava's producer, orchard and cidery Domaine Pinnacle, also whips up tasty ice ciders and spiced rum.
PLAN YOUR TRIP: Fodor's Quebec Guide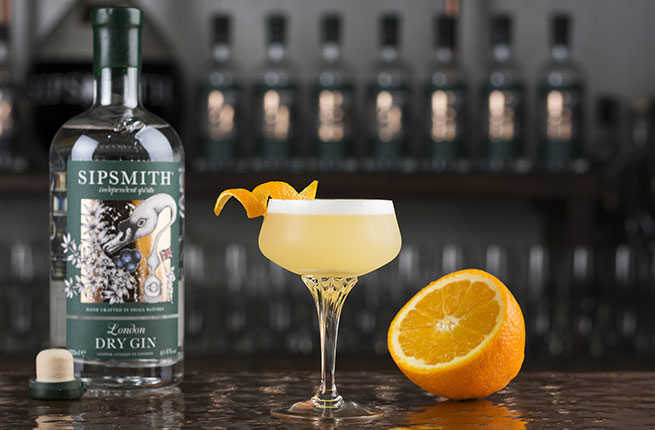 Sipsmith
Sipsmith Lemon Drizzle Gin
From: West London, UK
While the British didn't invent gin, their obsession certainly contributed to its perfection–and, fun fact, the gin and tonic came about as a palatable delivery system for the anti-malarial ingredient, quinine, thanks to British colonies in India–so selecting just one for this list proved challenging. London's eight-year-old Sipsmith distillery combines traditional methods, (via the city's first new copper pot system in almost two centuries) while crafting award-winning contemporary gins infused with Macedonian juniper berries. Sweet and zesty, Lemon Drizzle Gin is informed by sun-dried Spanish lemon peels, lemon verbena, vanilla pods, and vapor-infused fresh lemon for good measure. You won't find this variety outside the UK, so stock up!
PLAN YOUR TRIP: Fodor's London Guide
Felicia Perry Photography
Conniption American Dry Gin
From: Durham, NC
The hip, revitalized downtown Durham, North Carolina saw the opening of Durham Distillery and its intimate tasting room in 2015. Their addictively fresh namesake gin is crafted with a custom German Mueller pot still and lab-worthy rotary evaporator–one-half of the husband-wife distiller team, Lee Katrincic, is a pharmaceutical chemist–and their science-forward process sees about 20 botanicals used with plenty of cucumber and honeysuckle up front. Those into more pronounced juniper and a boozy burn can opt for their Navy Strength Gin, which rings in at 114 proof (the term "navy strength" comes from the days of British naval ships requiring a gin with high enough alcohol content to not render gunpowder useless if spilled).
PLAN YOUR TRIP: Fodor's Durham Guide
Davos Brands
From: Portland, Oregon
Deriving its name from a pre-prohibition era gin cocktail–Aviation's co-founder, Ryan Magarian, was a bartender, after all-Aviation is Portland's reigning gin, and rare is the Pacific Northwest cocktail shelf without its sleek, retro, Art Deco styled bottle. While only seven botanicals are put to use, specifically anise seed, sarsaparilla, cardamom, coriander, lavender, juniper, and dried sweet orange peel, they combine into a flavor-forward, lush, complex, yet nimble gin equally suited to tonic, martinis, fruity cocktails, and all by itself.
PLAN YOUR TRIP: Fodor's Portland Guide
Rob Tarr
From: South Africa
Situated near the Western Cape's coastal Still Bay (Stilbaai) village, and leading the way for South African gin, the five-year-old Inverroche Distillery was founded by a mother and son team, Lorna and Rohan Scott. Capitalizing on the Cape's Fynbos, a phenomenally diverse assortment of thousands of botanical species (many rare or even impossible to find elsewhere), Inverroche puts between 20-30 varieties into each of their three gins (which use a sugar cane-derived spirit as base). Gin Amber gets its color and taste from a double-infusion that brings to mind Rooibos tea, with a sweet to dry roller coaster along the palette. Keep an eye on South Africa for more great gins to come.
PLAN YOUR TRIP: Fodor's South Africa Guide
Series Nemo study
From: Vilanova, Spain
Arbequina olives, rosemary, thyme, and basil are the unlikely, quintessentially Mediterranean ingredients that make this nouveau Spanish gin so savory, herbaceous, and utterly successful. Housed within a chapeljust outside Barcelona, the distillery also puts sweeter elements to use–Seville and Valencia oranges, Lleida lemons–through an extensive six distillations via a Florentine still. Sunkissed and relatively easy to obtain stateside.
PLAN YOUR TRIP: Fodor's Spain Guide
Original Roby Marton Gin
From: Italy
While its cloudy, Jasmine-colored appearance makes one imagine a fruity liquor or limoncello, this unfiltered Italian gin actually leans to the dry side with a potent 47 percent alcohol content. A romantic for all things earthy, ancient, and alcoholic (at just 3-years-old, he was intoxicated by the scent of brandy from his family pantry), Marton sought to craft an almost Proustian, poetic gin through sharp botanicals, horseradish, licorice, pink pepper, anise, cloves, citrus peels, juniper, and red fruit.
PLAN YOUR TRIP: Fodor's Italy Guide
Jedd Haas
From: New Orleans, Louisiana
While a prolific sugarcane crop means rum rules Louisiana's, ahem, local spirit world, New Orleans' Atelier Vie distillery bucks the trend with its diverse product line of vodka, brandy, green and red absinthe, and juniper-forward American gin. An ADI Gold Medalist, pot-distilled Euphrosine Gin #9 packs nine botanicals, including bay leaf, and is supremely martini-friendly. An amber-toned, whiskey barrel-finished variety is also available and notably smooth.
PLAN YOUR TRIP: Fodor's New Orleans Guide