Hancock Shaker Village
Spring on the farm means baby animals, so it's the perfect time to hug some lambs, bottle-feed a goat, or meet miniature versions of emus and elk. From working ranches in the Wild West to historic New England barnyards, these farms throw open their gates for visitors. These are our 14 favorite places to get back to the land (in the cutest possible way).—Jen Rose Smith
Shelburne Farms
WHERE: Shelburne, Vermont
A bouncing flock of baby lambs means that spring has arrived at this historic farm, and welcoming the Shelburne Farms sheep has become an annual ritual for many Vermont locals. After petting the weeks-old lambs, you can practice carding wool from freshly-sheared mature sheep, then spin the fiber into yarn using an old-fashioned spinning wheel.
PLAN YOUR TRIP: Visit Fodor's Northern Vermont Travel Guide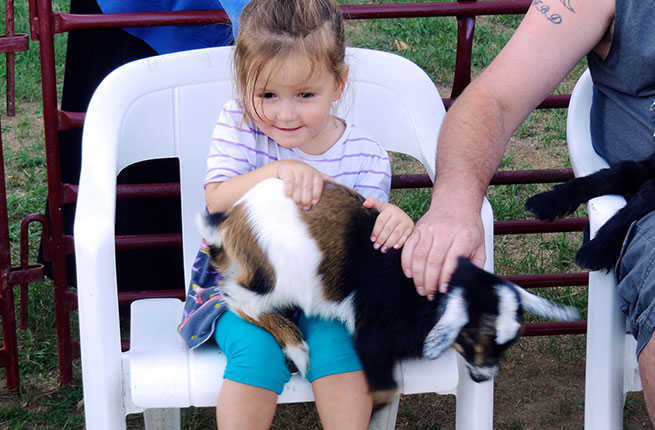 Smiling Hill Farm
WHERE: Westbrook, Maine
To help their herd of pygmy and alpine goats get used to visitors, Smiling Hill Farm schedules yearly "goat snuggling" events, complete with volunteer sign-up sheets. Put your name on the list for an armful of baby goat—or book one of the farm's private cuddle sessions for some one-on-one quality time.
PLAN YOUR TRIP: Visit Fodor's Maine Travel Guide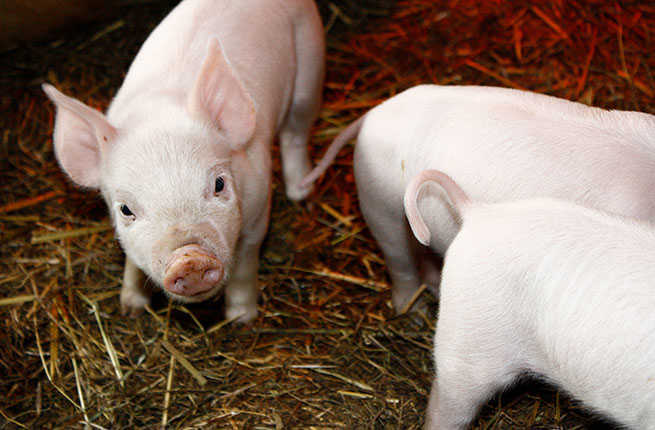 Hancock Shaker Village
WHERE: Pittsfield, Massachusetts
Once a thriving community of Shakers, Hancock Shaker Village keeps the spirit alive with traditional crafts, blacksmithing, and a baby animal blowout party to celebrate spring's new arrivals. Visit the historic round stone barn to snuggle teeny piglets, chicks, ducklings, and goats, who are born into a free-range good life in the heart of the Berkshires.
PLAN YOUR TRIP: Visit Fodor's Berkshires Travel Guide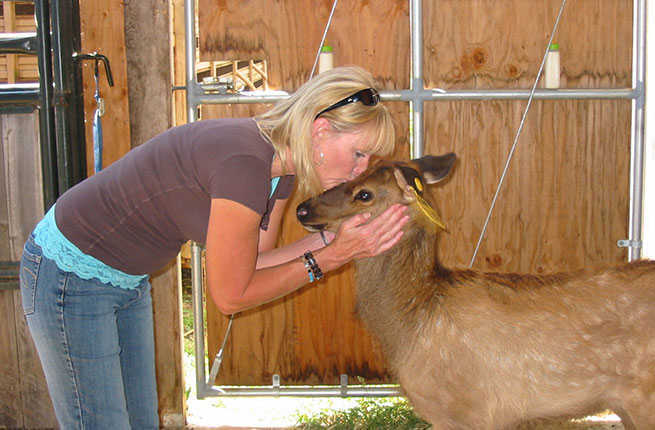 Alan Ross
WHERE: Molalla, Oregon
Shy baby elk are born with polka-dotted fur for camouflage, and welcoming the calves is the highlight of the year at this Oregon ranch. Plan to visit in May or June to catch elk calving season—just 35 pounds at birth, some of the the super cute calves at Rosse Posse Acres will grow into 800-pound bulls with velvet antlers and bugle calls that carry for miles.
PLAN YOUR TRIP: Visit Fodor's Oregon Travel Guide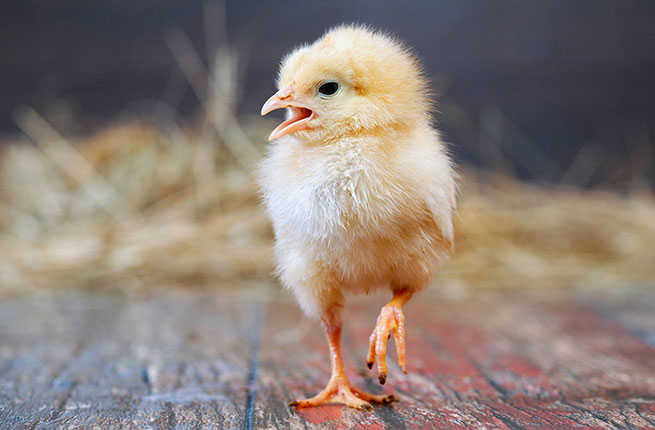 Cross E Ranch
WHERE: Salt Lake City, Utah
With a backdrop of snow-capped mountains and Utah plains, the Cross E Ranch is pure Wild West, but even cowboys turn up for the farm's annual Baby Animal Festival. Grab a bottle of warm milk to help feed the baby goats, lambs, and calves, then meet some of Utah's fuzziest residents—at Cross E Ranch, you can snuggle days-old bunnies and chicks, as well as a few downy ducklings.
PLAN YOUR TRIP: Visit Fodor's Utah Travel Guide
David J. Murray/ClearEyePhoto
WHERE: Portsmouth, New Hampshire
While it's not a farm, Strawberry Banke borrows baby animals from farmers around the region for their annual Spring Barnyard event, which kicks off the season at the history museum. In keeping with the museum's focus on keeping the local history alive, the baby animals are heritage breeds that have been raised on New England farms for hundreds of years, from rare Soay sheep to Gloucester Old Spot pigs and Belted Galloway cows.
PLAN YOUR TRIP: Visit Fodor's New Hampshire Seacoast Travel Guide
Toa555 | Dreamstime.com
Walk around the free-range barnyard at The Friendly Farm, and you'll be surrounded by chickens, turkeys, peacocks, and geese looking for handouts of corn. In spring, though, the star attractions are the babies, which include fluffball chicks, a herd of baby lambs, and a few bleating kid goats. Visitors can sign up to help the friendly farmers with their daily chores by helping to feed a baby lamb or goat with a bottle of fresh, warm milk.
PLAN YOUR TRIP: Visit Fodor's New Hampshire Travel Guide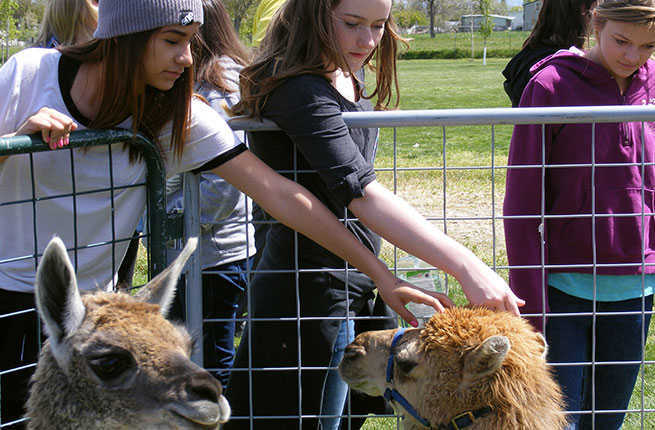 Eric Johnsen
WHERE: Grantsville, Utah
Locals line up to hug the baby lambs at Baby Animal Days, an annual event at Clark Historic Farm, which celebrates the history of Utah's early Mormon farmers. Visitors can learn the ropes of the 19th-century sheep business at sheep shearing and wool spinning demonstrations, then take a turn around a maypole that's all decked out for spring.
PLAN YOUR TRIP: Visit Fodor's Utah Travel Guide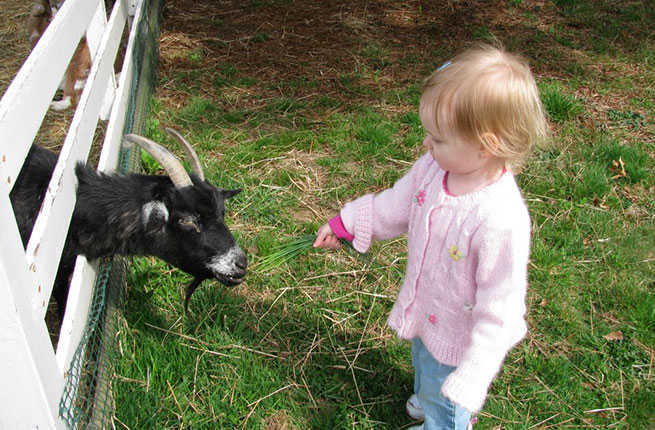 Festival Farm
WHERE: Hope Valley, Rhode Island
In the world of cute, loveable critters, "baby-mini" is a winning combination. This Rhode Island farm and petting zoo has a full house, with baby mini donkeys, baby pygmy goats, and baby mini rex rabbits that debut in front of adoring crowds each spring. Not all the babies are mini, however, and Festival Farm is also home to a mixed herd of sheep, goats, and alpacas, along with Elmer IV, a stately-looking emu who keeps an eye on the petting zoo.
PLAN YOUR TRIP: Visit Fodor's Rhode Island Travel Guide
Debbie DiPasquale
Quiet Valley Living Historical Farm
WHERE: Stroudsburg, Pennsylvania
With farmers in period dress and old-fashioned hayrides, Quiet Valley Living Historical Farm is all about Pennsylvania's agricultural history, but brand-new babies are the draw at the annual Farm Animal Frolic. Go nose-to-nose with a teeny bunny, then hug baby piglets, tiny goats, and a bouncy, wooly lamb (but don't miss the homemade sweets from the farm's wood-fired brick oven).
PLAN YOUR TRIP: Visit Fodor's Pennsylvania Travel Guide
Flamig Farm
WHERE: West Simsbury, Connecticut
With a cup full of animal treats, visitors to this longtime farm and petting zoo can feed goats, emus, donkeys, alpacas, and ducks, but the real action is in the spring when Flamig Farm welcomes a fresh batch of babies. Meet a downy flock of baby chicks, see a litter of piglets keeping warm in the hay, then pet the tiny goats and lambs.
PLAN YOUR TRIP: Visit Fodor's Connecticut Travel Guide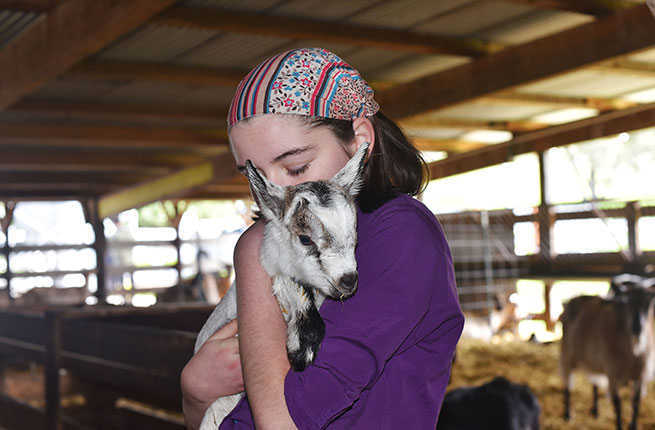 Harley Farms
WHERE: Pescadero, California
Alpine goats are adapted to rocky, mountain terrain, so don't be surprised to see the Harley Farms herd clambering over chicken coops or climbing into trees. Baby goats join the herd between February and May, and "volunteer feeders" nurse the newborns by hand using beer bottles full of gently-warmed goat milk.
PLAN YOUR TRIP: Visit Fodor's Travel Guide to the California Central Coast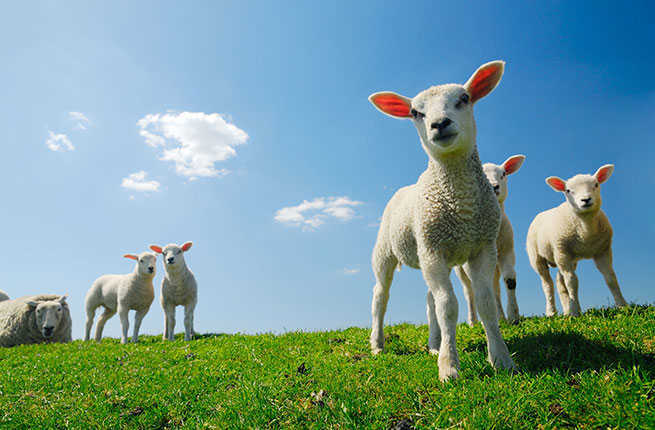 Enjoylife25 | Dreamstime.com
WHERE: Tarrytown, New York
This Hudson Valley gem is famous for sustainable agriculture, farmer education, and a world-class restaurant, but the farm goes all fuzzy for the yearly crop of baby animals. Take a tour of Stone Barns to explore the gorgeous property and meet the livestock, including a herd of Finn-Dorset sheep. During the spring, the little lambs cluster around their freshly-shorn mothers, a cloud of white wool offset by the occasional baby black sheep.
PLAN YOUR TRIP: Visit Fodor's Hudson Valley Travel Guide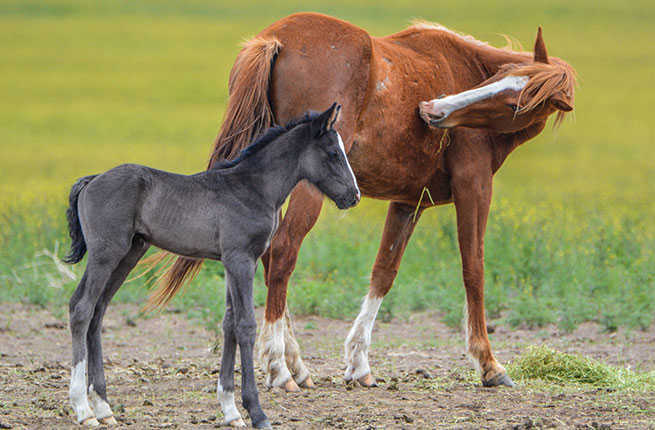 Jitterbug111 | Dreamstime.com
WHERE: Menomenie, Wisconsin
With good timing and a little luck, you might see a lamb being born at this busy Wisconsin farm, which expects 300 lambs and baby goats in the spring. The unofficial motto at Govin's Lambing Barn is "if it fits in your lap we will help you hold it," which covers everything from palm-sized chicks to fuzzy baby alpacas and the occasional foal.
PLAN YOUR TRIP: Visit Fodor's Wisconsin Travel Guide