Mark Yarchoan / Shutterstock
As summer approaches, sleepy towns across New England are beginning to wake up from hibernation. With flowers in bloom and leafy trees covering the mountains, summer is without doubt the best season to visit New England—and the only time to enjoy its pristine beaches. The region has plenty to offer outside of major cities like Boston and Providence, especially on the coast, where locals flock to relax on the beach, go biking and sailing, and enjoy the delicious seafood New England is known for. Starting in Connecticut and heading north to Maine, here are 15 of the most scenic News England destinations to visit for summer fun, food, history, and culture. —Laura Itzkowitz
spirit of america/Shutterstock
WHERE: Rhode Island
Gilded Age tycoons flocked to the charming seaside city of Newport to build their summer "cottages" at the turn of the century. Early examples of these homes—such as Isaac Bell's shingled house—actually resemble cottages. With the arrival of the Vanderbilts came opulent mansions modeled on European palaces. The Breakers, designed by Richard Morris Hunt in the Italian Renaissance style, is the grandest, though Marble House, modeled on Le Petit Trianon at Versailles, set the tone for the rest. Though the mansions are Newport's claim to fame, there's plenty to do in this historic city.
Insider Tip: Every July, the Newport Music Festival puts on performances by world-class musicians at the mansions.
PLAN YOUR TRIP: Visit Fodor's Newport Guide
Joy Brown/Shutterstock
WHERE: Connecticut
Halfway between New York City and Boston, Mystic has plenty of coastal attractions. The historic town is home to Mystic Seaport, the world's largest maritime museum with over 500 vessels, including the last remaining whale ship in the world. At the Mystic Aquarium, you can see New England's only beluga whales, plus penguins, seals, sea lions, and plenty of other aquatic animals. Embrace the kitschy side of town at the Olde Mistick Village, where you'll find souvenirs and homemade fudge at Franklin's General Store.
Insider Tip: Check out the spots featured in the 1988 movie Mystic Pizza that made Julia Roberts famous.
PLAN YOUR TRIP: Visit Fodor's Mystic Guide
spirit of america/Shutterstock
WHERE: Massachusetts
Home to the Tanglewood music festival, Lenox exudes mountain charm unique to the Berkshires. Winding roads twist and turn, enveloped by verdant canopies that open onto spectacular views of the rolling valleys dotted by farmhouses. The main attraction in Lenox is The Mount, Edith Wharton's country estate. Built in 1902, Wharton designed the home based on the precepts outlined in her 1897 book, The Decoration of Houses, which emphasized simplicity and harmony. Three acres of formal gardens complement the home, providing a beautiful backdrop for a stroll.
Insider Tip: When in the Berkshires, a visit to MASS MoCA—the contemporary art museum in a complex of 19th-century factory buildings—is a must.
PLAN YOUR TRIP: Visit Fodor's Lenox Guide
Doug Lemke / Shutterstock
WHERE: Massachusetts
If you're planning a getaway to Cape Cod, Hyannis is a great place to start. The Kennedy clan certainly thought so; they vacationed here often and JFK gave his 1960 victory speech at the Hyannis Armory. The John F. Kennedy Hyannis Museum in Old Town Hall commemorates his time there. With a large concentration of shops, restaurants, and hotels, Hyannis is the Cape's commercial hub. It is also home to the Cape Cod Potato Chips Factory.
Insider Tip: Cape traffic is notoriously bad in the summer. Avoid driving to the Cape on Friday afternoons, when Bostonians leaving the office head to summer homes for the weekend.
PLAN YOUR TRIP: Visit Fodor's Hyannis Guide
AR Pictures/Shutterstock
WHERE: Massachusetts
Known as an affluent summer colony, the population of Martha's Vineyard swells to five times its normal size from June until Labor Day. It's easy to see why: the Vineyard's pristine beaches and calm waters are ideal for relaxing. Originally settled by the Wampanoag people, the island's natural beauty has been preserved at the Aquinnah Cliffs, which are protected as part of the Wampanoag Reservation land. Together with his son, Thomas Mayhew, who bought the island from English "owners" in 1641, maintained good relations with the Native Americans living there.
Insider Tip: Today you're more likely to see celebrities than Native Americans. The Obamas have been vacationing on Martha's Vineyard since 2009 and are planning to return this summer.
PLAN YOUR TRIP: Visit Fodor's Martha's Vineyard Guide
Mark Yarchoan / Shutterstock
WHERE: Massachusetts
Smaller in size and population than Martha's Vineyard, the island of Nantucket maintains its quaint historic character thanks to strict building codes introduced in the 1950s. The island saw its heyday in the 1800s, when it was the most important whaling port in the world. Back then, merchants docked their ships in the harbor and unloaded barrels of whale oil, which was once used to make candles. You can still imagine them carting barrels through the cobblestone streets. The entire town is a National Historic District and an idyllic vacation destination.
Insider Tip: Learn about Nantucket's whaling history firsthand at the Whaling Museum.
PLAN YOUR TRIP: Visit Fodor's Nantucket Guide
Doug Lemke/Shutterstock
WHERE: Massachusetts
About an hour north of Boston on Cape Ann, Gloucester is the country's oldest seaport and predates Boston and Salem. It was established as an English settlement in 1623, and today you can visit historic houses like the Cape Ann Museum. Gloucester's scenic beauty has attracted many artists, including Winslow Homer, William Morris Hunt, Mark Rothko, Maurice Prendergast, and Edward Hopper. The Rocky Neck Art Colony—the first settled artist colony in the U.S.—has many contemporary artist studios and galleries.
Insider Tip: Don't miss Beauport, the Sleeper-McCann House, which was the lavish summer home of one of America's first interior designers.
PLAN YOUR TRIP: Visit Fodor's Gloucester Guide
(c) Sphraner | Dreamstime.com
WHERE: Massachusetts
Near Gloucester, Newburyport was a major shipbuilding center and retains some of New England's finest Federal-period homes. The town boasts the oldest continuously operating courthouse in the U.S., and was a stop on the Underground Railroad. A statue of prominent abolitionist William Lloyd Garrison stands on the site where he held abolitionist meetings in Brown Square. The First Presbyterian Church, built in 1756, features a clock bell tower, cast by Paul Revere.
Insider Tip: Strolling through the center of town, you'll find plenty of antique shops and charming restaurants.
PLAN YOUR TRIP: Visit Fodor's Newburyport Guide
Jo Ann Snover/Shutterstock
WHERE: New Hampshire
The charming coastal city of Portsmouth was originally settled in 1623 as Strawbery Banke, and its colonial legacy lives on at the Strawbery Banke Museum. This 10-acre living history museum proudly displays houses, gardens, shops, and taverns from the 1600s and 1700s. In fact, the whole town is full of colonial, Federal, Georgian, and Victorian house museums. There are plenty of modern-day amusements too, from laid-back pubs serving local craft beer to a lively local music scene.
Insider Tip: For live music and theater, check out The Press Room, which hosts concerts most nights of the week, and The Music Hall, a Victorian-era venue.
PLAN YOUR TRIP: Visit Fodor's Portsmouth Guide
Christian Delbert/Shutterstock
WHERE: New Hampshire
If you're hoping to escape city life and get as close to nature as possible, this is the place to go. The tiny town of Franconia is sparsely populated, but visitors passing through are stunned by the White Mountains' rugged beauty. Nathaniel Hawthorne wrote a short story inspired by the rock formation known as The Old Man of the Mountain. Franconia Notch State Park is popular for hiking, biking, and fishing. Start at the visitor center and Flume Gorge.
Insider Tip: For a literary adventure, take the road less traveled and head over to the Frost Place Museum, where the poet lived.
PLAN YOUR TRIP: Visit Fodor's Franconia Guide
Erika J Mitchell/Shutterstock
WHERE: Vermont
With a population of about 8,000, Montpelier is the smallest state capital in the U.S., but it makes up for its diminutive size with its independent spirit and rustic charm. The downtown area is concentrated around Main Street, which is full of quaint restaurants and shops, and State Street, where the state house is located. Montpelier is a great place to sample New England specialties. Try the maple syrup at the Morse Farm Maple Sugarworks, cheese at the Cabot Creamery, and whatever's on the menu at the New England Culinary Institute.
Insider Tip: For an easy side trip, the Ben & Jerry's ice cream factory is about halfway between Montpelier and Burlington.
PLAN YOUR TRIP: Visit Fodor's Montpelier Guide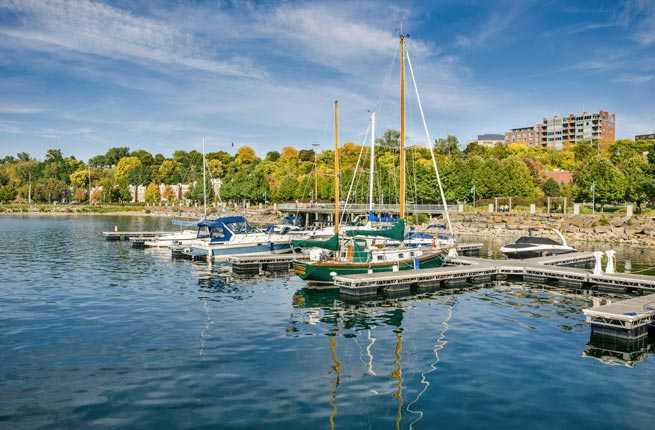 Albert Pego/Shutterstock
WHERE: Vermont
Compared to Montpelier, Burlington is a bustling metropolis, with a population of over 42,000 and a lively downtown area. Here, in the city poised on Lake Champlain, you'll find lots of artsy shops and galleries, craft vendors, sidewalk cafés, restaurants, and bars. Burlington is a major hub of the local food movement. At the huge farmers' market that pops up every Saturday, you'll find all the high-quality, locally grown (often organic) produce you could ever want. It's also home to the Magic Hat brewery, which offers tours and tastings, as well as Lake Champlain Chocolates, which makes delicious chocolates with fresh, local ingredients.
Insider Tip: For an excellent meal, go to Hen of the Wood, one of Vermont's best restaurants.
PLAN YOUR TRIP: Visit Fodor's Burlington Guide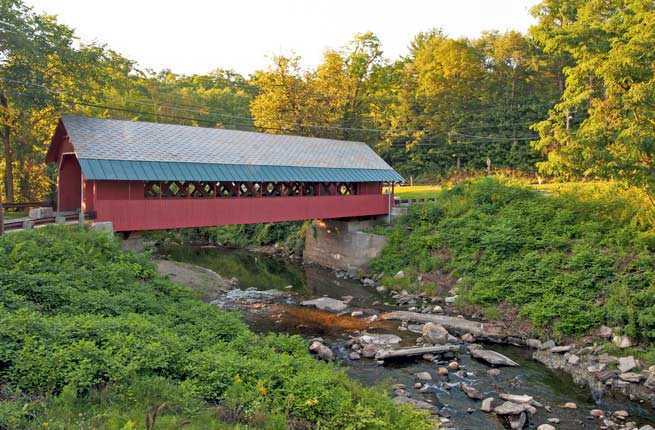 Liquid Productions, LLC/Shutterstock
WHERE: Vermont
Brattleboro is on the corner of three states and has an impressively vibrant arts and literary culture in addition to a distinctive Vermont flavor. Like the nearby Pioneer Valley, Brattleboro has a liberal, counter-culture bent. Farms in the surrounding area are important to the economy and the city's daily life. The Brattleboro Farmers' Market has a great selection of lunch food in addition to fresh produce, bread, and pastries. For a special meal, book a table at T.J. Buckley's run by owner and chef Michael Fuller, who has been serving local organic cuisine for the past 30 years—long before local food movement took off.
Insider Tip: Be sure to check out the Brattleboro Museum and Art Center, where carefully curated exhibits are housed in an old train station.
PLAN YOUR TRIP: Visit Fodor's Brattleboro Guide
Doug Lemke/Shutterstock
WHERE: Maine
Originally part of Massachusetts, Kennebunkport has long been a favorite summer haven for New Englanders. In the 19th century, many hotels and summer homes sprung up along the coast, turning the town into a popular resort destination. Stay at the stately white Colony Hotel, built in 1914 and outfitted with antiques, or just stop for some classic New England fare at the Porch Dining Room overlooking the beach. For a low-key lunch, The Clam Shack makes a perfect lobster roll drizzled with drawn butter in a toasted bun.
Insider Tip: Drive along Ocean Avenue to admire the mansions overlooking the water, including the Bush residence on Walker's Point.
PLAN YOUR TRIP: Visit Fodor's Kennebunkport Guide
BAR HARBOR
WHERE: Maine
The cultural and culinary hub of Mount Desert Island, Bar Harbor is beloved for its rugged, natural beauty. Waves crash against the granite cliffs, mountains rise above the sea, and lighthouses guide ships to safety. It was the summer destination of choice for Brooke Astor and generation of the Rockefellers, and the main streets are full of adorable clapboard shops selling local arts and crafts. But the real reason to come is for the lobster. Abel's Lobster Pound is a local favorite.
Insider Tip: If you're heading to Arcadia National Park, start at the Park Loop Road and wander off the beaten path for hiking, cycling, and kayaking.
PLAN YOUR TRIP: Visit Fodor's Bar Harbor Guide