Fotomak | Dreamstime.com
No two beach vacations are exactly the same. Some travelers want sun during the day, and a trendy, urban scene to explore by night; others want deserted islands offering peace and quiet. Fortunately, there's no shortage of stunning beaches around the world to choose from, but which ones are the best to visit right now? With revamped luxury resorts and new, non-stop flights, these destinations are the best places to enjoy sun and sand this year.
By Kathleen Squires
A serial traveler who often lets a country's cuisine dictate her itineraries, New York City-based writer Kathleen Squires has visited all 7 continents and over 60 countries, with stints living in London, Tokyo, and Buenos Aires. Her work also appears in The Wall Street Journal, Details, Saveur, Cooking Light and National Geographic Traveler.
Sylvia Kania / Shutterstock
Two new, non-stop Delta flights, from JFK and Hartsfield-Jackson International in Atlanta, allow easier access to this island paradise. The hard part is choosing among Barbados's 60 beaches—all of them public. Whether you opt for the calm waters of the west coast, aka the Platinum Coast, or the surfable waves of the east coast, it's hard to go wrong. And when weary of the rays, there's plenty else to do, from wreck and reef diving to touring rum plantations to spelunking through Harrison's Cave.
Insider Tip: Sandals just unveiled its revamped property in St. Lawrence, with 11 gourmet restaurants, the longest lagoon pool in Barbados, an expanded spa, and complete refurbishment of its 280 rooms.
PLAN YOUR TRIP: Visit Fodor's Barbados Travel Guide
Cienpies Design / Shutterstock
If Buenos Aires is the Paris of South America, then Punta del Este is its Nice. A quick flight from Buenos Aires or Montevideo gets you to Uruguay's glamorous beach scene in less than an hour. Come ready to see-and-be-seen, with celeb-spottings aplenty between dips in the Atlantic during the day and club-hopping at night. The Grand Hotel, which just opened on Brava Beach, is Punta del Este's first five-star hotel in over 15 years. The 120-room property includes a spa, Roman baths, heated indoor and outdoor swimming pools, and a theater.
Insider Tip: Looking to shake up the party scene? Though the nightlife in Punta del Este is more than vibrant, the fishing town of La Barra, about seven miles away, rivals PdE's energy. If you're looking for a more sedate stay, Jose Ignacio, about 22 miles north, is a lovely, low-key option.
PLAN YOUR TRIP: Visit Fodor's Punta del Este Travel Guide
Courtesy of Tourism and Events Queensland
This secluded island holds appeal to sun-seekers who not only crave an abundance of white, sandy beaches, but who enjoy diving and privacy. And after a restoration due to damage from Cyclone Ita last year, the only resort on Lizard Island has its soft reopening on March 1 and full reopening on April 1. The Great Barrier Reef resort is the perfect spot for those who want to completely unplug: there's no mobile phone coverage at the 40-suite stay, so guests can picnic on a private beach, frolic in plunge pools, or swing lazily on verandah hammocks completely undisturbed by "the real world." Its Great Barrier Reef location offers world-class diving, with sea turtles, dolphins, manta rays, and humpback whales swimming the waters along with exotic reef fish. There's even a coral reef research station operated by the Australian Museum on the westernmost point of the island.
Insider Tip: Lizard Island is accessible only by private plane with two flights daily from Cairns Airport in northern Queensland. The flight is approximately 60 minutes.
PLAN YOUR TRIP: Visit Fodor's Great Barrier Reef Travel Guide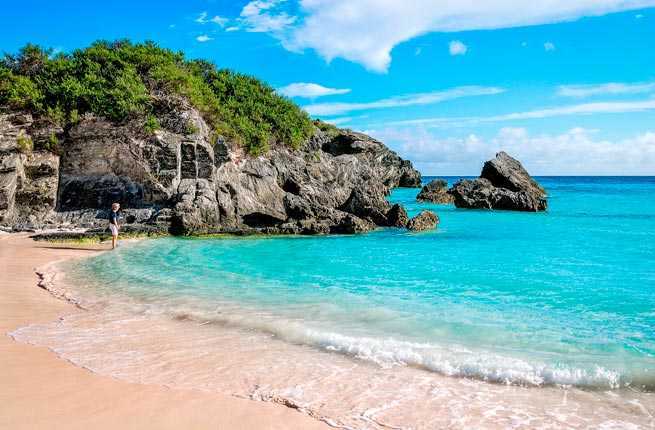 Russ Hamilton / Shutterstock
In July, the 10th annual Beachfest on Horseshoe Bay promises to be Bermuda's biggest beach party yet. Celebrating the island's Emancipation Day (1834), with music, food, limbo dancing, and sports on the sand, attendees let their inner bohemians out by covering themselves in paint and powder. For those living on the East Coast, crashing the party couldn't be easier, as flights from NYC and Boston are less than two hours. There are plenty of other reasons to visit Bermuda all year round, however. There's the unique pink-sand beaches, for starters, and a growing food scene, spurred by new openings such as the harborside 1609 Bar & Restaurant at the Fairmont Hamilton Princess and the upcoming restaurant from Top Chef Master Marcus Samuelsson, Samuelsson at HP, opening in May. The Fairmont Hamilton Princess recently underwent a $90 million renovation, in fact, and is the shiniest stay on the island right now. By spring, they will unveil the brand-new Princess Beach Club on site.
Insider Tip: Beachfest 2015 will be held on July 30 and admission is free. The weekend also marks the island's annual cricket Cup Match, with a match between Somerset and St. George's, two of the best local teams.
PLAN YOUR TRIP: Visit Fodor's Bermuda Travel Guide
Svetlana Arapova / Shutterstock
Luxury travel company andBeyond is adding the Bazaruto Archipelago to its collection of camps, with 10 casitas and two cabanas surrounded by tropical forest and edged by soft, white sandy beaches of Benguerra Island in Mozambique. With andBeyond's lodge refurbishment, the accommodations will feature plunge pools, gazebos, and spacious open air showers. The coral reefs offshore provide a haven for the Indian Ocean's abundant marine life, while the beaches and towering sand dunes on the island also make for some of the world's most scenic horseback riding.
Insider Tip: Take a side trip for local ecology: Tourism is one of the core ways that the philanthropic Carr Foundation is hoping to bring back Mozambique's once war-torn Gorongosa game reserve. Every visit helps in the ongoing restoration effort and replenishment of the animal populations.
PLAN YOUR TRIP: Visit Fodor's Mozambique Travel Guide
Rasti Sedlak / Shutterstock
This tiny island getaway, about 200 miles south of Manila, is a little more than four miles long and about a mile wide. But despite its small size, Boracay is undergoing big development, with the continuing growth of the Boracay Newcoast, a community of hotels, shopping, and residences, and the winter opening of the Aqua Boracay by yoo, a five-star resort set on Bulabog Beach, one of the world's best kite surfing beaches. In addition to water sports, the resort is rooted in luxury wellness, with a yoga studio, a day spa, and a pool spa.
Insider Tip: Getaways to Boracay will become easier by winter, when the island's brand-new airport opens, welcoming flights from Manila, Hong Kong, and Singapore.
PLAN YOUR TRIP: Visit Fodor's Philippines Travel Guide
Jerryway | Dreamstime.com
Big news out of Oahu: Four Seasons Hotels and Resorts is pouring $500 million into transforming the JW Marriott Ihilani into the Four Seasons Resort Oahu at Ko Olina. Slated for a September 2015 opening, not only will the property be Four Seasons' first on Oahu, it will include the brand's first residential property in Hawaii. The Courtyard by Marriott is also coming to Oahu, on its North Shore, this year. On the west side of Oahu, the ground will be broken for the 1.4 million square-foot retail development, Ka Makana Ali'i, with over 100 shopping, dining, and entertainment outlets, plus Hawaii's first Hampton Inn & Suites. Elsewhere around the islands, travel to the Big Island is gaining in popularity for its stand-out snorkeling and hiking trails through the lava fields of Hawaii Volcanoes National Park. Ever sunned on a rare, green sand beach? The Big Island is welcoming a few new nonstop flights this year, too: Alaska Airlines announced new flights between San Diego and Hawaii starting in March, and Delta will start service from Minneapolis/St. Paul. Maui, too, is becoming more of a hot destination, thanks to the recently completed multi-million dollar renovation of the Westin Ka'anapali Ocean Resort.
Insider Tip: Four Seasons fans take note: the Four Seasons Lanai at Manele Bay will close for five months this year to undergo a $75 million renovation, while the Four Seasons Resort Lanai, The Lodge at Koele will also close to the public while it houses construction workers working on various island projects.
PLAN YOUR TRIP: Visit Fodor's Hawaii Travel Guide
eddtoro / Shutterstock
Billionaire John Paulson says Puerto Rico is not only poised to come out of its economic slump, but that it is now poised to become the "Singapore of the Caribbean," which means it will boom as a center of commerce, and a safe bet for investors in the tropics. He should know, as he has pledged to invest $1 billion in the island over the next few years. One particular pet project: the Condado Vanderbilt Hotel in San Juan, which recently debuted after 10 years and a $200 million renovation. (Paulson put in the funds to get the project to the finish line.) The new hotel is actually one of San Juan's oldest luxury properties, having originally opened in 1919. In addition to the swank new stay, San Juan's culinary scene is exploding, with food from chefs such as Jose Enrique Montes, José Santaella, Mario Pagan, Wilo Benet, and the Vanderbilt's own Juan José Cuevas as tourist attractions in their own right. There's also a burgeoning art scene in the Santurce section of the city, centered around Loiza Street. Another sign of the island's comeback: San Juan also welcomed a record number of cruise passengers in 2014.
Insider Tip: The Condado Vanderbilt is also home to Puerto Rico's first Hammam (Turkish Bath) in its brand new, 10,000 square-foot spa.
PLAN YOUR TRIP: Visit Fodor's San Juan Travel Guide
Hank Shiffman / Shutterstock
It's been five years since a devastating earthquake destroyed this island nation, taking 200,000 lives in its wake. And while restoration efforts are still going on, tourism is finally coming back to Haiti. G Adventures is leading the charge of new tour operators visiting the island, while the Marriott Port-au-Prince, Haiti's first internationally branded, four-star hotel, opens this year. These new additions make the island's beaches, wildlife, ruins, and the Unesco World Heritage site of the Citadelle Laferrière, the largest fortress of the Americas, even more welcoming.
Insider Tip: There is still a lot of recovery work to be done in Haiti. Interested in lending a hand? Organizations such as Habitat for Humanity and United Nations Volunteers are still leading trips for disaster relief.
PLAN YOUR TRIP: Visit Fodor's Caribbean Travel Guide
Fotomak | Dreamstime.com
Miami celebrates its centennial this year, with a year full of special events. A few new high-profile properties are ready and willing to accommodate those partaking in the year-long party, including the recently-opened Thompson Miami Beach and Ian Schrager's beachfront boutique Edition, which opened in November complete with a restaurant by Jean-Georges Vongerichten, a bowling alley, an ice rink, an outdoor movie theater, and a nightclub. The year will close with the debut of the Faena Hotel Miami Beach, part of the new urban development by Alan Faena (the gent who brought Faena Universe to Buenos Aires's Puerto Madero). In addition to the five-star resort hotel, which will be designed by film director Baz Luhrmann and his wife, costume designer Catherine Martin, the six-block complex will include an arts center designed by Rem Koolhaas and luxury condos fashioned by Norman Foster.
Insider Tip: Miami isn't the only one celebrating 100 years; pasta brand Ronzoni also sees in its centennial in 2015. Their 100th birthday bash will open the SOBE Wine and Food Festival this year, with hosts Debi Mazar and Gabriele Corcos of the Cooking Channel's Extra Virgin. Grab tickets to the hottest party of the year here. Also new in 2015 for the SOBE fest: more seating at the Whole Foods Market Grand Tasting, live music, complimentary park-and-ride, a tribute dinner honoring renowned Spanish chef Juan Mari Arzak, and many more first-time events.
PLAN YOUR TRIP: Visit Fodor's Miami Travel Guide
Arena Photo UK / Shutterstock
New Caribbean Airline routes from NYC to Trinidad make a trip to the twin island even easier than before. Just a quick connection drops visitors to Tobago, known as the more attractive twin for beaches. And Carnival isn't the only festival that the island is known for: The 2015 Tobago Jazz Experience in April will welcome powerhouses such as Jennifer Hudson and Kool & the Gang. A little trivia about Tobago: did you know that it provided the setting for the Disney castaway film Swiss Family Robinson, released in 1960? The movie was the highest-grossing of that year.
Insider Tip: Check out the Tobago Travel Guide app, new from the Tobago Hotel & Tourism Association, where users can find "Deals of the Week," along with a guide to the island's best beaches, hotels, restaurants, and activities.
PLAN YOUR TRIP: Travel Fodor's Trinidad and Tobago Travel Guide
Donsimon | Dreamstime.com
If there were a contest for most hotel openings on an island in 2015, surely Bali would win, as it will unveil at least five major resorts. The long-awaited Mandapa, a Ritz-Carlton Reserve, will open by summer, with 60 luxury villas. Also coming by summer: the Alila, on the last sandy frontier of Seminyak, while exclusive Jumeirah Bali will be opening 80 suites and 25 private villas In the Jimbaran district. The Chedi Club, with 34 pool villas, will also join the resort scene in Jimbaran by summer. And that's just a handful of what to expect. Several more big names are coming to the island next year, including Andaz, Mandarin Oriental, and Waldorf Astoria.
Insider Tip: Travelers can now sail into Bali in style, too: Crystal Cruises is adding the Indonesian island as a port in 2015.
PLAN YOUR TRIP: Visit Fodor's Bali Travel Guide
Gert Hochmuth / Shutterstock
The easternmost of the Spanish Canary Islands has long been associated with an art-based history. Lanzarote was the birthplace of César Manrique, an artist and architect whose work—from a white-washed windmill to colorful mosaic murals—decorates the island. Travelers to Lanzarote can visit the artist's unique home at the Fundación César Manrique, where the design is based on the lava bubbles of the local volcanoes. Manrique's spirit makes the island the perfect setting for the Museo Atlantico, Europe's first underwater museum by British sculptor Jason deCaires Taylor. Opening this year, just off the white sandy beach of Playa Blanca, the cement sculptures will be designed to attract marine life, becoming a reef of sorts.
Insider Tip: One of Manrique's most interesting creations is a restaurant, El Diablo, at the top of the active volcano, Mount Timanfaya. There Manrique designed the kitchen's barbecue to be heated from the heat of the lava bubbling below the surface.
PLAN YOUR TRIP: Visit Fodor's Canary Islands Travel Guide
Gail Johnson / Shutterstock
One doesn't need an excuse to steal away to this ABC island, just off the coast of Venezuela. But JetBlue just added to the pile of reasons by becoming the only airline to offer non-stop service to Curaçao from New York City. And if that wasn't enough of an inspiration, there's the fact that the island is basically storm-free, as it sits below the Caribbean's hurricane belt. In addition to its 38 lovely beaches, Curaçao is also a go-to spot for divers, as the waters teem with barracuda, sea horses, and brilliant corals. And next month, the island will draw the fashion set, by hosting the first International Swim Fashion Week, so bring the good bathing trunks.
Insider Tip: Those who want to wade in the fashion of swimwear should consider staying at the Santa Barbara Beach & Golf Resort, which will be hosting the event from February 19-22.
PLAN YOUR TRIP: Visit Fodor's Curacao Travel Guide
This once-sleepy beach town in Baja California has become livelier of late, thanks to its thriving artist community, an annual music festival led by REM's Peter Buck, and a soon-to-be completed "mindful living" community, complete with a beachfront boutique hotel. Tres Santos, a community within Todos Santos, will also include an organic community garden, gourmet farm-to-table restaurant, and a research center for Colorado State University, with an agriculture and water research focus. The CSU Todos Santos Center is set to open in March, while the first residences will debut by September.
Insider Tip: Todos Santos's beaches are a favorite for the surfing set. The historic 11-suite Hotel California, located in the center of town, is a longtime favorite for both the artsy and surfer set.
PLAN YOUR TRIP: Visit Fodor's Los Cabos Travel Guide