Dancestrokes / Shutterstock
Labor Day has come and gone, and the official end of summer is here, but that doesn't mean you have to say goodbye to warm weather. For those who want to enjoy every possible minute of fun in the sun, these destinations will make you forget all about the changing of the season. Perhaps there's no such thing as endless summer, but you can definitely enjoy a few more weeks of it in any of these fall-defying getaways. From Miami Beach to San Diego, here are 10 places where summer lasts longer.
By Deb Hopewell
David M. Schrader / Shutterstock
Locals know that fall, not summer, is the loveliest time of year on this piece of the Golden State coast, when summer's typically foggy mornings give way to warm, golden days in the low to mid-70s. Browsing the shops on State Street becomes a little more relaxed once the kids are back in school, there are fewer tourists at the Santa Barbara Mission, and there's a little more room on the beaches.
Insider Tip: Just east of State Street, between Hwy. 101 and the beach, is an up-and-coming neighborhood called the Funk Zone, home to artists, shops, galleries, microbreweries, and a good number of the tasting rooms on Santa Barbara's Urban Wine Trail.
PLAN YOUR TRIP: Visit Fodor's Santa Barbara Travel Guide
trekandshoot / Shutterstock
Winter—such as it is in the desert—comes late and leaves early in Vegas. Daytime temps grow comfortably warm (low 80s) after the searing heat of summer, meaning you can still snag some serious pool time well into October. It's also a great time to venture off of the Strip and into the surrounding desert, something you'd hardly want to do in July or August. There are many companies that offer Jeep, buggy, horse, and even Hummer rides, and the West Rim of the Grand Canyon is a popular day trip.
Insider Tip: Mon Ami Gabi at the Paris Las Vegas Hotel has dependably great French fare and wine, and one of the best outdoor dining views in town: directly across the street from the Bellagio Fountains.
PLAN YOUR TRIP: Visit Fodor's Las Vegas Travel Guide
Alexander Demyanenko/Shutterstock
Hurricane season officially runs through November here, but by September the rainy season is starting to peter out, and October's average rainfall is considerably less. Despite daytime temperatures hovering in the mid-80s, this is probably the least crowded season on the beach, and with hotels and resorts bracing themselves for the frenzied winter season, there are great deals to be had, even in ritzy South Beach.
Insider Tip: One of the best deals in town is Swoop Miami, a free taxi service that will pick you up in one of their six-passenger electric golf carts within 15 minutes of calling them, and deliver you around the South Beach area—they just ask that you tip the driver. They also offer a 3.5-hour food tour ($110) by golf cart that starts in South Beach and then travels over the causeway to taste some of the best of Miami's neighborhoods.
PLAN YOUR TRIP: Visit Fodor's Miami Travel Guide
© Bobcool | Dreamstime.com
Sedona sits at a relatively high desert elevation, so the nights begin to cool toward October, but with days that average in the high 70s, fall is one of the best times to visit this New Age Shangri-La. Probably the most popular activity, right behind having your aura read and tracking down energy vortexes, is hiking, and now that the searing summer heat has receded, it's perfect for hiking the Oak Creek Canyon or the Airport Mesa Loop, with breathtaking views to the town below.
Insider Tip: The rich volcanic soil responsible for Sedona's famous light and color shows, especially at sunset, also turns out to be exceptionally well suited to growing wine grapes; accordingly, the Verde Valley area has become a wine-tasting destination. Downtown is sprouting wine bars, like the Hoppy Grape Lounge, which showcases Northern Arizona wines, and a number of companies offer wine tours.
PLAN YOUR TRIP: Visit Fodor's North-Central Arizona Travel Guide
Dean Fikar / Shutterstock
Summers in Moab are very warm—consistently in the 90s—but early fall brings daytime temps down to the mid-70s, which offers welcome relief to the large number of mountain bikers who come to challenge the numerous trails, and hikers who use Moab as a base of operations to visit Canyonlands and Arches National Park. Nature and adventure sports are the main attractions here, whether it's rafting the Colorado River, canyoneering, or horseback riding.
Insider Tip: After striking out on your adventure du jour, head back to Moab for that dinner you've earned. Head to Desert Bistro for homemade pasta filled with parmesan and truffled mushrooms. Over at Buck's Grill House, starters include a mixed-game skewer of boar, elk and buffalo sausage.
PLAN YOUR TRIP: Visit Fodor's Moab Travel Guide
© Asterixvs | Dreamstime.com
With average temperatures in the mid-80s or warmer, autumn days are still languidly warm deep in the heart of Texas. Once summer's scorching heat has cooled down, it's a great time for exploring the nearby Hill Country (and hitting a winery or two) or checking the Alamo off your bucket list. Save a couple of hours to visit the one-square-block La Villita Historic Arts District and its many folk-art artists, in one of the oldest neighborhoods in the city.
Insider Tip: Take in panoramic views of the Hill Country from the observation deck of the 750-foot Tower of the Americas, or if you have more time, enjoy dinner at the revolving Chart House restaurant. Then enjoy a cocktail at the famous Menger Bar, where Teddy Roosevelt reportedly used it as a base to recruit the Rough Riders.
PLAN YOUR TRIP: Visit Fodor's San Antonio Travel Guide
© Dave1276 | Dreamstime.com
Technically, it's still hurricane season on the Gulf Coast, but it peaks around the first week of September, so your chances of meeting one of those storms decreases the further out from Labor Day you get. To make the most of that last blast of beach time—daytime temps here average in the mid-80s—make the short trip to Siesta Key, a barrier island just off Sarasota, to dig your toes in the fine, sugary-white sand and mingle with the locals as they gather on the beach every evening to watch the sun set.
Insider Tip: Plan to spend at least a half-day at Ca' d'Zan, the five-story, 36,000-square-foot waterfront mansion built by John Ringling (of circus fame) in 1926. In addition to the Venetian Gothic villa, the 66-acre grounds include a circus museum, an art museum, and lovely gardens.
PLAN YOUR TRIP: Visit Fodor's Tampa Bay Area Travel Guide
StacieStauffSmith Photos / Shutterstock
Myrtle Beach, about halfway down the 60-mile Grand Strand in northeast South Carolina, is a favorite for families with kids, with its mile-long boardwalk and a wide, tranquil beach. Come October, the days are warm and mild, with highs in the mid-70s, making it perfect for beachcombing, golfing (there are around 100 courses), or fishing—one of the most popular activities here. If you want to see an undeveloped side of this resort town, head to Myrtle Beach State Park, 300 acres of preserved maritime forest that includes miles of hiking trails.
Insider Tip: At nearly 200 feet above sea level, the SkyWheel is the tallest Ferris wheel east of the Mississippi, boasting panoramic views over Myrtle Beach and the Atlantic Ocean. Come dusk, more than a million LED lights create an impressive light show into the night that can be seen from just about anywhere in Myrtle Beach.
PLAN YOUR TRIP: Visit Fodor's Myrtle Beach Travel Guide
Dancestrokes / Shutterstock
San Diego is a bustling coastal destination even in October, when temperatures hover in the mid-70s. Locals and tourists alike soak in the warmth while jogging or cycling the path along Pacific Beach, or strolling the chi-chi shopping areas in La Jolla. At night, the historic Gaslight Quarter downtown is where you'll find fine dining, rooftop cocktails, and nightclub dancing.
Insider Tip: Don't miss the drive across the San Diego-Coronado bridge to Coronado and its eponymous beach, consistently ranked as one of the best in the country. Stroll down Orange Avenue to browse the many shops, then grab lunch at the Ferry Landing, with its gorgeous views of the San Diego Skyline. Then wander through the grand Hotel del Coronado, built in 1888.
PLAN YOUR TRIP: Visit Fodor's San Diego Travel Guide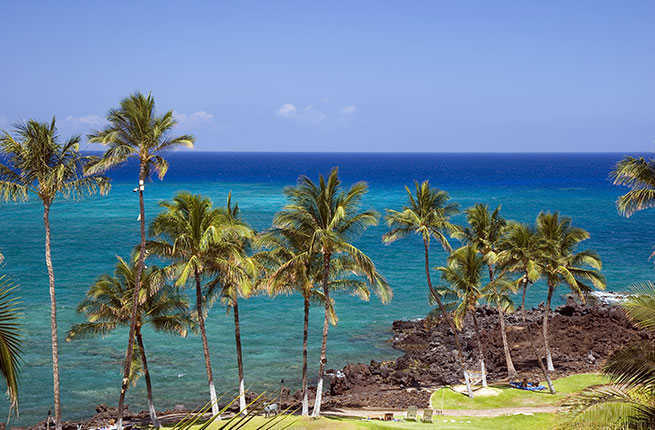 You Touch Pix of EuToch / Shutterstock
Fall is still the dry season on the Big Island's Kona Coast, and the tropical daytime temps are in the comfortable 80s. It's noticeably less crowded, except possibly the second week in October, when the Ironman World Championships are held (meaning fewer hotel rooms and more hard bodies walking the streets than Alaska has bears). Arguably the best views on the island are from a helicopter, hovering over the glowing-red Kilauea lava flows and Hilo's spectacular waterfalls.
Insider Tip: Thrill seekers and nature lovers shouldn't pass up a chance to snorkel with Kona's magnificent manta rays, whose "wing" spans can reach 20 feet. There are many boats that do these nighttime plunges, when the rays come close to the rocky shores to feed on plankton. If you'd prefer to stay dry, grab an outdoor seat at the Sheraton Kona's Rays on the Bay restaurant.
PLAN YOUR TRIP: Visit Fodor's Big Island Travel Guide