Kenneth Sponsler/Shutterstock
While New England hamlets are perhaps the epitome of small towns, the Midwest has its fair share of quaint communities with a unique charm all their own. During the summer season, these towns can nearly double in size on any given weekend, with the promise of relaxed sailing and throwback street festivals offering a pleasant reprieve from city life. Whether you yearn for antique shopping, cozy inns, or simply a slower pace, these 10 towns are perfect for a quiet summer retreat.
by Kristine Hansen
(c) Davidd2xs | Dreamstime.com
Spring Green, Wisconsin
Population: 1,622
Frank Lloyd Wright fell in love with Spring Green's rolling hills so much that he built Taliesin, his summer retreat a three-hour drive from his Oak Park, Illinois home. Tour Wright's home or take in an al fresco afternoon or evening Shakespearean performance at the American Players Theatre. Dine on organic fare sourced from Wisconsin's farms at Spring Green General Store.
Where to Stay: Designed by an apprentice of Mr. Wright, The Usonian Inn is a retro motel with modern perks, like cappuccino and wine in the lobby.
PLAN YOUR TRIP: Visit Fodor's Wisconsin Guide
Ephraim, Wisconsin
Population: 289
Seemingly stuck in the 1920s, most of Ephraim's boathouses, inns, and public buildings feature white-clapboard exteriors. Order an ice-cream cone at Wilson's Restaurant & Ice Cream Parlor, which celebrated its 100th birthday in 2006, or cruise in a 26-foot classic boat, which leaves from South Shore Pier four times daily via Bella Sailing Cruises.
Where to Stay: Ephraim Shores Resort & Restaurant is a picturesque seaside retreat featuring the town's newest eatery, Second Story Restaurant.
PLAN YOUR TRIP: Visit Fodor's Wisconsin Guide
Lanesboro, Minnesota
Population: 743
Dubbed the bed-and-breakfast capital of Minnesota, Lanesboro features eateries that are just as charming as its B&Bs. From old-time pies at The Aroma Pie Shop to housemade root beer at Pedal Pushers Café, you won't go hungry. Work off the rich food with a bike ride on the 60-mile-long Root River Bike Trail.
Where to Stay: Named for the home in Tennessee Williams' A Streetcar Named Desire, Belle Reve offers privacy by housing only one party at a time.
PLAN YOUR TRIP: Visit Fodor's Minnesota Guide
Kenneth Sponsler/Shutterstock
Saugatuck, Michigan
Population: 929
A two-hour drive from downtown Chicago, Saugatuck is a cool spot to relax during the summer and the perfect place to escape the Second City heat. Along Lake Michigan, this region is flush with winery tasting rooms, art galleries, and fine-dining spots. Stop by Fenn Valley Vineyards to sample the surprisingly delicious local wine.
Where to Stay: Snug in the harbor is the 10-room BaySide Inn Bed & Breakfast, a former boathouse turned relaxing overnight retreat.
PLAN YOUR TRIP: Visit Fodor's Saugatuck Guide
Wildnerdpix/Shutterstock
Grand Marais, Minnesota
Population: 1,344
As the gateway to the Boundary Waters Canoe Area Wilderness, Grand Marais is home to cozy restaurants like The Crooked Spoon Café and a number of art galleries. In fact, many artists have dubbed this town their utopia, setting up their easels at Artists' Point. Join in the creative spirit with classes in birch-bark canoe building or basketry at North House Folk School.
Where to Stay: Bunk in the heart of town at the five-room Gunflint Motel.
PLAN YOUR TRIP: Visit Fodor's Minnesota Guide
Cszmurlo [CC BY 3.0], via Wikimedia Commons
Nashville, Indiana
Population: 803
A veritable foodie's paradise, much like its Tennessee namesake, Nashville dishes up everything from saltwater taffy to wine, with plenty of farm-to-table eateries, too. Pop into Brown County Art Gallery to view works by famed printmaker Gustave Baumann, who spurred the colored woodcut revival in America.
Where to Stay: Built in the Shaker style a few blocks from downtown art galleries, the 23-room Artists Colony Inn invites guests for dinner next to a stone fireplace.
PLAN YOUR TRIP: Visit Fodor's Nashville Guide
ArtisticAbode [CC BY-SA 3.0], via Wikimedia Commons
Mount Vernon, Iowa
Population: 4,583
Mount Vernon's main drag hosts gems like a James Beard Award semi-finalist chef at Lincoln Café & Wine Bar, which hosts live music once a week, paired with five daily pizzas cooked in an wood-burning oven imported from Italy. Elsewhere, scour antiques at Polly Ann's, a 3,500-square-foot mall with several vendors.
Where to Stay: Abbe Hills Bed & Breakfast is just one mile outside of town and offers a quaint stay in a historic farmhouse.
PLAN YOUR TRIP: Visit Fodor's Iowa Guide
© Gary Bydlo | Dreamstime.com
Geneva-on-the-Lake, Ohio
Population: 1,270
Because of its cool-weather location along the Lake Erie shoreline, Geneva-on-the-Lake has long been a popular summer retreat. You'll find a retro arcade and carnival rides in town and a plethora of hiking trails at Geneva State Park nearby. For a down-home meal, stop by Bob's Food Court (5444 Lake Road) for corn-on-the-cob or a meatball sandwich served on a patio. Wine lovers flock to Chalet Debonne Vineyards for concerts and wine-tastings.
Where to Stay: Check into your own cottage on a private beach at Abigail's Lakeside Cottages. All seven were recently renovated.
PLAN YOUR TRIP: Visit Fodor's Ohio Guide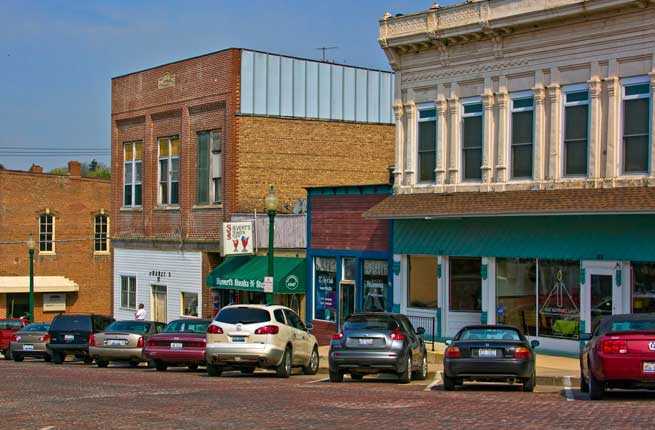 Pete Bobb [CC BY-SA 3.0], via Wikimedia Commons
Mount Carroll, Illinois
Population: 1,667
Admiring the stunning Victorian homes and lingering at antique shops and tearooms are the main events in Mount Carroll, roughly two hours west of Chicago and often likened to New England. Take in a show at Timber Lake Playhouse (Illinois' oldest professional summer-theatre company) or head to Raven's Grin Inn (a year-round haunted house) for a spooky thrill. Check out the flea market, held the first and third Saturday of the month, in downtown.
Where to Stay: Opt for a log cabin at the 159-acre Timber Lake Resort, stocked with linens, a coffeemaker, television and DVD player, and full sets of dishes.
PLAN YOUR TRIP: Visit Fodor's Illinois Guide
Winterset, Iowa
Population: 5,181
Famous thanks to The Bridges of Madison County, Winterset is the county seat and a quiet, bucolic town. Stroll under covered bridges and visit three local wineries by day. Unwind at night with a glass of wine and a hearty muffaletta at Northside Café.
Where to Stay: Check into Winterset's year-old, two-room White Lions Bed and Breakfast.
PLAN YOUR TRIP: Visit Fodor's Iowa Guide