Dan Ham
For many people, skiing or snowshoeing is the highlight of winter and the best way to cope with chilly weather. But even then, there comes a point in time when you need to escape the elements in search of a warm spot by a crackling fireplace. The answer: yurts. Fortunately, it's easy to find these circular domed tents known for their sturdiness and ability to retain heat all across the United States, often in the form of bars, restaurants, and hotels. (There's even a service that will build a luxury yurt to your specifications just about anywhere in the world.) Here are 10 ideal yurt adventures for escaping the cold.—Jennifer Nalewicki
Chandler Burgess
WHERE: Killington, Vermont
Often during a particularly epic ski run, the last thing you want to do is head down the mountain for an uninspired lunch of chilidogs and fries at the ski lodge. At Killington Resort, you don't have to. Tucked into a stand of trees along the Northbrook Trail, the Ledgewood Yurt is a ski-in-ski-out restaurant and bar serving gourmet dishes like caramel whiskey and butternut bisque sprinkled with fried leeks alongside salads topped with Maine lobster. And you don't need a pair of skis to get there. The yurt is also accessible by snowshoe, or, if you're feeling particularly lazy, via an after-hours snowcat-drawn sleigh ride, which ends with a gourmet five-course dinner.
PLAN YOUR TRIP: Visit Fodor's Killington Guide
Estabrook Photography
WHERE: Park City, Utah
Located at 8,700 feet above sea level, The Viking Yurt at Park City Mountain Resort features a "four-hour European dining experience" that starts with a sleigh ride. Upon arrival you'll be greeted with a steaming mug of glögg before diving into a six-course, Norwegian-style meal paired with the live music of a trained concert pianist. (The logistics of getting the baby grand piano up the mountain is a story unto itself and involves a mattress and snowmobile.) After a dessert of chocolate brioche bread pudding topped with a hearty glug of caramel sauce spiked with whiskey from nearby High West Distillery, you're tucked into the blanket-filled sleigh to head back to the resort.
PLAN YOUR TRIP: Fodor's Park City and Southern Wasatch Guide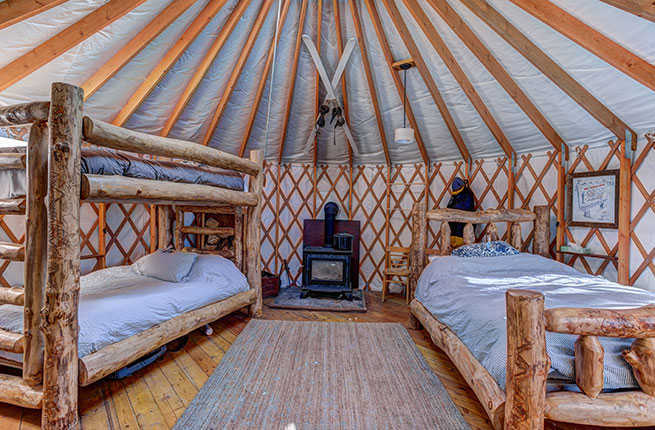 Tim Gormely
WHERE: Leadville, Colorado
Thanks to technology, it's easy to stay connected—even when you're deep in the Rocky Mountains. But Tennessee Pass, a cross-country ski center and lodge, embraces its off-the-grid status. Located at the base of Ski Cooper about nine miles from Leadville, a former mining boomtown, the lodge's backcountry yurts come furnished with a woodstove stocked with firewood, comfy handcrafted log beds, and a kitchenette. However, if you don't feel obliged to cook, no worries, you can snag a reservation at the onsite Cookhouse and dig into a plate of Colorado-raised rack of lamb or filet of rainbow trout plucked from the nearest creek.
PLAN YOUR TRIP: Visit Fodor's Leadville Guide
Galena Lodge
WHERE: Sun Valley, Idaho
It doesn't get more rustic than the yurts at Galena Lodge. Located on a ridge nestled deep within the Sawtooth National Forest, the four rentable yurts can only be reached by cross-country ski or snowshoe (the lodge provides a pull-behind sled to haul all your gear). Once you catch you breath and get settled in, get in a few runs at the onsite sledding hill before shrugging off the cold inside the lodge's wood-fired sauna. Then arrange for a meal to be delivered to your door from a menu of warming dishes, like green-chili bison meatloaf or creamy vegetable curry.
PLAN YOUR TRIP: Fodor's Sun Valley Guide
Corey Kopischke
WHERE: Solitude, Utah
After strapping on a pair of snowshoes provided by Solitude Mountain Resort, you'll traipse your way through the snow-packed trail, illuminated only by the moon above and lanterns strung from trees, to The Yurt at Solitude. The best part: you don't need any previous snowshoeing experience to make the half-mile trek. Once inside the Mongolian-style yurt, you can enjoy a nip or two of whiskey while watching a team of chefs prepare your gourmet four-course dinner right in front of you.
PLAN YOUR TRIP: Fodor's Park City and Southern Wasatch Guide
Treebones
WHERE: Big Sur, California
Treebones Resort pays homage to indigenous communities with an authentic yurt experience along the cliffs overlooking the Pacific Ocean. Keeping comfort in mind, each yurt is equipped with beds adorned with colorful quilts, hot and cold running water, and decks outfitted with Adirondack chairs. And in true California fashion, guests can participate in yoga classes at the onsite outdoor yoga studio.
PLAN YOUR TRIP: Fodor's Big Sur Coastline Guide
Bell Lake Yurt
WHERE: Bozeman, Montana
Bell Lake Yurt, located in the Tobacco Root Mountains of Montana, is ideal for anyone looking to experience the backcountry of one of the most picturesque places in the country. Guests can spend the day in the snow taking part in either a ski mountaineering or avalanche-readiness course led by a certified guide. Afterward, trek back to the 20-foot diameter Mongolian-style yurt and get cozy in front of the woodstove before making dinner.
PLAN YOUR TRIP: Fodor's Bozeman Guide
Lance Koudele
WHERE: Jackson Hole, Wyoming
Tucked into the wilds of Bridger-Teton National Forest, Rock Springs Yurt at Jackson Hole Mountain Resort is about as close to roughing it as you can get—unless of course, you feel like pitching a tent in the dead of winter. Accessible only by ski via black diamond terrain (a "yurtmeister" guide helps lead the way), the yurt has no plumbing or electricity, and cell service is spotty at best. But what it lacks in modern-day amenities it makes up for in utter seclusion. What the yurt does come with: cozy Marmot sleeping bags, a wood-burning stove, meals, and hot beverages.
PLAN YOUR TRIP: Fodor's Jackson Hole and Northwest Wyoming Guide
Dan Ham
WHERE: Saratoga, Wyoming
Rustic meets luxury inside the 700-square-foot yurt at Brush Creek Ranch, located about 150 miles west of Cheyenne. Decked out with designer touches like an antler chandelier, leather sofas, and fur rugs, the yurt combines comforts with nature. Each overnight experience includes a gourmet dinner and breakfast, as well as snacks and drinks served outside around the fire pit. Activities like guided ranger tours and spa treatments can also be organized.
PLAN YOUR TRIP: Fodor's Cheyenne, Laramie, and Southern Wyoming Guide
Chris Leaman
WHERE: New York, New York
Despite being miles away from the nearest wooded area—save for The Ramble in Central Park—The Standard's Winter Garden in New York City's East Village is located in the trendy hotel's garden mere steps away from the hustle and bustle of the city. It's there that the fashionable set escapes the last weeks of winter inside heated Alpine yurts while tucking into bubbling pots of fondue and sipping piping hot mugs of spiked drinks. Catch a chill? Just grab one of the complimentary fur coats hanging inside the yurt.
PLAN YOUR TRIP: Fodor's East Village Guide