Sony Xperia Z2 Tablet
Last month, we explored 15 essential tech gadgets, letting you capture content, charge up your gear, and keep in touch with the office while you're on the road. Now, we're exploring devices with an entertainment focus, including waterproof tablets, noise-canceling headphones, and even a tiny USB flash drive that can store dozens of movies and TV shows. You don't need to buy it all to have a good time on the road, but you might want to consider picking up a few of the latest toys before you set off on that next big adventure.
by Zach Honig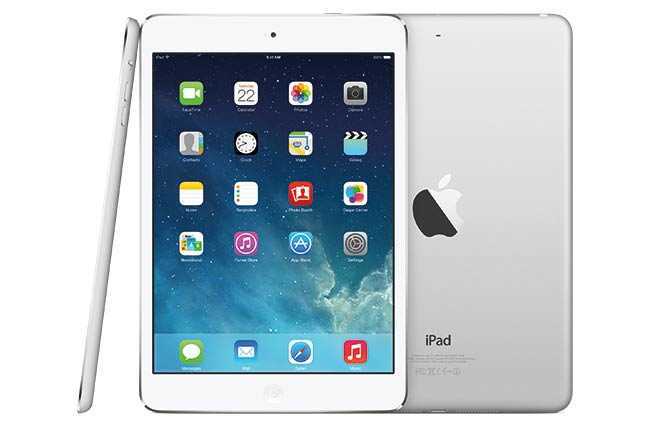 Courtesy of Apple, Inc.
Apple iPad mini with Retina Display
Starting at $399
Unless you're planning to get some serious work done while you're on vacation, a tablet should have you covered for researching day trips, identifying top-rated local restaurants, and keeping up with friends and colleagues via Instagram, Twitter, and email. Apple's iPad mini is an excellent pick for consuming media, thanks to its sharp Retina display and seamless iTunes integration. You can expect to get up to 10 hours of battery life with a single charge, which should give you enough time to watch five feature-length films as you cross the Pacific.
Sony Xperia Z2 Tablet
Sony Xperia Z2 Android Tablet
Starting at $500
If you prefer Android over iOS, Sony's Xperia Z2 is a fantastic pick. There's a 10.1-inch display (larger than the iPad mini's) and a casing that's completely weather sealed, letting you take this tablet to the beach, pool, or even the bathtub without worrying about water damage. It also sports a powerful quad-core Qualcomm processor and an 8.1-megapixel camera. There's an integrated LTE modem, too, letting you connect to the web just about anywhere in the world (with a compatible SIM).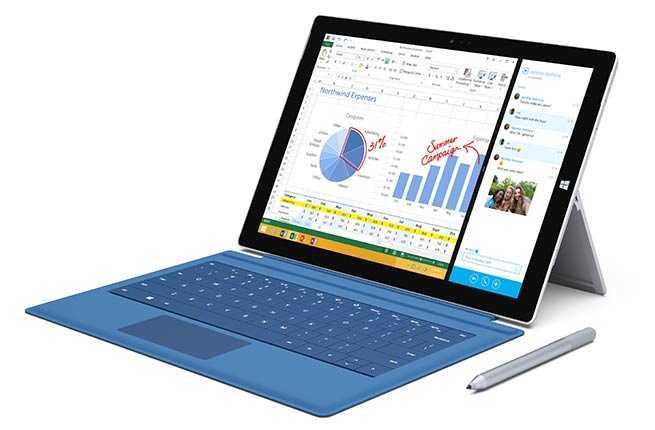 Used with permission from Microsoft
Microsoft Surface Pro 3 with Type Cover
Starting at $929
Microsoft's Surface Pro 3 may be thin and light, but it's a full-powered PC, delivering notebook-class specifications with a tablet form factor. The built-in kickstand can be positioned however you see fit, whether you want to stand the Surface up when you're watching movies or using productivity apps like Microsoft Office, or lay it flat when tweaking vacation photos in Photoshop. You get nine hours of battery life, a 12-inch high-res screen, and a versatile stylus in the box. The base model costs $799, but if you expect to do much typing, you'll want to add the Type Cover for $130.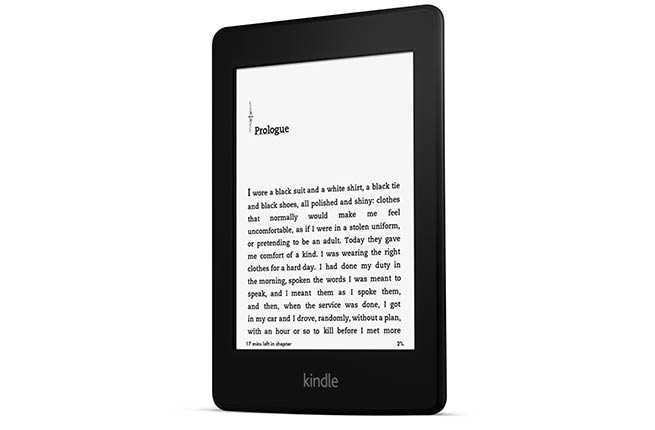 Courtesy of Amazon.com, Inc.
Amazon Kindle Paperwhite
$119
Tablets are great for watching movies or even reading indoors, but if you plan to spend time outdoors on your next vacation, you'll be better off with a paperback book or its digital equivalent, Amazon's Kindle Paperwhite. The lightweight touchscreen slate has a monochrome display that completely eliminates glare, letting you read the device even in bright sunlight. There's also an integrated backlight, so you can pick up where you left off once you're back in a dark environment.
Courtesy of Apple, Inc.
Apple iPod nano
$150
Tablets and smartphones can play music, but they're not portable enough to bring along on a jog. If you're willing to go without your phone some of the time while you're on vacation, Apple's iPod nano will ensure that you're never without your tunes, whether you're at the pool, in the gym, or on the slopes. Unlike your larger electronics, which need to be plugged in at the end of every day, the iPod nano offers 30 hours of audio playback (or 3.5 hours of video playback) with a single charge.
Courtesy of Bose
Bose QuietComfort 3 Acoustic Noise Cancelling Headphones
$314
There's nothing worse than sitting a row away from a crying baby on a long-haul flight, unless you happen to have noise-canceling headphones. Bose's QuietComfort 3 have been a hit with frequent travelers for the better part of a decade, and if you're willing to shell out the $300, you'll be glad you did. These headphones sound great, and assuming you've charged them up, they'll effectively block out nearly all environmental noise. But you don't have to take our word for it; Bose offers a 21-day trial, and if you decide not to keep your headphones at the end of that three-week period, you can send them back for a full refund, including any shipping costs.
Courtesy of Etymotic Research, Inc.
Etymotic ER4 MicroPro Earphones with Custom Fit Ear Molds
$399
Bose's over-ear headphones are great at blocking out sound, but they're a bit bulky to carry around, especially if you're trying to travel light. If you need to trim your load, the $299 Etymotic ER4 may be a better fit, particularly if you add on the $100 custom-molded ear gels. An audiologist near your home will map your ear canal and send a mold to the factory. A few weeks later, you'll get your custom molds in the mail, which snap onto the high-quality (and very compact) ER4s with ease. You get a very tight fit, effectively blocking out everything but your music.
Courtesy of Apple, Inc.
Those Earbuds That Came with Your Smartphone
Free
Most smartphones, and even some laptops and tablets include headphones in the box, and while the audio quality can't compare to the Bose QuietComfort 3 or Etymotic ER4, don't throw those earbuds away. They're perfect for situations where a pricer pair wouldn't be appropriate, letting you listen to music (or other content) on long runs, at the gym, or on quick business trips without worrying about losing or damaging a pricier pair.
Courtesy of SanDisk Corporation
SanDisk Cruzer Fit 64GB Flash Drive
$33
Backing up thousands of photos and video clips during a vacation used to mean hauling around a heavy (and expensive) portable hard drive. Not anymore. At just $33 (be sure to shop around for the lowest price), SanDisk's Cruzer Fit is incredibly affordable given the amount of storage you get, and it's quite compact, too. Use it for moving files from one computer to another, storing a few dozen HD movies or many more TV episodes, duplicating your images on the road, or all of the above.
Courtesy of Monoprice
Monoprice Ultra Slim HDMI Cable
$21
Many recent laptops and tablets (and even some smartphones) include an HDMI output, either with a full-size port on the side of your device, or once you add an adapter. If you bring this shockingly thin cable along, you can plug your device directly into the TV in your rental home or hotel room, letting you play content on the big screen for friends and family members. HDMI cables also carry an audio signal, and depending on the TV model, you should be able to play sound through the television speakers, too.