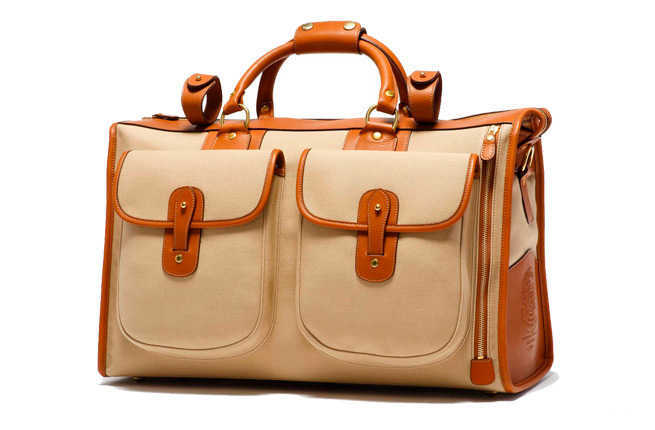 Courtesy of Ghurka
Weekend vacations come in a wide variety—beach escapes, road trips, camping excursions, adventure expeditions—so it's important to have the right bag in hand. But no matter what kind of weekend bag you need, it should be both stylish and practical. We tested the best bags we could get our hands on, from beach-only totes to versatile weekenders, and then picked our favorites. For your next summer weekend getaway, grab one of these 10 Fodor's Approved bags.
Courtesy of Filson
Filson Original Sportsman
The Tester: Michael Alan Connelly, Editor, Fodors.com
The Review: I think this is the perfect size for a weekend bag; it's not an unwieldy duffel, but I was still able to pack a couple days' worth of warm-weather clothes, shoes, and toiletries inside. The bag's most unique feature is a main compartment with two snap-out panels that allow the inside to be split into two or three sections—great for keeping dirty clothes separate from clean ones. This is a very durable, waterproof bag, so I liked not having to worry about keeping it out of the rain. I felt like I could take it anywhere with me, even to the beach. I liked the bag's materials: high-end leather, sturdy twill, and strong brass zippers.
The Catch: Though admittedly a handsome bag, its style is very "urban woodsman," which is not necessarily a look for everyone.
The Verdict: With the high-quality construction Filson is known for, it feels like this bag would last a lifetime, so I'd definitely recommend it given its price point.
The Price: $360
Courtesy of Ghurka
Ghurka Express No. 2 Khaki Twill Weekender
The Tester: Abbey Chase, Digital Editorial Intern
The Review: You won't find many bags more stylish than the Ghurka, and this roomy model means packing won't require many hard decisions. I really liked how many pockets this bag had; the main compartment is large and uncluttered, but the end pocket and exterior zippered compartments come in handy when packing shoes, magazines and papers, and small electronics. The leather and twill are both beautiful and extremely high quality, and I think this is the kind of bag that will only get better the more you break it in.
The Catch: The closures on the two outside pockets are not at all easy to open and close. The light color of the twill is not ideal, but the material is sturdy enough I don't think it would show stains that easily. It's also pretty heavy, even when empty.
The Verdict: If you're looking for no-frills functionality, this is not the bag for you. Style trumps everything with the Ghurka and it delivers in spades on that front. This is undoubtedly an investment; I wouldn't (couldn't) buy this bag for myself, but the gorgeous design coupled with its durability help to justify its hefty price tag.
The Price: $1,295
Christophe Petiteau/Longchamp
Longchamp Le Pliage Personalized Cuir
The Tester: Caroline Trefler, Senior Editor, Cities and Cultural Destinations
The Review: I love this chic leather bag! Size-wise, I think many women would use this as a large purse, but I'm a light packer and if you're just going to the beach this holds plenty of (small) clothes. I fit two bikinis, a sarong, a pair of shorts, two t-shirts, a sweatshirt, a summer dress, a pair of flip flops, a book, two different kinds of sunscreen, a toothbrush and toothpaste, and a couple other small essentials, without it being stuffed. I like that you can carry this bag by its handles, or put it over your shoulder, and I adore the bright colors. It also folds up with a snap so you can stow it away in a larger bag. The leather is to-die-for soft, though I'd definitely use some sort of leather protector/waterproofing spray on it. I do think it's the kind of bag that would get better the more you use it. There are two smallish pockets inside, one zippered and one not. Neither are large, but I think that's fine for just a weekend tote.
The Catch: I worried about ruining the supple, expensive leather. It would probably be better as just a small overnight bag for the city, rather than taking it to the beach, but you'd have to pack light. The other catch is that it's expensive.
The Verdict: This bag is a real splurge in leather, so I wouldn't buy it for myself, but it would make a fabulous present. It comes in a lightweight nylon canvas, as well, which is very reasonably priced but, unfortunately, less stylish.
The Price: $790 (large size)
Courtesy of L.L.Bean, Inc
L.L. Bean Waxed Canvas Weekender
The Tester: Arabella Bowen, Editor in Chief
The Review: This lightweight waxed canvas bag was a lovely companion on a weekend jaunt to the Grenadines. It stowed effortlessly on small airplanes and boats alike and held a lot more clothes than I needed, thanks to its unexpectedly large interior. Its snap-down top zipper made it even more compact (good for small planes) and its large rolled handles slid comfortably over my shoulder, negating the need for the included shoulder strap. Extra bonus: It folds up flat when unpacked, making it easy to tuck away in a small apartment.
The Catch: It's more of a slouchy hobo than a true, structured weekender. You definitely wouldn't want to have to check this bag under a plane.
The Verdict: A great choice for easy summer weekend trips. You'll need something hardier for more rugged travel.
The Price: $179
Courtesy of Graf & Lantz
Graf & Lantz Parker Weekender
The Tester: Erica Duecy, Deputy Editor, Fodors.com
The Review: I love the casual yet sophisticated style of this bag. I took it on a long-weekend trip to Seattle, and people commented on how attractive it was from the moment I got to the airport. The neutral colors—charcoal, grey, and pale pink—are a pretty unique combination. It's also quite roomy—I stored my computer, make up bag, and an oversized purse inside, with plenty of room for snacks, magazines, etc. It still fit under the seat in front of me on the plane. Bonus: It's a handmade product from Los Angeles.
The Catch: I would have liked more interior pockets for my computer or a make-up bag, to prevent digging around.
The Verdict: I'd definitely consider this bag for myself, or recommend it to a friend. For under $400, I think it's a great value.
The Price: $389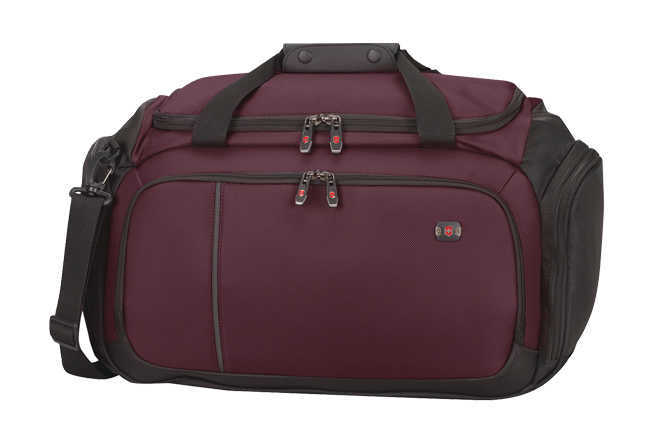 Courtesy of Victorinox
Victorinox Swiss Army WT Large Cargo Duffel
The Tester: Mark Sullivan, Editor, Cities and Cultural Destinations
The Review: I loved almost everything about this bag, starting with the size. It's perfect for a weekend getaway, with more than enough room for a few changes of clothes and a light jacket for cool evenings in the Catskills (which is where I tested it out). It could even hold a pair of hiking boots if you're a sporty type. There were plenty of zip pockets, as well as an open pocket in the back where you could tuck a magazine. It attaches easily to a roller bag, but I carried it with the back-saving padded shoulder strap.
The Catch: The plummy purple color, but the black and green versions are quite handsome.
The Verdict: Masculine without looking like a gym bag, this duffel has rugged good looks, lots of storage space, and a nylon shell that doesn't weigh you down.
The Price: $150
Courtesy of Briggs & Riley
Briggs & Riley Large Weekender
The Tester: Amanda Sadlowski, Assistant Editor
The Review: I took this bag on a weekend trip to the beach. I loved how much I could fit in there—I'm not a light packer and I had plenty of room for even more things than I ended up taking. It's also easy to carry, and the shoulder strap was super comfortable.
The Catch: It might be too big if you're a light packer. Also I wasn't a huge fan of the color—a little too drab for my taste.
The Verdict: I would buy it if it came in another color, and I would recommend it to friends who are going on a longer weekend trip, or who are bringing several outfits. It'd be especially good for winter trips, where you're packing a lot of bulky clothes.
The Price: $189
Courtesy of Vera Bradley
Vera Bradley Round Duffel
The Tester: Linda Cabasin, Editorial Director
The Review: The round duffel performed brilliantly on a long weekend trip to Provincetown on Cape Cod. My old Vera Bradley large duffel has overlong shoulder straps and packs into a rectangular shape, so it's awkward to maneuver. In contrast, this new model, a few inches shorter and rounded, has sturdy short handles plus a detachable, heavy-duty shoulder strap that made it easy to carry the bag by hand or sling it over a shoulder. I overpacked—three pairs of pants, a few tops, two pairs of shoes, a tablet, and book—but the duffel held it all (loved the internal and external pockets!) and was a breeze to carry.
The Catch: Don't like floral prints? Move on.
The Verdict: Enjoyed the bag: I'll recommend it to friends.
The Price: $96
Courtesy of Bric's USA
Bric's 22″ Ultra Light Cargo Duffle
The Tester: Teddy Minford, Managing Editorial Assistant
The Review: I took this bag on a weekend trip to the beach. It perfectly fit a few dresses, sweaters, a swimsuit, sandals, toiletries, and books. The size was great for packing the necessities and still being able to navigate crowded subways and trains, and I actually felt quite fashionable with it. I didn't bring a purse, but there's an outside pocket that's perfect for your phone, sunglasses, wallet, and train tickets.
The Catch: I mostly used the detachable shoulder strap to carry it, but there's no padding on the strap so it was a little painful on bare skin.
The Verdict: The size is perfect for a weekend trip in the summer and it's a great lightweight bag. I would definitely recommend it to a friend.
The Price: $200
Courtesy of Lipault
Lipault 19″ Weekend Tote
The Tester: Abbey Chase, Digital Editorial Intern
The Review: This bag is on the smaller end for a weekend bag, but holds a surprising amount. Multiple exterior pockets make it easy to store smaller items separately, and I was surprised by how light it was even when full. One of the things I was most impressed with was this bag's water resistance. I carried the Lipault home during a heavy rainstorm and while the exterior of the bag got soaked, the inside stayed completely dry. The handles and the shoulder strap were both very comfortable and seemed durable, so even packed to the gills, I don't think this would be unwieldy.
The Catch: The pocket configuration was a bit odd; there's a main compartment and a smaller adjacent laptop compartment (similar to a briefcase), and it didn't seem like the most efficient use of space.
The Verdict: Well-priced and very practical, this would make for a great weekend bag. It's not the most stylish in our line-up, but it's sleek, well-made, and versatile—the perfect fit for someone looking for low-key functionality.
The Price: $139