Mary Robnett
'Tis the season for holiday shopping, so we've done the legwork and rounded up this year's best gifts for the travelers on your list. Whether you're looking for the latest travel gadgets, top-shelf spirits and tasty treats from around the world, or something that can make journeys more comfortable, you'll find everything you need right here. And if you're looking for more shopping inspiration beyond books, check out our list of books that make great gifts. —Michael Alan Connelly
Mary Robnett
Hawaiian Airlines Retro Weekender Duffel
Part of Hawaiian Airlines' Heritage Collection, a line of products featuring logos and designs from the company's early years, this retro-inspired duffel bag is perfect for long weekend getaways.
Buy it here, $40.
Mary Robnett
These traditional Turkish slippers are perfect to travel with because they're stylish, versatile, and easy to slip on and off. There's a wide variety of colors and styles for men, women, and kids to choose from.
Buy them here, $190 for adult sizes, $65 for child sizes.
Mary Robnett
Try the World Subscription
Globetrotting foodies will love a subscription to Try the World, a service that delivers delicacies from a different country every other month. If you gift a subscription now, it will include the special-edition holiday box, featuring a combination of treats from a variety of places.
Buy it here, $39–$198.
Mary Robnett
J. Crew Save More Elephants Sweatshirt
This limited-edition sweatshirt was designed by Brooklyn-based artist Hugo Guinness, and 100 percent of its net profits will be donated to the David Sheldrick Wildlife Trust, which rescues orphaned elephants and rhinos in eastern Africa from ivory poaching and extinction.
Buy it here, $69.50
Mary Robnett
These beautifully designed candles evoke four distinct regions in the U.S. with bold, gorgeous scents. The 55-hour burn time is generous, yet they're small enough to pack for fragrance control in any hotel room.
Buy them here, $34 each.
Mary Robnett
For discerning drinkers, these portable mixology kits, with ingredients to make two cocktails mid-flight, are a godsend. And now there are three options to choose from: Gin & Tonic, Old Fashioned, and Moscow Mule.
Buy them here, $24 each.
Mary Robnett
Almost like magic, the Lumio at first appears to be a hardcover book, but it opens 360 degrees to provide good lighting on the go. The newly released Mini Lumio+ (not pictured) comes in a smaller size that's even easier to pack and doubles a charger for mobile phones.
Buy it here, $125–$190.
Mary Robnett
Vilebrequin Aspen Reversible Men's Vest
This reversible ski-print vest is warm and fun—perfect for après-ski sessions this winter.
Buy it here, $360.
Mary Robnett
MALIN+GOETZ 1-oz Essentials Kit
This toiletries kit has everything travelers need to keep their face, body, and hair in perfect condition while they're on the road.
Buy it here, $30.
Mary Robnett
We can't get enough of Brooklyn-based designer Ellen Van Dusen's bold prints and fun designs. In addition to throw blankets and bed sheets, her label, Dusen Dusen, sells towels, pillows, women's clothing and accessories, and even dog sweaters.
Buy it here, from $110 for sheet sets.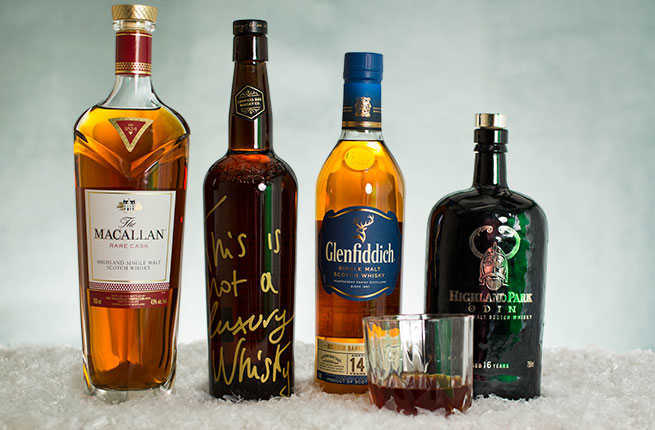 Mary Robnett
For the Scotch lover on your list, we've selected four outstanding bottles from Scotland. The Macallan Rare Cask (buy it here; $300) is a vibrantly colored single malt that's crafted in handpicked casks to produce tasting notes of oak, vanilla, chocolate, and citrus. This Is Not a Luxury Whisky (buy it here; $228) is a limited-edition release celebrating the fifteenth anniversary of Compass Box Whisky; this spectacular blend is inspired by René Magritte's The Treachery of Images and is meant to make the drinker question the definition of luxury whisky. A new expression, Glenfiddich Bourbon Barrel Reserve 14 Year Old (buy it here; $49.99) marries the sweetness of American bourbon with the complexity of Scotch whisky, offering flavors of vanilla and toffee. Highland Park: Odin (buy it here; $350) is the fourth and final addition to the distillery's Valhalla collection; only 2,400 bottles were released in the U.S., making this a very rare bottle indeed.
Mary Robnett
Google Chromecast & Chromecast Audio
These small, ingenious devices make it easy to stream music, movies, and TV shows directly to speakers and TVs via your mobile phone or tablet. They're great to have at home and while traveling, especially if you're renting an apartment instead of staying at a traditional hotel.
Buy them here; $35 each.
Mary Robnett
Mattel View-Master Virtual Reality Starter Pack
Combining the retro fun of the View-Master with virtual reality, this dazzling new device will delight viewers of any age as it immerses them in outer space, on a safari, and in destinations around the globe. The View-Master also works with Google Cardboard, a technology that allows apps and videos to become immersive experiences.
Buy it here; $29.99 (Experience Packs sold seperately).
Mary Robnett
Hand-printed in Portland, Oregon, these visually elegant maps are designed to be both beautiful and efficient, simplifying city layouts into manageable, easy-to-understand diagrams. There's a wide variety of cities to choose from, as well as prints of the moon, the solar system, the heart, and the brain.
Buy them here; $22–$34.
Mary Robnett
This Colombian coffee producer quite likely sells the freshest coffee in the U.S.; their beans go from farm to cup in as little as 10 days, while the industry average is six to twelve months. You can gift coffee lovers with a single bag or weekly, biweekly, triweekly, and monthly subscriptions.
Buy it here; from $18.
Mary Robnett
Living Language Passport Courses
This online language-learning course lasts three months and preps travelers with the vocabulary they'll need on their upcoming trips. Current languages offered include French, Italian, German, Japanese, Portuguese, Spanish, and Greek, and the course includes one private tutoring session.
Buy it here, $50.
Mary Robnett
Dale of Norway Garmisch Sweaters
Made from soft Merino wool, this sweater is warm yet lightweight, and it's a perfect thing to wear for après-ski and at holiday gatherings. The design takes its inspiration from the official Garmisch World Championship sweater from 1978.
Buy them here, $279.
Mary Robnett
For anyone who enjoys the Italian method of drinking, these pre-dinner aperitivi are perfect. Aperol (buy it here; $19.96) is popular in Spritzes with Prosecco and sparkling water. Frangelico (buy it here; $21.99) is typically regarded as a digestivo because of its nutty flavor, but it can also be enjoyed before a meal with soda water and a squeeze of lime. Campari (buy it here; $29.99) tastes great on the rocks or in a classic Negroni. Cinzano 1757 is a high-end, small-batch, handcrafter vermouth that's perfect in a Boulevardier.
Mary Robnett
For after-dinner drinks, there are Italian digestivi. Cynar (buy it here; $23.99) is a bitter, herbal concoction made from Italian artichokes that can be enjoyed on its own or in cocktails. Averna (buy it here; $29.97) is a Sicilian amaro that's meant to be served neat or with ice—no mixing. The new Cynar 70 Proof (buy it here; $39.99) ups the alcohol content of traditional Cynar, amplifying the flavors of menthol, eucalyptus, and licorice.
Mary Robnett
Men in Cities Travel Gear
Travelers always need items that make their journeys more comfortable and organized. The Japanese Patchwork Convertible Travel Pillow transforms from a square-shaped pillow to a U-shaped neck pillow. The Japanese Patchwork Sleeping Mask provides more comfort than any eye mask you'll find on an airplane. The Travel Pack Bags make it easy to separate your shoes, socks, underwear, and dirty laundry when packing.
Buy them here; $25–$40.
Mary Robnett
Ultrasonic USB Oil Diffuser
This small pod allows for aromatherapy on the go, making any hotel room a peaceful place to sleep. All you need are essential oils, tap water, and a laptop to plug the oil diffuser into.
Buy it here; $26.99.
Mary Robnett
For outdoor enthusiasts who like to get off the grid, or for travelers who prefer to avoid spending money on international data plans, goTenna provides a network solution when there is no access to cell coverage or WiFi. When the devices are activated, texts can be sent goTennas within range, and offline maps can be accessed, making it easy to navigate unfamiliar locales.
Buy it here; $199 per pair.
Mary Robnett
These artisanal sauces are made with local California ingredients and are great for lovers of spicy foods. The sriracha is barrel-aged and fruitier than the mass-produced stuff; Srirachup is simply ketchup spiked with sriracha—and it's addictive.
Buy them here; from $7.
Mary Robnett
In this new version of the classic board game, you have the opportunity to own some of America's favorite cities.
Buy it here, $21.99.
Mary Robnett
For clear-spirits aficionados, here are some of our favorite bottles. Produced inside an airplane hangar in Alameda, California, Hangar 1 Straight Vodka (buy it here; $31.99) is made from grain and California grapes by a female distiller, a rarity in the industry. The Patrón Silver 2015 Limited-Edition 1-Liter Bottle (buy it here; $76) features a hand-applied pewter rendering of the brand's iconic bee, and the spirit inside was handcrafted in small batches. SŌTŌ (buy it here; $39.99) is a premium brand of Japanese sake that only recently came to the U.S.; its refined taste is a result of the company's "field-to-bottle" philosophy. For its seventh Essential Artist series, 1800 Silver Tequila has released six limited-edition bottles with the art of Keith Haring (buy it here; $34.99).
Mary Robnett
Skida Cashmere Collection
Skida's line of 100%-cashmere items are all made in Nepal, benefitting a country that is in need of economic help. The Basketweave Shawl makes a nice companion for windy winter days and chilly airplane flights, while The Dash Knit is a stylish hat that works on and off the slopes.
Buy them here, $82–$175.
Mary Robnett
Here's a fashionable leather organizer that keeps your headphones, chargers, cables, keys, and other small items from floating around in your bag.
Buy it here; $169.
Mary Robnett
For the chocolate lovers in your life, this monthly subscription delivers sweet treats from around the world.
Buy it here; from $35/month.