Noah Fecks
In New York City, a new season always warrants a new restaurant slate. This winter is no different, with a diverse array of culinary choices and trends like buzzy, vegetable-focused menus and highly anticipated dishes, ranging from inventive Mexican to rustic Italian fare to classic steaks and burgers. Both seasoned, accomplished chefs and up-and-comers are focusing on what they know best, whether it's pizza, pasta, steaks, or obscure ramen recipes. Lest we forget, these new hot spots also feature unique cocktail programs from established mixologists. From cozy, counter-style operations to grand-scale productions, here's a look at our favorite new winter debuts.
By Kate Donnelly
Kate is a freelance writer based in New York. She's the founder of the creative collaborative, From Your Desks. She's a Contributing Editor at Fathom and her work has appeared in AFAR, Bon Appetit, Departures, Forbes, The Huffington Post and Refinery 29. She travels for the food. Follow Kate on Twitter.
Melissa Hom
Cafe Clover
Expect a chic, fashion-savvy crowd with a penchant for healthy eating and drinking at Cafe Clover. Enter nightlife vet David Rabin's (The Lambs Club) winning track record, coupled with chef David Standridge's greenmarket approach and bartender Johnny Swet's (The Skylark) cocktails (try the Beatnik with vodka, fresh beet, ginger, lime, and muddled mint). The triangular 70-seat room is dressed in black and white with vintage mirrors and baby blue banquettes. Main dishes include vegetable-forward selections, like the hearty cauliflower steak romeseco, shaved hamachi with sunchoke, or decadent ivory lentil (yes, lentil) risotto with Parmesan and white truffle.
PLAN YOUR TRIP: Visit Fodor's New York City Travel Guide
Courtesy of Ralph Lauren
The Polo Bar
Famed designer Ralph Lauren's namesake Polo Bar (joining outposts in Chicago and Paris) is located on the glitzy stretch of Fifth Avenue where women in large sunglasses stroll with purpose. Inside, the warmly lit, 132-seat space features a timeless, old world aesthetic with forest green walls, rich saddle-colored leather banquettes, and a brass-topped bar. Chef Sepp Stoner dishes out a Polo Bar burger with cheddar and crisp bacon (served with hand-cut fries), crab cakes with mustard-bell-pepper sauce, and Ralph's corned beef sandwich with melted Swiss and horseradish coleslaw, delivered by a waitstaff decked head to toe in the designer's garb.
PLAN YOUR TRIP: Visit Fodor's New York City Travel Guide
Fiamma Piacentini
Cosme
The long-awaited, sleek Cosme, located in the Flatiron District, is helmed by the discerning Mexico City chef Enrique Olvera. Spectacularly plated food is sourced locally, and often resembles artistic still lifes with bright colors and rich textures. The shared plates like uni tostada with avocado, bone marrow salsa, and cucumber; and broiled red snapper with Thai hoja santa curry, plantains, and scallions wash down well with an ample selection of 20 tequilas and 30 mezcals. The well-spaced, 65-seat design leans towards the industrial, with concrete floors, pinewood tables, and an array of manicured green plants.
PLAN YOUR TRIP: Visit Fodor's New York City Travel Guide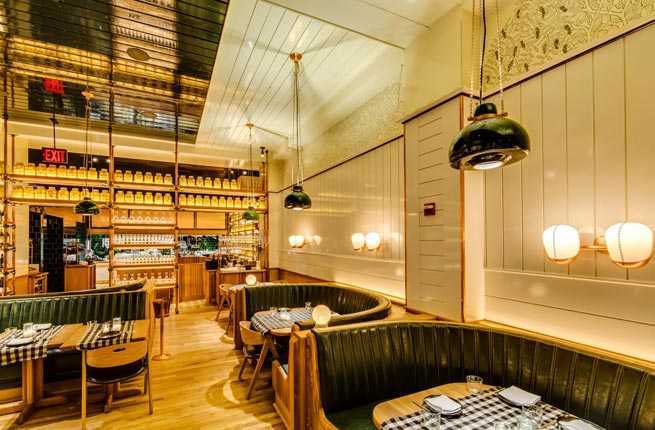 Courtesy of Upland
Upland
A collaboration between Philadelphia restaurant maven Stephen Starr and the talented chef Justin Smillie, Upland is a handsome, 88-seat brasserie-style room (designed by perennial favorite Roman and Williams), accented with a picture-perfect warm yellow glow, tree-green leather booths, wood tables, and checkered table runners. Start with the 'ndjuga pizza with stracciatella, pear, pecan pesto, and arugula. Graduate to the herb-crusted octopus with black garlic, fingerling potatoes, and olives; a generous portion of estrella pasta with chicken liver, sherry, and rosemary; or a roasted short rib for two. Finish by cleansing your palate with the granny smith apple crostata and yogurt-honey sorbet.
PLAN YOUR TRIP: Visit Fodor's New York City Travel Guide
Noah Fecks
Little Park
Housed in Tribeca's trendy Smyth Hotel, chef Andrew Carmellini's (Locanda Verde, Lafayette) newest 85-seat, farm-to-table restaurant features a seasonal menu of local produce with a slight Italian bent. By New York standards, the dishes are fairly priced, and selections include fire-roasted meats like a grass-fed hanger steak with charred brocollini, and green sauce and pastas like the dreamy al dente pillows of black-kale ravioli. The polished, airy space is accented with light wood tables, caramel banquettes, and a white-oak beamed ceiling. Fancy a nightcap? Retreat to the cozy Evening Bar for a porcini nog with Scotch, porcini vinegar, egg, and chocolate shavings.
PLAN YOUR TRIP: Visit Fodor's New York City Travel Guide
M. Alexander Weber
Santina
Situated in a sexy, glass-encased box under the High Line, Santina, from the expanding empire under the title of Major Food Group (Carbone, Dirty French), shows no sign of cooling off any time soon. The menu features a Sicilian coastal shuffle of house-cured anchovies, blue crab spaghetti, argoloce-glazed octopus spiedini, turkey meatballs, and whole grilled porgy. The 100-seat room is anchored by a white-and-blue Julian Schnabel painting with broken plates, giving you that under-the-sea feeling along with elegant Murano chandeliers and a wood-paneled ceiling. Of course, reservations will be hard to come by once the new Whitney Museum opens its doors, so book as far in advance as possible.
PLAN YOUR TRIP: Visit Fodor's New York City Travel Guide
Mary Robnett
Via Carota
A new West Village collaboration between chefs Jody Williams (Buvette) and Rita Sodi (I Sodi), Via Carota serves Italian food in a rustic, glassy space of wood tables and chairs, tin ceilings, and exposed, whitewashed brick. There's plenty of Italian wine, (ask for your bottle of red to be lightly chilled); hearty plates of cheese and salami; vegetables; rich, comforting pastas like chestnut gnocchi and papparedelle with boar ragu; and grilled sardines served on the bone. Adventurous eaters will enjoy fried rabbit with rosemary and fried garlic toast. Close out everything with a swig or two of grappa.
PLAN YOUR TRIP: Visit Fodor's New York City Travel Guide
Pasquale Cozzolino
Prova Pizza
There can never be enough pizza in New York. Smack in the heart of Chelsea, Donatella Arpaia's new Neapolitan Prova Pizza (meaning the yeastmaking term "proof") features a handcrafted, wood-burning pizza oven which doles out a small divided menu of "classics," and more unique pizza nuova, like the perfectly charred "urcina" with toppings of pecorino sardo and sea urchin. Extra hungry? The calzone with scarola riccia, pignoli raisins, olives, capers, and organic Florida garlic will keep you satisfied. The rustic room is adorned with natural brick and wood.
PLAN YOUR TRIP: Visit Fodor's New York City Travel Guide
Daniel Krieger
Ramen Lab
The ramen craze continues throughout the city, and in NoLita, there's a whole lot of slurping going on at the small but immensely popular Ramen Lab, where simplicity reigns and noodle lovers delight. With only 10 stools overlooking the kitchen, two ramen menu options of steaming bowls present themselves: a choice between the chicken-based tori-tara shoyu ramen and the vegetarian miso ramen. Commence your meal with the only appetizer (gyoza with pork and cabbage) and nab a cold beer or sake. There are no reservations, so plan accordingly.
PLAN YOUR TRIP: Visit Fodor's New York City Travel Guide
Paul Wagtouiz
Tijuana Picnic
The hip Lower East Side spot Tijuana Picnic melds Mexican and Asian flavors, compliments of Acme and Indochine vets Jean-Marc Houmard and Jon Neidich. The retro-inspired, bi-level space, an homage to 1970s Mexico City, showcases gleaming communal tables, colorful Mexican tiles, and repurposed tequila bottles doubling as lamps. The menu features shrimp tempura tacos with fermented black beans, and pork neck in coconut milk. The subterranean bar features an elaborate handpainted mural by a Madrid-based artist. Mezcal and tequila flow freely here, so by all means, order the Mi Hermano, flavored with reposado tequila, averna, fernet, dolin rouge, and mole bitters.
PLAN YOUR TRIP: Visit Fodor's New York City Travel Guide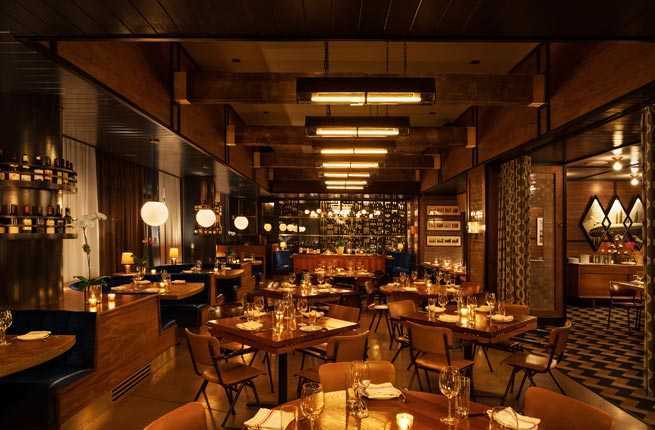 Jesse David Harris
Bowery Meat Company
The dark, moody, and modern Bowery Meat Company, a 140-seat steakhouse from John McDonald and chef Josh Capon (Lure Fishbar, El Toro Blanco), woos the downtown carnivore set. The space picks up a 1960s vibe with geometric carpet, butcher-block tables, and vintage photography. The food challenges the notion of the classic steakhouse, though it certainly covers its bases in the meat arena. Take your pick from classics with a contemporary spin such as a bone-in New York Strip with roasted shallots, or dry-aged burger with raclette cheese. For a heartier option, the indulgent duck lasagna for two is made with Parmesan and earthy caciocavallo cheese, perfect paired with a glass of spicy Italian red wine.
PLAN YOUR TRIP: Visit Fodor's New York City Travel Guide
Sasithon Pooviriyakul
Vic's
Housed in the 15-year-old Five Points space, its same owners have opened Vic's, a Mediterranean-Italian influenced spot from chef Hillary Sterling (Lupa Osteria Romana, A Voce). The 110-seat eatery contains a skylight-lit courtyard with wooden booth seating and brick walls. Now to the food: There's a half-dozen house-made pastas to try, like the rye rigatoni, with braised lamb, oregano, lemon, and white wine; and light-crusted pizzas dressed with burrata, bagnet vert, and anchovy. Larger plates include grilled flank steak and roasted oxtail with chili agrodolce. For dessert, the parsnip honey cake with crème fraiche gelato and honey croccante delights.
PLAN YOUR TRIP: Visit Fodor's New York City Travel Guide