Greg Powers
Washington, D.C.'s restaurants are rising to gastronomic greatness. Perhaps there's no better proof than the fact that just last month its own Michelin Red Guide—the French final word in epicurean mastery—appeared on the stands. The book contains 96 pages of restaurant accolades, but what everyone's talking about are the star ratings. Nine Washington, D.C. restaurants received one coveted star, meaning "a very good restaurant in its category." Three restaurants received two stars, meaning "excellent cooking" that is "worth a detour." Though those in-the-know understand that the star ratings are more or less gifts from the culinary gods, these ratings are pretty good for a city that not so long ago was known more for its half-smokes and power-brokering steaks. Here's a primer on the 12 starred recipients.—Barbara Noe Kennedy
Scott Suchman
One Star
At night, the industrial Union Market neighborhood is graveyard quiet. Yet tucked behind a wall inside a former produce warehouse, Masseria is in full swing. The Italian oasis is set up like Russian nesting dolls: the festive outdoor cocktail area is centered around a fire pit and leads to a rustic-chic indoor–outdoor bar, which leads to the small, cozy restaurant, which is snuggled up next to the open kitchen. And that's the crux of this Puglia-focused resto: the anticipation of the unexpected, not knowing what awaits ahead. The innovative, prix-fixe menu offers the same kind of anticipation. "The menu is a roadmap of a journey," chef Nicholas Stefanelli says. "And you're open to traveling as far as you want to go." Meaning, you can stick with pasta for each course, or go for the more exotic offerings: a beef tripe and lobster brodetto, perhaps, or a burrata Pugliese with Osetra caviar and Wianno oysters. But remember to be prepared for the unexpected, the "garnish of whimsy," as Bon Appétit calls it: Chinese XO sauce with the linguine or a mojito with beer. And if you're willing to travel to the end of the map for the ultimate in anticipation, leave everything up to the kitchen and order the six-course chef's tasting menu. You are guaranteed a memorable trip into Chef Stefanelli's inspired culinary mind.
Greg Powers
One Star
Located in downtown's elegant Jefferson Hotel, Plume follows a Jeffersonian theme: stately, intellectual, seasonal, and locally sourced. You see it right away in the intimate dining space: crystal chandeliers, historically accurate silk wallpaper (depicting Monticello scenes), a crackling fire, silver bird figurines gracing the table tops. Even the wine menu gives a nod to the third President's passion for viticulture. But it's chef Ralf Schlegel's cuisine that shines the most. Take one of his most celebrated signature dishes, for example: beeswax salmon. It took him six months to perfect, including the wooden box he created so hot wax wouldn't leak onto the table. Jefferson, who dabbled in inventions of his own, no doubt would have been impressed.
Greg Powers
Two Stars
The Michelin inspectors originally stated they would be confining their efforts to the city proper of Washington, D.C., as they didn't have the resources to cover the surrounding region. But they made an exception for Inn at Little Washington, a mainstay of gastronomic perfection deep in the Virginia countryside, in the tiny village of Washington about an hour west of D.C. Established in 1978 by self-taught chef Patrick O'Connell, its lavishly decorated rooms have been graced by kings and queens and presidents, yet everyone is treated as a special guest—one of its secrets to success. But success would not have come at all if it weren't for the sophistication and innovation of its kitchen (which relies on the freshness of its regional ingredients, much of which come from its own orchards, gardens, and farm), the matchless culinary skill that came from years of studying the methods of Europe's finest restaurants, or its meticulous attention to detail. No wonder Chef O'Connell has been called the pope of American cuisine; his Inn at Little Washington is nothing short of a place of epicurean pilgrimage.
Andrew Cebulka
One Star
A wood-burning hearth sets the scene for chef Jeremiah Langhorne's melding of contemporary and traditional mid-Atlantic fare in this rustic farmhouse restaurant located down a historic lane in the Shaw neighborhood (and open only since November 2015). Devoted to resuscitating regional cuisine lost over time, Chef Langhorne has pored over historic cookbooks, dusted off recipes using local ingredients and lesser explored flavors—and given them a modern twist. "We use a lot of herbs," he says. "I want our patrons to walk away nourished rather than sick and overstuffed." Pheasant, pork belly, country ham, Chesapeake oysters, skillet cornbread, and spicebush have found a new life on his menu. But remember, this isn't George Washington's cuisine; it's 100% Chef Langhorne's.
Park Hyatt Washington / Blue Duck Tavern
One Star
This seasonal, all-American tavern within the Park Hyatt has sat on the edge of Georgetown since 2003, continually proving that it has figured out the secret to reinventing itself while providing long-term patrons what they want and expect. Chef Franck Loquet came aboard a year ago and makes a point of complimenting his team for the Michelin kudos, especially chef de cuisine Brad Deboy. Three tried and true signature dishes reveal the tavern's intrinsic nature, each reconceived according to season and trend: bone marrow, duck, and apple pie. "It's honest, humble food," Chef Loquet says. Honest and humble, perhaps, but with a definite gourmand twist.
Jordan Anthony-Brown
One Star
Named for chef Aaron Silverman's gourmand grandmother, Rose's Luxury is all about making guests feel at home. Occupying a row house on Capitol Hill, the space is rustic and cozy with plush banquettes and a skylight strung with fairy lights. But Chef Silverman has serious culinary credentials as well, showcased in an eclectic menu filled with Southern comfort food that's accented with global dashes of Italian, French, and Southeast Asian flair: spaghetti with tomato and strawberry sauce; lemongrass-seafood stew; pork and lychee salad. Bon Appétit has called Rose's game-changing. Also game-changing is the no-reservation policy, and the fact that Washingtonians are willing to wait up to 2 hours in line. Yes, the food is that good.
Insider Tip: You can pay a stand-in to wait in line for you, starting at $25 an hour.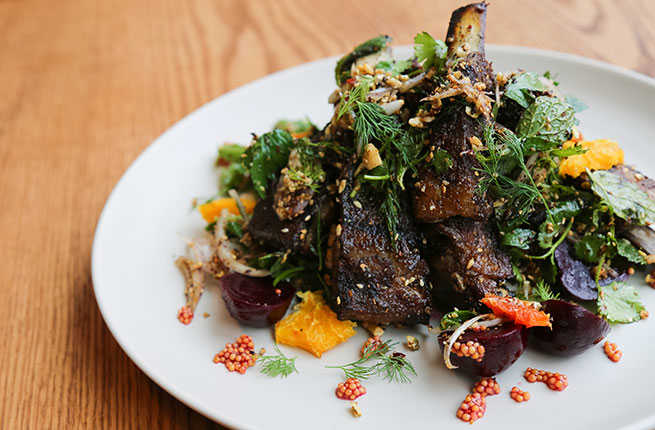 Tail Up Goat
One Star
At this breezy, upscale beach-bar-esque newcomer in the Adams Morgan neighborhood, you're in the masterful hands of chef/part-owner Jon Sybert—but in for a bit of island fun as well. The mainstays here, as in most Mediterranean eateries, are bread and pasta, but presented in unique ways. Take, for example, the seaweed sourdough with pickled sardines, whipped lardo, and Hungarian wax peppers; the carrot ravioli with apricot and pistachio breadcrumbs; or the octopus ragù. The signature dish, the one that best sums up the place, is the grilled lamb ribs platter for two: a greasy, convivial feast best eaten with the fingers. "We wanted to create the kind of place we'd want to go on our day off, pouring the drinks we'd want to drink and cooking the food we crave," says part-owner Jill Tyler (part-owner Bill Jensen rounds out the trio of talented owners). And the name? That stems from Tyler's youth in the U.S. Virgin Islands, where herds of sheep and goats were distinguished by their tails: tail down, sheep; tail up, goat.
One Star
In 2009, chef Nobu Yamazaki shuttered this popular Japanese restaurant near Dupont Circle that his father had opened in 1986. Three months later, Sushi Taro reappeared with a concept overhaul, upgraded with blonde-wood décor, a chef's tasting menu—and higher prices. Everyone thought he was crazy. Turns out, not so much! Sushi Taro today reigns as the city's best authentic Japanese dining experience, showcasing a traditional kaiseki tasting menu. And while the plates available in the front dining room are fabulous, it's the omakase counter at the back of the restaurant that's garnering the accolades. For it's here, at the "chef's choice" table, that you are treated to a private culinary show with a progression of up-to-the-minute fresh, absolutely exquisite sushi and sashimi prepared right before your eyes. Encore!
Insider Tip: Regular sushi and alcoholic drinks are half-price during the popular Happy Hour at the restaurant's bar area.
Greg Powers
One Star
Italian chef Fabio Trabocchi has made a name for himself in the culinary world, and with Fiola he adds his personal élan to classic Italian dishes, especially pasta and fish: pappardelle with ragù of Scottish hare, lasagna with morels and truffles, and meatballs with a sunny-side-up egg. The wine menu pairs to perfection, as does the impeccable service. Expect to spot a lobbyist or senator (or three) in this modern upmarket trattoria just off Pennsylvania Avenue—they fit right into the sophisticated ambiance, complete with waiters in starched white jackets and an elegant limestone bar.
Insider Tip: If you like Fiola, try Chef Trabocchi's two other Italian restaurants in town: Fiola Mare in Georgetown, showcasing fish, and cozy Casa Luca, a casual downtown osteria focusing on the chef's native Marche region.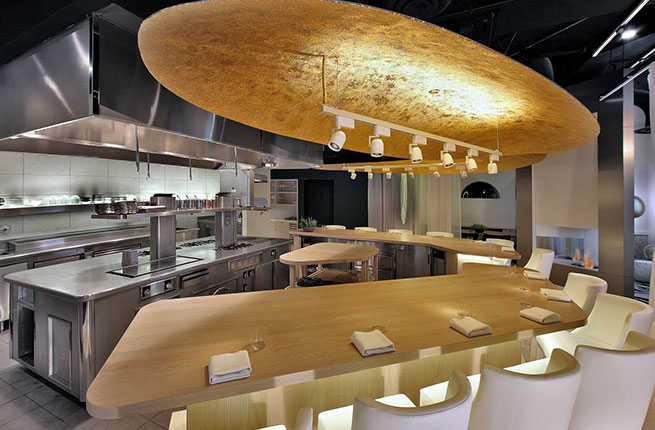 Greg Powers
Two Stars
The foremost champion of molecular gastronomy in the U.S., Spanish chef José Andrés has flat-out changed the way people view food. He scrutinizes the innate chemistry of ingredients: their tastes, textures, and properties. He studies how they pop, burst, waft, and explode in ways that create childlike wonder and surprise in every dish. After overseeing an empire of restaurants around the world, receiving nearly every culinary award out there, and hosting the PBS show José Made in Spain, Andrés's Minibar is now achieving the superstar chef's ultimate dream: his very own culinary laboratory. There, only six patrons (who have reserved far in advance) sit at a counter and are personally wowed with up to 30 petite Spanish plates that tantalize the eye and brain as much as the mouth and nose. Take, for example, his famous deconstructed glass of white wine: a slightly fermented grape juice gelée on a plate, dotted with 12 essences of white wine, including grapes, orange, lemon, pineapple, mint, cinnamon, and vanilla. Or his foie-gras lollipops coated in cotton candy. Shazam!
Insider Tip: Four other D.C. restaurants owned by Chef Andrés were Bib Gourmand recipients (that is, Michelin-recommended restaurants that offer excellent cuisine at affordable prices): China Chilcano, Jaleo, Oyamel, and Zaytinya, all in Penn Quarter. You can tour all four on the Tour de José.
Greg Powers
One Star
Everyone loves a dinner party—and how excited would you be if your host was a chef? A world-class chef at that? That's the vibe at Kinship in the Shaw neighborhood, where you're guaranteed great wine, great food, and a great setting for sharing a meal with friends and/or family. The menu offers five intriguing categories echoing chef Eric Ziebold's passions: ingredients (specific products, such as surf clams or Rohan duck); history (revisiting classics); craft (using culinary techniques); indulgence (specialty items like Osetra caviar or white truffles); and "For the Table." You can pick and choose across the board for appetizers, mains, and dessert. But the secret to the restaurant's soul is found in that last large-format category: the whole roasted chicken. "As Thomas Keller once commented," says Chef Ziebold, referring to his former boss at the French Laundry, "the testimony of a great chef is his or her ability to do a great chicken." Ziebold's chicken is served whole with lemon-garlic-brioche panade piped under the skin, what he calls "liquid stuffing." Some dinner party, indeed.
Kate Warren
Two Stars
Aaron Silverman may very well be the most daring, innovative chef in the country, and his fledgling P&P on Capitol Hill—sibling to his Rose's Luxury next door, which received one star—is proof. When you pay your $250 per person (paid before the meal, so as to not disrupt the flow of a beautiful evening), you are buying an ever-evolving, 10- to 15-course tasting extravaganza inspired by a global zigzag: part Japanese, French, Chinese, perhaps Mexican. Sprinkled throughout, the familiar is elevated to culinary awe. Take, for example, the lauded pork sausage and lychee salad, the sweetbread-stuffed chicken wing served in a box, or the hollowed-out ice cube filled with matcha tea-flavored soba noodles topped with sea urchin and a dash of wasabi. That said, P&P's bottom line is that the dining experience must be more than delicious and wow-worthy; it must also be enjoyable and fun. P&P obviously succeeds on all accounts.
Insider Tips: Sit at the bar and pay $150 (without drinks). The avant-garde restaurant is a coffee house by day.