Whitney Ott
From Homer Simpson to the now-ubiquitous cronut, doughnuts have long occupied a special place in the heart of American popular culture. In recent years, however, this sweet, starchy treat has become a favorite of discerning foodies, with new shops popping up around the country, offering a selection of classic and reimagined flavors. Serving up doughnuts topped with everything from fried chicken and bacon, to Nutella and Cap'n Crunch, these are ten of the country's best places to indulge.
By Abbey Chase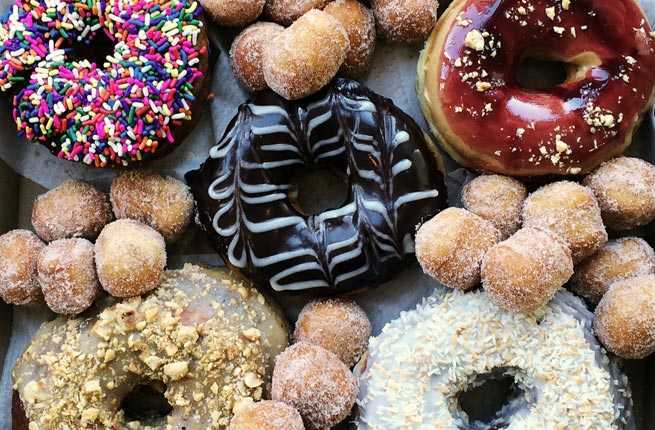 Union Square Donuts, Lexy Fournier
Union Square Donuts
WHERE: Boston, Massachusetts
In a town dominated by Dunkin' Donuts, Boston has no shortage of doughnut offerings, but Union Square Donuts rises above the fray. Located in Cambridge's neighbor, Somerville, the shop has become a Bostonian favorite since it opened in 2013. Pastry chef Heather Schmidt churns out innovative flavors such as brown-butter hazelnut crunch, sea-salted bourbon caramel, and berry pistachio, all with her unique, fluffy-flaky, handmade dough. Schmidt also serves up vegan doughnuts as well as a selection of savory squares.
PLAN YOUR TRIP: Visit Fodor's Boston Travel Guide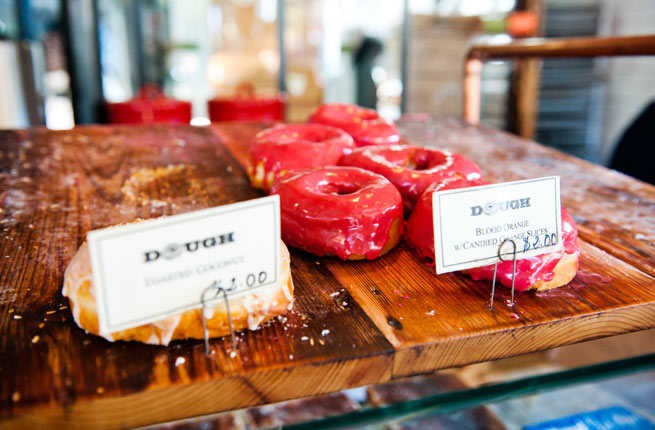 Dough
WHERE: New York City, New York
What started as a hole-in-the-wall operation in Brooklyn has taken the Big Apple by storm, with Dough's delicious doughnuts popping up in cafes all over the city. Head out to the shop in Bedford-Stuyvesant to try Fany Gerson's perfectly crafted yeast doughnuts made several times throughout the day for ultimate freshness. Having perfected the doughy, yeasty doughnut base, Gerson experiments with the glazes, so you'll find everything from hibiscus and tropical chili, to coconut cream and chocolate with earl grey. The tiny Brooklyn shop has recently expanded into Manhattan with a new outpost on W. 19th Street.
PLAN YOUR TRIP: Visit Fodor's New York City Travel Guide
Courtesy of The Donut Stop
The Donut Stop
WHERE: St. Louis, Missouri
Founded in 1953, The Donut Stop has the kind of old-school credentials that the other places on our list can only dream of. The unassuming St. Louis institution sticks to basics when it comes to flavors, so try the simple glazed yeast doughnut. But don't leave without picking up a Cinnamon Glob, a hole-less, buttery, doughy specialty rich in spices and sugar, making for the ultimate indulgent treat.
PLAN YOUR TRIP: Visit Fodor's St. Louis Travel Guide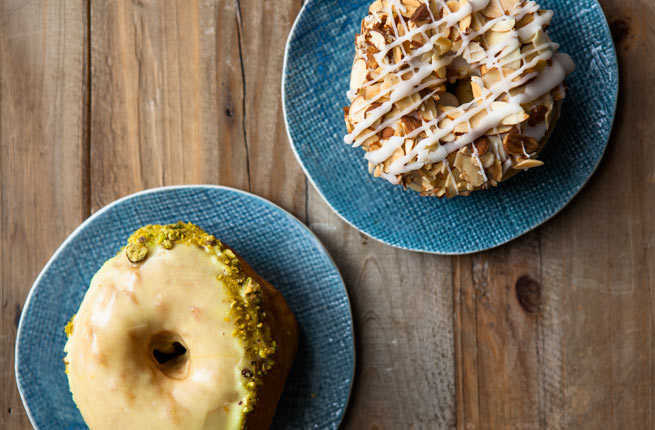 Whitney Ott
Revolution Doughnuts
WHERE: Decatur, Georgia
The product of a Kickstarter campaign, Revolution Doughnuts opened its doors in 2012 headed by Maria Moore Riggs, whose dedication to churning out fresh, handmade doughnuts has turned Revolution into an Atlanta favorite. The family-owned and -operated business makes its own yeast, cake, "low-gluten" doughnuts (made with almond flower), glazes, and toppings from scratch. Keep an eye out for the Nutella cream puff and the salted-caramel baked cake doughnut.
PLAN YOUR TRIP: Visit Fodor's Atlanta Travel Guide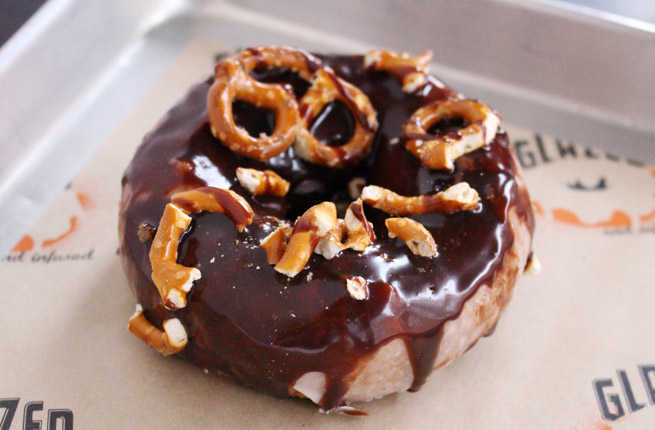 Kristi Koszewski / Glazed & Infused
Glazed & Infused
WHERE: Chicago, Illinois
Serving up a "re-invention of the iconic American doughnut," Glazed & Infused is the Windy City's ultimate doughnut stop-off. Owner Scott Harris opened the shop in 2012, looking to bring the perfect, handcrafted doughnut to his hometown. With six locations around the city, you'll have plenty of opportunities to try one of head baker Chris White's creations. Glazed & Infused offers up tons of rotating, seasonal flavors, but look out for the maple-bacon long john and the mouth-watering, no-fuss vanilla-bean glazed doughnut.
PLAN YOUR TRIP: Visit Fodor's Chicago Travel Guide
Rockobilly
Voodoo Doughnut
WHERE: Portland, Oregon, and Denver, Colorado
No list of the country's best doughnut shops would be complete without mention of the ultimate cult doughnut shop. The famously unconventional doughnuts are the product of collaboration between friends Kenneth Pogson and Tres Shannon, who learned the secret to crafting the perfect doughnut in California before returning to Portland to open the now-famous Voodoo Doughnut. No other shop has quite the sense of humor of Voodoo, which serves up a Cap'n Crunch-laden "Captain my Captain" doughnut and a maple, cinnamon sugar "Maple Blazer Blunt" doughnut in addition to the eponymous "Voodoo Doll" doughnut. Voodoo also recently opened a new 24-hour outpost in Denver.
PLAN YOUR TRIP: Visit Fodor's Portland Travel Guide and Denver Travel Guide
Courtesy of Gourdough's
Gourdough's
WHERE: Austin, Texas
Gourdough's ensures that everything is bigger in Texas, doing its home state proud with its self-declared "Big. Fat. Donuts." The original Airstream trailer shop has expanded into two brick-and-mortar restaurants in Austin, with a full menu offering salads, barbecue, and doughnut sandwiches, burgers, and entrees, including the Mother Clucker, a doughnut topped with fried chicken and honey butter. Stop by the trailer for one of the fried-to-order "dessert doughnuts" with flavors featuring everything from peaches to yellow cake batter filling.
PLAN YOUR TRIP: Visit Fodor's Austin Travel Guide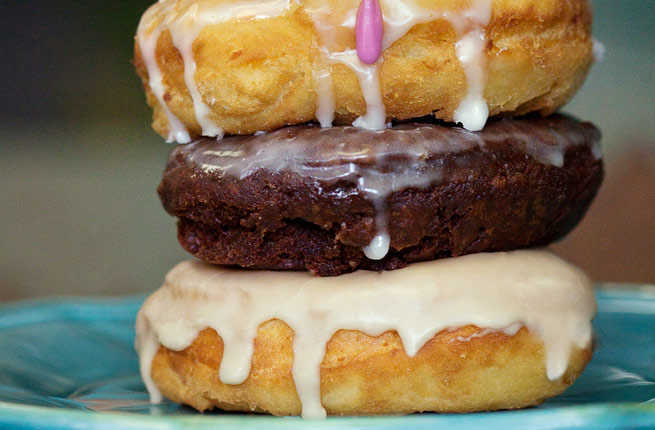 Felice Boucher Photography
The Holy Donut
WHERE: Portland, Maine
Every bakery has its secret ingredient, and for Portland's The Holy Donut, it's potato. Owner Leigh Kellis uses Maine potatoes in all her doughnuts, with sweet potato, vegan, and gluten-free options rounding out the highly original menu. In addition to the sweet offerings, which include flavors like maple, coffee brandy, and dark-chocolate sea salt, Kellis also bakes an equally tempting bacon-cheddar-filled doughnut.
PLAN YOUR TRIP: Visit Fodor's Portland Travel Guide
Michael Persico
Federal Donuts
WHERE: Philadelphia, Pennsylvania
In a burst of culinary creativity, chef Mike Solomonov thought to combine his chewy, cakey doughnuts with crispy, double-fried chicken, and the rest is history. Solomonov couples the chicken with his signature honey doughnut, served with either dry seasonings of za'atar, coconut curry, or buttermilk ranch or topped with your choice of chili-garlic, sweet-soy garlic, or honey-ginger glaze. For a more traditional, sweeter doughnut, try the cinnamon-brown sugar or the blueberry-mascarpone at any of the five Federal Donuts locations around Philly.
PLAN YOUR TRIP: Visit Fodor's Philadelphia Travel Guide
Santiago Campa
Donut Bar
WHERE: San Diego, California
The one-dollar doughnut and coffee deals make San Diego's Donut Bar the perfect place to stop off between trips to the beach. Owners Santiago Campa and Wendy Bartels creatively spin new creations out of classic doughnuts, including their popular hand-torched crème brûlée doughnut and the decadent maple bacon bar. Flavors rotate daily, so be sure to check the website before you go for the day's line-up (and to make sure they haven't sold out yet).
PLAN YOUR TRIP: Visit Fodor's San Diego Travel Guide