Warren Zelman Photography
Escape the crowds of tourists and make your own tracks on a bike tour, the best way to uncover a region at your own pace. We've rounded up fifteen breathtaking bike tours around the world that will take you past ancient glaciers, active volcanoes, bustling villages, lava-sand beaches, and more. So grab your helmet—and your sense of adventure—and let's hit the road.
By Kathleen Rellihan
Columbia Icefields Parkway Cycle Tour
A mountain lover's paradise, Columbia Icefields Parkway goes through the majestic Canadian Rockies between two national parks and UNESCO World Heritage sites, Jasper and Banff. Pedal through miles of awe-inspiring wilderness and feel your jaw drop as you pass alpine lakes, glaciers, and wildflower-filled valleys. Keep an eye out for BC wildlife—bighorn sheep, elk, caribou, moose, and bears—along the way.
Tour to Take: Rocky Mountain Cycle offers relaxed six-day bike tours for more than 190 miles that let you recharge with gourmet meals and rest in historic mountain lodges along the way.
PLAN YOUR TRIP: Visit Fodor's British Columbia Travel Guide
Courtesy of DuVine Cycling + Adventure Co.
Take in the beauty of Emerald Isle on two wheels as you cycle through some of Ireland's most breathtaking destinations, such as Dingle Peninsula, Ring of Kerry, and Killarney National Park. After a day of tackling Ireland's rolling green hills, share your adventures and meet friendly locals over a pint and Irish comfort food in the country's cozy pubs.
Tour to Take: Duvine offers a six-day/five-night tour for active riders who want to immerse themselves in Gaelic culture while enjoying the country's lively pubs.
PLAN YOUR TRIP: Visit Fodor's Ireland Travel Guide
Andrea Willmore / Shutterstock
Cycling Cape Town and the Garden Route
Safaris are unforgettable experiences, but if you want a more an active vacation, consider a cycling tour along the scenic Garden Route on the southeastern coast of South Africa. Kick off your bike tour in Cape Town, then cycle to the area's top attractions, like the Tsitsikamma section of Garden Route National Park, Kirstenbosch National Botanical Gardens, and Cape Point Nature Reserve. Marvel at the sweeping South African views as you sip and swirl along the Franschhoek Wine Route.
Tour to Take: VBT offers an easy to moderate tour that includes unique experiences such as a home-cooked dinner with a local family and a tour of a working ostrich farm.
PLAN YOUR TRIP: Visit Fodor's South Africa Travel Guide

Warren Zelman Photography
Forgo following Tuscany's tourists' tracks and pedal through Puglia, Italy's best-kept secret on the sun-kissed southern coast. Cycle past miles of olive groves, ancient whitewashed, cliff-side towns, and dramatic Adriatic Sea views. Enjoy the slower pace of Puglia on country roads and as you step off your bike for seafood and a much-deserved glass of wine.
Tour to Take: Butterfield & Robinson offers small-group, six-day/five-night tours for recreational riders that include stays at masserie, fortified farmhouses, transformed into luxury hotels.
PLAN YOUR TRIP: Visit Fodor's Puglia, Basilicata, and Calabria Travel Guide
Courtesy of Backroads/Ben Davidson
Bryce and Zion Biking Tour
The American Southwest has always intrigued wanderlusting souls with its rugged beauty and wide-open landscapes. The best way to get up close and personal with the red rock wonders while still covering a lot of terrain is to hop on a bike! Pedal through Utah's two national parks—Bryce Canyon and Zion—with exhilarating views of the red canyons in every direction.
Tour to Take: Backroads offers a six-day/five-night tour that includes stays at rustic lodges and mountainside inns and opportunities to get off your bike and hike.
PLAN YOUR TRIP: Visit Fodor's Bryce Canyon National Park Travel Guide and Fodor's Zion National Park Travel Guide
Courtesy of Ciclismo Classico
Argentina Photo & Cycle Tour
Do you love photography just as much as you love cycling? Join master photographer and native Argentine Ossian Lindholm on a tour through the high altitudes of northwest Argentina stopping along the way for photography lessons, daily hikes, and wine tastings. Photographers of all levels will be inspired by the stunning salt flats and ancient Inca trails.
Tour to Take: Ciclismo Classico offers a one-of-a-guide adventure for cycling-loving shutterbugs on a nine-day/eight-night tour that includes daily photography lessons and stays at boutique hotels.
PLAN YOUR TRIP: Visit Fodor's Argentina Travel Guide
Courtesy of VBT
Holland and Belgium Bike and Barge
There's no better way to take in the countryside of Holland and Belgium than by bike and barge. While you're not biking on idyllic flat paths past Holland's historic windmills and through the medieval streets of Bruges and Ghent, you'll be cruising in a canal barge alongside houseboats and traditional fishing villages.
Tour to Take: VBT offers seven-day tours that include easy terrain and comfortable cabins on a private canal barge.
PLAN YOUR TRIP: Visit Fodor's Amsterdam Travel Guide
Courtesy of Sojourn Bike Tours
Burlington, Vermont to Quebec City
Transport yourself to Europe without leaving North America on a cycling tour of Québec, Canada's French-speaking province. Steer your wheels through quaint villages and along the shores of Lake Champlain and Saint Lawrence River, two of the world's most spectacular waterways. Hop off your bike to explore historic Quebec City's charming bistros and boutiques.
Tour to Take: Sojourn offers nine-day/eight-night tours for intermediate riders that include a guided tour of Québec City's Old Port.
PLAN YOUR TRIP: Visit Fodor's Quebec Travel Guide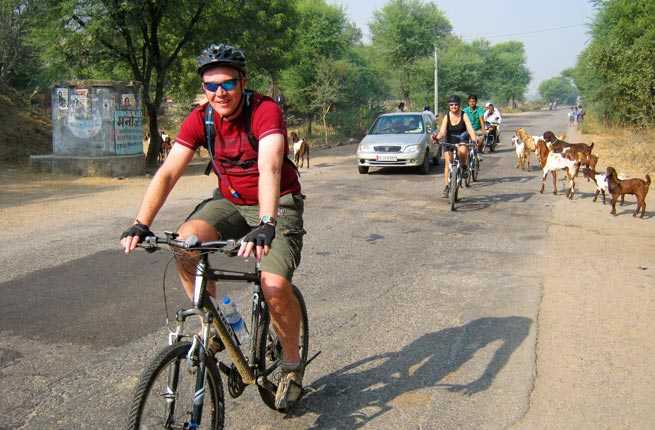 Courtesy of KE Adventure Travel
Cycling Tour of Rajasthan, India
India is a feast for the senses and there's no better way to take it all in than on the locals' favorite form of transportation—a bicycle. Cycle through traditional Rajasthan villages and rural back roads, then rest at the sacred lakeside town of Pushkar.And no visit to India would be complete without marveling at the incomparable Taj Mahal—off the bike, of course.
Tour to Take: KE Adventure offers a twelve-day tour with seven days of cycling and includes a game drive in search of the elusive tiger at Sariska National Park.
PLAN YOUR TRIP: Visit Rajasthan Travel Guide
Courtesy of Trek Travel
San Juan Islands Bike Tour
Off the coast of Washington lies the idyllic San Juan archipelago that draws nature lovers to explore its unspoiled shores during its long summer days. Tour the islands' picturesque country roads on two wheels with panoramic views of the neighboring islands, sparkling blue sea, and distant snowcapped Cascade peaks. Hop off your bike at Lime Kiln Point, one of the best places in the world to spot the resident orca whales.
Tour to Take: Trek Travel offers a six-day/five-night multi-sport tour of the islands with sea kayaking and stays in intimate, charming inns.
PLAN YOUR TRIP: Visit Fodor's San Juan Islands Travel Guide
Courtesy of Black Tomato
Desert Descent Down Under
Is an adrenaline-pumping mountain bike tour more your speed? Head Down Under to northeast Tasmania to embark on the world-famous Ben Lomond mountain descent bike ride. The world-respected ride on Jacobs Ladder Road is mostly downhill, for a total drop of 4757 vertical feet, sprinkled with switchbacks and hairpin turns to keep the heart thumping. Or for a longer tour that's calm enough to look out for wallabies, ride through farmland countryside from Launceston to Hobart.
Tours to Take: Bespoke Black Tomato caters to stylish adventurers with a local-guided Ben Lomond mountain bike tour, while Pedal Tours offers a nine-day tour of Tasmania's west coast.
PLAN YOUR TRIP: Visit Fodor's Tasmania Travel Guide
Cmfotoworks | Dreamstime.com
New Zealand is an outdoor lover's paradise so it's the perfect destination for a cycling adventure. Hop on a bike to tour the North Island's Tongariro National Park, which features some of the country's most spectacular natural wonders and surrounds three volcanoes. Around every bend, you'll be rewarded with jaw-dropping views of volcano peaks, turquoise alpine lakes, and rolling countryside.
Tour to Take: New Zealand local tour company Pedal Tours provides eight-day tours that include a stay on a sheep farm and a tour of the glow-in-the-dark Waitomo Caves.
PLAN YOUR TRIP: Visit Fodor's New Zealand's North Island Travel Guide
Courtesy of Backroads/Steven McBride
Hawaii Big Island Biking Tour
Forgo basking on the beach with a Mai Tai and turn up the torque with a bike tour around the Big Island. Spin your way past lava fields, Kona coffee plantations, lush papaya groves, and black-sand beaches. Then channel your inner speed demon and ride 30 miles of the Kona Ironman Triathlon's cycling course.
Tour to Take: Backroads offers a six-day/five-night tour that includes a range of lodging option, from an oceanfront full-service resort to a rustic lodge near Volcanoes National Park.
PLAN YOUR TRIP: Visit Fodor's Big Island Travel Guide
Dave Edwards
Vietnam and Cambodia Bike Tour
Looking for an active and exotic escape full of delicious meals? Get a taste of South East Asia as you pedal through Vietnam and Cambodia's lush terrain and view daily life from your saddle. After you've worked up your appetite up cycling all day, enjoy an evening feast of local dishes with noodles, seafood, and exotic fruits.
Tour to Take: Trek Travel offers a twelve-day/eleven-night tour with luxury lodging that concludes with a visit to Angkor Wat.
PLAN YOUR TRIP: Visit Fodor's Vietnam Travel Guide
Martin Penicaud
Gourmet Andalucía Spain Tour
Does a mix of of cycling, culture, and cuisine whet your appetite for adventure? Pedal through Spain's sundrenched southern coast, a visual feast of white-washed villages, olive groves, and rocky landscapes. After burning calories all day, a table of tapas and a glass (or two) of sherry, Andalucía's prized wine, will be guilt-free.
Tour to Take: Digngo offers six-day/five-night small-group tours with one-of-a-kind luxury hotels, such as a renovated sixteenth-century Franciscan convent, and gourmet meals round the clock.
PLAN YOUR TRIP: Visit Fodor's Andalusia Travel Guide