Courtesy Tourism Corporation Bonaire
Yes, the Caribbean has great beaches, but that's not all that attracts travelers. The islands of the Caribbean—dozens of individual nations, each with its own unique culture and history—offer far more than soft sand and blue water. Beyond just relaxing and soaking up the sun, the Caribbean has a wide variety of experiences, both on land and in the water. Here are some of our favorites. By Fodor's Editors
Courtesy Tourism Corporation Bonaire
Why It's Tops: Nautical nuts love Bonaire for the kaleidoscopic profusion of marine life, dramatic underwater-scape, excellent environmental stewardship, and accessibility of its pyrotechnic reefs: the majority explode with color just 5–25 minutes from shore in currents mild enough for snorkeling, too. You'll have your choice of dozens of reputable dive outfitters, and many of the island's resorts cater specifically to divers.
Courtesy Discover Dominica Authority
Why It's Tops: Morne Trois Pitons National Park, a UNESCO World Heritage Site, explains the island's nickname "The Nature Isle." The island is so green that you can practically see plants grow during rainfall. The best Dominica hiking passes mountains filigreed by waterfalls, crater lakes, and natural pools—contrasted with the blast furnace Valley of Desolation, including the world's second-largest Boiling Lake belching sulfurously.
Whale Watching in the Dominican Republic
Why It's Tops: Samaná in the northeast D.R. is revered for shimmering water, champagne-hued strands, and superior sportfishing. But the signature aquatic activity is Dominican Republic's world-class whale-watching in season (January through March), as pods of humpbacks mate and calve, the male's signature song (a spa staple) echoing across the water. One of the top whale experts is Kim Beddall, who owns Victoria Marina/Whale Samaná in Santa Bárbara de Samaná.
Viewing Colonial Architecture in Puerto Rico
Why It's Tops: Old San Juan is a majestic maze of narrow cobblestone alleys opening into broad tree-shaded plazas; beautifully preserved 18th-century Spanish buildings range from stone mansions with wrought-iron balconies (now housing chic boutiques and restaurants) to the UNESCO World Heritage El Morro fortress guarding the bay. If you want to see more great architecture in Puerto Rico, San Germán is another treasure trove.
Snorkeling in the Cayman Islands
Why It's Tops: Swimming at Stingray City, even wading at the adjacent sandbar, you can interact with gracefully balletic stingrays, so tame you can feed them as they nuzzle you, practically begging petlike for handouts. Numerous boats take you out for the ray-diant experience. Shore diving and snorkeling excels throughout all three Cayman islands.
Courtesy St. Thomas Tourism
Why It's Tops: The Caribbean has colorful historic capitals known for duty-free shopping, including Curaçao's Willemstad and St. Maarten's Philipsburg, but shopping in St. Thomas is like an elegant bazaar, with name-brand luxury boutiques tucked away in its charming arcaded Danish alleys in Charlotte Amalie. The streets can be crowded, especially when cruise ships are in port, something that happens virtually every day. Many of the best buys are duty-free liquor and tobacco (though sadly, no Cuban cigars since this is still the U.S.).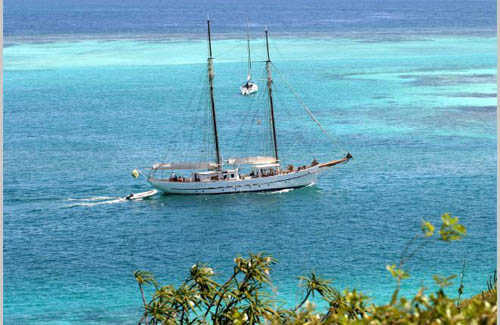 St Vincent & The Grenadines Tourist Office
Boating in the Grenadines
Why It's Tops: Yachties forever debate the merits of the British Virgin Islands versus the Grenadines for calm waters, exquisite anchorages, warm islanders, boisterous beach bars (such as Basil's on Mustique), and splendid diving and snorkeling (and beachcombing) at such spots as the deserted Tobago Cays. Sailing the Grenadines gives you the opportunity to try a different beach every day.
Courtesy Trinidad & Tobago Tourism Development Company Ltd
Why It's Tops: Trinidad is noted for Carnival, calypso, oil, and asphalt production—and bountiful birdlife. More than 200 species flutter flirtatiously through the Asa Wright Nature Centre, a glorious old plantation also home to bats and giant lizards. Flocks of scarlet ibis turn the mangroves at Caroni Bird Sanctuary into a Christmas decoration come sunset.
Courtesy Saint-martin Tourist Office
Eating Well in St. Martin
Why It's Tops: Few places rival the French West Indies for fine food and exotic ambience. One small St. Martin fishing village, Grand Case, has become the Caribbean's Restaurant Row. More than 40 eateries line the main beachfront drag, from humble lolos (shacks serving heaping helpings of creole fare at fair prices) to Michelin-worthy haute kitchens.
Courtesy Sandy Lane, Barbados
Why It's Tops: Jamaica and the D.R. feature several splendid layouts, but Barbados arguably offers even more superb golfing (albeit for more green) per capita, led by the fabled troika at Sandy Lane, including the Tom Fazio–designed Green Monkey (as mischievous as its name). It's hard to get a tee time unless you are staying at the toney resort, but the island has one of the Caribbean's best public courses, too, the Barbados Golf Club, which was redesigned in 2000.