Artifan/shutterstock
In the middle of an urban jungle, sometimes you need to find a moment of peace and quiet. At these amazing city parks, visitors can explore winding pathways, picnic in open green meadows, or wile away the afternoon next to a pond. But some parks are major attractions in their own right and offer more than just a place to take a break. From a Canadian wilderness retreat with wooded seaside pathways, to a colorful architectural mecca in one of Europe's most vibrant cities, these destinations give new meaning to the words "urban oasis." Here are our picks for the world's most beautiful city parks.—Emily Wasserman
Ross Kummer/Shutterstock
WHERE: Melbourne
Picturesque vistas and colorful tropical fauna make Melbourne's Royal Botanic Gardens one of the world's most stunning city parks. Spread over almost 100 acres, the gardens feature peaceful lakes and a diverse collection of 50,000 plants. Visitors can get an up-close look at camellias, cacti, roses, cycads, and exotic plants from southern China. The gardens are also home to native black swans and bellbirds, and guests can scope out cockatoos and kookaburras on guided nature tours. During the warmer months, the gardens transform into a cultural venue with alfresco theater performances and exhibitions.
PLAN YOUR TRIP: Visit Fodor's Melbourne Guide
nico99/Shutterstock
WHERE: Rome
As the largest landscaped public park in the city, Villa Doria Pamphili delights visitors with its elaborate architecture and intricate gardens. Originally the estate of a noble family, the expansive grounds feature neatly manicured gardens with clipped hedges and fountains. Wide gravel pathways are perfect for jogging, and antique statues and vases hearken back to an earlier era. Don't miss the "Arch of the Four Winds," a commemorative monument at the entrance to the park's sprawling grounds.
PLAN YOUR TRIP: Visit Fodor's Rome Guide
Thiago Leite/Shutterstock
WHERE: São Paulo
Often compared to New York City's Central Park, Ibirapuera Park is São Paulo's center of activity and recreation. Initially built in 1954 to commemorate the city's 400th anniversary, the park includes several buildings designed by renowned architect Oscar Niemeyer. Visitors can lounge on rolling lawns and take in the panoramic view of downtown. The park also features jogging and biking paths and bridges that overlook the water.
PLAN YOUR TRIP: Visit Fodor's São Paulo Guide
Mosley Images/Shutterstock
WHERE: St. Louis
It's easy to spend an entire day in Forest Park. Located on the outskirts of downtown St. Louis, the park boasts 1,300 verdant acres and five major cultural institutions, including an art museum, outdoor ice rink, and city zoo. Visitors can picnic on green hills or take a paddleboat ride through sparkling blue ponds. For those who prefer a more active itinerary, a dual path provides ample opportunity for running and biking.
PLAN YOUR TRIP: Visit Fodor's St. Louis Guide
© Ross Brinkerhoff / Fodor's Travel
WHERE: Paris
Footsteps from Paris's bustling Latin Quarter are the Luxembourg Gardens, one of the city's most peaceful retreats. The park's colorful flowerbeds and well-tended pathways are enough to attract visitors, but the sprawling landscape is also home to a number of attractions. In addition to French and English gardens, the park also boasts greenhouses with a breathtaking orchid collection and a blossoming orchard with apple and pear trees. If you have children in tow, consider catching a puppet show at the park's renowned marionette theatre or visiting the popular merry-go-round and swings.
PLAN YOUR TRIP: Visit Fodor's Paris Guide
© Vismax | Dreamstime.com
WHERE: Vancouver
Few places compare to Vancouver's Stanley Park: The 1,000-acre wilderness park is footsteps from downtown and attracts a regular crowd of locals and tourists. Visitors can walk, cycle, or Rollerblade along a seawall, or enjoy outdoor theater and cultural performances during the warmer summer months. Don't miss the park's forest trails and lakes. Park-goers can relax next to Beaver Lake, a peaceful body of water almost completely covered by water lilies, or explore Lost Lagoon, a glittering 41-acre freshwater lake.
PLAN YOUR TRIP: Visit Fodor's Vancouver Guide
T photography/Shutterstock
WHERE: New York City
New York's Central Park is a celebrity in its own right, making cameos in films and television shows. Beyond the silver screen, the park offers visitors an escape from the city's hustle and bustle. Guests can wander down meandering pathways, lounge in open meadows, or take an afternoon break near peaceful lakes. Stop by Strawberry Fields, a flowering English landscape that pays homage to John Lennon, or climb the majestic stone steps to Bethesda Fountain, an ornate, three-tiered structure that sits alongside the lake.
PLAN YOUR TRIP: Visit Fodor's New York City Guide
Artifan/shutterstock
WHERE: San Diego
Stepping into Balboa Park feels a little like entering the pages of a storybook. The park's captivating architecture, sparkling fountains, and sprawling courtyards enchant visitors and keep locals coming back for more. Explore Florida Canyon's rustic desert landscape or walk eastward to see the park's well-tended Rose Garden. The California Building, the park's 200-foot tower, features a majestic blue-tiled dome and a 100-carillon bell that tolls the hour.
PLAN YOUR TRIP: Visit Fodor's San Diego Guide
By 663highland [CC-BY-SA-3.0 or CC-BY-2.5], via Wikimedia Commons
WHERE: Tokyo
Located in the heart of Tokyo is Hibiya Park, the city's green oasis. Originally the palace grounds of a feudal lord, the park has since transformed into a bustling cultural center and peaceful urban retreat. Visitors can enjoy musical performances in open-air concert halls or take a stroll through peaceful gardens. The park's flowerbeds bloom year-round and guests can get an up-close look at delicate cherry blossom trees or colorful rose bushes.
PLAN YOUR TRIP: Visit Fodor's Tokyo Guide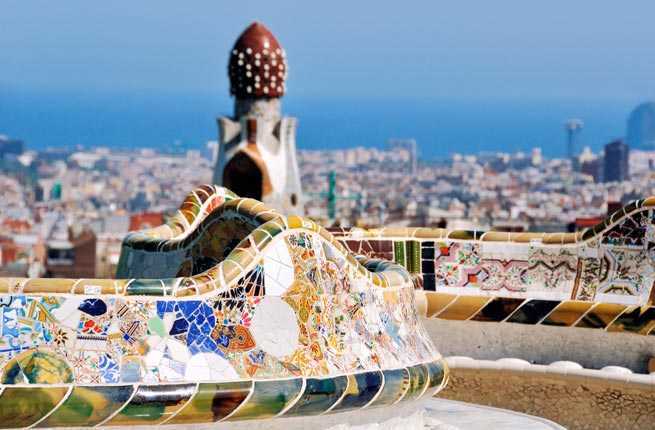 Madrugada Verde/Shutterstock
WHERE: Barcelona
Barcelona's Parc Güell isn't your average urban retreat; designed by world-renowned architect Antoni Gaudì, the park features vibrant, colorful architecture and peaceful vistas that overlook the city. Art Nouveau gingerbread gatehouses stand at the entryway, and visitors can lounge on a whimsical, serpentine bench that snakes along the main square. Climb to the top of the hill for a panoramic view of the bay or explore the park's vaulted colonnades and sloping columns by foot.
PLAN YOUR TRIP: Visit Fodor's Barcelona Guide
(c) Merkuri2 | Dreamstime.com
WHERE: Los Angeles
For a welcome retreat from Los Angeles's urban jungle, stop by Griffith Park. The 4,200-acre property is the country's largest municipal park and urban wilderness area, and is a favorite among visitors and tourists. Look out over the sparkling L.A. skyline at the Griffith Observatory or explore the park's rugged hills and remote corners by foot. Mount Hollywood, one of the park's most popular attractions, offers views of the Pacific Ocean and an up-close look at the world-famous Hollywood sign.
PLAN YOUR TRIP: Visit Fodor's Los Angeles Guide
(c) Ivgalis | Dreamstime.com
WHERE: Stockholm
Stockholm's Royal National City Park brings nature to the city. The verdant grounds form a six-mile arc and boast a variety of wildlife including deer, hares, elk, and rare birds. Spend an afternoon exploring one of the island's museums or castles, or take a horseback ride down one of the park's scenic riding trails. Visitors can picnic under the trees or take a leisurely stroll next to the canals.
PLAN YOUR TRIP: Visit Fodor's Stockholm Guide
Alistair Michael Thomas/Shutterstock
WHERE: Bangkok
Sparkling lakes and cultural events make Lumphini Park one of Bangkok's most popular attractions. Located in the heart of the city's business district, the park provides an oasis from the daily grind and features open public spaces, trees, and peaceful bodies of water. Rent a rowboat and spend an afternoon on the lake or take a jog around the park's winding paths. During dry season, listen to classical and Thai oldies at the annual music in the park festival.
PLAN YOUR TRIP: Visit Fodor's Bangkok Guide
Rafael Ramirez Lee / Shutterstock
WHERE: San Francisco
San Francisco's Golden Gate Park offers something for everyone. The 1,000-acre grounds stretch from the city's popular Haight-Ashbury neighborhood all the way to the Pacific coast, and include a diverse mix of woods, trails, colorful gardens, and museums. Stop by the Conservatory of Flowers to explore a world-renowned collection of rare, tropical plants, or head to the western section of the park for a look at antique windmills and tulip gardens. The Japanese Tea Garden, one of the park's most popular attractions, features regal statues and lanterns and a peaceful, azalea-covered waterfall.
PLAN YOUR TRIP: Visit Fodor's San Francisco Guide
QQ7/Shutterstock
WHERE: London
Originally built as Henry VIII's hunting grounds, London's Hyde Park still retains much of its historic charm. Visitors can watch guardsmen in full regalia leaving for duty at Buckingham Palace or take a horseback ride down one of the park's bridle paths. A visit to the park isn't complete without a trip to the Serpentine Boat House; rent a paddleboat or rowboat to explore the park's twisty lake, or relax with a picnic near the shore.
PLAN YOUR TRIP: Visit Fodor's London Guide