Alexplepler/Dreamstime.com
The natural world can be pretty spectacular, but what we see on the surface isn't even the half of it. Deep underground, hidden away in mountain caves, or submerged underwater is where you'll find some of the world's most awe-inspiring natural wonders. From giant crystals to glowworm-illuminated crevasses, there are truly miraculous sights just waiting to be explored. These are 10 of our favorite natural discoveries.
By Amanda Oppold
Alexander Van Driessche via Wikimedia Commons
WHERE: Mexico
Cave of the Crystals was discovered in 2000 when two miners followed a seam of silver until it broke into this vast cavern. There, they found the world's most magnificent crystal formations. The largest crystals here are thought to be 600,000-years-old, weigh 55 tons, and extend some 36 feet . Located on a fault line, this limestone cavern and its crystals were created due to close proximity to magma, which makes temperatures within average 112 degrees Fahrenheit with 90 to 100 percent humidity. Unfortunately because of this debilitating heat the caves are not widely open to the public, unless you happen to have a connection or can secure a permit from the mining company. Take a virtual tour with the BBC's footage from inside.
Nzeemin via Wikimedia Commons
WHERE: Perm, Russia
Delve deep into the Ural Mountains for a magnificent array of over 120 ice formations and frozen natural wonders. Multiple tourist routes let visitors experience the cave's many icy attractions and soak up its historic roots by learning about two ancient settlements that once existed on Ice Mountain. Dante's Grotto features sinister red spotlights shone on deep crevices of ice, while the Peoples' Friendship Grotto has a large underground lake. Book a travel service to enjoy a guided tour of the cave complete with historical tales and exciting myths.
PLAN YOUR TRIP: Visit Fodor's Russia Guide
Wildfeuer via Wikimedia Commons
WHERE: Werfen, Austria
Enter this "World of the Ice Giants" to experience the most magnificent and largest ice cave. Created nearly 100 million years ago, the ice formations continue to change today as the seasonal temperatures freeze and melt the ice into fantastic shapes. Officially discovered in 1879, the caves were known before then by locals who wouldn't explore the caves because they considered it an entrance to Hell. Tours of the cave today cover the equivalent of a 40-story building and include 1,400 steps. You'll see the "ice organ" with icicles that form a glistening curtain, and examine the Mork glacier that shows the ice layers like the rings of a tree.
PLAN YOUR TRIP: Visit Fodor's Werfen Guide
WHERE: Waitomo, New Zealand
Float through a magical glowing subterranean wonderland in Waitomo Caves. The caves' magic comes from the ceiling which is illuminated by the light of thousands of glowworms, whose brightness is reflected in the water as well. While on the tour you'll enjoy a tranquil boat ride and see Waitomo Cave's Cathedral where many famous performers have reveled in the outstanding, natural acoustics. Get a hands-on adventure with the Black Water Rafting Co.'s Black Labyrinth tour where you'll scramble over rocks, tube down a river, and leap over waterfalls during your journey through the glowworm caves.
PLAN YOUR TRIP: Visit Fodor's Waitomo Guide
Tt/Dreamstime.com
WHERE: Staffa, Scotland
Imposing, impressively neat hexagonal basalt columns compose the entrance of Fingal's Cave. It's almost impossible to believe that the cave's pillars are natural wonders as they present such smooth, square corners and lines they appear sculpted by a giant. The cave's mysterious beauty was inspirational enough for Mendelssohn, William Wordsworth, John Keats, Tennyson, and Queen Victoria to visit. Be inspired yourself by traveling to the small, uninhabited island of Staffa and climbing into the cave column by column where you'll hear the echoes of waves crashing upon the columns.
PLAN YOUR TRIP: Visit Fodor's Iona Guide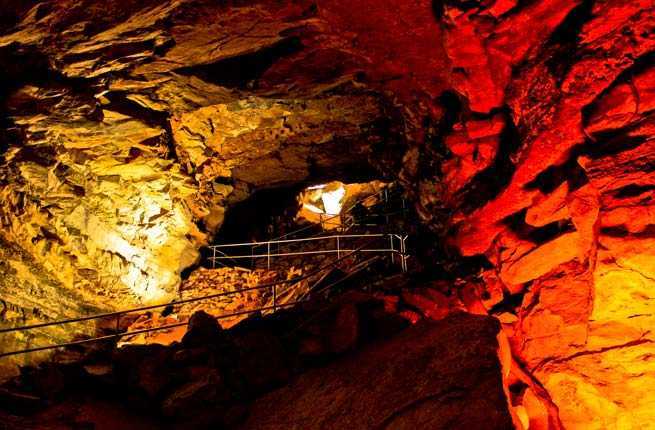 Zhuxi1984/Dreamstime.com
WHERE: Mammoth Cave, Kentucky
As the world's longest cave system, Mammoth Cave offers vast chambers and extensive labyrinths. The cave's human history spans back thousands of years to the Native American culture that mined it 4,000 years ago for gypsum and other minerals. While exploring the cave, notice that the specially-adapted cave fish do not develop eyes. There are some 70 other threatened or endangered species that call this national park home. With a variety of tours for all adventure, skill, and age levels, any visitor can explore the historic cave.
PLAN YOUR TRIP: Visit Fodor's Kentucky Guide
Serjio74/Dreamstime.com
WHERE: Chile Chico, Chile
Smooth walls and arching caverns reflect the shimmering blue of Lake General Carrera as it twists through the Cuevas de Mármol (the Marble Caves) that lie on the border of Chile and Argentina. Accessible only by boat, tourists can take a 30-minute tour through the caves to wonder at the majestic arches and turquoise caverns that have been formed by the lake's incessant pounding on the marble over thousands of years. Varying stripes of different-hued marble creates an incredible natural masterpiece as you float through the tranquil, aquarmarine setting.
PLAN YOUR TRIP: Visit Fodor's Chile Guide
Alexplepler/Dreamstime.com
WHERE: Israel
Twisting stalagmites and tapering stalactites abound in incredible shapes and formations in Avshalom Cave. Over thousands of years the water flowing from the ceiling to the floor of this Israeli cave has created some spectacular natural designs. Areas of the cave resemble melting candle wax and underwater coral formations. Only a short drive from Jerusalem, the cave is open year-round and tours are held every day but Friday. Some unique formations have been given names like sombrero and Moses, but many other forms can be imagined in the twisting wonders of this cave.
PLAN YOUR TRIP: Visit Fodor's Israel Guide
Maximovich Nikolay via Wikimedia Commons
WHERE: Russia
Plumb the mysterious depths of the world's greatest gypsum cave located underwater beneath the Ural Mountains. The incredibly clear water that flows through the many chambers allows divers to see over 50 yards ahead of them, the better to examine the unique underwater formations. Intrepid divers wishing to explore this cave should contact experienced divers of the Orda Cave Awareness Project. For those unable to make the dive, check out the dive video that shows the clarity and scope of this underwater marvel.
PLAN YOUR TRIP: Visit Fodor's Russia Guide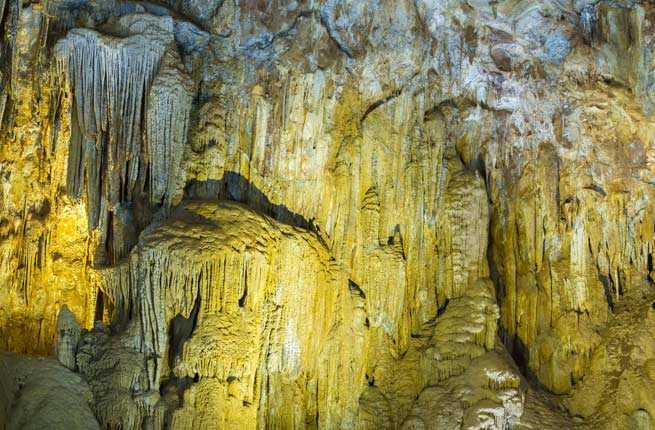 Micha Klootwijk/Dreamstime.com
WHERE: Vietnam
First officially explored in 2009, this Vietnamese cave system, near the border of Laos, still holds many unknown wonders. With over 5.5 miles of tunnels and chambers, a jungle, a river, and ceilings high enough to fit a 40-story skyscraper, this is truly a world wonder. Parts of the cave's roof collapsed centuries ago, allowing a jungle to crop up inside the depths, today monkeys and flying foxes live in this lush environment. Visitors will also see rare cave pearls, which are created when water drips and dries on grains of sand. In most caves these pearls are the size of marbles, but in Son Doong they're baseball-size. Step back in time and explore untold wonders at this impressive locale.
PLAN YOUR TRIP: Visit Fodor's Vietnam Guide