(c) Dgmate | Dreamstime.com
As the saying goes, sometimes it's the journey, not the destination, that matters. When it comes to venturing like the locals in different parts of the world, , this old adage becomes a heartfelt mantra. From jeepneys in the Philippines to tuk tuks in India, cruising around roads less traveled on these vehicles leaves us with more memories than bruises, despite the bumps and jolts along the way. Even if we don't make it to our destination, there's freedom in simply going along for the ride. Here are just a few of our favorite forms of transportation across the world.—Marlise Kast-Myers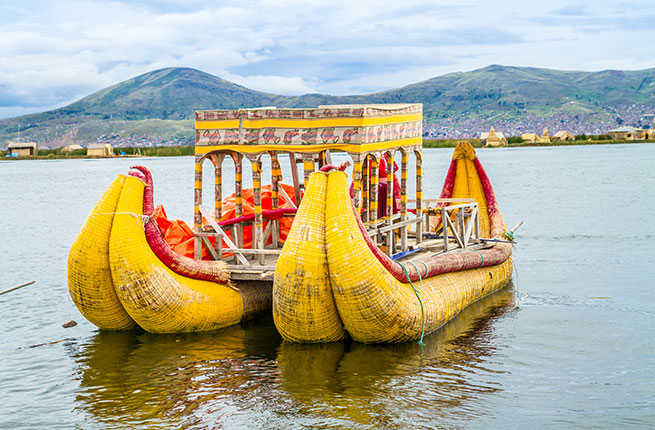 (c) Pxhidalgo | Dreamstime.com
Smokers should avoid these flammable reed watercrafts found in parts of Ethiopia, Peru, and Bolivia. While baby Moses was technically the first "sailor" set adrift on a reed boat, the oldest remnants date back 7,000 years to a boat on Failaka Island, Kuwait. Today fisherman either straddle or tuck into the reed canoes that can be up to 100 feet in length. To get your totora fix, head to Lake Titicaca's floating reed islands, handmade entirely by the indigenous Uros people of Peru and Bolivia.
(c) Phuongphoto | Dreamstime.com
Too tired to pedal on vacation? These three-wheel bike taxis in Southeast Asia let you sit back, relax, and pay someone to do the sweating for you. Designed with plush bucket seats—cradled in front of the driver—you can reminisce about simpler days when you were pushed in a stroller. Some even have fringed canopies, allowing you to photograph passing sites without any glare. Though there's generally just space for one person, you can squeeze side-by-side with a companion, but expect to pay (and tip) double price.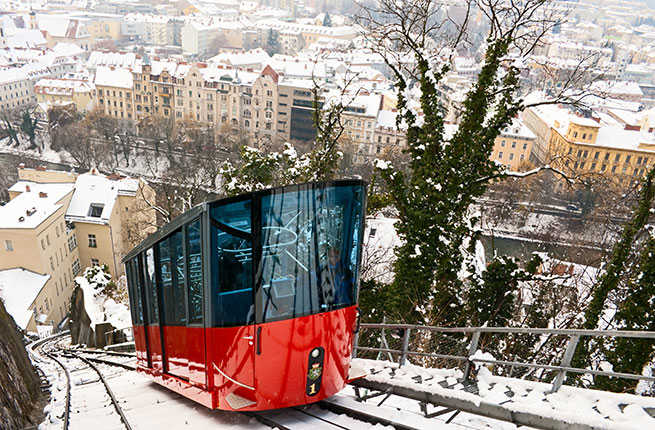 (c) Irakite | Dreamstime.com
These cable trams climb steep slopes by way of pulleys on railways. Similar to an elevator on a slope, they're common in parts of Europe like Switzerland, Austria, France, and England. Modern versions of funiculars can be found in Italy, Hong Kong, Turkey, and Malaysia.
jaume / Shutterstock
Fasten your seatbelt! . . . Nevermind, there aren't any on these three-wheeler taxis, which are essentially just sheet metal on wheels. The vehicles have different names depending on where you're riding:, from "rickshaws" in India, to "Bajays" in Indonesia. You'll also find them putting around Pakistan, Sri Lanka, Africa, Cambodia, and other parts of Southeast Asia. Open frame cabins have either a tin or canvas roof (more for shade than safety). When your driver takes a turn, hang on tight, especially in India where cows and tuk tuks rule the road.
R.M. Nunes / Shutterstock
Appropriately named, these symbols of Thailand are sleek and slender in design, enabling trips down even the most narrow canals. Today, they're commonly used to transport passengers between islands and bays, but it's the motor (rather than the look) that makes them truly unique—not to mention annoyingly loud. Perched on the tails are automotive engines removed from old cars and trucks. Rusty propellers drop into the water and spin at high speeds, so board from the front, unless you're in need of a fast and cheap pedicure.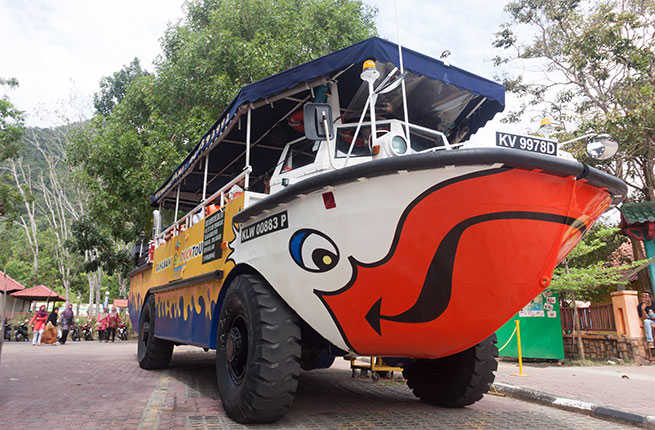 (c) Teerapon1979 | Dreamstime.com
Can't quite make up your mind between a tour by land or sea? You can have the best of both worlds with these boats on wheels. While there are nearly a dozen variations—including hovercrafts and military tanks—cities like San Diego are capitalizing on the dual-purpose Hydra-Terras to combine historical sites with marine excursions.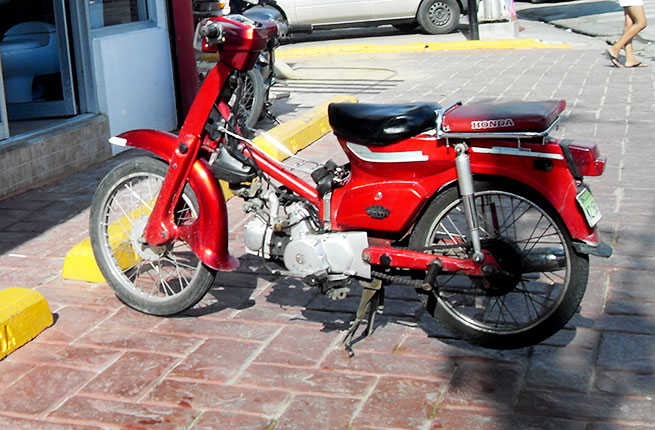 Juan Espaillat via WIkimedia Commons, [CC BY 3.0]
It truly is a ballet of mopeds in Vietnam, where hundreds of scooters—often five people deep, plus a live hog—merge together in a web of traffic approaching from 10 different directions. The miracle is in the chaos, as everyone seems to know what's going on despite the lack of order. If you're too afraid (or too smart) to rent a moped in Vietnam, it's worth watching the magic happen from a street corner in Hanoi, Hue, or Ho Chi Minh.
When in Dominican Republic, flag down a motoconcho (motorcycle taxi) for a fast and affordable lift to the beach. Be careful when straddling the motorbike, astravelers often burn their legs on the exhaust pipe and are painfully branded with what's called a "Dominican tattoo."
(c) minnystock | Dreamstime.com
Romance is at an all-time high when you travel by gondola, a flat-bottomed rowboat propelled by a sculling (and often singing) gondolier. Some of the best gondola experiences can be found in Giethoorn in the Netherlands, Suzhou in China, and of course Venice, Italy, where the boats push through narrow waterways shadowed by stone bridges. When in Venice, budget travelers can opt for a row on a traghetto, a more affordable means to cross the canals.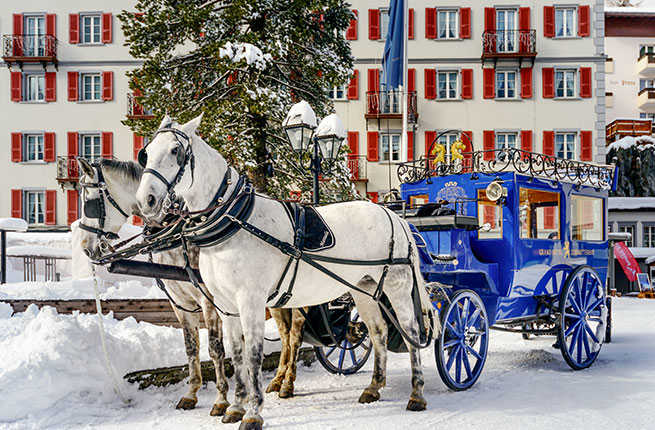 cornfield/Shutterstock
You don't have to live in the 18th century to travel by horse-drawn carriage. Vehicle-free destinations like Mackinac Island in Michigan, Sark island in the Channel Islands, and Zermatt in Switzerland still rely on horse and buggy to pull people around town. These 4-wheel carriages, hitched to one or two horses, were rolled out as "roadsters" (with two wheels) and "stanhopes" (with high seats and closed backs).
(c) Fazon1 | Dreamstime.com
Hang onto your cheeks when riding this high-speed train in Shanghai, considered to be the fastest commercially operating train in the world. As one of only three magnetic levitation lines in existence (the other two in Japan and Korea­­) the train's magnetic propulsion makes for a smooth ride without ever touching the tracks. It can easily top 300 mph, and first opened in 2004 as a means to connect Shanghai Pudong International Airport to central Pudong­­—a 19-mile stretch in less than seven minutes. How's that for a commute?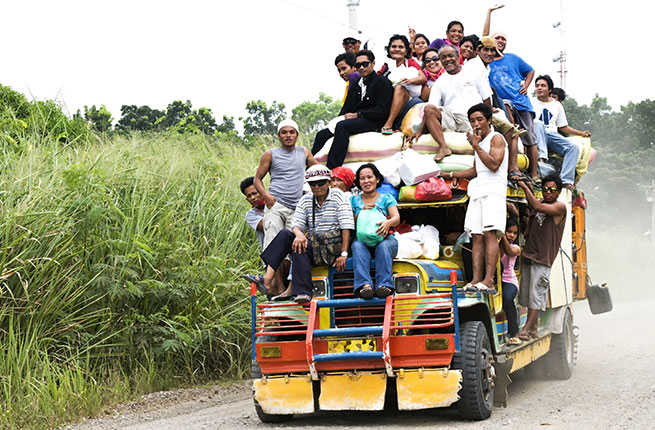 (c) Dgmate | Dreamstime.com
It's almost wrong to visit the Philippines and not cruise in a low-rider Jeepney—a cross between a jeep and a bus, but with a lot more character. As a national symbol, they're essentially traveling discos, full of color, lights, and music. Converted from the hundreds of jeeps abandoned by Americans after World War II, locals retrofitted and decorated the cars with ornaments and vertical padded benches, making it easy to hop on and off.. Belching exhausts and mechanical safety aside, these vibrant vehicles are the most unique, affordable, and common method of transportation in the country.