When you think of late-night fun, chances are clubs in big cities like New York, Berlin, or Miami come to mind. And while it's true that there are plenty of up-all-night diversions in those locales, there are also plenty of alternative evening adventures awaiting travelers, both in cities and outside of them. We've rounded up some of our favorite after-dark activities around the world—from exploring a bioluminescent bay in Vieques to snacking at the Angkor Night Market in Cambodia—that will spike your adrenaline and give you nights to remember.
By Abbey Chase
Puerto Rico Tourism Company
Bioluminescent Bays
WHERE: Vieques, Puerto Rico
When the Spanish first encountered Puerto Mosquito in Vieques, they attributed the underwater neon-blue lights to the work of the devil; a more plausible explanation attributes the phenomenon to dinoflagellate, a microorganism that glows in response to movement. We can thank the Spaniards, who blocked off the entrance of the bay in an attempt to drive out evil spirits, for preserving the unique ecological environment in Puerto Mosquito. Visitors to Vieques can experience the bioluminescent bay by booking a kayak tour after dark (several companies operate in the area; try Kayaking Puerto Rico). Plan to visit on a night with no moon, so as best to see the lights in the shallow bay waters.
PLAN YOUR TRIP: Visit Fodor's Puerto Rico Travel Guide
Rick Whitacre / Shutterstock
Yosemite Moonlight Tour
WHERE: California
See Half Dome, El Capitan, Yosemite Falls, and Bridalveil Fall against a backdrop of the unpolluted night sky on a Yosemite Valley Moonlight Tour. The two-hour tour takes visitors through the valley floor in an open-air tram, giving you plenty of opportunities to snap a picture of the moonlight reflecting off El Capitan's granite walls. The after-hours tour of Yosemite Valley is held during full moon nights and the four days leading up to the full moon during select months of the year (typically April/May through September/October). During the winter months, Yosemite offers additional after-dark programs, including snowshoe tours.
PLAN YOUR TRIP: Visit Fodor's Yosemite National Park Travel Guide
Courtesy of Petra Development and Tourism Region Authority
Petra by Night
WHERE: Petra, Jordan
The UNESCO World Heritage Site in the Ma'an governorate dates back as far as the second century B.C. and once served as the capital city of the Nabataeans during the Hellenistic period. The stunning structures of Petra, carved into the red sandstone walls, are the country's most-visited tourist attraction, so sign up for the guided Petra by Night excursion to avoid at least some of the crowd. The walk through the Siq, lit by 1,500 candles and the moonlight, is a unique way to experience the ancient city, culminating at the iconic Treasury building. If you find yourself in a big group, linger at the back to avoid chatter and have the walk to yourself.
PLAN YOUR TRIP: Visit Fodor's Jordan Travel Guide
Alison Taggart-Barone, Parks Conservancy
Alcatraz Night Tours
WHERE: San Francisco, California
To avoid the crowds and enjoy the stunning view of San Francisco after dark, book a night tour of the infamous prison. Watch the sun set over the city as you circle the island, before a guided tour takes you around the prison building and into the cellhouse. After, an audio tour with recordings from former inmates lets you explore the eerie prison after-hours, and you can participate in several special programs offered only in the evenings. This tour is one of the city's most popular attractions, so be sure to book well in advance (tickets are sold 90 days ahead of time).
PLAN YOUR TRIP: Visit Fodor's San Francisco Travel Guide
WaterFire Providence / James Turner
WaterFire Providence
WHERE: Providence, Rhode Island
Barnaby Evans' sculpture in Providence's Waterplace Park is an art installation, performance piece, and community event rolled into one. During select dates from May through December, more than 80 braziers light up the Woonasquatucket, Moshassuck, and Providence Rivers that flow through the city's downtown on select evenings, creating a multi-sensory experience combined with the aromatic wood smoke and global music selections. WaterFire is put on free for the public by WaterFire Providence, a local non-profit arts organization.
PLAN YOUR TRIP: Visit Fodor's Providence Travel Guide
kavalenkava volha / Shutterstock
Prague Ghost Tours
WHERE: Prague
An already spooky city with a distinct Grimms' fairytale vibe, Prague comes alive when the sun goes down, with a wide variety of local ghost stories, real and fictitious, to add to the ambiance. Skip the clubs and head out for an evening tour of the city to learn about the many spirits that haunt Prague's streets, from the story of the Golem, to legends of Templar Knights. There are several different companies offering ghost tours of the city, many of which sell tickets around Old Town Square in the afternoon. Mysterium Tour Prague leads a particularly good tour of Old Town, and McGee's Ghost Tours offers a Prague Castle After Dark excursion for a look at the city's iconic landmark.
PLAN YOUR TRIP: Visit Fodor's Prague Travel Guide
withGod / Shutterstock
Angkor Night Market
WHERE: Siem Reap, Cambodia
The first night market in Cambodia, the Angkor Night Market opened its doors in 2007 with the intent to showcase and preserve traditional handicrafts made by the Khmer people, the largest ethnic group in Cambodia. The market has more than 150 stalls, with plans to increase to 250, selling clothing, silk paintings, carvings, and a selection of sustainably produced goods made from recycled materials. A fun place to stroll around, the stalls are worth a visit even if you're just window-shopping, but be prepared to haggle if you decide to buy something. Alternatively, head to the Island Bar and spend the evening people watching with a cocktail in hand.
PLAN YOUR TRIP: Visit Fodor's Siem Reap Travel Guide
Keystone Resort / Bob Winsett
Night Skiing
WHERE: Keystone, Colorado
If you can brave the cold, there's no better adrenaline-pumping way to spend the evening than on the slopes at Keystone Resort. Watch the sun set over the Rockies at the Summit House before enjoying the (usually) crowd-free runs with lifts open until 8 p.m. Keystone's self-proclaimed "longest ski day in the state of Colorado" runs from late November through early April (check Keystone's lift schedule for exact dates). The mountain's Adventure Point tubing hill is also open for select night runs during the season.
PLAN YOUR TRIP: Visit Fodor's Colorado Travel Guide
Courtesy of Ziptrek Ecotours
Night Ziplining
WHERE: Whistler, British Columbia
For a heart-stopping, après-ski adventure, head north for Whistler's Ziptrek Twilight Tour. Platforms perched 150 feet up in the forest's canopy help launch zip-liners up to 50 miles per hour through the wooded terrain, strung with twinkling lights to help guide your way. Heated and sheltered platforms will keep you warm as you zip through the night, outfitted only with a headlight to help preserve the tranquil environment. The Ziptrek Zone is located between Whistler and Blackcomb Mountains, and you'll find Ziptrek Ecotours' guest services desk at the Carleton Lodge in the heart of Whistler Village.
PLAN YOUR TRIP: Visit Fodor's Whistler Travel Guide
Stargazing
WHERE: Utah
Stargazing is the ultimate after-dark activity and Bryce Canyon National Park is one of the best places to see the light-pollution-free night sky. The park employs a group of Astronomy Rangers to help guests spot Venus, Jupiter, the Andromeda Galaxy, and as many as 7,500 stars on a moonless night, with Bryce Canyon's iconic red rock hoodoos providing a vibrant foreground. For the ultimate night-sky experience, head to Utah during the Annual Astronomy Festival for a series of speakers and workshops, followed by four nights under the stars. Also look for the semi-monthly full moon hikes offered year-round.
PLAN YOUR TRIP: Visit Fodor's Bryce Canyon National Park Travel Guide
Manta Ray Night Dives
WHERE: Kona, Hawaii
Not for the faint of heart, night diving is the best way to see Kona's famous manta ray population. Plankton are attracted to underwater light sources at night, luring the rays out in large numbers to feed. Divers will be able to view the manta rays from below, submerged 25 to 35 feet, while snorkelers can watch from above. Manta rays are some of the more illusive species of sea life, and while there are no guaranteed sightings, Kona offers one of the best places to see the rare fish. Kona Honu Divers is one of the best companies in the area, offering one- and two-tank dives.
PLAN YOUR TRIP: Visit Fodor's Kailua-Kona Travel Guide
Courtesy of Chichele Presidential Lodge – Sanctuary Retreats
Night Safari
WHERE: Zambia
The South Luangwa National Park in eastern Zambia is one of the most concentrated areas of wildlife in Africa, with 60 different animal species congregating around the Luangwa River. With the exception of the rhinoceros, which has been poached into extinction in the area, you'll have the chance to see all the big five game animals, as well more than 400 species of birds and a large hippopotamus population. The Sanctuary Chichele Presidential Lodge, one of the park's premiere hotels housed in a converted grand colonial home, offers night game drives through the park; a rare find among African safaris, but one of the best ways to see the animals.
PLAN YOUR TRIP: Visit Fodor's Zambia Travel Guide
Northern Lights Viewing
WHERE: Norway
No nocturnal spectacle offers up a jaw-dropping display quite like the aurora borealis. The green, pink, and violet streaks across the sky occur when particles from large solar explosions collide with the Earth's magnetic field, creating a vibrant atmospheric display. The lights occur most frequently between the autumn and spring equinoxes, when darkness falls around 6 pm, providing maximum exposure. The Lofoten and Svalbard Islands are the best places to see the lights, ideally on a night with little moonlight. If you're looking for something to do while you pass the time, book a snowmobile safari in Alta.
PLAN YOUR TRIP: Visit Fodor's Norway Travel Guide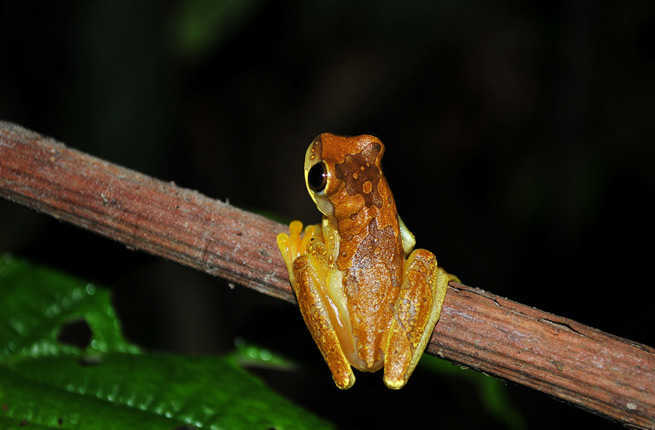 Courtesy of Anywhere Costa Rica
Night Hikes
WHERE: Costa Rica
Despite surrounding the Arenal Volcano, one of the most active volcanoes in Costa Rica, this area's rainforest is teeming with life, but because more than 60 percent of the forest's animals are nocturnal, you'll have to be willing to stay up late to see some of the amazing wildlife. Anywhere Costa Rica offers two different night hikes (and a safari float) through the rainforest, with the chance to see many different types of frogs and snakes, nesting birds, bats, caimans, and, on a good night, sloths and other large mammals.
PLAN YOUR TRIP: Visit Fodor's Costa Rica Travel Guide
Firefly Viewing
WHERE: Tennessee
It only lasts for two weeks every year, but firefly season at Great Smoky Mountains National Park is an enchanting natural display. Different species produce shades of green, yellow, and blue bioluminescent light as part of their mating displays, resulting in a stunning, unexplainably synchronized light show. The two-week spectacle varies by year, usually occurring at the end of May and in early- to mid-June. For the best display, head out on a warm, dry night and leave anything with a backlight in the car.
PLAN YOUR TRIP: Visit Fodor's Great Smoky Mountains National Park Travel Guide