As biking grows in popularity every year, cities around the country are increasingly making their streets safer and more accessible for cyclists. As a result, it's easier than ever for both residents and travelers to pedal around, thanks to a proliferation of bike-sharing programs and cycling-friendly street lanes and pathways. Riding a bike is, of course, one of the great ways to explore a new destination, a preferable alternative to riding around in cars or hopping on a subway. With natural scenery and skylines to boot, here are the 10 best cities for biking in the U.S.
By Zachary Laks
Harry H Marsh / Shutterstock
Portland, OR
Known for its alternative lifestyle and emphasis on all things green, Portland is a biker's haven where cycling accounts for more than 6 percent of daily commutes (10 times the national average). Government-instituted programs encourage biking throughout the city, with comprehensive maps of each section. The best place to start is the Vera Katz Eastbank Esplanade at the Steel Bridge, which hovers over 1.5 miles of the banks of the Willamette River. Breeze along the river as you take in the city's skyline and the colorful street art that defines Portland.
Insider Tip: Stop by Velo Cult Bike Shop, the watering hole for cyclists that sells and services bikes as well as features local beers on tap and freshly brewed coffee.
PLAN YOUR TRIP: Visit Fodor's Portland Guide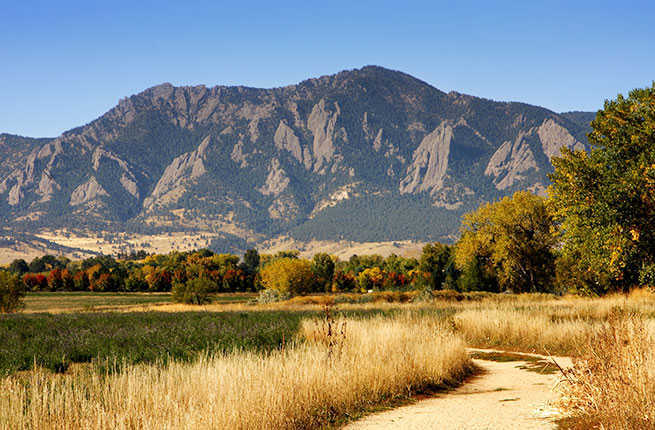 Nelson Sirlin / Shutterstock
Boulder, CO
With an average of 300 days of sunshine a year and 200 miles of hiking and biking trails, Boulder is built for the outdoor types. Yet biking has also become a practical mode of transportation, since the city has made an effort to build 74 bike and pedestrian underpasses (and counting) on busy roads to maximize safety and swift rides. For the best biking experience in town, head to Valmont Park, a 40-acre bike mecca for riders of all skill levels. The area is complete with dirt jump tracks, playgrounds for children, and even a tricycle track.
Insider Tip: Start your cycling day off right with breakfast at local favorite Snooze Eatery, which serves up specialties, such as chilaquiles Benedict and breakfast pot pie.
PLAN YOUR TRIP: Visit Fodor's Boulder Guide
Rudy Balasko / Shutterstock
Minneapolis, MN
There's no better way to explore the City of Lakes than on two wheels. Granted $25 million dollars by the Federal Highway Administration, Minneapolis is currently in the process of expanding its already comprehensive biking infrastructure. Cruise over to Cedar Lake Trail, the country's first-ever bicycling freeway; this 4.57-mile wooded trail connects the western suburbs with downtown Minneapolis along the former rail lines of the Great Northern Railway. Be sure to stop by the One on One Bicycle Studio where cycling is a way of life.
Insider Tip: Stop for a bite to eat where the local bikers congregate. At Pizza Luce, the baked potato pizza is a must, along with their hoagies.
PLAN YOUR TRIP: Visit Fodor's Minneapolis Guide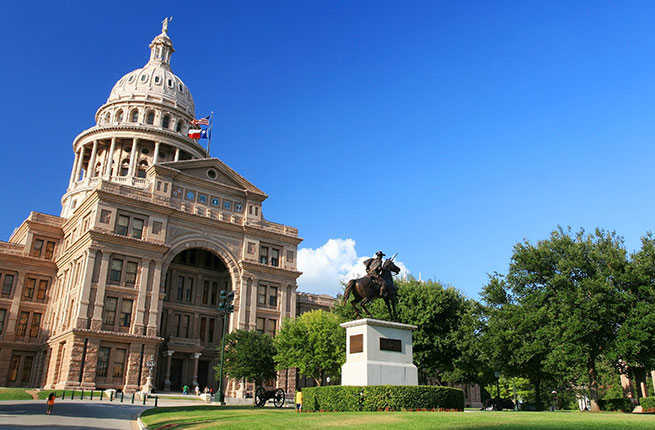 Blanscape / Shutterstock
Austin, TX
With 35 miles of freshly minted bikeways built in 2011, Austin is easily accessible for cyclists. Start your ride at the Rio Grande Roadway, which runs through downtown from Martin Luther King Drive to 24th Street. There, special cycle tracks have been constructed with a physical barrier in between the automobile traffic and the biking lane, to optimize safety. From the Rio Grande Roadway, spin down along the Colorado River on the new Lance Armstrong Bikeway, one of the best ways to see the city.
Insider Tip: Check out austincycling.org's incredible, customized Google Map that displays bike stops, routes, and shops that make this city a bikers' paradise.
PLAN YOUR TRIP: Visit Fodor's Austin Guide
Dancestrokes / Shutterstock
San Diego, CA
Sunny San Diego's Pacific coast and tropical weather make for the perfect cycling conditions. The Bayshore Bikeway is a 25-mile ride along the perimeter of the San Diego Bay with its own designated bike lane. Start at Embarcadero downtown and head south, hugging the bay until you reach the charming Coronado Island, known for its fice-star resorts. Continue onto the Silver Strand, a 10-mile ride that runs parallel to Imperial Beach and the bay.
Insider Tip: Pedal on over to The Old Globe Theater, one of the best regional playhouses in the country, home to new plays and musicals as well as classics. It's the perfect way to relax after a day of outdoor exploring.
PLAN YOUR TRIP: Visit Fodor's San Diego Guide
welcomia / Shutterstock
Chicago, IL
Pedal around on one of Chicago's numerous, comprehensive bike routes. With their year-old bike-share system, Divvy, Chicago has opened 75 stations throughout the city, with 750 bikes available for rental by the half-hour. With over 200 miles of street bike lanes, many of them protected with buffers from automobile traffic, detailed city maps identify which routes are best for bike travel. The finest biking in the city is along mammoth Lake Michigan on Chicago Lakefront Trail. Stretching 18.5 miles along the fresh water coast, this path brings riders close to Chicago's historical landmarks, including the Field Museum, Soldier Field, and Navy Pier.
Insider Tip: Seek out the local favorite sandwich chain Potbelly Sandwich Shop for a toasted sub sandwich and their delicious pickles. Favorites include the "wreck" and the meatball sub.
PLAN YOUR TRIP: Visit Fodor's Chicago Guide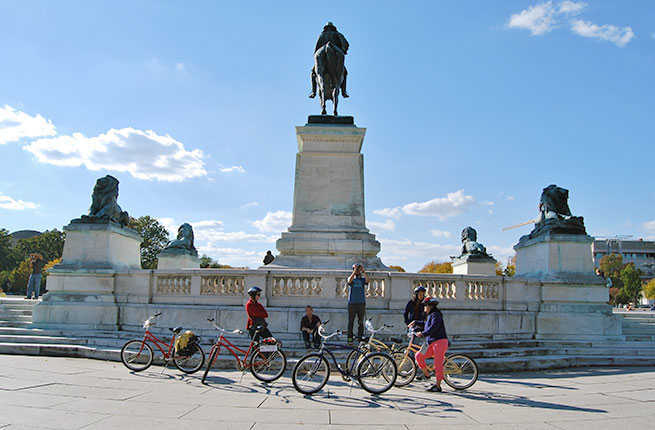 Lissandra Melo / Shutterstock
Washington, DC
The nation's capital is home to some of the most iconic landmarks in the country and hundreds of miles of bike trails. Start out at the most popular site early in the day: the National Mall. Here you can enjoy a two-mile ride from the U.S. Capitol building to the Lincoln Memorial. On the way, you'll find the Washington Monument, the World War II Memorial, the Thomas Jefferson Memorial, and the new Martin Luther King, Jr. Memorial. If you're looking for something a little more relaxed, head out of the city on a cycling excursion to the Mount Vernon Trail to visit George Washington's Estate. This 36-mile path is paved to provide a smooth ride with gorgeous views.
Insider Tip: D.C.'s Capital Bikeshare program is the fastest, easiest way to rent a bike with over 2,500 vehicles from 300 stations throughout the city.
PLAN YOUR TRIP: Visit Fodor's Washington, D.C. Guide
Joao Virissimo / Shutterstock
Tuscon, AZ
A bikers' city with dozens of associations dedicated to the sport, Tuscon is home to both competitive and leisure cyclists. Dry weather year-round makes it easy to take advantage of 500 miles of on-street metro bike lanes throughout the city. For a nice morning trip through the city's highlights, opt for the 34-mile McCain Loop, which begins at the University of Arizona and traverses the majestic Gates Pass and Saguaro National Park before heading to downtown Tuscon and ending at Tuscon Mountain Park. For something completely unique, check out the zany Arizona Party Bike, a one-of-a-kind, 14-person pedal-powered group bike.
Insider Tip: There's a public bicycle garden, Campbell Avenue, just south of Sixth Street that has free air pumps, benches, and lockers for bikers to use.
PLAN YOUR TRIP: Visit Fodor's Tuscon Guide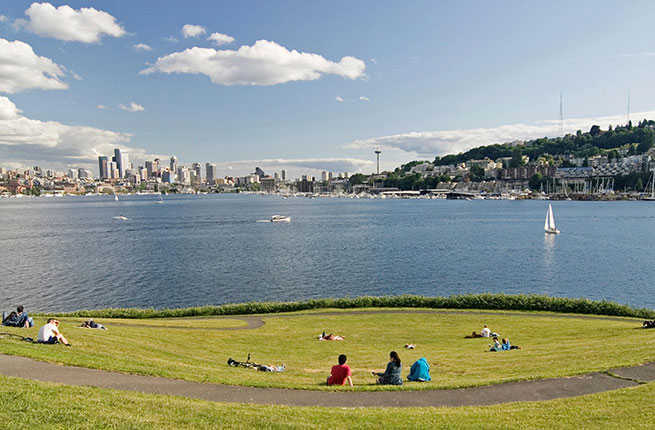 J. Mark Weiss / iStockphoto
Seattle, WA
The largest city in the Pacific Northwest, Seattle is dedicated to cycling. To catch the best sights within the downtown vicinity, ride on The Classic Loop, a 15 mile ride around Lake Union, Salmon Bay, and the Puget Sound. Start at the famed Pike Place Market, where the fish fly (literally) and fuel up at the original Starbucks store. Head north along the picturesque Puget Sound waterfront before continuing north to Salmon Bay, circling around the perimeter of the water. For a more themed experience check out Seattle Cycling Tours, which offers excursions of public art, college campuses, and the unique bio-med/bio-tech/global health tour.
Insider Tip: Bike to the Seattle Public Library for an architectural marvel of 10 stories, filled scenic views and archival materials of the city's history.
PLAN YOUR TRIP: Visit Fodor's Seattle Guide
J. D. Rogers / Shutterstock
New York, NY
New York City has made great strides in recent years to bring safer, convenient, and more accessible biking lanes to the city. With the year-old Citi Bike share system now the largest in the country, urban cyclists are able to traverse the city's grid with ease. For the best biking experience, head to Central Park, where the hum of the city fades away amidst the lush forests and meadows. The six-mile loop in the park is the perfect way to spend an afternoon. For a change of scenery, head to the West Side Highway Bike Path, where 13 miles of paved pathway takes riders from the top of Manhattan, just south of the George Washington Bridge at Fort Tyron Park, all the way south along the Hudson River to Battery Park.
Insider Tip: On your way down the West Side Highway Bike Path, make a pit stop on 26th Street at the Frying Pan, which serves up food, drinks, and incredible views from a retired ship.
PLAN YOUR TRIP: Visit Fodor's New York City Guide