Patrick Williams Photography
Undersea hotels represent one of the newest frontiers in hospitality. From Zanzibar to Sweden, beautiful underwater properties with one-of-a-kind views have been popping up around the globe, featuring some of the most unique rooms that travelers can book. Meanwhile, closer to home, many celebrated US aquariums offer sleepovers that aren't just for kids anymore. Check out our picks for places that allow you to sleep under the sea (or at least pretend that's where you are).
By Rachel B. Doyle
Genberg Art UW Ltd and photography credits: Jesper Anhede
WHERE: Pemba Island, Tanzania
Pemba, a verdant Indian Ocean island in the Zanzibar archipelago, has long been enticing divers with its pristine coral reefs and clear waters. Now the chic Manta Resort has taken the aquatic worship one step further, last month opening Africa's first underwater hotel room. Submerged 13 feet underwater, the room has eight large, lit windows through which guests can gawk at a Technicolor parade of fish and cephalopods. A ladder leads to a sundeck and lounge.
Insider tip: Guests can have meals sent out to them by boat, such as grilled snapper with rosemary bread, followed by chocolate mousse and spiced pineapple.
PLAN YOUR TRIP: Visit Fodor's Tanzania Guide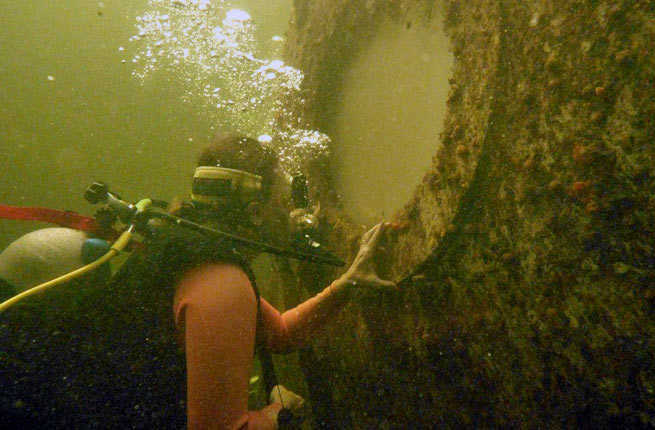 Courtesy of Jules Undersea Lodge
WHERE: Key Largo, FL
The granddaddy of underwater hotels, Jules' Undersea Lodge–a former marine lab that opened as an inn in 1986—has an unusually high bar to entry. All guests desirous of spending the night need to know how to scuba dive. There's no other way to enter this two-bedroom retro hideout, 30 feet below the surface in a mangrove-laden lagoon. The customary underwater dinner is pizza from Papa John's, but guests can upgrade to local lobster or filet mignon.
Insider tip: Don't want to commit to a whole night among the angelfish and barracudas? Jules' also offers a three-hour lunchtime "mini-adventure" for $150 per person, pizza included.
PLAN YOUR TRIP: Visit Fodor's Key Largo Guide
foco design
Hydropolis Underwater Hotel and Resort Dubai
WHERE: Dubai, UAE
Where would they build the most ambitious luxury hotel under the waves? Dubai, of course. The Emirate that brought you a man-made island in the shape of a palm tree now hopes to unveil the Hydropolis Underwater Hotel, in a Hyde Park-sized complex 66 feet under the sea. Guests staying at one of the 220 suites will be greeted at the "land post" on Jumeriah beach and taken by submerged subway to the main part of the hotel. The developers say that they hope to welcome 3,500 guests a day, once they overcome "financial constrictions."
Insider tip: This hotel also plans to offer a plastic surgery clinic, and recovering patients can stay out of sight under the sea.
PLAN YOUR TRIP: Visit Fodor's Dubai Guide
WHERE: Västerås, Sweden
The most rustic underwater hotel of the bunch, the tiny and adorable Utter Inn gently bobs in Sweden's Lake Mälaren. The visible part of the hotel is designed like a typical Swedish home, with an A-frame roof, red sides and white gables. Down a 10-foot ladder there's a cozy room with twin beds and panoramic windows to watch pike and perch swim by. With no electricity, the tranquility here is absolute.
Insider tip: Use the on-board inflatable canoe to visit an uninhabited nearby island. Many of Lake Mälaren's islands were once Viking settlements.
PLAN YOUR TRIP: Visit Fodor's Sweden Guide
Courtesy of Poseidon Undersea Resorts
WHERE: Fiji
Some 150,000 people have allegedly signed up to be notified once Poseidon Undersea Resort opens for business. The five-star underwater resort in Fiji was scheduled to launch in 2008, but a combination of the global recession and the difficulty of sub-aqua building have led to it still being incomplete. Ambitious projections show an underwater library, golf course, and tennis court, while the website promises future guests the use of a personal submarine.
Insider tip: If you really want to jump the queue, contact Poseidon about booking a wedding in the undersea chapel. Just don't set a date yet.
PLAN YOUR TRIP: Visit Fodor's Fiji Guide
Gian Marco Valente/Dreamstime.com
WHERE: Baltimore, MD
Although the U.S. only has one underwater hotel, America leads the pack when it comes to aquarium sleepovers. At the National Aquarium in Baltimore, home to over 17,000 animals, overnight visitors can choose between shark or dolphin-themed sleepovers. An underwater viewing area morphs into dramatic sleeping quarters, and guests can take nocturnal tours, watch dolphin shows, or see sharks being fed. At $115 per person including breakfast and dinner, this may be the best deal in Baltimore's popular Inner Harbor area.
Insider tip: Discounts are available for groups of over 15 people.
PLAN YOUR TRIP: Visit Fodor's Baltimore Guide
Patrick Williams Photography
WHERE: Atlanta, GA
Kudos to the Georgia Aquarium, the world's second largest, for realizing adults might want to have aquarium sleepovers too. This aquarium, home to some 100,000 sea creatures, offers the 21+ crowd a package with live jazz, cocktails, and behind-the-scenes tours. Guests can then sleep in until 10 am on mattresses plopped in front of beluga whales or a giant Pacific octopus.
Insider tip: Wear comfortable shoes. This aquarium is enormous.
PLAN YOUR TRIP: Visit Fodor's Atlanta Guide
Courtesy of Oregon Coast Aquarium
The Oregon Coast Aquarium
WHERE: Newport, OR
Overnight guests at the Oregon Coast Aquarium get to bed down in underwater walkways along with some 5,000 species. With its 360-degree views, this exhibit has an apt nickname: the shark tubes. The itinerary for kids includes a scavenger hunt through different marine habitats, and the package also comes with two meals for $60. The program for adults is less scripted (sadly, no scavenger hunt), but can include a tour of a nearby brewery.
Insider Tip: Bring warm clothes for sleeping–it can get chilly in the shark tubes.
PLAN YOUR TRIP: Visit Fodor's Newport Guide
Courtesy of Ushaka Marine World
WHERE: Durban, South Africa
Slumber parties at this South African aquarium take place in a highly realistic replica of a wrecked 1940s steam ship outfitted with massive fish tanks. Overnight visitors to the cleverly designed uShaka Sea World can wander through four connected "shipwrecks," where they'll find 32 tanks boasting many species of rays, an array of incredibly poisonous reptiles, and one of the most diverse collections of sharks in the world.
Insider tip: Take your swimsuit. The uShaka complex has a nice stretch of sandy coastline.
PLAN YOUR TRIP: Visit Fodor's Durban Guide
Courtesy of Aquarium of the Pacific
The Aquarium of the Pacific
WHERE: Long Beach, CA
Leave it to Southern Californians to figure out that aquariums and meditation are a perfect match. The adults-only package at the Aquarium of the Pacific involves a yoga session, fish feeding, and an informal lecture on marine life for $80. A pizza dinner and light breakfast are included, and alcohol is available (once you're done demonstrating chakravakasana poses to sea otters.)
Insider tip: Download the aquarium's free "Explorer" app before going.
PLAN YOUR TRIP: Visit Fodor's Long Beach Guide