Courtesy of Ocean House
Charming and picturesque, New England exudes a one-of-a-kind coziness that you can experience across the mountains, forests, and coastline of the six states that comprise this region. Another feature we like: top-tier resorts, some of which date from the 1870s, that remain steadfast escapes for urban dwellers looking to add an old-world air to their holiday. From oceanfront treasures to contemporary mountain-bound estates, the gilded doors of New England's most luxe resorts await your arrival. —Zachary Laks
Courtesy of Omni Mount Washington Resort
Omni Mount Washington Resort
WHERE: Bretton Woods, New Hampshire
Few resorts in the country can compare to the grand style of the Omni Mount Washington Resort, a landmark resort set amid New Hampshire's White Mountains. Operating since 1902, the 200-room Spanish Renaissance–style retreat excels as a luxe family destination with an incredible roster of daily activities year-round. Summer activities for all ages include a tour through the resort's 464 acres to spot the local moose, river tubing down the scenic Ammonoosuc River, and miles of bike paths throughout the mountains. The resort also features a top-of-the-line 25,000-square-foot spa, where local botanicals from the mountains are infused into many of the products used in the treatments.
PLAN YOUR TRIP: Visit Fodor's New Hampshire Travel Guide
Courtesy of Ocean Properties Ltd.
Wentworth by the Sea
WHERE: New Castle, New Hampshire
A historic coastal retreat that dates back to 1874, Wentworth by the Sea stands as one of the country's few surviving Gilded Age hotels and remains the last on a seacoast. The iconic hotel features 161 guest rooms and suites, decorated in the stately elegance of a fine classic beach house. Make sure to note that you want a seaside balcony, as sweeping views of the Atlantic Ocean while sipping your morning coffee complete the Wentworth experience. Golfers seek out the resort for its well-respected members-only course at Wentworth by the Sea Country Club, while the property's private 170-slip marina features charter options for day sails, deep-sea fishing, and more.
PLAN YOUR TRIP: Visit Fodor's New Hampshire Travel Guide
Courtesy of The Inn at Mill Falls
The Inn at Mill Falls
WHERE: Meredith, New Hampshire
Once a linen mill in the 19th century, now converted into a 54-room family retreat, the The Inn and Spa at Mill Falls stands out for its old-fashioned charm and new-age sensibilities. A few of the hotel's amenities go a long way in enhancing your getaway as DirectTV and free Wi-Fi come standard in all guest rooms and the overnight parking is free. Situated on the banks of the serene 72-square-mile Lake Winnipesaukee, the hotel makes good use of the lake, with kayaks and paddleboards available for rent. Guests also have the chance to board the hotel's pride, Miss Meredith, a 28-foot 1931 Triple Cockpit Chris Craft runabout that offers a thrilling speedboat tour of the lake in season.
PLAN YOUR TRIP: Visit Fodor's New Hampshire Travel Guide
Courtesy of The Chanler at Cliff Walk
The Chanler at Cliff Walk
WHERE: Newport, Rhode Island
Off the banks of Easton Bay sits The Chanler at Cliff Walk, with arguably Newport's best ocean views. Built in 1873 as a residence for Congressman John Winthrop, the Gilded Era estate now features 20 uniquely decorated guest rooms with interiors that mix Gothic, Renaissance, and English Tudor styles. Refined with coastal luxury, The Chanler offers a few unique amenities to its guests, including a complimentary house car service, gas fireplace in all rooms, and bathrooms with heated floors and TVs in the bathtubs. For the full experience, make reservations for upscale ocean-vista dining at The Spiced Pear in the estate, where tasting menus offer the best of New England flavor.
PLAN YOUR TRIP: Visit Fodor's Newport County and East Bay Travel Guide
Courtesy of Ocean House
Ocean House
WHERE: Westerly, Rhode Island
A crowning achievement in Victorian style, Ocean House has a long history on the shores of Watch Hill, Rhode Island, with its original hotel dating back to 1868. Having been demolished and reimagined from the ground up, the new Ocean House was unveiled in 2010, poised to exceed expectations with its grand service and style. With 49 guest rooms and 23 residential condominium suites, the beachfront property exudes New England luxury at every turn. Highlights of the estate's amenities include a private beach with butler service, croquet and squash courts, and even complimentary access to one of four Mercedes-Benz convertibles for a spin through town.
PLAN YOUR TRIP: Visit Fodor's Rhode Island Travel Guide
Courtesy of Forty 1º North Hotel Marina Resort
Forty 1º North Hotel Marina Resort
WHERE: Newport, Rhode Island
One of Newport's newest hotels, Forty 1º North Hotel Marina Resort, arrived in the bustling resort town in 2010. Standing out from the pack with its new modern elegance, the property gives off a casual luxury feel, resisting the standard nautical theming found in most hotels of the area. Notable for its tech-advanced innovations in luxury accommodations, Forty 1º North Hotel was the first LEED-Certified hotel in Rhode Island, having implemented green initiatives and energy-saving practices including low-flow shower heads and dual-flush commodes. Named for its latitude of 41° (longitude 71°), the resort is the place to be for fine dining on the bay, with dockside views at The Grill and acclaimed burgers at the more casual Christie's.
PLAN YOUR TRIP: Visit Fodor's Newport County and East Bay Travel Guide
Courtesy of Devonfield Inn
Devonfield Inn
WHERE: Lee, Massachusetts
Devonfield Inn brings the sophistication and warmth of an English country home to 32 acres of the Berkshires countryside. A bed-and-breakfast resort that treasures its 200-year history, and operating as an inn since 1980, the newly renovated estate features ten unique guest rooms and one free-standing cottage apartment. With modern amenities not often found in such an old estate, there's summertime relief with central air conditioning as well as creature comforts like flat-screen TVs and plush robes in all rooms. Comfortable and accommodating, a stay at the inn includes a few unexpected luxuries beyond the included daily breakfast, with freshly baked cookies and snacks available in the pantry and Cognac and cordials on offer in the living room.
PLAN YOUR TRIP: Visit Fodor's Berkshires Travel Guide
George Rietoff
The Nantucket Hotel & Resort
WHERE: Nantucket, Massachusetts
Steeped in history that dates back to 1891, The Nantucket Hotel & Resort remains one of the oldest operating hotels on Nantucket Island. Having undergone a complete renovation in 2012, the resort has reemerged as a luxe destination with a new take on New England style and service. The estate encompasses 46 accommodations that range from hotel rooms to two-bedroom cottages. A haven for families in the summer, the resort offers day and evening programming for youth throughout the summer along with two heated pools—one for kids and one for adults. And no day at the resort is complete without the complimentary s'mores on offer at the fire pit.
PLAN YOUR TRIP: Visit Fodor's Nantucket Travel Guide
Courtesy of Canyon Ranch
Canyon Ranch
WHERE: Lenox, Massachusetts
A top-flight wellness retreat that extends the world-renowned luxuries of its original Tucson base, Canyon Ranch Lenox takes its relaxation very seriously. Inhabiting an estate in Lenox that was initially built in 1897, the New England–based resort specializes in health and fitness programs with a luxe bent. With all meals and snacks included, menus feature incredible access to macro-nutrients in the dishes served along with a no-alcohol policy that aligns with the resort's wellness intentions. The estate's impressive fitness center features upwards of 40 classes that cycle each week, all included with your stay, ranging from indoor and outdoor tennis clinics to advanced indoor Spin classes.
PLAN YOUR TRIP: Visit Fodor's Berkshires Travel Guide
Courtesy of Samoset Resort
Samoset Resort
WHERE: Rockport, Maine
There's over 125 years of history on the 230 private acres of Samoset Resort, a sprawling retreat on the banks of Penobscot Bay, about 15 minutes south of Camden, Maine. The hotel's 178 guest rooms, suites, and guest cottages dot the grounds of this family-oriented retreat that specializes in seasonal outdoor fun. After checking in, head straight to the 200,000-gallon zero-entry pool, where the multi-tier decks offer matchless ocean views. Plan to spend the better part of the day on the property's oceanfront, Deemed the "Ultimate Backyard," with lawn games that include croquet and horseshoes and a nine-hole disc golf course. And those seeking a true golf course will not be disappointed with the complex's superb 18-hole course.
PLAN YOUR TRIP: Visit Fodor's Maine Travel Guide
Courtesy of Kennebunkport Resort Collection
Hidden Pond
WHERE: Kennebunkport, Maine
Spanning 60 acres of southern Maine's Kennebunkport, Hidden Pond resort sits about a mile from the Atlantic Ocean. The all-suite collection of 36 unique bungalows and two-bedroom cottages are filled with accents of bright color that blend well with the comfortable country vibe. Those looking for a relaxing escape while at Hidden Pond should start by looking up, as the resort's picture-perfect Tree Spa rests among the treetops in the forest. It's best to make arrangements ahead of time, as the suspended spa has only three treatment rooms that tend to book up fast. The day goes by quickly at Hidden Pond, where unique experiences are always on tap, from art workshops with the resort's artist-in-residence to mixology classes and nightly bonfires with s'mores.
PLAN YOUR TRIP: Visit Fodor's Maine Travel Guide
Courtesy of The Cliff House Resort and Spa
The Cliff House Resort and Spa
WHERE: Cape Neddick, Maine
Retire to the serene coast of Maine this summer as Cliff House reemerges as a choice New England retreat. Dating back to 1872, Cliff House excels with its relaxing atmosphere for families and couples alike. Spread across 70 acres of oceanfront bliss atop Bald Head Cliff, it's all about the panoramic views on the resort's grounds, including stunning sunrises over the Atlantic and the very photo-worthy Nubble Lighthouse. The resort will reopen this summer with 134 newly refreshed accommodations—including sleek guest rooms, plush suites, and a cottage perfect for larger families and groups.
PLAN YOUR TRIP: Visit Fodor's Maine Travel Guide
Courtesy of Woodstock Inn & Resort
Woodstock Inn & Resort
WHERE: Woodstock, Vermont
Located in central Vermont, Woodstock Inn & Resort is one of the resorts built by business tycoon Laurance Rockefeller, who completely overhauled the 18th-century inn in 1969, with a new grand estate built from the ground up that has since been expanded four times. The LEED-certified spa is among the main draws of the resort with unique treatments like an indulgent hot chocolate body wrap and a stimulating peppermint foot treatment. The resort's aesthetic fits well in its Green Mountain surroundings, with simple décor that features a lot of wood and earth tones. And it's easy to make the most of the fresh mountain air with the resort's pristine outdoor pool and 12 outdoor tennis courts.
PLAN YOUR TRIP: Visit Fodor's Vermont Travel Guide
Courtesy of Twin Farms
Twin Farms
WHERE: Barnard, Vermont
Rustic and refined, Twin Farms is an incredible Vermont retreat set on the grounds of a 1795-era farmhouse once owned by Nobel Prize–winning author Sinclair Lewis. With 20 accommodations that range from suites to private deluxe cottages, the luxury resort wins guests over with its all-inclusive rate that covers meals, wine pairings, and spirits. A year-round operation, the resort is in its optimal form in the summer, as outdoor activities include mountain biking excursions—complete with a box lunch to go for the ride—canoeing, fly fishing, and swimming in the resort's Copper Pond. You won't want to stray too far from the grounds, though, as the three meal times each day are not to be missed, featuring a rotating menu of fine local ingredients and inspired cocktail creations.
PLAN YOUR TRIP: Visit Fodor's Vermont Travel Guide
Courtesy of Topnotch Resort
Topnotch Resort
WHERE: Stowe, Vermont
Choose your own adventure at Topnotch Resort, a 120-acre, 89-accommodation resort whose rooms, suites, and plush homes capture the serenity of Vermont's backwoods. A stay at Topnotch is all about the activities on offer year-round, with its close proximity to the slopes at nearby Stowe Mountain Resort; an equestrian center offering riding lessons, winter sleigh rides, and summer carriage rides; and indoor and outdoor pools, including an adults-only pool. With an emphasis on highlighting the local culture, the resort takes pride in introducing its guests to the area's lesser-known treasures including upstart breweries, a blueberry farm, and a few quirky art museums.
PLAN YOUR TRIP: Visit Fodor's Vermont Travel Guide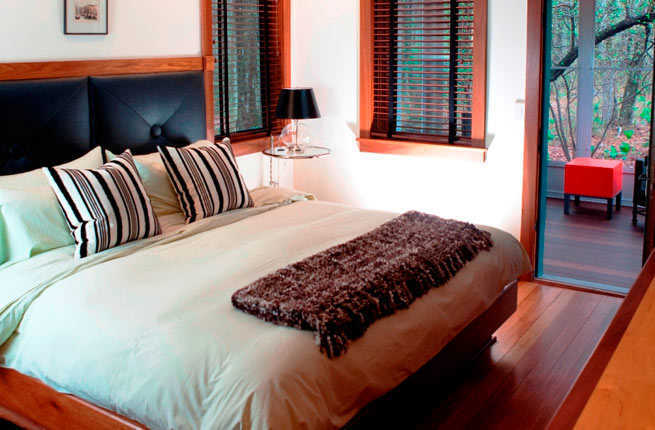 Courtesy of Winvian Farm
Winvian
WHERE: Litchfield Hills, Connecticut
Opened to the public in 2007, Winvian had been restored into upscale lodgings with a Connecticut or rustic, New England theme under the guise of lead architect, David Sellers. Now eighteen innovative and distinctly unique cottages, ranging in size from 950- to 1,250-square-feet, all feature Jacuzzi tubs, rainfall steam showers, and fireplaces. Highlights among the cottages include the Treehouse, a two-story architectural marvel that stands 35 feet above the forest floor, and the Helicopter, where the 890-square-foot property is compromised by the central placement of a restored 1968 Sikorsky Sea King Pelican HH3F helicopter, retrofitted with a flat screen TV and a wet bar.
PLAN YOUR TRIP: Visit Fodor's Connecticut Travel Guide