Courtesy of Adrian Gaut
Freshly picked from the Fodor's 100 Hotel Awards, these hotels around the globe are the coolest places to stay right now. Among the one-of-a-kind attractions, guests can enjoy mixology lessons and bingo at Minneapolis's The Commons Hotel, or raid a room full of ice cream at San Francisco's Hotel Triton. That's in addition to high-tech in-room gadgets, "starchitect" design, and unbeatable locations. From futuristic style at the ME London to zen pampering at the chic AYANA Resort & Spa in Bali, these 17 properties will have you craving a longer stay before you even unpack your bag.
By Emily Wasserman
Courtesy of Ayana Resort and Spa
AYANA Resort and Spa
Guests flock to AYANA Resort and Spa in Bali, Indonesia, for cliff-top views, picturesque surroundings, and an award-winning spa. The resort's thermal spa features everything from al fresco cabanas and seawater therapy, to hydrotherapy circuits, offering guests the opportunity to relax and rejuvenate. One of their world-renowned treatments, thalassotherapy, decreases the effects of stress, pollution, and poor diets.
PLAN YOUR TRIP: Visit the Fodor's Bali Guide
Courtesy of The Brazilian Court Hotel
The Brazilian Court Hotel
Palm Beach's The Brazilian Court Hotel combines historic grandeur with sophisticated elegance. A favorite among celebrities, the resort is just a short walk away from some of the city's best shopping and beaches. The hotel offers great amenities like the Frederic Fekkai hair salon and spa, or a five-course dinner at Café Boulud, the hotel's gourmet French restaurant.
PLAN YOUR TRIP: Visit the Fodor's Palm Beach Guide
Courtesy of The Commons Hotel
Beacon Pub House at The Commons Hotel
Bingo and mixology lessons are just some of the activities guests can enjoy at The Commons Hotel in Minneapolis, located near the University of Minnesota campus. The hotel's restaurant, the Beacon Public House serves delicious regional cuisine and creative cocktails. Guests can participate in Words with Friends Wine Hours, attend Sudoku "sleep-ins" and browse through in-room art galleries.
PLAN YOUR TRIP: Visit the Fodor's Minneapolis Guide
Courtesy of the Fierro Hotel
Restaurant at Fierro Hotel
Fierro Hotel, in Buenos Aires, is a food lover's dream. Guests receive welcome trays with macarons and truffles, and can enjoy gourmet seasonal cuisine created by renowned chef Hernán Gipponi. The hotel also offers lavish brunches, multi-course breakfasts, and monthly chef's table dinners with exclusive tasting menus.
PLAN YOUR TRIP: Visit the Fodor's Buenos Aires Guide
Courtesy of Gladstone Hotel Toronto
A room at Gladstone Hotel
Also known as Toronto's "anti-chain" hotel, Gladstone Hotel provides guests with a one-of-a-kind visiting experience. Each room is designed by a different artist and follows a particular theme. You'll feel like you're on a nature retreat in the "Faux Naturelle" room. Guests can also enjoy 360-degree views of the Toronto skyline from the hotel's Tower Suite. The hotel is home to four art galleries that host over 70 exhibits a year.
PLAN YOUR TRIP: Visit the Fodor's Toronto Guide
Courtesy of Eric Cuvillier
Restaurant at Hôtel Metropole
From the food to the decor, everything at Hôtel Metropole in Monte Carlo, exudes luxurious elegance. Popular designers like Karl Lagerfeld and Jacques Garcia planned the hotel's interiors, and world-renowned chef Joël Robuchon delights guests with seasonal, Mediterranean-inspired, gourmet menus.

PLAN YOUR TRIP: Visit the Fodor's Monaco Guide
Courtesy of Hotel Palomar Phoenix/CityScape
Hotel Palomar Phoenix
Contemporary interiors and an unbeatable location make Hotel Palomar Phoenix a favorite among visitors. The hotel is located just a few steps away from CityScape, Phoenix's popular dining and shopping district, and its luxurious, modern guestrooms offer unparalleled downtown views.
PLAN YOUR TRIP: Visit the Fodor's Phoenix Guide
Courtesy of Hotel Triton
A room at Hotel Triton
Hotel Triton reflects the best of San Francisco's independent culture. Psychedelic interiors and colorful rooms give the hotel a decidedly hip feel, and guests can enjoy perks like a 24-hour yoga channel and an on-call tarot reader. The hotel also boasts four celebrity-themed suites, including The Haagen-Dazs "Sweet Suite" with an ice cream stocked fridge.
PLAN YOUR TRIP: Visit the Fodor's San Francisco Guide
Courtesy of The James Royal Palm
A room at the James Royal Palm
The James Royal Palm is the perfect mix of laid-back South Beach culture and contemporary style. The hotel's stunning art deco design has gained international acclaim, and every room contains one-of-a-kind art from local and international artists. Rooms are painted in white with colorful tropical hues, and guests can enjoy double-door minibars full of local products.
PLAN YOUR TRIP: Visit the Fodor's Miami Guide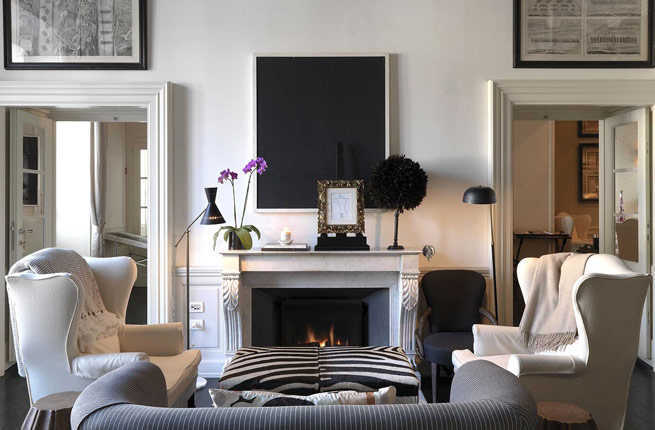 Courtesy of J.K. Place Firenze
A room at JK Place
JK Place is a traveler's home away from home. Tucked away from busy Florence streets, the hotel offers a private, serene setting and guest rooms painted in soothing earth tones. Guests can relax on comfortable couches in ground-floor sitting rooms, or enjoy a before-dinner drink on the rooftop terrace. The hotel's attentive staff and welcoming atmosphere will make you feel like family.
PLAN YOUR TRIP: Visit the Fodor's Florence Guide
Courtesy of Le Citizen Hôtel
Le Citizen Hôtel
Located in one of Paris's trendiest districts, Le Citizen Hôtel is known for its minimalist-chic décor and emphasis on urban-eco-living. The hotel uses light wood and ambient lighting to accentuate its interiors, and reduces paper consumption by offering guests complimentary in-room iPads.
PLAN YOUR TRIP: Visit the Fodor's Paris Guide
Courtesy of Francisco Guerrero
ME London
Picturesque city views and futuristic design make ME London one of the city's hippest hotels. Located in the heart of London's art and culture district, the hotel is close to popular attractions and offers unparalleled views of the city. Guest rooms contain high-tech features including an integrated digital media hub, and atmospheric lighting with custom control.
PLAN YOUR TRIP: Visit the Fodor's London Guide
Courtesy of Nobu Hotel
Nobu Hotel
Foodies will rejoice at Las Vegas's Nobu Hotel. The brainchild of celebrity chef Nobu Matsuhisa, the hotel's gourmet amenities will please guests with discerning taste buds. Mini-bars are stocked with everything from blood orange-chili juice to Pocky chocolate sticks. Guests can also enjoy priority reservations at the hotel's renowned restaurant, Nobu, and can order from a Nobu-crafted room service menu.
PLAN YOUR TRIP: Visit the Fodor's Las Vegas Guide
Courtesy of Palais Namaskar
Palais Namaskar
Get the royal treatment at Morocco's Palais Namaskar. The fairytale resort offers 12 acres of lush gardens and ponds and has palatial guest accommodations with mountain views. For adventurous guests, the hotel's "experience book" offers everything from treks in the High Atlas Mountains to overnight desert excursions.
PLAN YOUR TRIP: Visit the Fodor's Morocco Guide
Courtesy of Park Hyatt Busan
A room at Park Hyatt Busan
Park Hyatt Busan draws its inspiration from the water. Located near the ocean, the hotel's sleek exteriors were modeled after a billowing ship sail, and guestrooms include rainfall showers. Guests can look out at the yacht marina and Gwangan Bridge from the hotel's 32nd floor gourmet dining room, or visit the nearby beach to take in the majestic sunset.
PLAN YOUR TRIP: Visit the Fodor's Busan Guide
Courtesy of Fernando Lombardi
Uxua Casa Hotel & Spa
Uxua Casa Hotel & Spa showcases the best of Brazilian local culture. Formerly fishermen's abodes, the hotel's 10 private bungalows still reflect the town's laid-back, secluded beach atmosphere. Guests can enjoy a spa experience with native products and treatments, or take a dip in the hotel's hand-tiled quartz pool.
PLAN YOUR TRIP: Visit the Fodor's Salvador & the Bahia Coast Guide
Courtesy of Adrian Gaut
A room at Wythe Hotel
Stunning city views and locally sourced design make the Wythe Hotel a hotspot among travelers. Once a factory building, the hotel used reclaimed pine and local custom-patterned wallpaper to create its interiors. Many rooms face the Manhattan skyline, but guests can also enjoy the view from the sixth-floor rooftop bar.
PLAN YOUR TRIP: Visit the Fodor's New York City Guide