Photo supplied by Casa Turquesa, all rights reserved
WHERE: Cancún
In the land of sprawling all-inclusive resorts, Hotel Casa Turquesa, makes a big statement despite having only 29 suites. A stay here feels like a weekend visit to a rambling mansion owned by your serious art-collector friends. A marble lobby rolls out to reveal views of the Caribbean Sea, and a fair amount of paintings and sculptures populate the rooms (500 pieces in all), some of them displayed in the on-site art gallery. Suites have either an ocean view or a partial ocean view. Also on property are a spa, lighted tennis court, three restaurants, and a bar. Rooms from $145.
Insider Tip: Those eager to see the Mayan ruins of Chichén Itzá or Ek Balam should stay at Hotel Casa Turquesa's sister property Hacienda Kaan Ac, in Valladolid, within a 16th-century hacienda.
PLAN YOUR TRIP: Visit Fodor's Cancún Guide
Courtesy of 40 Cañones
WHERE: Majahual
Welcome to a slice of Mexico's Caribbean coast that remains relatively quiet after sunset (disclaimer: cruise ship day-trippers do come here). Hotel 40 Cañones may be basic, reflecting the simplicity of the sand-road fishing town of Majahual, but the 26 rooms are spiffed up with wicker lanterns and beds suspended from the ceiling with ropes. Across the street is the beach, where the hotel positions day beds for the best view of the shallow slice of sea. There is also a barrier reef for snorkeling. Rooms from $95.
Insider Tip: Suite 23 has a balcony with a sea view.
PLAN YOUR TRIP: Visit Fodor's Majahual Guide
Courtesy of Na Balam
WHERE: Isla Mujeres
Yoga retreaters may be intimately familiar with Hotel Na Balam, which gained a reputation in that circle over the years; it was one of the first "bigger" resorts on this tiny Caribbean island, with 35 rooms. Since then, it has plumped up offerings that are certainly not restricted to making just the downward-dog set happy—although there is a yoga studio and school. The ideal place to spend the afternoon is on the sun beds on Playa Norte. Rooms from $105.
Insider Tip: The beachfront restaurant Zazil Ha has extraordinary ceviche, but the island is known for fresh fish. Try spots like Bally Hoo and Minino's Cocteleria.
PLAN YOUR TRIP: Visit Fodor's Isla Mujeres Guide
Courtesy of El Patio 77
WHERE: Mexico City
Each room in this gorgeously renovated 1890s colonial mansion that is now El Patio 77 is named after a Mexican state—and features some gems from that place. From the ceiling of the Michoacán suite hangs a delicate, artist-made butterfly mobile that glows in the dark. In the Oaxacan room, regional embroidery and earthenware are the stars. Designer furniture was made from the building's recycled timber, and the eco-hotel is a do-gooder for the planet, using solar panels, greywater, and LED lighting. Located in the emerging San Rafael neighborhood, the eight-room hotel is three blocks from the metro. Rooms from $135.
Insider Tip: Take the hotel up on its offer to arrange a taco tour around Mexico City.
PLAN YOUR TRIP: Visit Fodor's Mexico City Guide
Courtesy of Courtesy of Casaluna
WHERE: San Miguel de Allende
In the UNESCO World Heritage Site of San Miguel de Allende, hotel rates have skyrocketed over the last decade as the town has snagged the heart of many artists and expats. That's why the rates at Casa Luna Quebrada, in a grand old building within walking distance from the Jardin, are refreshing. Recently, the 15-room B&B has shown wear and tear but is undergoing a room-by-room remodel that'll polish up those colonial elements, like the heavy wooden doors, handmade wrought ironwork, stone archways, fireplaces, and wood-beamed-and-brick boveda ceilings. Also, there are now flat-screen TVs. Rooms from $79.
Insider Tip: Breakfast is part of the room rate but it's offered at sister hotel Casa Linda, about a 5-minute walk away.
PLAN YOUR TRIP: Visit Fodor's San Miguel de Allende and the Heartland Guide
Courtesy of Edelmira Hotel
WHERE: Guanajuato
About an hour west of San Miguel de Allende is the much bigger colonial neighbor of Guanajuato, with its winding callejones (alleyways) and hilly landscape. Like Venice, it's a town that has built a reputation on getting lost. Within a 19th-century, three-story building is Edelmira Hotel, with 27 modern suites that feature flat-screen TVs and working WiFi. The terrace's panoramic views of the city make it a nice place to enjoy a tequila-based sundowner. Rooms from $105.
Insider Tip: Four superior class rooms have small faux balconies with French doors that open, but you can't step outside.
PLAN YOUR TRIP: Visit Fodor's Guanajuato Guide
Courtesy of Mesones Sacristía
Mesones Sacristia de la Compania
WHERE: Puebla
Ask your in-the-know friends what is Mexico's food capital and they'll point the way to the Baroque city of Puebla. That's why it's hard to decide which is better at the Mesónes Sacristía de la Compañía: the mole that comes out of the hotel's kitchen or the antique-laden rooms where you can crash after your meal. The 250-year-old building, owned by a family in the antique business, has delightful details, like the locally produced Talavera tiles that frame the doors. Rooms from $73.
Insider Tip: Chef Alonso Hernández will blow you away with his cooking. Sign up for his cooking class to learn how to make guacamole, mole sacristia (the house mole made from roasted chipotle), and horchata.
PLAN YOUR TRIP: Visit Fodor's Puebla Guide
Courtesy of Casa Lecanda
WHERE: Mérida
Restored to its grandeur in 2009, Casa Lecanda is once again a colonial retreat within the Yucatán city of Mérida. The warren of patios and indoor rooms are entered and exited through Roman-style archways. Water fountains, tropical plants, and gorgeous mosaics decorate the courtyards. The original clay floors, woodwork, and marble all shine. Within each of the seven rooms of this former sisal plantation are the 21st century's flat screen TVs, iPod docking stations, and rainfall showers. Rooms from $225.
Insider Tip: The "green gold" of Mérida is henequen; arrange a tour a farming area, with a stop at a cenote, a swimming hole.
PLAN YOUR TRIP: Visit Fodor's Mérida Guide
Courtesy of Meson de Leyedas
WHERE: Valle de Bravo
Mention Mexico and many immediately think of the beaches of Cancún or the colonial cities in the heartland. But Mexico also has a "Switzerland," called Valle de Bravo, about 90 miles west of Mexico City on the shores of Lake Avándaro, at an altitude of 6,000 feet. Meson de Leyendas is your rustic-chic base lodge in a former 17th-century nunnery with wood-beamed ceilings. The 11 rooms have either fireplaces, terraces, or garden access, with wool blankets to keep you warm at night. Rooms from $68.
Insider Tip: The forests that surround Valle de Bravo are best seen from the back of a horse. The hotel can arrange a guided tour.
PLAN YOUR TRIP: Visit Fodor's Valle de Bravo Guide
WHERE: Yelapa
It may just be a 45-minute water-taxi ride from the boisterous Vallarta to Yelapa's Hotel Lagunita, but it's like traveling decades into the past; expect simple and rustic with a Mexican flair. Thirty-two thatched-roof casitas are wedged between jungle and the Bay of Banderas, with a few of them having views of the sea, like room 6, which also has a terrace. Hammocks are strung under palapas, and a pool made from boulders faces the ocean. It's all very castaway. Rooms from $70.
Insider Tip: The hike to the waterfall is 45 minutes each way, but you can also rent a burro.
PLAN YOUR TRIP: Visit Fodor's Yelapa Guide
Courtesy of The Hotelito
WHERE: Todos Santos
A chic, colorful four-casita bed and breakfast, The Hotelito pays homage to the angular, bright style of Mexican Modernist architects Luis Barragán and Ricardo Legorreta. Inside the stand-alone casitas are several design-inspired pieces like Michael Young's Magazine sofa, Lucite chairs, and a Hubert Le Galle oak and bronze bedside table. A community kitchen stocks a panini maker, gas grill, microwave, and blender—fun is only limited by your skills with the equipment. It's a short walk to the microblip of a town, Todos Santos. Despite its size, it packs in loads of galleries and restaurants. Rooms from $125.
Insider Tip: Todos Santos' beaches are more suitable for advanced surfers than swimmers. Use the pool, or sign on for an adventure like whale watching, hiking in the Sierras, or kayaking.
PLAN YOUR TRIP: Visit Fodor's Todos Santos Guide
Courtesy of Marcelo Bello/Villas Carrizalillo
WHERE: Puerto Escondido
Twelve teja-roofed (Spanish terracotta) bungalows are scattered around the gardens at Villas Carrizalillo, all minimally decorated with Oaxacan art and featuring outdoor dining areas. Skip cooking in the kitchenettes, though. On the property is Restaurante Espadín, run by Mexican chef Patricio Sandoval, who worked in Chicago, New York, and Miami before returning. Still, the hotel's biggest asset may be the cliffside location, with enviable views of the horseshoe bay of blue waters fringed by white sands; just southeast of this swimming-friendly Carrizalillo Bay is the world famous surfing pipeline of Zicatela, if you want to watch the experts. Rooms from $135.
Insider Tip: The rooms have different amenities and views, so ask. It's good to know that all five of the one-bedroom villas have beach views.
PLAN YOUR TRIP: Visit Fodor's Puerto Escondido Guide
Courtesy of Sayulita Central Hotel
WHERE: Sayulita
Only 30 minutes from Puerto Vallarta in the laidback surfers' haven of Sayulita is the quirky themed Central Hotel. Within the colorful four-story building, each room pays tribute to a rock-and-roll band—Elvis Presley, The Eagles, Nirvana, Pink Floyd. Of course, the Elvis room has a king bed and a Hawaii-themed shower curtain. The beach is a block away, where beginners can learn to surf. Rooms from $60.
Insider Tip: Apprpriately, the Led Zeppelin room sits at the top of the stairway (to you know what), commanding the best view in the hotel.
PLAN YOUR TRIP: Visit Fodor's Puerto Vallarta Guide
Courtesy of Casa Natalia
WHERE: Baja's San José del Cabo
Cabo is a beautiful stretch of mountains, sea, and vast desert—the West Coasters' version of Cancún. This means that it can be hard to find a chic boutique in the midst of the larger all-inclusives. But away from the Baja hotel-zone buzz, in the historic town of San José del Cabo, is Hotel Casa Natalia. Folk-art embroidered pillows, handcrafted wall décor, and high-design furniture decorate the 19 rooms. All have private terraces with hammocks; a few have plunge pools. Rooms from $182.
Insider Tip: While much of the shoreline of Cabo isn't advisable for swimming, guests have access to a private beach club five minutes from the hotel, near an estuary with the only swimmable beaches.
PLAN YOUR TRIP: Visit Fodor's San José del Cabo Guide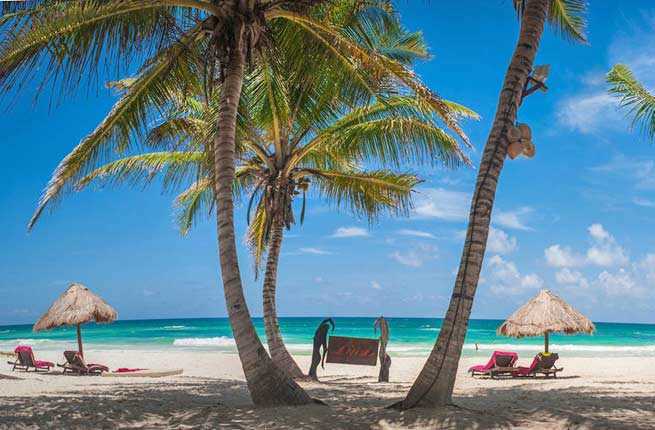 Courtesy of La Zebra
WHERE: Tulum
Four colorful rooms and cabanas at La Zebra Hotel are nested within a historic coconut palm jungle facing the Sian Ka'an wilderness, while 12 others are steps from the ocean looking out onto one of the most photographed beaches on Mexico's Caribbean coast. The interiors are seriously handcrafted with stone inlays in the showers and sinks, and artists' murals splashed up on the walls. With no A/C, you'll cool off from the ocean breeze, ceiling fans, and the mojitos that are sweetened with juice pressed from sugar cane with the bar's antique hand crank. Coffee is delivered in a basket to your doorstep each morning. Rooms from $275.
Insider Tip: The four jungle cabanas have exclusive access to a plunge pool, but the quieter beachfront cabanas are still our favorite, particularly room 10.
PLAN YOUR TRIP: Visit Fodor's Tulum Guide