Courtesy of Mandarin Oriental, Marrakech
Nothing sparks the desire to travel like an exciting new place to stay, whether it's a cutting-edge property in a familiar destination or a jaw-dropping resort somewhere you've never been before. This year, travelers have a lot to look forward to all around the world, from Morocco to Indonesia to the U.S. Enviable amenities include Michelin-starred restaurants in Europe, early access to a family-friendly theme park, and sumptuous spas. Here are the 20 hotel openings we're most excited about this year.
Cris Molina for Kimpton Hotels
WHERE: Pittsburgh, Pennsylvania
When: January
Steeltown gets its own Kimpton, with 248 rooms that feature all of the signature amenities the brand built its reputation on. There's that hip sense of style, with houndstooth drapes, plush, quilted headboards, and bird cage chandeliers outfitting the rooms; a robust welcome for pets; the standard gratis happy hour nightly; and complimentary cruiser bikes available. In all of the Hotel Monaco's eight room categories, guests can also look forward to an honor bar, signature robes, and a yoga mat. The hotel is also home to The Commoner, an American tavern with a kitchen powered by a wood-fired oven.
PLAN YOUR TRIP: Fodor's Pittsburgh Travel Guide
Courtesy of Design Hotels
WHERE: Barcelona, Spain
When: January
This 19th-century building was the location of Pablo Picasso's very first studio, and precisely where he created works such as Science and Charity. With its views of the Mediterranean Sea and surroundings of the Gothic Barrio, it's easy to see how the master was inspired. Today, The Serras Hotel retains the same arty feel, while also maintaining 5-star amenities included in the 28 modernly appointed guest rooms. A chic rooftop terrace showcases an infinity pool and lounge, while the ground floor hosts a restaurant from Michelin Star chef Marc Gascons.
PLAN YOUR TRIP: Fodor's Barcelona Travel Guide
Courtesy of Virgin Hotels
WHERE: Chicago, Illinois
When: January
Billionaire Richard Branson is giving SoHo House, Chicago's coolest opening of 2014, a run for its money with Virgin's first hotel opening in the U.S. Set in the old Dearborn Bank building, the Virgin Hotel also has a members club, albeit with a very democratic admission policy. The Commons Club includes a bar, restaurant, and a study, and according to the hotel "all who enter are rewarded with Members Only caliber amenities and entertainment." Otherwise, guests can mingle on the rooftop bar, opening in the spring, or at Miss Ricky's classic American diner, opening in March. The rooms are promoted as "two-in-one" with a dressing room and sleeping lounge separated by sliding doors, while the bed has ergonomic headboards and adjustable footboard. A nice convenient touch: the new Virgin Hotel app allows virtually every hotel service at guests' fingertips.
PLAN YOUR TRIP: Fodor's Chicago Travel Guide
Courtesy of Baccarat Hotel & Residences New York
Baccarat Hotel & Residences New York
WHERE: New York City, New York
When: March
Expect the Baccarat Hotel to be brimming with bling: 12,000 glass masterpieces from the French company, which celebrated its 250th birthday this past year, will grace the inside of the 114-room hotel. But there's plenty else to gawk at, too, thanks to a private art collection that spans the 18th century to modern-day pieces. La Mer Spa, the U.S.'s first, is also imported from France and includes an impressive swimming pool. The on-site restaurant will expectedly nod to Gallic gastronomy, though Michelin-starred chef Shea Gallante is American.
PLAN YOUR TRIP: Fodor's New York City Travel Guide
Andrew Loiterton
WHERE: Jakarta, Indonesia
When: March
Guests here won't be at a loss for amusements, as this new Kuningan hotel is a part of the Ciputra Artpreneur Center, a complex devoted to the arts of Indonesia that houses six restaurants and bars, a 1,200-seat theater, a museum, an art gallery, and cultural center. The Raffles adds a spa, pool, and picturesque gardens to the mix, with an art concierge who can walk guests through the treasures of the Ciputra and secure theater tickets and museum admission.
PLAN YOUR TRIP: Fodor's Jakarta Travel Guide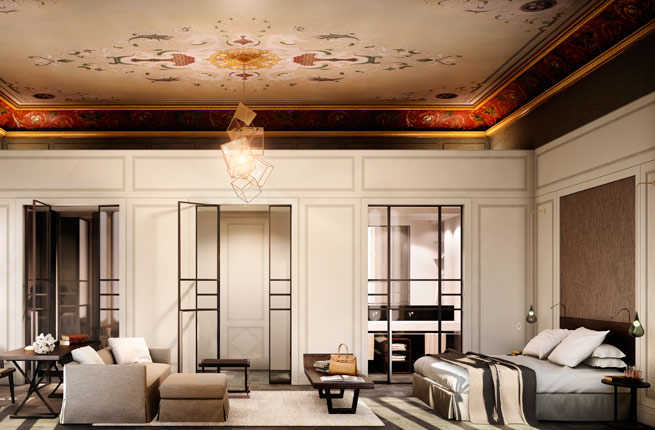 Courtesy of Sant Francesc Hotel Singular
Sant Francesc Hotel Singular
WHERE: Palma, Mallorca
When: March
With just 42 rooms, this refashioned manor house in Palma's Old Town will have more amenities than one would expect. There will be a restaurant in the Sant Francesc's former stables, complete with a garden; a rooftop terrace with panoramic city and sea views, a sun deck, and swimming pool; and a spa that pulls out all of the stops. The Torre Suite includes a private terrace, where guests can take in spectacular sunsets with Cathedral, sea, and mountain views.
PLAN YOUR TRIP: Fodor's Mallorca Travel Guide
Courtesy of The South Beach
The South Beach, Singapore
WHERE: Singapore
When: April
Singapore's skyline got a little snazzier with the addition of two chic high-rise towers, designed by Philippe Starck. The 45-storey skyscraper of the South Beach project will be home to 654 hotel rooms and a ground-level promenade filled with high-end retailers. Further details are being kept hush-hush until the official unveiling, but we do know that the entire complex includes an eco-friendly design, with solar panels on the roof and a system to recycle rainwater.
PLAN YOUR TRIP: Fodor's Singapore Travel Guide
Courtesy of The St. Regis Venice San Clemente Palace
The St. Regis Venice San Clemente Palace
WHERE: Venice
When: April
Getting to this restored 17th century monastery turned hotel is part of the fun: guests travel via exclusive gondola to the historic property. Surrounded by gardens and overlooking the storied lagoon, the St. Regis is the sole inhabitant of San Clemente Island, which dates back to the 12th century. In the 15th century, the island became the papal residence for Pope Eugene IV. That fact is reflected in the rooms, which are certainly fit for popes and kings, especially the suites, which come with personal butlers.
PLAN YOUR TRIP: Fodor's Venice Travel Guide
Courtesy of The Gainsborough Bath Spa
The Gainsborough Bath Spa
WHERE: Bath, England
When: Spring
There's no question what the main attraction of Bath is. Now taking a dip in the city's thermal waters will become more convenient for those who book a room at this spa hotel. The only natural thermal spa within a hotel in the U.K., the 99 rooms at the Gainsborough Bath Spa include exclusive access to the hotel's Spa Village Bath, a bi-level sanctuary that includes hot and cold hydrotherapy, 11 treatment rooms, and an apothecary. Guests can further their relaxation ritual by cozying up to a fireside table at the in-house restaurant after a day of pampering.
PLAN YOUR TRIP: Fodor's Bath and the Cotswalds Travel Guide
Courtesy of The Lanesborough
WHERE: London, England
When: Spring
This London landmark, originally built in Regency style as a hospital, will complete renovation in the spring. The 93 rooms will be refreshed, and each will come with a personal butler, on call twenty-four seven. The Lanesborough's Michelin-starred restaurant, Apsleys, will also return. Set on the edge of Hyde Park, the Lanesborough's locale makes it particularly attractive to sightseers, with attractions such as Buckingham Palace, Mayfair, and Harrods within easy walking distance.
PLAN YOUR TRIP: Fodor's London Travel Guide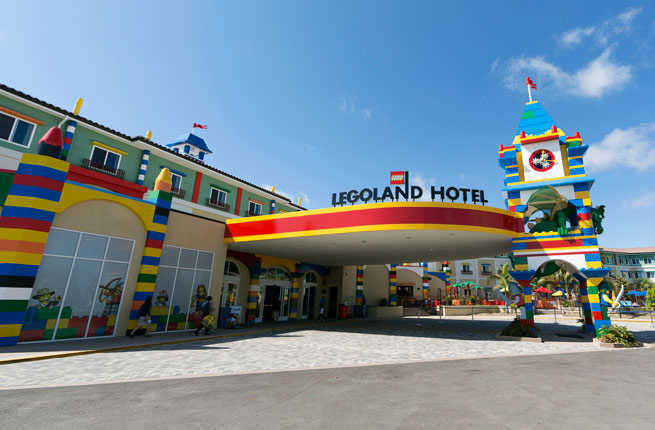 Courtesy of LEGOLAND Florida Resort
WHERE: Winter Haven, Florida
When: May
Not just for kids, the latest LEGOLAND Hotel, 45 minutes from Orlando, is for families who enjoy building fun together. The amusements start upon check-in, with LEGO-themed rooms (Kingdom, Pirate, or Adventure), which can sleep families up to five; LEGO bricks ready for construction; a treasure hunt in each of the 152 rooms; and master model builder sessions included. Pay-off for the parents: early admission to select rides and attractions at the LEGOLAND theme park before it opens, a heated swimming pool, and a family-friendly restaurant.
PLAN YOUR TRIP: Fodor's Orlando Travel Guide
Courtesy of Swissotel Hotels & Resorts
Swissotel Resort, Bodrum Beach
WHERE: Bodrum, Turkey
When: May
Guests staying in the 66 guestrooms at this beachfront property, about 12 miles outside the center of town, will find a welcome respite from the party and yacht scene in Bodrum proper. Yet, there's plenty of ways to feel sedately fabulous, whether by taking in the Aegean views while puffing on a hookah from the outdoor lounge; enjoying quirky Swissotel-centric artwork, such as the lobby wall, covered in enlarged clock parts; unwinding in the Turkish bath at the lavish spa; or enjoying the sounds of a DJ perched at the rooftop bar. The 72 residences complete the stylishly chill community.
PLAN YOUR TRIP: Fodor's Turkey Travel Guide
Courtesy of Six Senses Hotels Resorts Spas
WHERE: Douro Valley, Portugal
When: Mid-2015
Oenophiles will have a new escape when this wine-centric hotel, set amid one of Portugal's best wine regions, throws open its doors. The renovated 19th-century manor house appears like a castle with a clay-tiled roof amid the vineyards, and 41 guestrooms, nine suites, and seven villas make up the compound, along with one of the best wine cellars in the region. Guests can literally immerse themselves in wine at the Six Senses Spa, which will include grape and wine-based treatments. They can also stomp grapes during harvest or simply sample the area's bounty through oenology classes, led by local winemakers.
PLAN YOUR TRIP: Fodor's Portugal Travel Guide
Courtesy of The Ritz-Carlton Hotel Company, L.L.C.
Mandapa, a Ritz-Carlton Reserve
WHERE: Bali, Indonesia
When: Summer
For those in search of peace and seclusion, this addition to Ritz-Carlton's Reserve collection offers the ultimate retreat for the Eat, Pray, Love set. Built among the serene rice paddies of Ubud, the wellness-themed hotel aims to "enliven mind, body, and soul at every touch point," via 60 villas and suites in the style of Balinese architecture; healthy dining options throughout four restaurants; ancient therapies at the vast spa facilities; and daily yoga classes.
PLAN YOUR TRIP: Fodor's Bali Travel Guide
Brent Madison
WHERE: Phuket, Thailand
When: August
It's the best kind of jungle out there—with a verdant canopy of trees and vines, and cascading waterfalls adorning the pathways between 38 villas. Each villa at Keemala comes with a private pool, while the décor within each reads rainforest luxury. While the resort, which looks over the Andaman Sea, retains a remote vibe, the lively center of Phuket, and its vibrant nightlife, is just minutes away.
PLAN YOUR TRIP: Fodor's Phuket Travel Guide
Courtesy of Mandarin Oriental, Marrakech
Mandarin Oriental, Marrakech
WHERE: Marrakech, Morocco
When: Second half of 2015
Each of the 54 private villas at the Mandarin Oriental's newest in Morocco features a pool, a private courtyard, open-air shower, and Jacuzzi, while the nine suites include rooftop plunge pools and panoramic views of the Atlas Mountains. The property also contains a world-class spa with heat and water facilities, including an indoor pool, male and female hammams, and a yoga and tai chi studio. If you can tear yourself away from all that luxury, the hotel will aid in sampling a bit of local color, by lending a quad bike, setting up a camel trek, or leading guided shopping tours through a local bazaar.
PLAN YOUR TRIP: Fodor's Marrakech Travel Guide
Courtesy of Ritz Paris
WHERE: Paris
When: Second half of 2015
It's one of the world's most famous stays, with a history as rich as some of its most-moneyed guests over the years. Originally opened in 1898, Coco Chanel, Cole Porter, and Ernest Hemingway once rested under its eaves, while Auguste Escoffier once toiled in its kitchen. Now, after an extensive, and expensive renovation, the Ritz Paris will re-open 71 rooms and 72 suites, including the return of the legendary Imperial Suite, a favorite of royalty, including Princess Diana. Expect it to be ornate, as one of the rooms in the suite is rumored to be a recreation of Marie Antoinette's quarters at Versailles. L'Espadon, the equally renowned restaurant that boasts two Michelin stars, will also be resurrected while the celebrated cooking school, Ecole Ritz Escoffier will re-open with a brand new teaching kitchen.
PLAN YOUR TRIP: Fodor's Paris Travel Guide
Courtesy of The Ritz-Carlton Hotel Company, L.L.C.
The Ritz-Carlton, Langkawi
WHERE: Langkawi, Malaysia
When: Late 2015
The site is rife with natural wonders: wild rainforests, a beach on the Andaman Sea, and manicured tropical gardens. The location is also ideal for dive-enthusiasts, as the island of Langkawi is famous for the abundant underwater life in Pulau Payar Marine Park. It's a find for families, too, as the 132-room Ritz-Carlton property comes equipped with three swimming pools, one exclusively for children, and a signature Ritz-Kids Club. Adults will appreciate the on-site spa, which promises to be the most lavish of its kind on the island.
PLAN YOUR TRIP: Visit Fodor's Malaysia Travel Guide
Courtesy of GA Design International Limited
Four Seasons Hotel Casablanca
WHERE: Casablanca, Morocco
When: Late 2015
The 183 guest rooms and suites make up the hospitality faction of Casablanca's new AnfaPlace development, which will also include residences, shopping, and entertainment venues. Overlooking the Atlantic Ocean, the Four Seasons Casablanca's design radiates an unconventional French/Arabic flair, with plenty of outdoor patios and terraces in order to enjoy Morocco's sun-splashed days and temperate evenings. Not only is the setting lovely, the location couldn't be more convenient, with quick access to the business district, city center, and the chi-chi Corniche District.
PLAN YOUR TRIP: Fodor's Casablanca Travel Guide
Courtesy of W Tel Aviv
WHERE: Tel Aviv, Israel
When: December
Israel's bustling business center will close the year with the arrival of the country's first W brand in the Jaffa neighborhood. Just adjacent to Jaffa's recently-revitalized port, all of the signature W bells and whistles will be included at the 125-room hotel, including an "Extreme WOW" suite, a stylish restaurant and bar, and a "WET" pool deck. The property will offer the opportunity to mingle with locals, as it will include residences as well.
PLAN YOUR TRIP: Fodor's Tel Aviv Travel Guide