Dave Cleaveland, Maine Imaging
If you're looking for a truly remote getaway, it's hard to beat a lighthouse hotel. As many lighthouses around the world have gone dark, conservation societies and private individuals have stepped in to snap them up and convert them into quirky hotels or bed and breakfasts. In some cases, the lighthouses are still operational, so guests might hear the sound of the foghorn as they drift off to sleep. Getting to the hotels can be part of the adventure, as many require a boat ride or helicopter journey, and because many of them have only a handful of rooms, they book up months in advance. But for 360-degree water views, the sound of crashing waves, and hardly a neighbor in sight, making your way to a lighthouse hotel is well worth the challenge. Here's a look at some of the best around the world.—Christina Valhouli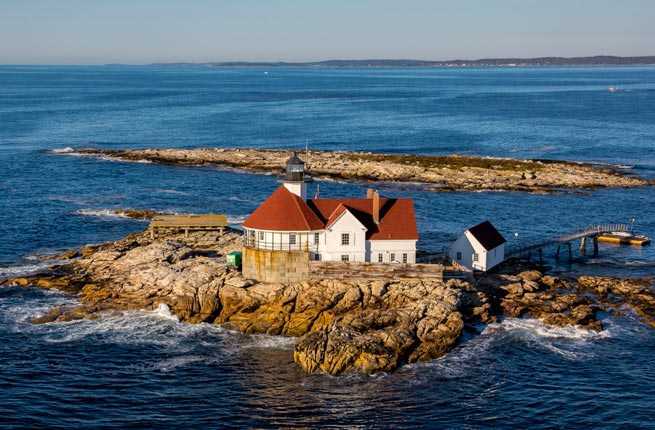 Dave Cleaveland, Maine Imaging
The Inn at Cuckolds Lighthouse
WHERE: Southport, Maine
Just off the coast of Boothbay Harbor, this 1892 two-suite lighthouse can be accessed by a restored Navy motor whaleboat, piloted by a U.S. Coast Guard-licensed captain. Visitors to The Inn at Cuckolds Lighthouse can take in the 360-degree ocean views in luxury, with touches like marble bathrooms and cashmere throws—all in a Maine-inspired color palette. Guests can tuck into a lobster bake, explore tide pools, or look out for seals.
Insider Tip: Try the "Lobster-tini," a mix of lobster tail and avocado, at nearby Southport Island's Oliver's restaurant.
PLAN YOUR TRIP: Visit Fodor's Maine Travel Guide
Natalie Inouye
WHERE: Yachats, Oregon
One of the most photographed lighthouses in the U.S., the Heceta Head is home to one of the last light keeper's cottages on the Pacific Coast (and the rumored home to a ghost named Rue). Today it is run as a B&B and features six rooms, a parlor with Pacific Ocean views, and a handcrafted wooden staircase. Get ready to tuck into a seven-course breakfast if you stay here.
Insider Tip: The nation's largest sea cave, Sea Lion Caves, is just a few miles away.
PLAN YOUR TRIP: Visit Fodor's The Oregon Coast Travel Guide
Courtesy of Farol Hotel
WHERE: Cascais, Portugal
This chic little spot, a member of Design Hotels, is located on a rocky outcrop along the Portuguese Riviera in the village of Cascais, which was popular with European royalty in the 1950s. The Farol Hotel includes a remodeled nineteenth century mansion, once owned by the Count of Cabral, as well as a neighboring lighthouse. The overall design is modern and makes the most of the Atlantic Ocean views.
Insider Tip: Portuguese fashion designers decorated the hotel's thirty-three guestrooms.
PLAN YOUR TRIP: Visit Fodor's Side Trips from Lisbon Travel Guide
Courtesy of Saugerties Lighthouse
WHERE: Saugerties, New York
Located on the mouth of the Esopus Creek on a remote shoal, the Saugerties Lighthouse was built in 1869 and is now run as a two-room bed and breakfast by the Saugerties Lighthouse Conservancy, a not-for-profit organization. If you can't get a reservation, educational tours are also available. The lighthouse is home to a small museum, and the light-tower offers a panoramic view of the Hudson River Valley and Catskills Mountains.
Insider Tip: The lighthouse is reached by walking along a half-mile trail.
PLAN YOUR TRIP: Visit Fodor's Hudson Valley Travel Guide
East Brother Light Station
WHERE: Point Richmond, California
This Victorian light station occupies a unique spot, on an island in the strait that separates the San Francisco and San Pablo Bays. The East Brother Light Station is easily accessed by a quick boat ride from the mainland. It's now run as a B&B with just five rooms—one is located in the fog signal building. Relaxing is the main activity here, and guests can enjoy the view of the city skyline and the Marin coast while indulging in dinner and a tour of the island.
Insider Tip: Take a dip in nearby Point Richmond's Municipal Natatorium, also known as "The Plunge." Built in 1926, the pool is heated by solar panel sand murals.
PLAN YOUR TRIP: Visit Fodor's San Francisco Travel Guide
Courtesy of South African Tourism
Cape Columbine Lighthouse
WHERE: Paternoster, South Africa
Located two hours from Cape Town, this lighthouse has an Art Deco look. Originally built in 1936, the Cape Columbine Lighthouse is one of the last manned lighthouses on the South African coast. It is usually the first one seen by ships coming from South America and Europe. Visitors can spend the night in two- or three-bedroom guesthouses, which were the former homes of the lighthouse keepers.
Insider Tip: About nine ships were wrecked in the area just off the lighthouse, which is marked with rocks and reefs.
PLAN YOUR TRIP: Visit Fodor's South Africa Travel Guide
Tibbetts Point Lighthouse
WHERE: Cape Vincent, New York
This converted lighthouse is located where Lake Ontario and the St. Lawrence River meet, just across from Canada. The nineteenth century Tibbetts Point Lighthouse is surrounded by water on three sides and is now run as a youth hostel (it's a member of Hostelling International USA). Both private rooms and dormitory style accommodations are available in the original light keeper's house.
Insider Tip: Head to nearby Clayton to take a cruise of the Thousand Islands.
PLAN YOUR TRIP: Visit Fodor's The Adirondacks and Thousand Islands Travel Guide
Lucidwaters | Dreamstime.com
WHERE: Wellington, New Zealand
Located just fifteen minutes from Wellington's city center on the tip of the Houghton Bay, The Lighthouse offers an ideal place to get away. Picnics on the beach are a big part of any stay at The Lighthouse, which offers one guestroom, a kitchen, a bathroom, and two balconies with views of the Cook Strait.
Insider Tip: It's a quick drive to Red Rocks Reserve, a rocky outcrop of ancient, crimson-hued lava, which is also home to a seal colony.
PLAN YOUR TRIP: Visit Fodor's New Zealand Travel Guide
Courtesy of Hotel Brosundet; Photo by Marte Garmann Johnsen
WHERE: Alesund, Norway
Located near the North Sea, Hotel Brosundet is housed in a former Art Nouveau-style warehouse. The design of the rooms is decidedly modern, but for a stay with a nautical feel, book room 47, the Molja Lighthouse, which is just a short walk away on a jetty. The room is cozy, with one circular bedroom and one bathroom, but the water views are well worth it.
Insider Tip: Pop into Kube, a nearby contemporary art space showcasing the work of Norwegian artists.
PLAN YOUR TRIP: Visit Fodor's The West Coast Travel Guide
Courtesy of Frying Pan Tower
WHERE: Frying Pan Shoals, North Carolina
Getting to the Frying Pan Tower, thirty-four miles off the coast of North Carolina, is half the fun—guests must take a helicopter or boat. This abandoned Coast Guard Light Station now operates as an eight-room B&B, with panoramic ocean views. Stargazing, soaking up the sunset, and taking a dip in the sea are also in the cards for guests.
Insider Tip: Guests can also fish around the perimeter of the tower, and those who are lucky might catch black sea bass, mahi mahi, or spiny lobsters.
PLAN YOUR TRIP: Visit Fodor's The North Carolina Coast Travel Guide
Rob Wassell
WHERE: East Sussex, England
This decommissioned lighthouse, originally built in 1832, is located at Beachy Head in East Sussex, where dozens of vessels were shipwrecked in the seventeenth and eighteenth centuries. Belle Tout Lighthouse has been used in several films and television shows and at one point was owned by the BBC. It's now used as an elegant, whitewashed B&B, and every room is decorated with a different theme, such as Old England or the Keeper's Loft.
Insider Tip: This area is famous for the Seven Sisters chalk cliffs, one of the longest stretches of undeveloped coastline on England's south coast.
PLAN YOUR TRIP: Visit Fodor's England Travel Guide
Corsewall Lighthouse Hotel
WHERE: Stranraer, Scotland
This huge lighthouse dates back to the nineteenth century and is still in operation and moonlighting as a luxury, eleven-room B&B and restaurant. The Corsewall Lighthouse Hotel is located along Loch Ryan, and guests can take in the views of the Firth of Clyde, Ailsa Craig, and even the coast of Ireland on a clear day.
Insider Tip: Nearby Galloway Forrest Park is one of the best spots in Europe for stargazing.
PLAN YOUR TRIP: Visit Fodor's The Borders and the Southwest Travel Guide
The Lighthouse on Cape d'Or
WHERE: Cape d'Or, Nova Scotia
This lighthouse is perched on a bluff overlooking the Bay of Fundy. Guests checking into the Lighthouse on Cape d'Or stay in the converted light keeper's residence, which makes the most of the endless ocean views. The in-house restaurant serves classic, hearty fare like chowder and fishcakes.
Insider Tip: The Bay of Fundy is home to the highest tides in the world.
PLAN YOUR TRIP: Visit Fodor's The Eastern Shore and Northern Nova Scotia Travel Guide
Megan Snider
WHERE: Lusby, Maryland
Cove Point Lighthouse is the oldest continuously working lighthouse in Maryland, and it is now operated by the Calvert Marine Museum. Guests can spend the night in the renovated keeper's duplex, so on stormy nights, they can still hear the foghorn. The lighthouse has retained many of its original features, such as hard pine floors, cast iron heaters, and crown molding. Spend some time lying out on the beach or just relax in the seven-acre plot of land.
Insider Tip: Grab a bucket and shovel and start digging. The area near the Cove Point Lighthouse is known for its fossils, shark teeth, and the remains of prehistoric species.
PLAN YOUR TRIP: Visit Fodor's Annapolis and Southern Maryland Travel Guide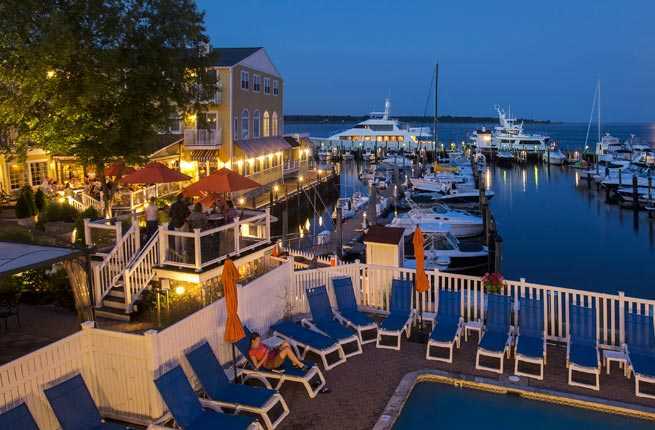 Frank Gilroy
WHERE: Old Saybrook, Connecticut
The Saybrook Point Inn & Spa is near a marina, so one way to arrive at this coastal Connecticut hotel is by boat. But if you choose to arrive in a more conventional way, guests can still have a nautical experience by staying in a separate lighthouse that is owned and operated by the hotel. Located on a dock, the lighthouse suite is spread over 900 square-feet and offers views of the Long Island Sound.
Insider Tip: Saybrook's nonprofit Katharine Hepburn Cultural Arts Center is named for the late actress, who was a longtime resident of town.
PLAN YOUR TRIP: Visit Fodor's New Haven, Mystic, and the Coast Travel Guide