Courtesy of Babylonstoren
Enjoying a great meal at a hotel is one thing, but watching and helping that meal come together is another experience altogether. Hoping to provide a unique experience, many hotels have rolled out programs that allow guests to interact with chefs and learn about local cuisine. What's more, all of these properties feature on-site farms that both provide a sustainable source of food and help incorporate local cuisine more fully into their menus. Ranging from rural Tennessee to the coast of New Zealand, these 10 hotel programs truly embody the farm-to-table mantra.
by Abbey Chase
WHERE: Chiang Mai, Thailand
Nestled among rice fields in northern Thailand, the Four Seasons Chiang Mai boasts stunning views of the natural landscape and is home to an expansive tropical flower garden. Guests can take a tour of the garden and select their own blossoms to be incorporated into their cocktail, and also attend cooking classes led by a Four Seasons chef that includes a trip to nearby markets to pick out ingredients. As part of its Local Flavors campaign that aims to highlight regional cuisine, Four Seasons Hotels and Resorts are continuing to roll out similar programs at its properties around the world (check out the farmers' market tours and cooking classes at Four Seasons Resort Rancho Encantado Santa Fe).
PLAN YOUR TRIP: Visit Fodor's Chiang Mai Guide
beall + thomas photography
WHERE: Walland, Tennessee
Offering a quiet respite in the foothills of the Great Smoky Mountain for more than 70 years, Blackberry Farm sits on a 4,200-acre plot where heirloom produce continues to be harvested. Garden tours, cooking classes, and various wine and spirits tastings are all offered on-site, and the hotel even forages its own mushrooms, ramps, and wildberries from the surrounding woods. In addition to the sheep and chickens that roam the property, keep an eye out for George, the guardian llama, who protects the herd with the help of four sheep dogs. Enjoy the homemade baked goods, meat, and dairy products in The Barn, a stunningly refurbished, century-old barn with a soaring, vaulted ceiling.
PLAN YOUR TRIP: Visit Fodor's Great Smoky Mountains Guide
Courtesy of Babylonstoren
WHERE: Franschhoek, South Africa
Housed in Cape Dutch farm buildings in South Africa's wine country, the Babylonstoren Hotel can be found amidst the eponymous vineyard and farm. Take a guided tour of the eight-acre garden, designed with an eye toward the ancient Hanging Garden of Babylon, and help plant, prune, and pick the 300 varieties of fruits and vegetables. Canoe on the farm's dam for great views of the orchards and enjoy afternoon refreshments at the greenhouse/tearoom. For a heartier meal prepared with a light hand that preserves the natural flavors, head to Babel—the juice, homemade muesli, and farm honey and eggs for breakfast are not to be missed.
PLAN YOUR TRIP: Visit Fodor's Franschhoek Guide
Courtesy of UXUA Casa Hotel & Spa
WHERE: Trancoso, Brazil
An important town along the coast of Brazil, Trancoso has a long colonial history stretching back to the arrival of the Portuguese explorer Pedro Alvares Cabral in 1500, marking the first substantial European exploration of South America. The area has retained much of its history thanks to its isolated location, and the Taste of Trancoso package at the UXUA Casa Hotel & Spa aims to capture the essence of the region. Guests have the opportunity to make chocolate using fresh cacao from the hotel gardens and are treated to local cuisine during a tour around the region.
PLAN YOUR TRIP: Visit Fodor's Brazil Guide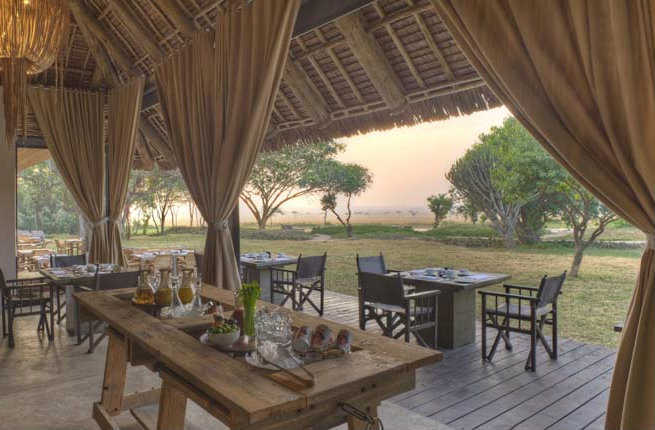 Courtesy of andBeyond
&Beyond Kichwa Tembo Tented Camp
WHERE: Kenya
The Masai Mara is one of the best safari spots in East Africa, so the &Beyond Kichwa Tembo Tented Camp's plush glamping accommodations, befit with flagstone floors and stunning views of the grasslands, are sure to tempt any nature lover. If you can tear yourself away from the wildlife viewing, take a walk through the organic vegetable garden and help the chef harvest the daily produce. Spring for the bush breakfast or dinner and enjoy your meal, made with the freshest local ingredients, surrounded by the African plains.
PLAN YOUR TRIP: Visit Fodor's Kenya Guide
Courtesy of Otahuna Lodge
WHERE: Christchurch, New Zealand
If asked to picture a quintessential Victorian mansion, the Otahuna Lodge would serve as a fitting image, with its shingled, whitewashed exterior; intricate woodwork; and warm, classical furnishings. Outside, you'll find a 118-year-old garden designed by A.E. Lowe, who earned his green thumb working at Kew Gardens in London. Trees dating back to the Edwardian era and more than 150 varieties of fruits, vegetables, and herbs can be found in the potager garden, as well as a Victorian glasshouse for growing tropical fruits and a root cellar. Every evening, the chef prepares a five-course degustation menu showcasing the best of the Lodge's fresh produce; alternatively, hone your skills in the kitchen with one of Otahuna's cooking classes.
PLAN YOUR TRIP: Visit Fodor's Christchurch and Canterbury Guide
Courtesy of Nayara Springs
WHERE: Costa Rica
Along the edge of the Arenal Volcano Natural Park sits the secluded Nayara Springs, isolated from the outside world save for the 250-foot pedestrian bridge that stretches above the rainforest canopy. In addition to zipling, rafting, canyoning, and a host of other outdoor activities, the property offers its guests the chance to tour its organic vegetable garden and prepare local delicacies alongside the hotel chef. Also look for tours of the local area and the organic coffee farm tour.
PLAN YOUR TRIP: Visit Fodor's Costa Rica Guide
Courtesy of Ballymaloe House
WHERE: Cork, Ireland
Set on 400 verdant acres just outside Cork, Ballymaloe House is replete with rustic, Irish charm. The farm-to-table restaurant features a menu drawn up daily to showcase the best of the property's fresh offerings, and local farmers provide the meat, fish, and cheese. If you're looking to get closer to the action, sign up for an Irish soda bread baking class, or head out to collect fresh eggs from the hen house and feed the pigs. At the end of August, Ballymaloe House will celebrate its 50th anniversary with the Ballymaloe Garden Festival; also check the calendar for various wine events.
PLAN YOUR TRIP: Visit Fodor's County Cork Guide
Courtesy of Boucan by Hotel Chocolat
WHERE: Saint Lucia
Travelers with a sweet tooth will have the opportunity to get an up-close look at how chocolate is made during the Tree-to-Bar Experience at Boucan by Hotel Chocolat. Beginning with a tour of the estate's cocoa groves, guests have the opportunity to handpick ripe cocoa pods and make their own chocolate, with visits to the seeding nursery, fermentation room, and sun-drying station along the way. True enthusiasts can sign up for the Total Cacao Immersion package for two, which includes the Tree-to-Bar Experience, a full-body "cacao massage," daily beverage vouchers, and more. The restaurant menu prominently features (what else?) cacao in everything from gazpacho to ravioli. For something a little different, sign up for the Engaged Ethics Island Growers Tour to visit different growers around St. Lucia.
PLAN YOUR TRIP: Visit Fodor's St. Lucia Guide
Courtesy of Fairmont Yangcheng Lake
WHERE: Kunshan, China
Roughly 50 miles west of Shanghai, you'll find Yangcheng Lake and the Fairmont hotel on its southeastern edge. The region is known for its hairy crabs, a delicacy that can be enjoyed at the restaurant Yi Feng Court, which showcases Cantonese cuisine. Head out to the on-site Yue Feng Island Organic Farm, where fresh fruits and vegetables, green tea, and honey are produced for use on the property. Also look for cooking demonstrations in the two scenic Glass Houses, or help harvest yourself.
PLAN YOUR TRIP: Visit Fodor's China Guide